For Micron (NASDAQ:MU) investors, there's seemingly no rest for the weary. Shares of the #2 memory maker fell nearly 10% after reporting mixed Q1 results and a questionable outlook in FY19 that continued to echo cautions on the health of the memory markets. The latest drop in share prices brings Micron down more than 50% from YTD peaks.
We have to ask ourselves, however: is Micron's print actually that bad, and did it reveal any information we didn't know before? In my view, investors are overreacting to the same news. Micron certainly gave incremental updates on ASP performance and capex plans for the upcoming fiscal year, but in my view, shares have already priced in the expected weakness that hit the news months ago.
Investors should continue to focus on Micron's massive earnings potential. As I noted in a prior article prior to earnings, Micron now trades at below 4x P/E despite its massive buyback. In addition, the company has shown an ability to keep its elevated gross margin profile despite a revenue crunch, making it better-equipped to handle this down cycle in the memory sector relative to 2016.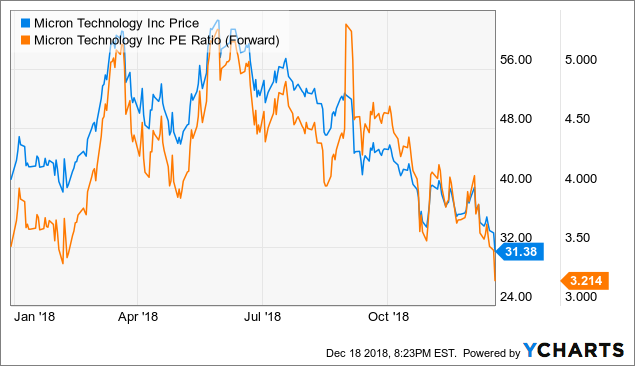 The bottom line on Micron stock: though investors are treating the Q1 print and earnings commentary as fresh bad news, it's nothing we haven't seen before. Continue to buy Micron on dips until it manages to turn its narrative around.
Capacity reductions and the state of the memory markets
The following slide, taken from Micron's Q1 earnings deck, highlights its view of the memory markets in 2019 and actions that the company is taking to align supply to demand:
Figure 1. Micron memory trends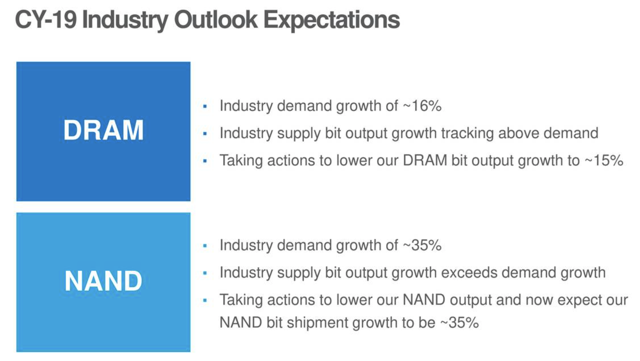 Source: Micron Q1 earnings deck
Investors are fretting over the industry demand growth figures of 16% and 35% for DRAM and NAND, respectively, as that represents a serious weakening from FY18. Investors are also concerned that Micron is "taking actions to lower" output growth in 2019, almost necessarily implying that its impressive growth run is over. On a dollar basis, Micron's new capex guidance of $9.0 to $9.5 billion for FY19 represents a $1.25 billion (~10%) reduction from its prior capex plan.
When it comes down to it, however, this is not new news. Micron's CEO, Sanjay Mehrotra, already announced at a Credit Suisse (CS) investor conference a few weeks back that Micron was actively looking to downsize capex in 2019. The market is punishing Micron for the same sin twice. And on the bright side, the freed-up cash from the reduced capex plans could be redirected toward an additional buyback while share prices are still low.
ASPs declined, but the drop wasn't jarring
Much of the narrative around memory stocks over the past year has surrounded the eventual decline in prices. This quarter, Micron succumbed to that eventuality, reporting a decline in both DRAM and NAND ASPs:
Figure 2. Micron performance by memory type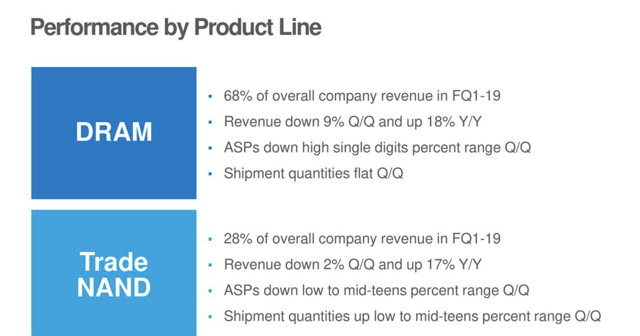 Source: Micron Q1 earnings deck
Micron report that DRAM prices fell in the high single digits sequentially, an that NAND prices dropped in the teens. In my view, this came in much better than expected. After a fast-paced 2018 that saw DRAM prices rise 35% (per a recent Forbes article), some cool-off is certainly necessary to maintain balance in the memory markets. Year-over-year, DRAM ASPs are still positive. Note also that industry analyst DRAMexchange has predicted a 15-20% drop in ASPs in 2019 - so far, Micron's ASP decline is far milder.
Note also that performance is worse in the NAND space, which Micron has less exposure to. Between the two types of memory, Micron is far more concentrated in DRAM (68% of Q1 revenues), which is the better-performing segment.
Revenues are still growing, as are margins and profits
And despite the doom-and-gloom headlines, Micron's actual Q1 results weren't terrible either. The company managed to maintain positive growth on both the top and bottom lines. Here's a look at the company's latest earnings results:
Figure 3. Micron 1Q19 results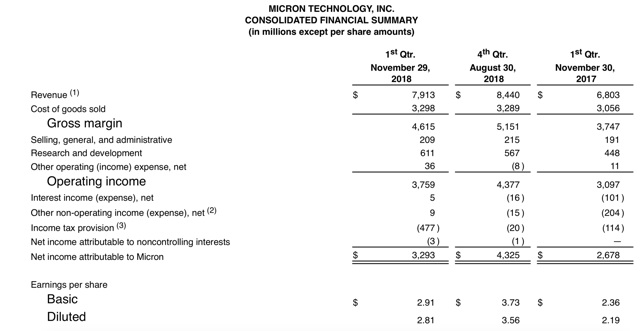 Source: Micron earnings release
Revenues grew 16% y/y to $7.91 billion, missing Wall Street's expectations of $8.00 billion (+17% y/y) by one percentage point. At the end of the day, is this small miss significant? We already knew from prior CEO comments that Micron's revenue was tracking toward the low end of its guidance. In Q4, Micron had guided to Q1 revenues of $7.90 to $8.30 billion, so it achieved exactly what it promised: the lower end of its range.
Meanwhile, notice that gross margins are still up on a year-over-year basis. The company notched 58.3% GAAP gross margins in the quarter, up 320bps from 55.1% in the year-ago quarter. For a company that produces a seemingly "commoditized" product, a near-60% gross margin sure doesn't seem too bad. Micron is still achieving tremendous unit economics, and even if it ramps down its production capacity next year, it's still driving an enormous amount of profit per unit.
Micron investors should focus on the cost equation more than the expected revenue and ASP declines. The company's improvements in manufacturing processes have allowed it to maintain its enormous profitability. Operating margins, too, ticked up to 47.5%, 200bps better than 45.5% in the year-ago quarter.
It's also worth noting that Micron is driving phenomenal earnings growth. Q1 EPS of $2.81 grew 28% y/y versus EPS of $2.19 in the year-ago quarter, and also beat Wall Street expectations by two cents. Again, Micron's CEO had already noted that the company expected to come in on the high side of its profit guidance, and is likely to continue doing so in 2019.
Continued profitability streak is allowing for significant deleveraging
Another key aspect to note is that despite the expected decline in memory fundamentals, Micron's balance sheet is much more robust now than in the previous cycle. Micron hasn't directed all of its cash flow into buybacks - it has also aggressively pared down its net debt levels and built up its cash reserves.
In Q1, as shown in the chart below, Micron reduced its gross debt by $500 million, while maintaining a net cash position in excess of $3 billion. Two years ago, Micron's net debt position had been nearly the same magnitude.
Figure 4. Micron's debt reductions over time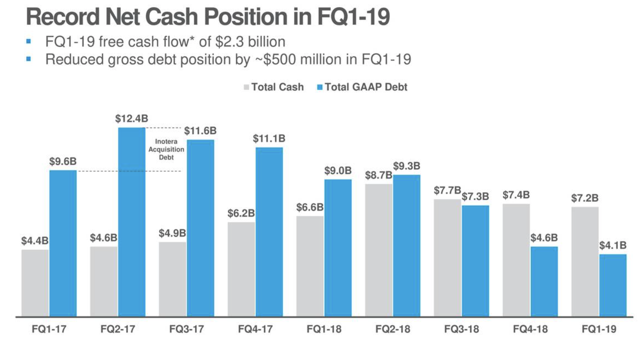 Source: Micron Q1 earnings deck
A stronger balance sheet this cycle not only preserves cash due to reduced interest payments (and thus boosts EPS compared to the prior trough), but also preserves flexibility for M&A if organic growth continues to slow down as well as the immediate capability to invest in capex once memory prices lift again.
How should investors react?
Stay the course on Micron. It's difficult to remain calm amid industry tremors and widespread fears of contracting revenues and profits in 2019, but most of Micron's data points to the fact that the drop in 2019 will be much more benign than feared.
ASPs are only dropping modestly (and so far, less than what DRAMexchange has predicted - though we have yet to see if this contraction worsens in 2019). Gross margins are remaining steady, and a continued gorge of cash flows is helping Micron to hit record net cash positions, shoring up its balance sheet ahead of a potential memory bear market. Micron has become an extreme value stock at under 4x forward revenues, with the risks all essentially priced in. Investors shouldn't be afraid to go long here.