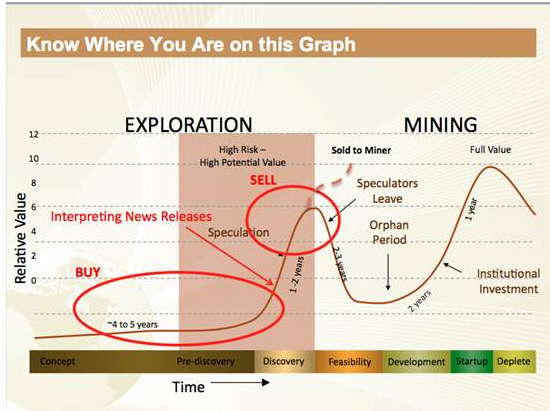 Source: Exploration Insights
Introduction
Welcome to Gold Panda's weekly series of articles covering the best drill interceptions in the metals mining sector.
If you're into investing in the mining sector, you should know the above chart very well. Exploration and discovery can add a lot of value for a mining company across all stages of its life cycle, although the greatest increases in the share price usually happen when a small company makes a major discovery and the hype arrives. However, great exploration results can also improve the economics of large projects of established global mining companies.
I'm planning on writing a weekly series of articles in which I will analyze the three projects with the most significant drill interceptions over the past week as well as the prospects of the companies which own these projects. I will use data from the weekly bulletin of RSC Mining and Mineral Exploration, which can be found on its website. Note that the drill interceptions are converted into grades of gold equivalence using the following formula:

Source: RSC Mining and Mineral Exploration
RSC Mining and Mineral Exploration has chosen gold as the metal equivalent for all conversions as it considers it the most widely used and best understood benchmark to determine or appreciate the grade tenor of a drilling intercept.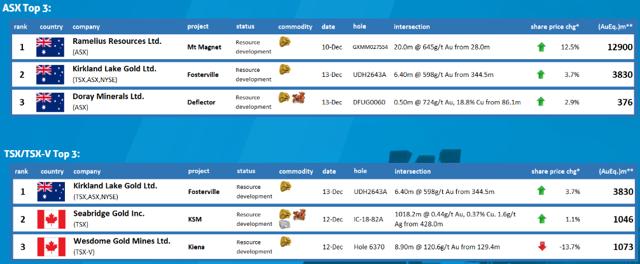 Source: RSC Mining and Mineral Exploration
1) Mt Magnet gold project in Australia
On 10 December, Ramelius Resources (OTCPK:RMLRF) announced the best drill interception so far in 2018, a whopping 20m @ 465g/t Au from 29m in hole GXMM027554 at its Mt Magnet gold project. This is equal to a jaw-dropping 12,900(AuEq.)m.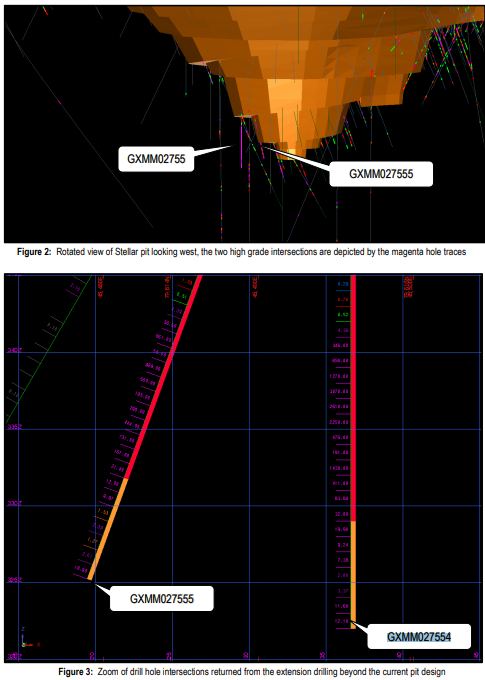 Source: Ramelius Resources
Hole GXMM027554 was drilled below the Stellar pit and formed part of grade control drilling. The company has thus revealed the potential for a high-grade ore shoot extending beyond the current designed southern pit wall.
Mt Magnet is located in Western Australia and it has a quarterly production of close to 20,000 ounces of gold: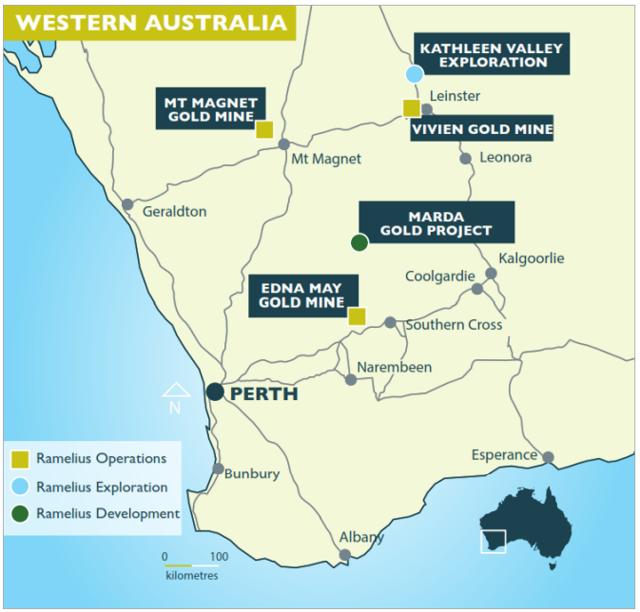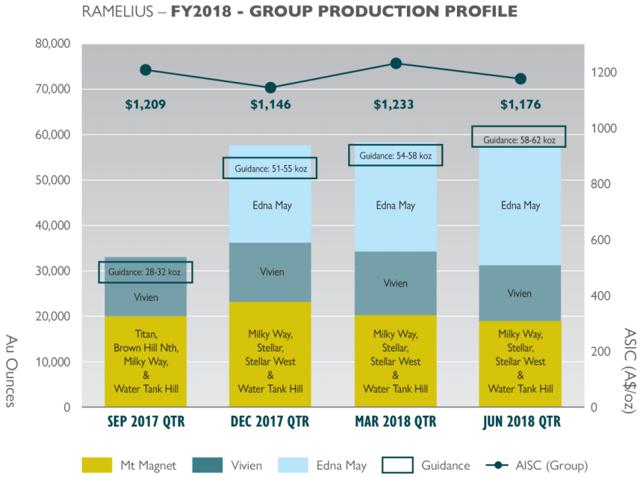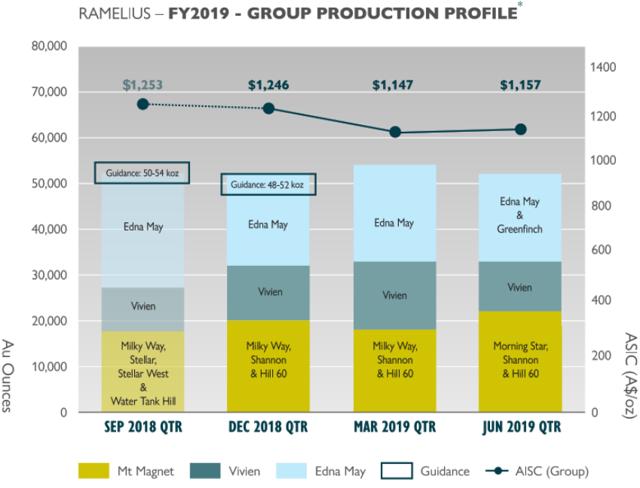 Source: Ramelius Resources
Although the mine doesn't look impressive in terms or reserves, its resources are pretty good: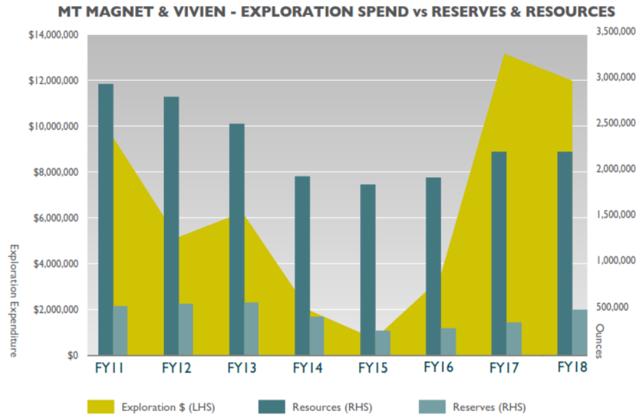 Source: Ramelius Resources
2) Fosterville gold project in Australia
On 13 December, Kirkland Lake Gold (KL) announced new high-grade results from the ongoing underground drilling programs at its Fosterville gold project and the best interception was 6.4m @ 598g/t from 344.5m in hole UDH2643A at the Swan Zone. This is equal to 3,830(AuEq.)m.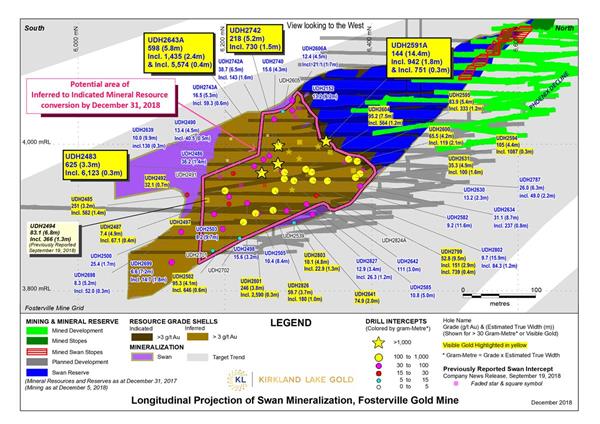 Source: Kirkland Lake
Kirkland Lake President and CEO Tony Makuch said that these infill drill results clearly demonstrate the continuity of wide, exceptionally high-grade, visible-gold bearing mineralization covering 75 meters down dip, and extending 100 meters down-plunge from current Swan mineral reserves. He added that the company continues to generate encouraging drill results further down-plunge, with the release of multiple high-grade, visible-gold-bearing drill intercepts in a zone extending up to 200 meters down-plunge of current reserves.
The new drill results will be reflected in Kirkland Lake's 2018 Mineral Reserve and Mineral Resource estimates, which are expected to result in a substantial increase in the reserves at Swan.
Fosterville is a high-grade, low-cost underground gold mine in the state of Victoria, and it features growing gold production at increasingly high grades. I view it as the star in Kirkland Lake's asset portfolio and the project is expected to have an annual production of over 500,000 ounces of gold in 2020 before reaching over 570,000 ounces by 2021.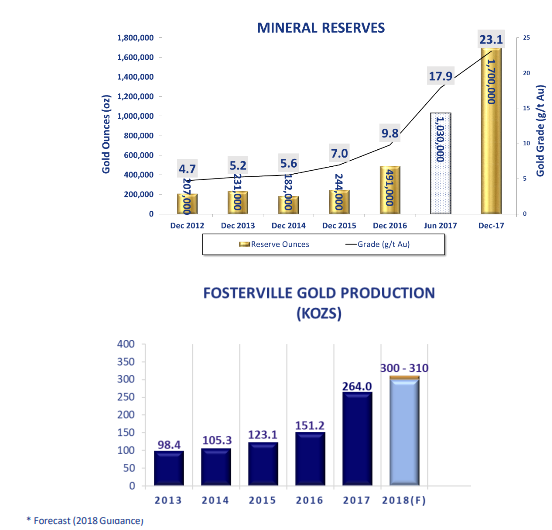 Source: Kirkland Lake
The mine is expected to help Kirkland Lake lower its overall all-in sustaining costs to $630-680 per ounce in 2019 from $735-760 per ounce in 2018. It's the company's lowest-cost mine, and it will soon complete three key projects that will drive costs down further - a new ventilation system, a past fill plant and a new water treatment plant.

Source: Kirkland Lake
Fosterville currently has mineral reserves of 1.7 million ounces of gold at 23.1g/t while the Swan Zone has mineral reserves of 1.16 million ounces of gold at 61.2g/t.
3) KSM gold-copper-silver project in Canada
On 13 December, Seabridge Gold (SA) released the remaining assay results from the summer drilling program on the Iron Cap deposit at its KSM project in northwestern British Columbia. The best result was 1,018.2m @ 0.44g/t Au, 0.37% Cu and 1.6g/t Ag from 428m in hole IC-18-82A, which is equal to 1,046(AuEq.)m.
Seabridge said that the results have confirmed a northern down-plunge extension of the high-grade core zone originally discovered in 2016. Overall, Iron Cap is shaping up as the one of the best deposits in the KSM cluster, thanks to its better grades and its access to infrastructure, which will make its development cheaper compared to the Kerr and Sulphurets deposits.
KSM is one of the largest undeveloped gold projects in the world in terms of reserves with a total of 38.8 million ounces in proven and probable reserves as of February 2018.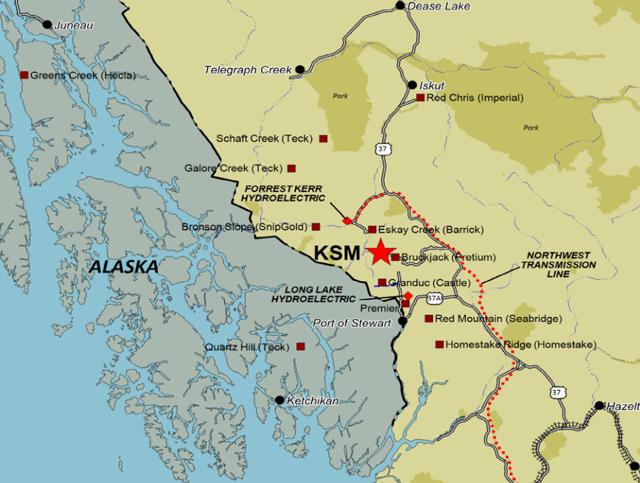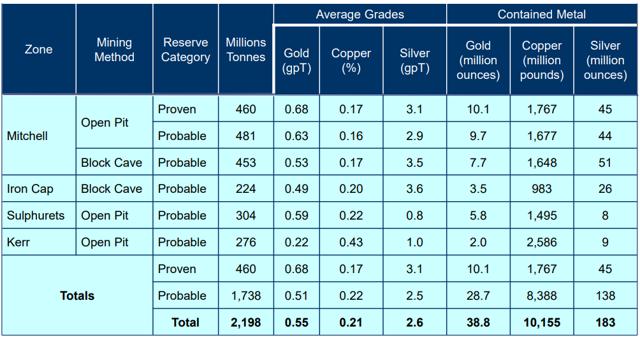 Source: Seabridge Gold
In 2016, Seabridge completed a Preliminary Feasibility Study for KSM, which I think shows some very unimpressive economics: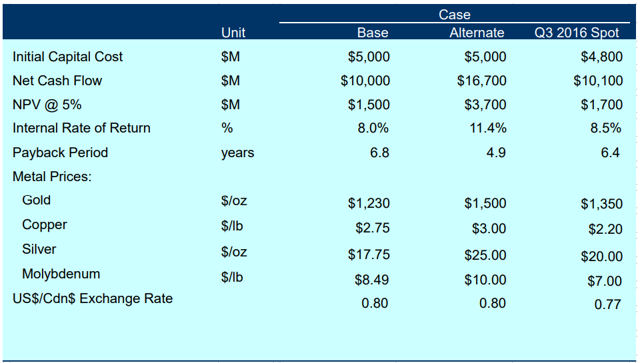 Source: Seabridge Gold
At today's gold prices, the internal rate of return is in the single digits, and with an initial capital requirement of around $5 billion, this project will be very hard to finance.
Conclusion
Ramelius Resources delivered mind-boggling grades at Mt Magnet and the size of the zone is also impressive. The gold camp has produced over six million ounces so far, and I remain confident that the company will manage to find more gold as it's been managing to replace ounces very successfully over the years.
Ramelius is currently mining at Mount Magnet, Edna May and Vivien, and it produced 208,118 ounces of gold in FY 2018, making it Australia's seventh largest domestic producer. All-in sustaining costs are also low at around $850 per ounce. With no debt and over A$100 million in cash and gold, the company seems cheap. I think that the reason for its low valuation is its limited reserves, which are sufficient for just over three years of production at the moment. This could be fixed soon with the takeover of local sector player Explaurum. More info on that in my Marketplace Service.
Fosterville is a great low-cost project, and I think that Swan is shaping as an amazing high-grade zone with very significant reserves. However, with a market cap of more than $5 billion and reserves of just 4.64 million ounces of gold, I think that Kirkland Lake has become substantially overvalued. There are plenty of several other low-cost and high-grade gold producers that aren't trading at a valuation of over $1,000 per ounce of reserves.
KSM is one of the largest undeveloped gold projects in the world in terms of reserves, but I continue to doubt it will be developed anytime soon no matter how much its economics improve. The initial capex is just too large and the internal rate of return is too low.