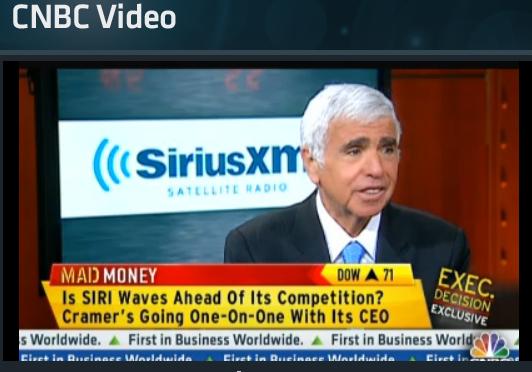 For all of the criticism that Sirius XM (NASDAQ:SIRI) CEO Mel Karmazin has taken from me so far this year, I feel that it is now only fair to give him some credit for doing what he did last night - making an appearance on Jim Cramer's Mad Money. By doing so (and more importantly) in the manner that he did, he demonstrated one of the qualities that I have outlined as being required for a superstar CEO. Now, before you get carried away, I am not suggesting that Mel's appearance somehow just upgraded his status to the level of Steve Jobs or Jeff Bezos. But rather, I'm only pointing out that his willingness "to talk to Cramer" last night has taken him out of the level of Reed Hastings of Netflix (NASDAQ:NFLX) - a comparison that Cramer also brought up last night in a very (not so) subtle way.
Now, when I say "talk to Cramer" please understand the context. This was not by any means an appearance on 60 minutes or an interview with Barbara Walters where the tough questions are asked. (I'll touch more on that later). But nevertheless, Mel demonstrated that he is aware of Sirius' current situation and the many rumors that surround the company and specifically with Liberty Media (LMCA). But more importantly for investors, he demonstrated that he plans to do anything in his power to do what a (good) CEO should be able to do at any point for his company which is to sell the business and its products - something that (to his credit) he did beautifully last night.
After watching the show last night and re-reading the transcript a few times, I called a couple of close friends of mine to get their opinion of some of the things that Mel said in light of our existing opinion on who and what Jim Cramer is. Fellow Seeking Alpha contributor Modernist did an excellent job of highlighting this earlier today.
In the hour-long brainstorming session with a couple of analysts, in addition to what was said on the show, we also touched on some of the things that neither Mel nor Cramer had an interest in addressing. These include Mel's recent announcement to sell 60 million of his shares as well as the recent sells by several notable insiders. Again, (as noted) we realized what the appearance was about and to that extent Mel did his job extremely well. There was a huge emphasis on cash - which is not a surprise. It is indeed (the) selling strength of the company. However, beyond the smoke there were several things that caught my attention - I'll leave the interpretation up to you.
At the beginning of the discussion Cramer (the good salesman that he is) made the following statement to Mel:
Cramer:
"Sirius MX has become so successful and it (Liberty) could buy the whole company on the cheap, something that I regard as a high-quality problem."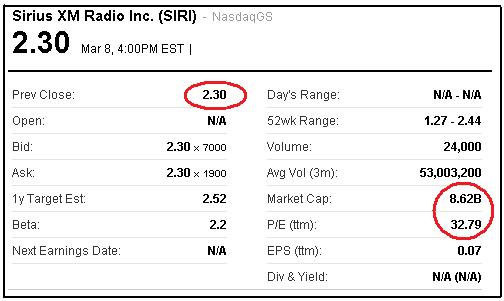 Well, there are several problems with that statement. First Sirius is not cheap. Cramer never would have made that statement if he was in front of analysts - many who would have asked him to define cheap. The company has a P/E of 33. It seems Cramer quickly has forgotten that he has beaten up more successful companies for trading at much lower valuations with longer sustained businesses. Investors need to understand what they are hearing and interpret certain words with reasonable intentions. As noted previously, Apple is much cheaper than Sirius when coupled with the word "value." Moving on ...
Cramer:
I'd like to measure your company as a cash flow company because you taught me to do that. Can you explain to people how it's the cash flow that matters and how that is really ramped up since the merger?
"You taught me to do that? Seriously? How much more patronizing can you get with that question Jim?
Mel K:
I believe and have for a long time that free cash flow is the only metric that creates wealth for investors.
While I agree with Mel there, I couldn't help but to wonder, successful product launches, excellent execution, marketing, as well as the organic growth of the stock price accomplishes the same thing. But he continued:
Mel K:
Free cash flow is what enables you to buy back your stock and make acquisitions and pay down debt, and I believe free cash flow is an important metric. Our free cash flow now is growing extraordinarily. Before the merger, we had negative free cash flow of $500 million. This year we will have $700 million of free cash flow and we haven't given guidance of next year. Analysts have us at $1 billion of free cash flow and continuing to grow.
If we've gone from 400 (million) last year to 700 (million) this year, and the year before that, we were at 100 and something and that growth rate looks like it will continue for some time.
I think it is fair to give the company credit for this and this part of the business is indeed performing exceptionally well. Also, I could not help but notice that Mel talked at great lengths regarding a possible buyback of shares as well as a possible acquisition, yet neither of those topics was mentioned during the company's Q4 earnings call. Also as extraordinary as the free cash flow growth has been in evaluating a company's performance, however it does not address that the model is sustainable. Yes, cash might be growing, but it is not coincidence that auto sales have grown as well. What happens when/if it SAAR caps out? An analyst would have asked that question. Moving on ...
Cramer:
You're one of the smartest guys in the world, the 40% shareholder in Liberty, why shouldn't they now that it's gone away (restrictions) start buying and buy the rest of the company for $2.50 which is capping all of the return that you can give shareholders. Liberty Media is free to do anything they want. You can't tell them what to do.
"You're one of the smartest guys in the world?" Seriously Jim? At that moment folks, I have to say that I felt the interview was getting a bit more pathetic. But Cramer did touch upon some very important nuggets here - he said, Liberty could buy out the rest of the company and "capping all of the return that shareholders might get" Mind you, this is after he started the show with saying:
Sirius XM has become so successful and it (Liberty) could buy the whole company on the cheap, something that I regard as a high-quality problem.
This is what investors need to pay attention to. Liberty is in the best situation of anyone and I agree with Cramer on this. It is a "high quality problem" for Sirius. It's just like having so much money you don't know what to do with it - that's a high quality problem that anyone would love. Liberty can "cap all of the returns for itself." And folks, that is exactly how the story is going to play out. Keep in mind that $2.50 number. It's not by accident that we are seeing some resistance in these ranges. The only question is when? So as great of an appearance this was, it was also very telling. Moving on ...
Mel K:
I have no interest in telling them (Liberty) what to do, but what I am able to do is represent the best interests of the non-liberty shareholders as well, so the way I look at my job now I'm responsible for all of my shareholders including liberty. If there ever was to be a transaction that liberty would want to initiate, my responsibility would be to our shareholders to make sure they're treated very fairly.
Mel answered that question brilliantly - actually it was an extremely well thought out and masterful response. What he told investors was essentially that "I love you all the same." However, what was sold was that "there has been no intimate discussion with Liberty regarding any matters that have not been made public." Said another way, by his well crafted use of the words "they" and "them" the implication is, they don't have any more access to me than the common shareholders do. I find that interesting because Liberty holds Sirius board seats. I didn't buy it. Moving on ...
Cramer:
Just a couple of days, Pandora (NYSE:P) reported a number. All these free Internet models can destroy you. I look at Pandora and I see they have rising costs that you don't have and that the competitive threat is overstated, but I need to hear it from you because you're nuts believing in Sirius at this point.
Mel K:
We have a lot of competition, and I believe business models matter. Some people can sit there and disagree and say it's about eyeballs or it's about something else. I believe it's about the business model. We competed with our terrestrial radio for the last 11 years and grew from zero subscribers to 22 million subscribers. We now have competition from IP. Anybody could be an IP audio content company.
They have a questionable business model because it's dependent upon advertising. I have believed for the last 10 years from the day I came to Sirius XM that the Internet has created so much inventory, so much inventory in the advertising world that a business model that is principally advertising driven. Whether it be terrestrial radio or IP radio it is advertiser driven and is it risk? I don't particularly like that. Great company, Pandora ,and great product and yet questions about the business model.
Your company Comcast (NASDAQ:CMCSA) is faced with the idea that their programming costs are going up. Ours are going down and they're going down because though we have all of this competition, and there's only one satellite radio. if CNBC wants to be on satellite radio because it's one of the things they want to do, they want to be on the Internet and they want to be on cable, there's one conversation they can have and that's with us and that's different than when they're at war with each other.
To me that was one of the most compelling parts of the interview. I think Mel hit it out of the park with those statements. He did what a great leader should be able to do and convince shareholders that they have made the right decision. However, it did nothing to dissuade consumers from their interests - which is all that matters. As flawed as Pandora's model may appear to be in terms of its rising costs, it continues to report growing listenership. But to Mel's credit, he sold Sirius extremely well in that regard and why Sirius should stands out. Moving on…
Cramer:
I got my bill, and I didn't notice, I guess it's higher. Am I like anybody else? Is that enough time to gauge whether there's been a falloff in the price increase?
Wow, finally a great question Jim. Well done! And frankly, I was shocked that this question was raised considering the number of soft balls Jim had been tossing.
Mel K:
When I first came to the company I thought we ought to raise prices because from the time I started we got Howard Stern, got the NFL and other great content and never passed along those costs. We wanted to grow rapidly and decided to hold off. It was looking at doing a price increase again and the merger came along. I said you know what? We don't need to do a price increase. We can get the savings that way. So now 11 years later, we've raised the price for the first time and I think we handled it really well. We learned a lesson from another company (Netflix).
On the price increase and I'll give you the answer on that one is our consumers have been really loyal and they really love our product, and the reaction has been very modest. Very modest. So you know, we feel very good about, you know, the subscriber growth in light of the fact that we put in a price increase.
The words that kept jumping out at me were what he meant by "very modest?" Important enough for him to repeat it. During the Q4 conference call, Mel guided 2012 subscribers lower to 1.3 million from the 1.7 million that the company added in 2011. This really bothered me as you all know by now. Now to be fair to Mel, the word "modest" can mean a host of things. In fact, it might even suggest a "moderate increase" in subscribers - I think that is important for me to also point out. But in light of it being said with its comparison to Netflix which lost 1 million subscribers upon its price increase, it has led me to speculate that (perhaps) "modest" might imply that any suspected loss was more than anticipated.
So I can't help but to put 1+1 together at this point. I can't put words in Mel's mouth, but since we often like to "read between the lines" I think it is appropriate for me to point out that there are indeed two lines here - one where it could mean a "modest increase" (doubtful) or it could mean a "modest decline" (more than likely). I think this is another reason for investors to perhaps consider that Sirius may not grow as fast as its P/E might require. But I could be wrong. Moving on.
Cramer:
I want to know -- boy, I would love to make news - you can only buy so much dead because you have restrictions and call options. Why not initiate a buyback and make the people who have been with the stock for so long making them believe like they do that the stock is way too cheap?
There's that word "cheap" again, but I'm going to ignore it this time.
Mel K:
At the end of this year we'll have between $1.2 or $1.5 of cash in the balance sheet? I don't know what to do with it other than to use it. Our board will make a decision. I would hope that the board would have to share my view, but that has to be the agenda.
I'm on record of saying that I think the best use of excess cash would be to pay down debt and increase the company's marketing, retention efforts as well as devote a good portion toward research and development. The company should also separate itself from the idea of radio and use its cash in a way to help it remove its dependency from the automobile. Buying back stock and paying a dividend does not help it grow - although it would help lower its P/E and only then can the stock be considered "cheap."
Summary
Overall, I was moderately impressed with the interview. I felt Jim offered too many low ball questions and failed to ask some very important ones regarding the recent insider transactions. But I do give Mel a lot of credit for his appearance and his willingness to sell the company as any CEO should. But it would be a mistake for investors take this for more than what it really was - a hug and an apology from Cramer to Mel. But more poignantly, I think investors should continue doing their due diligence and don't discount the slip of the impact that the price increase might have on subscriber growth. This is why the focus was on cash flow growth - subscribers might have now reached their peak. We shall see.
Disclosure: I have no positions in any stocks mentioned, and no plans to initiate any positions within the next 72 hours.