In numerical terms, this is the strongest selloff seen in the S&P 500 (SPY) since the debt ceiling crisis of 2011. In case you have forgotten the situation, Congress was basically unable to agree upon spending and gridlock resulted over the debt ceiling. The market experienced a pretty dramatic fall in short order, with prices dropping nearly 17% from peak-to-trough. In the wake of the crisis, it took the market several months to overcome the selloff and push into fresh highs.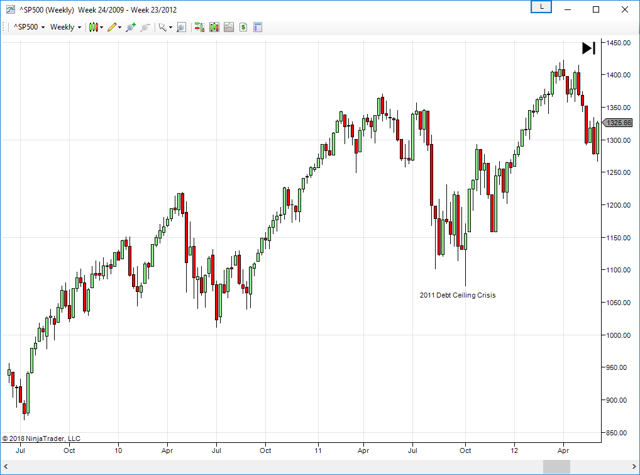 In recent market action, we have seen a fairly strong sell-off. From a peak-to-trough basis, we are currently sitting at a decrease of 11% from the highs seen in early October.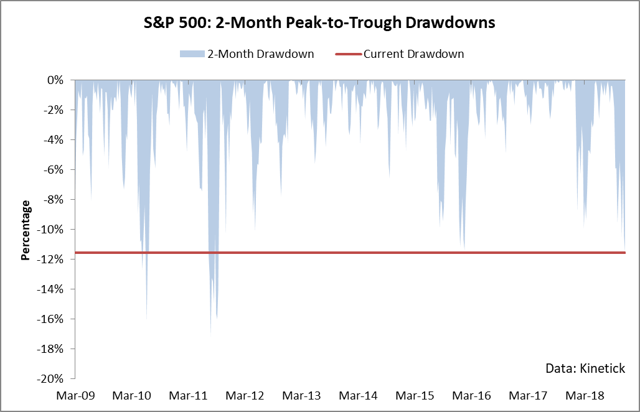 What is very noteworthy about this particular drawdown is that there honestly wasn't a fundamental trigger or catalyst that started the movement. Sure, it happened in conjunction with sudden movements in crude oil and frantic selling in cryptocurrencies – but very little has happened in economic terms to drive this. From a purely economic standpoint, the basic fundamentals which typically lead market movements or suggest future economic conditions have been strong for quite a while.
First, unemployment has continued to fall consistently for several years. In fact, on a year-over-year basis, employment levels have risen consistently in one of the best recoveries in United States history.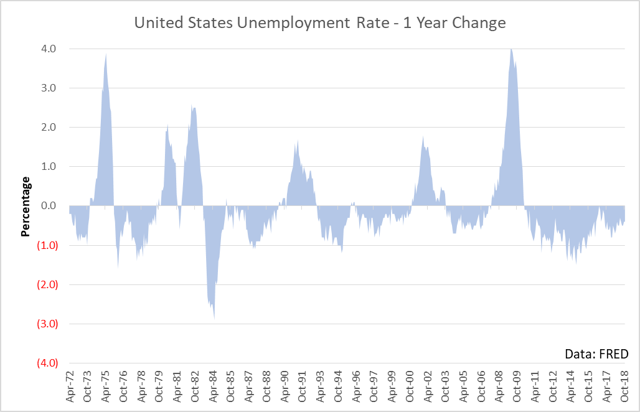 Next, GDP continues to grow with the latest year-over-year growth rate being the highest level seen since the boom period of 2006.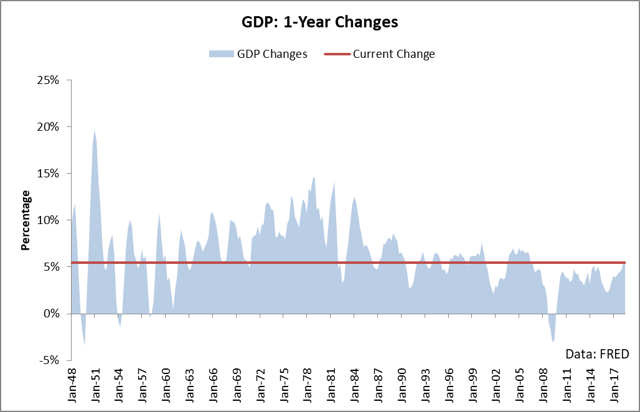 And finally, inflation is consistently coming in above the 2% level targeted by the Federal Reserve.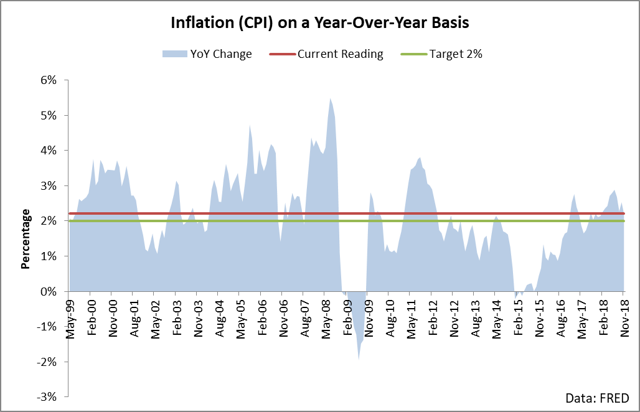 So from a purely economic standpoint, times are good and they have been getting better. As I recently pointed out in another analysis, it's times like these when investors need to be hyper-vigilant. In the long run, the only way to achieve non-average returns is to do something different than the average market participant.
Right now, the average market participant appears to have been long and strong for quite a few years, but with the recent sell-off, many investors were forced to reevaluate their positions. As can be seen by simply looking at the chart of the S&P 500 index, over the last two months the average market participant has been quite shocked by the recent fall. In fact, over the last few days, we've seen the market break into fresh lows with virtually zero concern or buying interest, indicating that sentiment is continuing to shift and a lot of traders and investors have been caught napping by the recent movement.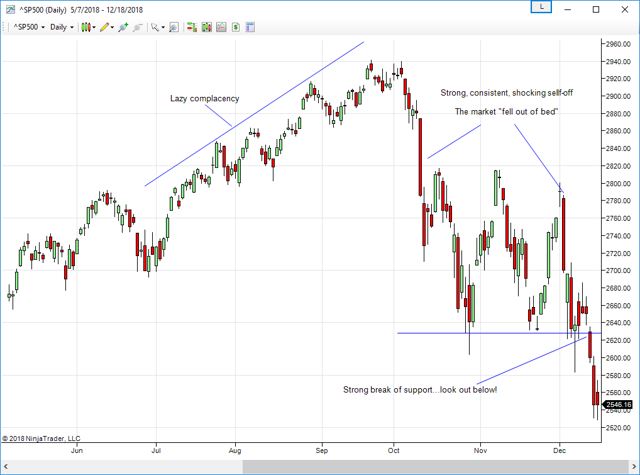 I believe we are seeking a change in market cycles unfold before our eyes. We have seen economic conditions strengthen for many years and the market has been flashing healthy signals for quite a while. It has climbed a wall of worry and rolled over bear traders for year after year. The sentiment and fundamentals have been bullish for many years and I believe that we are finally seeing the long-awaited bear market. To frame this up using numbers, all we need to do is take a look at how long historic fundamental moves normally last and it is pretty evident that statistically, we are overdue for an economic contraction.
First, let's examine GDP. From a numerical standpoint, we have seen 5 consecutive quarters of growing GDP growth rates. GDP generally increases so I am measuring increases in GDP year-over-year growth rates to strip out the natural increase effect of the indicator. As seen by the chart below, if we see the GDP growth rate increase again, it will push us into the best economic environment in at least 24 years.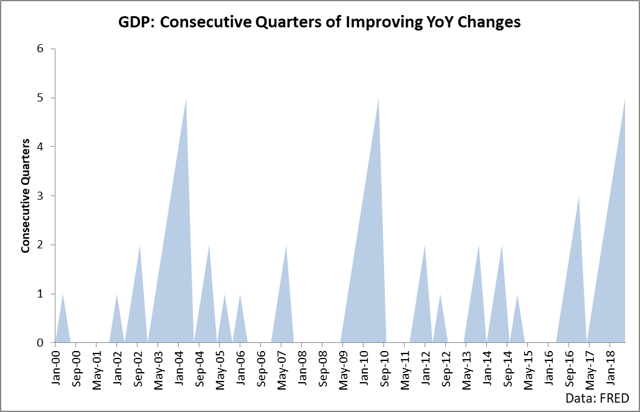 From an unemployment standpoint, we are currently in the extreme tail of historic distributions of employment rate. Very few months ever see an unemployment reading in the territory we're seeing now and numerically speaking, the rubber band is stretched very thin with the 18-month growth rate in unemployment decreasing for 8 years straight.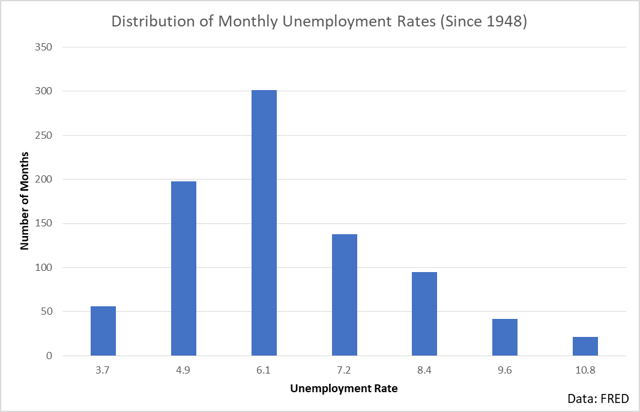 In light of this fundamental information, investors should strongly considering waking up from the bullish attitude and sentiment which has prevailed for the last few years. Bullishness was fitting in the early days of the rally because improving fundamentals in the face of contrary sentiment tend to correlate with improvement in prices. However, from a pure numerical standpoint, we are literally at the edge of what has statistically been possible or knowable in United States economic history. The cards really are laid on the table and investors looking to protect their portfolios should strongly consider the signs of the times.
Investors who would argue for continued upside, should go back and examine the environments in which the economy improved. In the early 90s, the U.S. experienced a recession and in its aftermath the U.S. saw strong economic growth and one of the strongest bull markets in equity market history. This rally in stocks was driven largely by an internet boom and cheap interest rates. If anything, today's environment is completely different – we have an internet bust in the form of cryptocurrencies popping and interest rates continue to rise as the U.S. tightens its economic policies. No, there is very little upside remaining in this economic swing and I believe investors would be wise to stand on the sidelines here.
Given the stretched economic conditions coupled with an ensuing pullback in stocks, my recommendation remains: short the stock market or stay on the sidelines until we see the approaching recession bottom out.
Disclosure: I/we have no positions in any stocks mentioned, and no plans to initiate any positions within the next 72 hours. I wrote this article myself, and it expresses my own opinions. I am not receiving compensation for it (other than from Seeking Alpha). I have no business relationship with any company whose stock is mentioned in this article.