Market Intro

CNBC: 12:15PM EST
US stocks (SPY, DIA, QQQ, IWM) continue to take a beating on Thursday after the comments from Chair Powell failed to carry the soothing tone that many market participants had hoped for.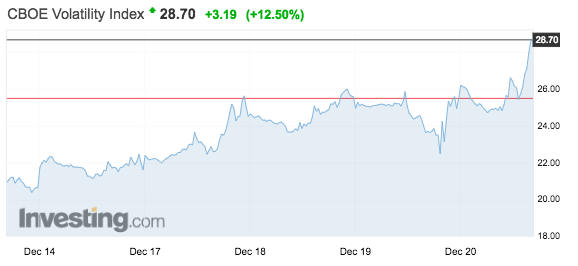 Spot VIX is nearing a thirty-handle, picking up steam with each trading day. Investors need to learn to contend with true and persistent volatility in this ongoing episode.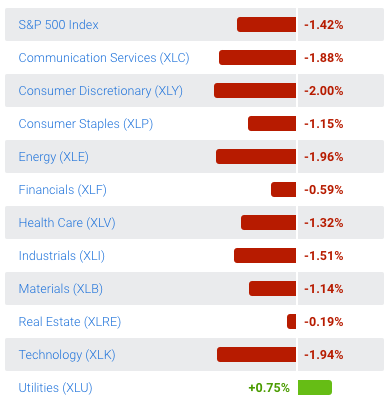 SectorSPDR
Utilities (XLU) is the only sector enjoying a modest boost. Financials, while lower, are at least not leading the pack at this time. FANG-heavy tech (XLK), communications (XLC) and discretionary (XLY) are in the vanguard of this downbeat onslaught.
Thoughts on Volatility

What shall we say of Powell? For my part, I think that he is left with the task of doing what Bernanke should have been doing back in 2013, which is getting central bank policy out of crisis mode.
Rates are still only in the 2.25-2.50 corridor, very low for a GDP growth rate with a low three handle and a U3 unemployment rate below 4%.
Chair Powell is creating distance between himself and his predecessors. In so doing, he creates a more independent Fed, and also one that is less inclined to ride to the rescue of risk assets.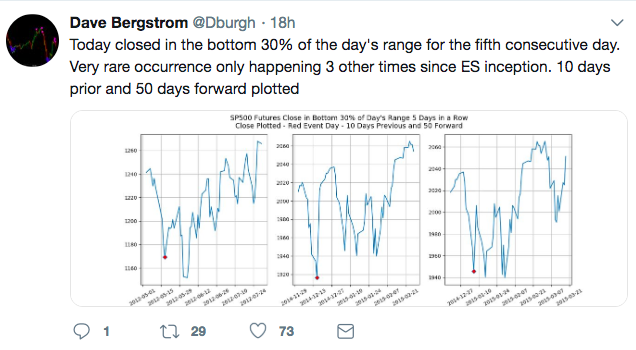 The action in stocks over the past few sessions has been brutal, no question there. The above visual from Dave Bergstrom displays what an anomaly the last few days have been.
Bulls cannot maintain an uptrend seemingly for any more than a few hours. At this time, it is important to remember that volatility on its own is an intrinsically symmetric concept, which is to say there is room for meaty upside so long as VIX trades near 27 (as it is right now).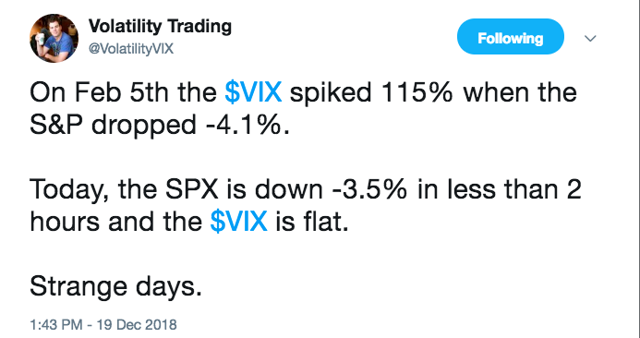 Feb 5 was different. One could very well argue that in early February, it was the skyrocketing VIX that caused the SPX to drop. Now, the vol markets are more settled, even if the levels are higher. Also, it would be difficult to imagine the Fed meeting (with high visibility that rates would be raised) to cause a swift doubling of spot VIX from call it 23 to 46.
Term Structure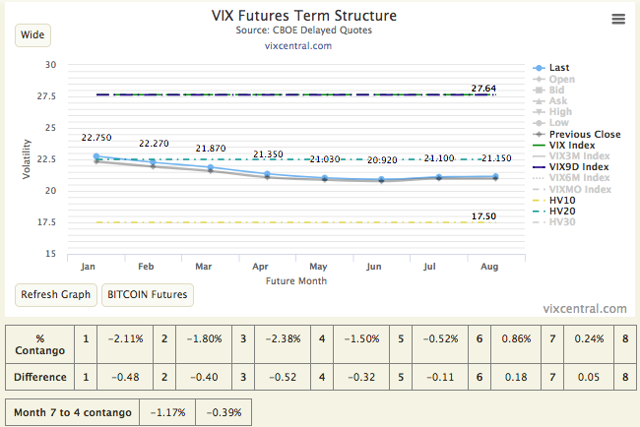 Thursday's term structure looks much the same as yesterday's, with a slight boost higher at the front end. My opinion is that the front end is going to become increasingly untethered from the more stable back end, and that we are going to see a rather fitful VX1 and 2 that flow more fluidly with spot.
VIX9D trades basically on par with spot at this time.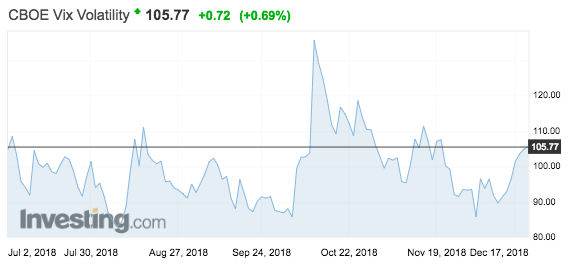 MarketChameleon: VXX implied volatility
VVIX is starting to stretch out from the very low levels we witnessed in early December. This suggests that the term structure itself is priming to become more volatile, but at this time is still within a pretty typical range.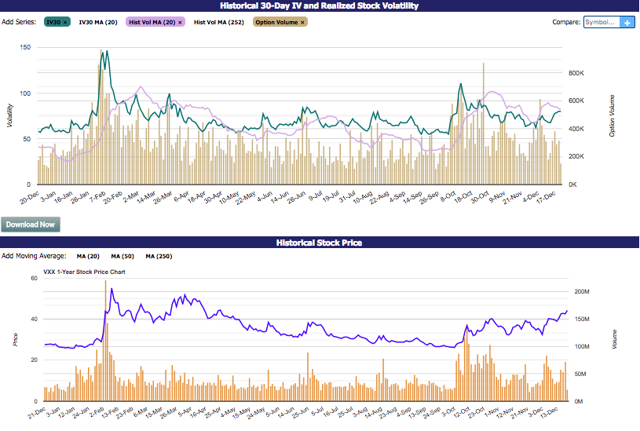 MarketChameleon.com - VXX Implied Volatility
VXX implied volatility is rising modestly, but nothing particularly special at this time in comparison to the rest of the year. The ETP has recovered its losses back to mid-April, and the roll yield between the M1 and spot VIX is quite favorable to a long VXX position.
Wrap-Up
If this is your first time reading Market Volatility Bulletin, thanks for giving it a try. If you're a regular, I thank you for your ongoing contributions in the comments section.
Thank you for reading.
Please consider following.