Introduction
The biggest problem with most economic commentary is that it simply projects a current trend forward, which is why it constantly misses turning points. Only after those inflections are very clear does most commentary catch up. So at the moment, while others focus on the contemporaneous chaos in stock prices, and have finally noticed that there has been a problem with housing this year, as always I want to update the most forward-looking data. Because there have been several significant changes.
After colliding with Charybdis, the Fed scrapes Scylla
Let's start with interest rates. For several years now, I have been describing the Fed's actions as trying to steer a path between the Scylla of an inverted yield curve (if long rates stayed low) and the Charybdis of a downturn in housing (if long rates moved higher in tandem with low rates).
For most of this year, the Fed was bumping into Charybdis, as the 10-year yield went decisively above 3%, mortgage rates over 5%, and housing sales by all measures declined beginning no later than this past March.
Well, the good news is that those higher rates have - at least for now - ended. Here's the graph of mortgage rates, weekly, through Monday: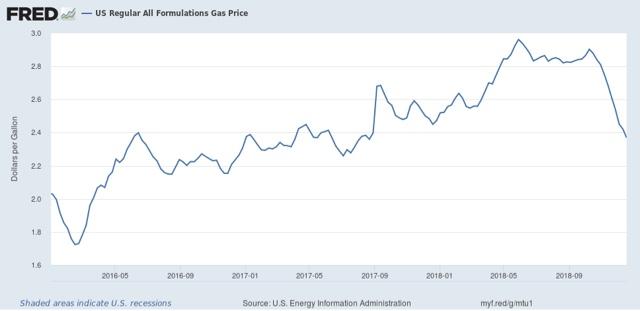 And here is a chart that updates mortgage rates (from Mortgage News Daily) through this morning: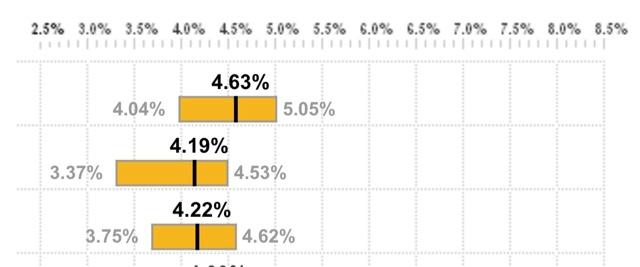 The first line is the 30-year fixed rate mortgage, the second the 15-year, and the third the FHA 30-year rate.
Note that these are all getting close to the midpoint of their 52-week range. By reference, the 30-year conventional rate was as low as 3.4% in 2016 in the FRED data.
As a result, I fully expect the slide in housing sales to end. Here's an update of a graph I have run many times, the YoY% change in interest rates (blue), which leads the YoY% change in housing permits (red) typically by 3 to 6 months: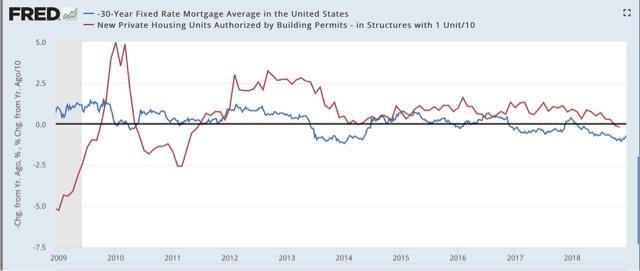 Mortgage rates are now down close to where they were in the period from March to August. Still, since this is *after* the time that housing sales peaked, and since, as shown in this graph below, the increase in housing prices has slowed, it has nevertheless continued at a pace of roughly 4% YoY: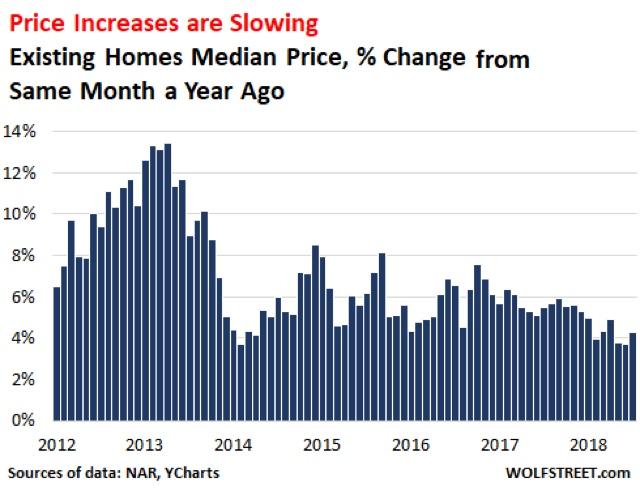 So I am expecting negative YoY readings for at least a few months yet, and am not expecting a breakout to any significant new highs in housing in the next 6 months or so.
But if lower interest rates mean relief for the housing market, they aren't turning positive for the economy as a whole, as the Fed is now sideswiping the Scylla of an inverted yield curve.
Here's the 50+ year long view of the Fed funds rate (red) and the 10-year Treasury yield (blue):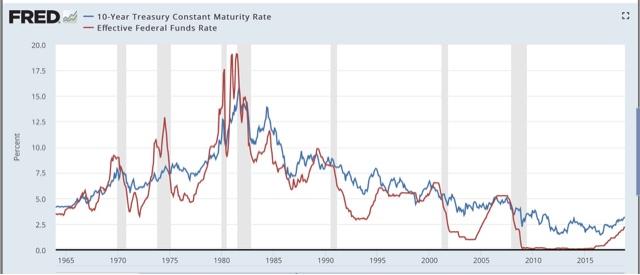 Notice that prior to each recession, the Fed funds rate has (1) increased (2) to a level higher than the 10-year yield. This of course is a yield curve inversion. But additionally, on one occasion (1966), there was an inversion without a recession, and on two occasions (1984 and 1994), just like presently, there were near-inversions. In all three of those cases, there were significant economic slowdowns; in two of them (1966 and 1994) stopping just short of recessions.
Next, let's focus on the modern disinflationary era: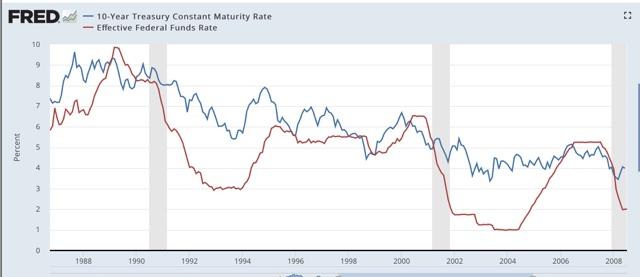 This is the same graph as above, but what I want to call your attention to is that roughly 6 to 12 months before each recession during this era, the 10-year Treasury bond yield has declined significantly. In two of those cases, the Fed started actually to lower interest rates within 2 months. In 2000, as you can see, the Fed continued to raise rates for about 6 months before the developing weakness was clear. But this also happened in 1966, 1985, and 1995, when a recession was averted.
Now let's focus on the present. The long leading indicators have been forecasting weakness - but not a recession - for over half a year. And now, notice what has happened with 30-year Treasury yields in the last several months (note graph does not show yesterday's rate hike):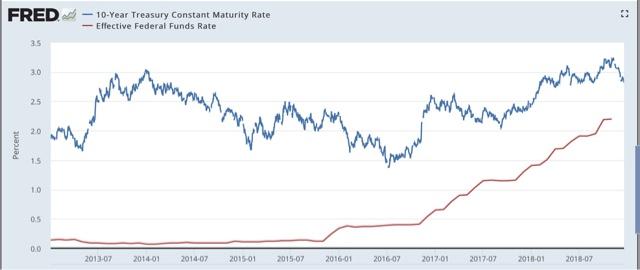 That the Fed has increased rates in the face of weakness as shown by long bond rates is not good.
Further, although the yield curve came within 3 basis points of completely normalizing yesterday before the Fed announced its rate hike, after hours the inversion actually spread to the 1-year vs. 5-year yield, as shown in the below screenshot from CNBC: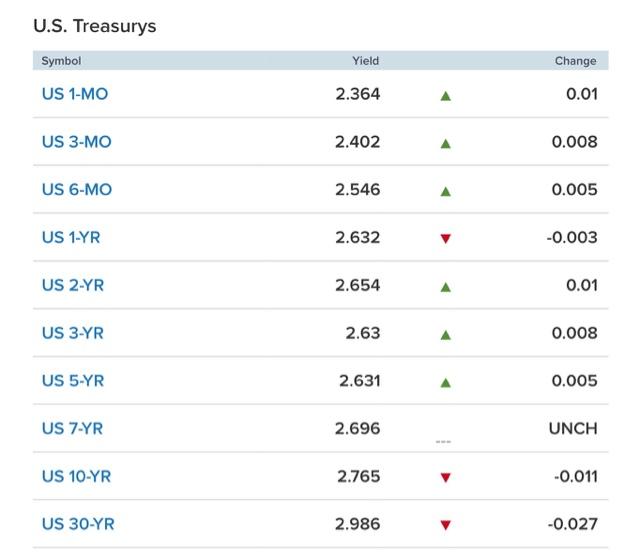 As I write this, that inversion has abated, but the 1- vs. 5-year spread has varied between 2 and 5 basis points! Here's what the 5 minus 1-year spread looks like historically: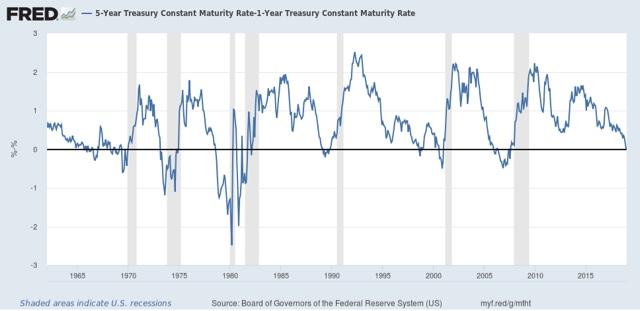 As I wrote several weeks ago, if the camel's nose has truly entered the tent, we should expect the yield curve inversion to deepen and spread.
And a word about oil
In addition to housing and interest rates, the sharp decline in the price of oil, while not on par with that of 2014, is nevertheless significant. While a big decline in the price of gas is a boon to consumers, much of the US's improvement in industrial production since 2009 has been the onset of "Saudi America," suddenly the world's biggest producer again.
As the below graph shows, when oil and gas prices collapsed in 2014 into 2015, both industrial production *including manufacturing* declined (red), and real GDP decelerated (green), including one negative quarter: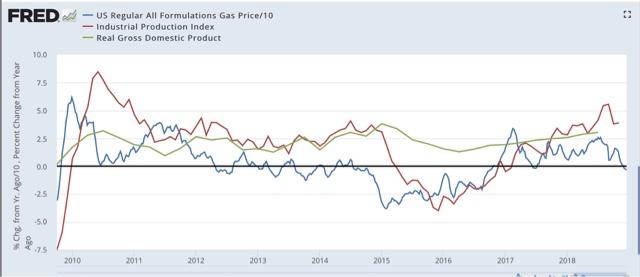 The price of oil and gas is a short leading indicator. We can expect to see an impact on production and GDP by the first or at least second quarter of next year.
Conclusion
To sum up, several forward-looking indicators have recently had a sharp change of trend. While there is some good news for the housing market, it is at least counterbalanced by possibly spreading yield curve inversion, and the likely negative impact to production of renewed stress in the Oil Patch.