REIT Rankings: Storage
In our REIT Rankings series, we analyze each of the residential and commercial real estate sectors. We rank REITs within the sectors based on both common and unique valuation metrics, presenting investors with numerous options that fit their own investing style and risk/return objectives. We update these rankings every quarter with new developments.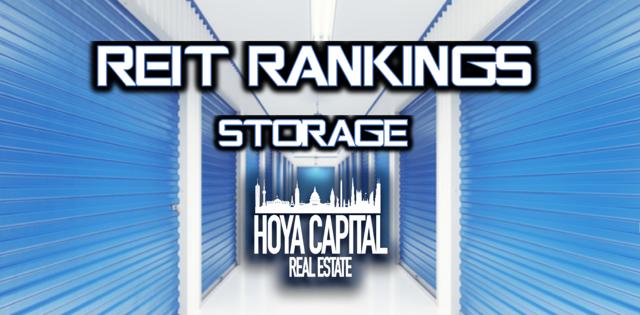 We encourage readers to follow our Seeking Alpha page (click "Follow" at the top) to continue to stay up-to-date on our REIT rankings, weekly recaps, and analysis on the REIT and broader real estate sector.
Storage REIT Sector Overview
Storage REITs comprise roughly 8% of the REIT ETFs (VNQ and IYR) and roughly 20% of the Residential REIT ETF (REZ). Within the Hoya Capital Storage REIT Index, we track the five largest self-storage REITs, which account for roughly $60 billion in market value: CubeSmart (CUBE), Extra Space Storage (EXR), Life Storage (LSI), Public Storage (PSA), and National Storage Affiliates Trust ( NSA).

While all five REITs are diversified across the country, we note the geographic and quality focus of the four REITs above. CubeSmart has a high-quality portfolio with a focus on metro areas in NYC and along the east coast. Extra Space has a similarly high-quality portfolio but is more evenly diversified across the country. Public Storage, the largest storage REIT, has a large west coast presence and owns a higher percentage of suburban and international assets than its peers. Life Storage and National Storage have the lowest average-rent portfolio of the group with a more suburban focus in the sunbelt states.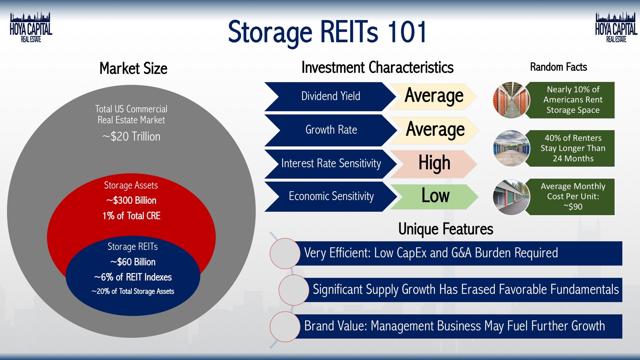 Roughly one in ten Americans currently rent space in a self-storage facility. These 30 million Americans park their possessions in one of 50,000 self-storage facilities throughout the country. Proximity to one's home (generally 3-5 miles) is cited as the most important feature. 70% of customers are residential, with the other 30% split between businesses, students, and the military. The self-storage industry is a highly fragmented industry. These five REITs own roughly than 20% of the total square footage in the US and about one-third of the total "institutional quality" market. Revenue management technology, brand value, and cost of capital give these REITs a competitive advantage over private market competitors.
Recent Fundamental Performance
Storage REITs delivered their third consecutive solid quarter in 3Q18, confirming that fundamentals have indeed stabilized throughout 2018. Four of the five REITs topped estimates in 3Q18. CUBE and LSI boosted full-year NOI guidance, bringing the sector average to 2.1% from 2.0% last quarter. While pricing power remains relatively weak amid ample new supply, realized rent per occupied square foot rose a solid 2.2% over the past year led by Life Storage at 5.6%.

Same-store NOI continued to slow, however, rising 1.8% in the third quarter, slowing from the 2.4% rate in 2Q18. The steady decline in average occupancy over the last two years has weighed on revenue and NOI growth. A positive surprise from third-quarter earnings was the moderation in expense growth, which slowed from 3.0% to 2.6%. On a trailing twelve month basis, average SS-NOI growth has slowed significantly since peaking in 1Q16 at 11.0%, and is now below the REIT average of 2.8%.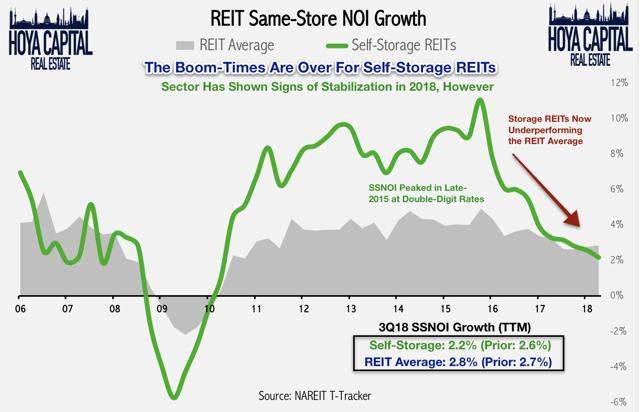 Recent PPI data, however, has signaled positive momentum for the sector heading into the end of the year. The PPI index for self-storage operators, which has a nearly perfect correlation with same-store rent growth, has continued to rise throughout the year and now stands at 2.7% YoY in November after bottoming earlier this year in negative territory. The last two months have been particularly strong and have brightened the outlook for fourth-quarter earnings.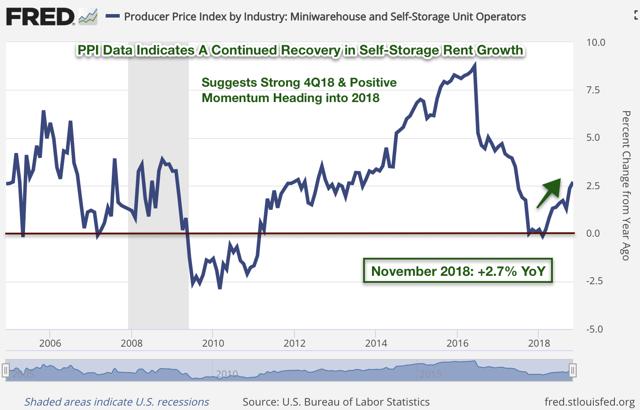 Interestingly, despite the significant pullback in storage REIT shares and valuations from all-time highs in the spring of 2016, in addition to rising risk-free rates, private market valuations have actually steadily increased over the last several quarters. REIT executives cite robust private equity and foreign demand for private market storage assets. The premium on private market valuations has made acquisition-fueled growth less appealing for REITs, forcing many REITs to scale back on acquisition plans for 2018. On a TTM basis, storage REITs acquired a net of just $2.3 billion of assets, increasing from the $1.9 billion rate last quarter.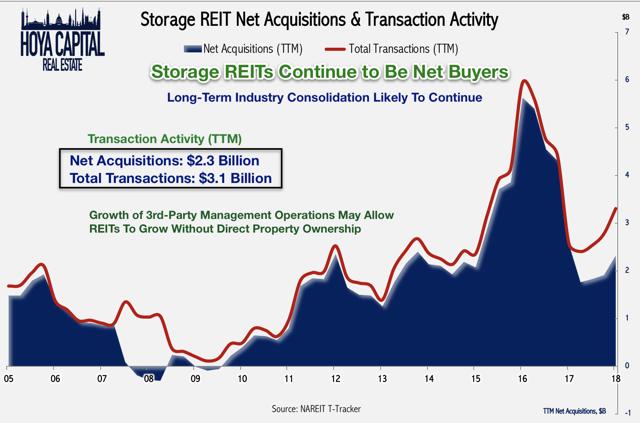 The supply pipeline remains the key threat to fundamentals. The lack of new supply in the storage sector was the driving force behind the sector's significant outperformance in prior years. 2-4% annual supply growth is expected in each year from 2016-2019, likely outpacing the 1-3% expected demand growth. Supply growth has been most acute in the major metropolitan areas and less troublesome in secondary markets, but most analysts expect new development to flow into the areas that have seen less construction in recent years. Assets in markets with heightened supply growth generally see a 1-4% slowdown in same-store revenue, depending on the proximity and characteristics of the competitive location.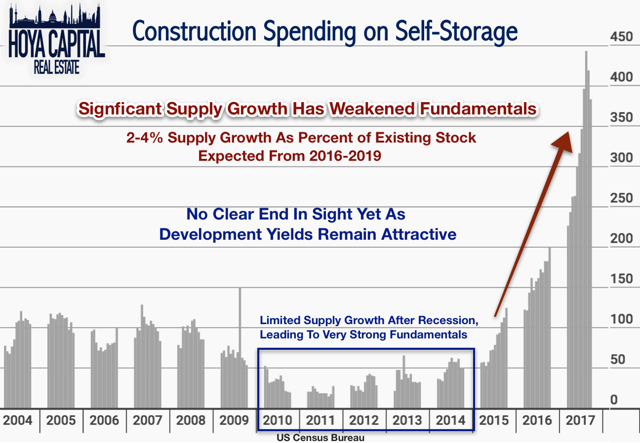 Ultimately, absent significant barriers to entry, the rate of supply growth in any real estate sector will be a function of the development yields achievable. While there are some barriers to entry related to zoning regulations and brand value of these REITs, over the past five years, the development yield on storage facilities have been too appetizing for developers to pass up. Development yields in excess of 10-15% led to a wave of development from private equity developers and REITs themselves. Development yields have compressed in recent years amid a rise in construction costs and moderating rental fundamentals. From EXR's earnings call:
Costs are up; interest rates are up, land pricing is up; labor is certainly up; material is up. So you have an increased cost. And then the other side, you have moderating operating projections. So I think all those factors make it harder these days to stick the next shovel in the ground.
The storage REIT development pipeline has finally pulled back from the peak in 2015 and has been shrinking over the last seven quarters dating back to mid-2017. A double-edged sword for storage REITs which are some of the biggest culprits of adding new supply, development yields remain moderately attractive, which means that the new supply pipeline will remain at least somewhat active into 2019 and beyond.
Core FFO growth is expected to slow to roughly 5% this year, led by EXR and PSA at nearly 6%. Even with the softening in fundamentals and a slowdown in external growth, Core FFO still grew a healthy 6.8% in 2017, which put the sector toward the top of the real estate industry. As we'll discuss shortly, REITs continue to be active developers as yields on new development continue to be accretive, fueling much of this FFO growth.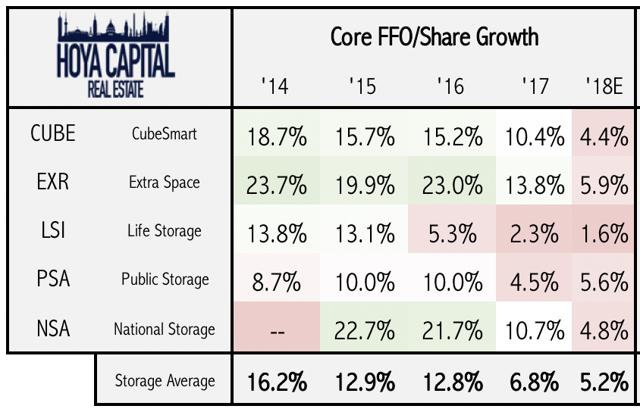 Storage REITs continue to be standouts within the sector when it comes to NOI margins and CapEx requirements. We applaud storage REITs for their continued improvement in operating efficiency and G&A load, and believe that this is one of the most appealing characteristics of the storage REIT sector. Since 2013, NOI margins have expanded by roughly 200-300 bps to roughly 71%, among the highest NOI margins in the real estate sector. Additionally, storage REITs spend just 3-6% of NOI on capital expenditures per year, second only to net lease REITs and well below the REIT average of 10-15%. G&A accounts for roughly 7% of revenue, which is roughly on par with the REIT average, led by PSA at 4.4%. More than perhaps any other REIT sector, the revenue that comes into the business ultimately ends up in the hands of investors.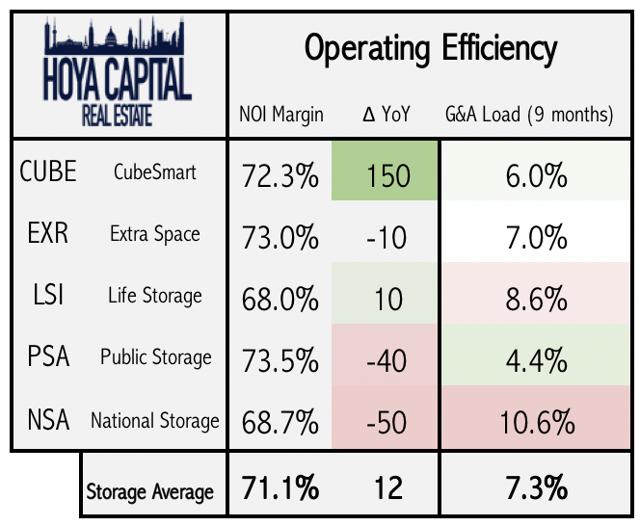 Recent & Long-Term Stock Performance
Storage REITs were the darlings of the REIT sector from 2010 through 2015, delivering a sector-leading average 28% annualized total return in that six-year span. The past two years have been far more challenging, as the sector was among the weakest performers in 2016 and 2017.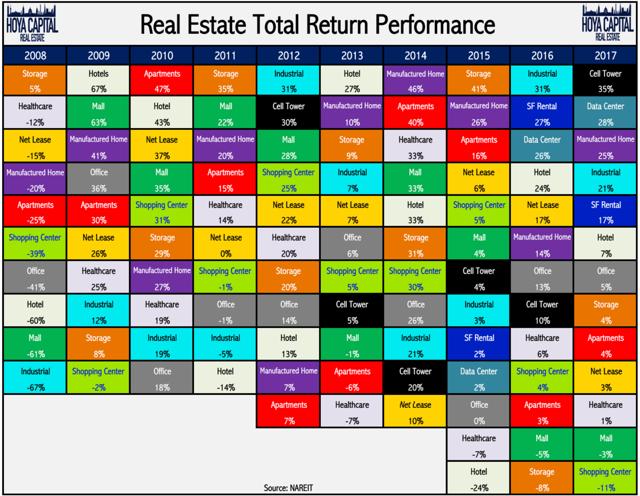 Since bottoming in mid-2017, the storage sector has been among the better-performing real estate sectors amid a string of better-than-expected earnings results dating back to mid-2017. In 2018, the sector has remained in positive territory for most of the year, returning roughly 2% on a price-basis compared to the 6% decline in the broader REIT average. However, compared to the rest of the residential REIT sector, storage REITs have slightly underperformed.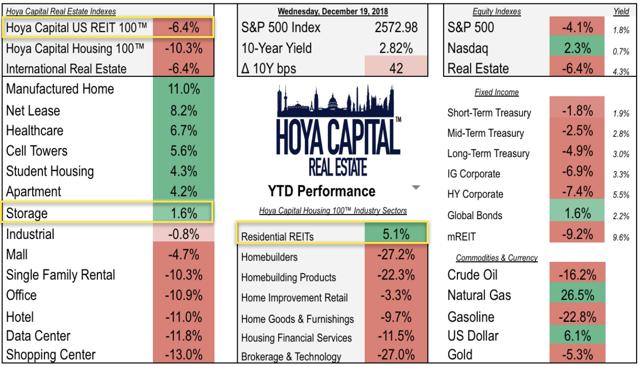 Life Storage has been the top performer of 2018, followed by Extra Space and CubeSmart. Public Storage, among the largest REIT in any sector, has been the laggard, weighing on the broader storage index. As we'll discuss, the smaller REITs- particularly CUBE and EXR- have taken a playbook from multifamily REITs and have been leaders in utilizing technology and data analytics for revenue optimization. We've been critical of PSA in the past for the slow pace in which it has adpoted such technology.

Deeper Dive: Supply/Demand Analysis
Resilient demand continues to be the bright spot for storage REITs, powered by a strong job market and rising wages. Importantly, advertised rates ("Street rates") have generally held firm, which is a good indicator of future same-store revenue growth and occupancy. Steady or slightly rising "Street rates" allow these REITs to more easily push rent increases on existing customers, which generally account for the majority of same-store rent growth. As storage demand is largely driven by job growth and labor market turnover, JOLTS data is an important metric to watch. JOLTS data released last week showed a new-all-time record number of job openings at 7.08 million. Nearly 2.5 million net new jobs have been created over the past 12 months, the strongest rate of growth since early 2016.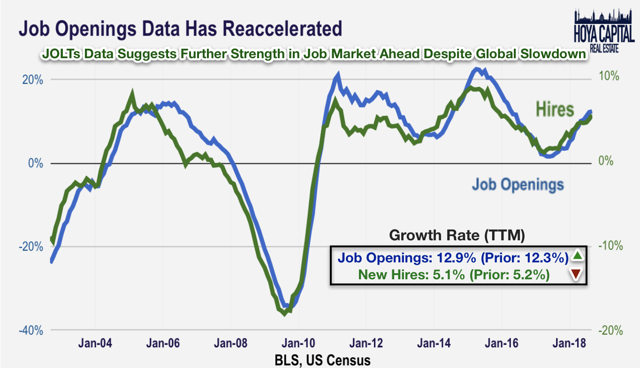 Following a lull in demand during the immediate aftermath of the Great Recession, consumers have exhibited a strong appetite for home improvement spending in recent years. The furniture and home improvement categories have seen the strongest growth of all retail categories besides non-store retail (e-commerce) over the past five years. Furniture and appliances are the two most commonly "stored" goods in self-storage units. The 5%+ rate of growth in these storable goods categories indicates that there will continue to be plenty of old couches and mattresses that will find themselves in one of the 50,000 storage facilities around the country.
The Wild Card: Third-Party Management Business Grows
Third-party management is one area of the storage sector that has many investors excited about future high-margin growth opportunities. Public Storage calls it the "Amazon strategy", in which REITs collect a percentage of revenue from private storage operators for the use of their brand and technology platform. We think it's more comparable to the hotel management business, where operators like Marriott (NYSE: MAR) are able to use their brand value and operational expertise to capture significant economic value.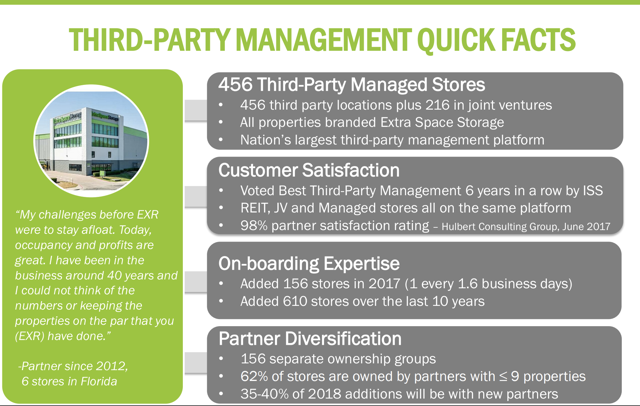 (Source: EXR Investor Presentation)
Clearly, margins are very high for this business line, but the long-standing fear among storage REITs is that it effectively lowers the hurdle to entry and encourages new development. Extra Space and CubeSmart have been the leaders in this category, but Public Storage should begin to make a push into the business line by the end of the year. EXR, CUBE, and LSI each grew their third-party management by more than 10% over the first three quarters of 2018. While it remains a small portion of total revenue (3-5%), we think it is an attractive business line that will blunt negative impact of supply growth.
Valuation of Storage REITs
For much of the post-recession period, storage REITs traded at sizable premiums to the REIT average, attributable to their sector-leading growth rates. As fundamentals have moderated, however, storage REITs valuations have come down to trade roughly in line with the broader REIT average. Compared to the other REIT sectors, storage REITs appear fairly valued, trading at modest discounts to the REIT averages. After trading at an NAV premium for most of the past several years, storage REITs now trade at roughly NAV parity.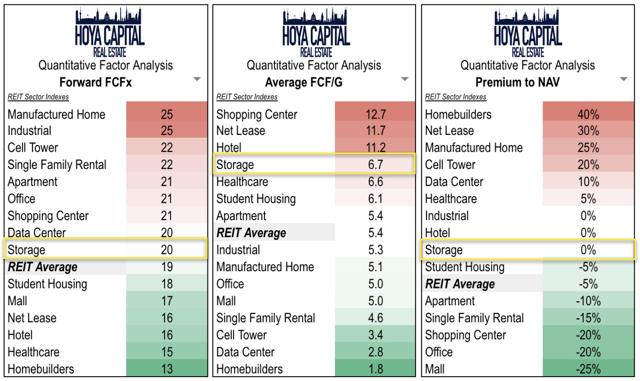 (Source: Hoya Capital Real Estate estimates, Company Filings)
Dividend Yield and Payout Ratio
Based on dividend yield, storage REITs rank in the middle, paying an average yield of 3.9%. Storage REITs pay out roughly 80% of their available cash flow, leaving sufficient cash flow for development and acquisition-based external growth.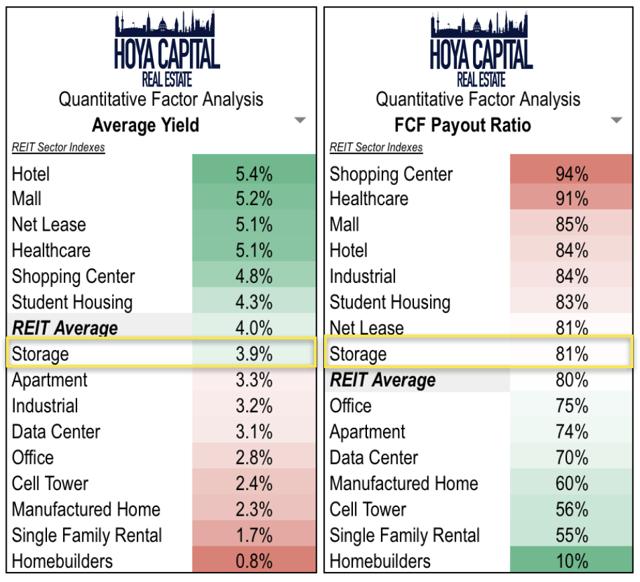 Within the sector, we see that National Storage pays the highest dividend at 4.3%, followed by CubeSmart and Life Storage.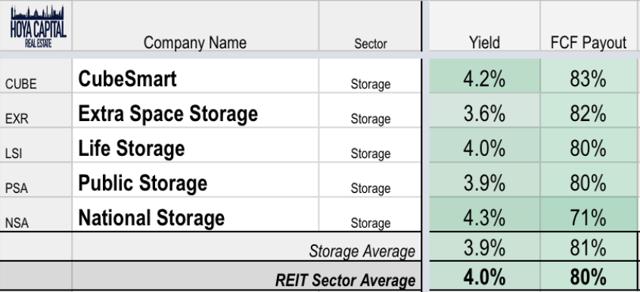 Sensitivities to Equities and Interest Rates
In recent quarters, as their growth rates have slowed, storage REITs have become increasingly interest-rate-sensitive. The sector exhibits the fourth-highest interest rate sensitivity among REIT sectors but has among the lowest correlations with equity markets.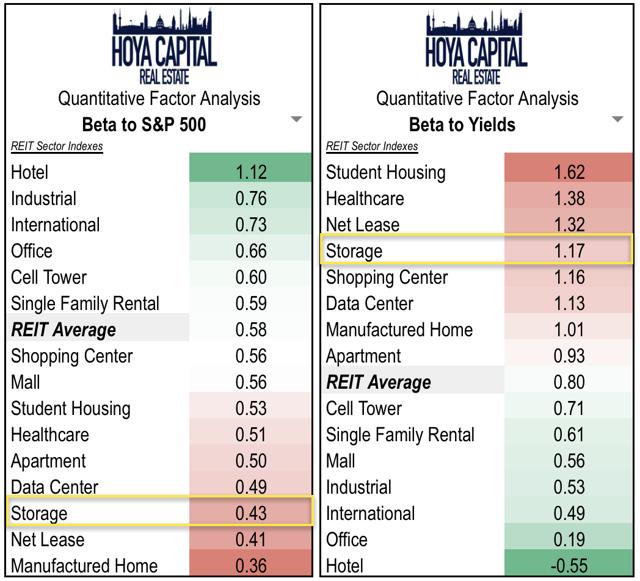 We separate REITs into three categories: Yield REITs, Growth REITs, and Hybrid REITs. As a sector, storage REITs fall into the Yield REIT category and should be used by investors seeking diversification from equity risk and as a steady, predictable source of dividend income. The four larger REITs are classified as Yield REITs, while NSA is considered a Hybrid REIT.

Bottom Line: Outlook Brightens for Storage REITs
The euphoric times may be over, but don't count out the self-storage sector quite yet. Storage REITs have outperformed in 2018 as fundamentals have broadly stabilized despite continued supply growth. The secret got out. Robust rent growth and favorable demographic trends prompted a wave of institutional money to enter the space. High levels of new development have pressured fundamentals.
The supply boom appears to finally be receding as development yields moderate. After flirting with negative growth in late 2017, rent growth metrics have broadly accelerated throughout 2018. Third quarter earnings were better than expected, carrying positive momentum into 2019. As demand is driven largely by labor market conditions, however, an economic slowdown could quickly dim the outlook.
A slowdown in the single family homeownership markets could actually benefit these REITs, which have been big beneficiaries "renter nation," effectively performing as an extension of the multifamily rental industry. Leveraging their brand value and operational expertise, storage REITs continue to make headway into the higher-margin third-party management business. A recovering NAV premium has re-opened the external growth spigot.
For an in-depth analysis of all real estate sectors, be sure to check out all of our quarterly reports: Net Lease, Data Center, Manufactured Housing, Student Housing, Single-Family Rentals, Apartments, Cell Towers, Manufactured Housing, Malls, Shopping Centers, Hotels, Office, Healthcare, Industrial, Storage, and Homebuilders.
Disclaimer: All of our published commentary is for informational purposes only, always provided free of charge. Commentary is purely theoretical and not intended as investment advice. Information presented is believed to be factual and up-to-date, but we do not guarantee its accuracy and it should not be regarded as a complete analysis of the subjects discussed. An investor cannot invest directly in an index and index performance does not reflect the deduction of any fees, expenses or taxes. Data quoted represents past performance, which is no guarantee of future results. The information presented does not reflect the performance of any fund or other account managed or serviced by Hoya Capital Real Estate. Please consult with your investment, tax or legal adviser regarding your individual circumstances before investing. For complete disclosure, view our profile via the link above.
Disclosure: I am/we are long VNQ, PSA, EXR, PSA. I wrote this article myself, and it expresses my own opinions. I am not receiving compensation for it (other than from Seeking Alpha). I have no business relationship with any company whose stock is mentioned in this article.