If Jerome Powell was hoping his mild dovishness would help boost the market, boy was he in for a fun ride. Guess at which point the news of the hike was announced?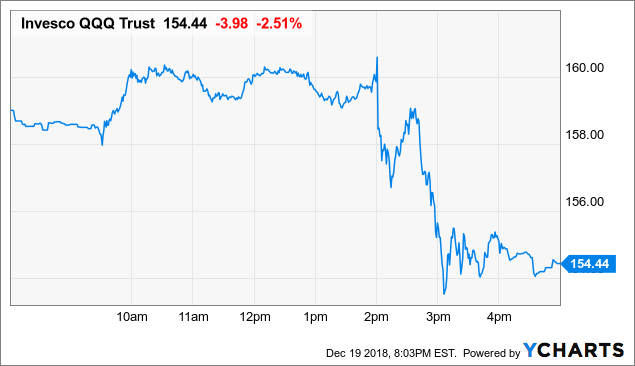 The market tanked in spite of the dialing down of rate hike expectations for next year.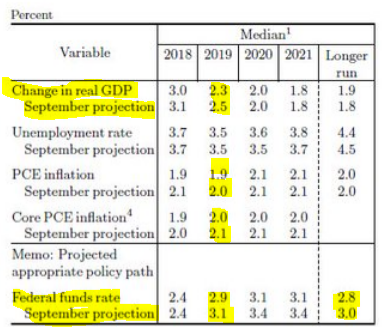 Source: Dailyfx.com
It seems investors felt that the only thing that could rescue this market is if Powell unequivocally declared that the Fed will never hike rates unless every FANG stock achieves a trillion dollar market cap. One thing we observed beyond that was the accelerated selling when Powell suggested that the Fed balance sheet reduction will continue as planned.
The ultra minority view
We believe the Federal Reserve Balance Sheet's absolute size is less relevant for financial market performance than the weather on any one of Jupiter's moons. We are going to give a few reasons why below. We ask that investors look at this data with an open mind.
The biggest balance sheet reduction also had the biggest returns
The Federal reserve balance sheet has been this high as a percentage of GDP once before.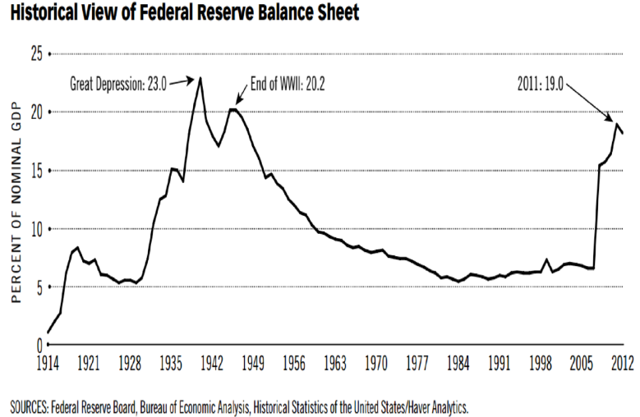 The Federal Reserve did unwind that extra large balance sheet over the course of the next 2 decades and it was close to historical levels (as a percentage of GDP) by 1970. What happened to the stock market during that time frame?
It returned a rather scintillating 13.01% compounded annual rate over that time frame.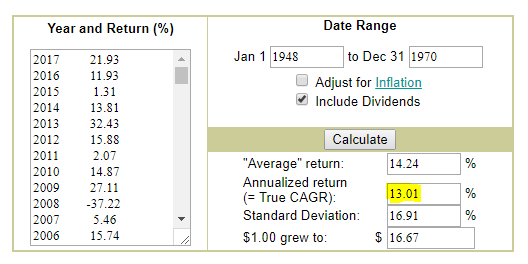 Source: Moneychimp.com
So clearly stocks can go up when the Fed is shrinking its balance sheet. Was that something you would expected?
Remember when lack of Quantitative Easing (QE) was supposed the end the bull market?
Well some people do.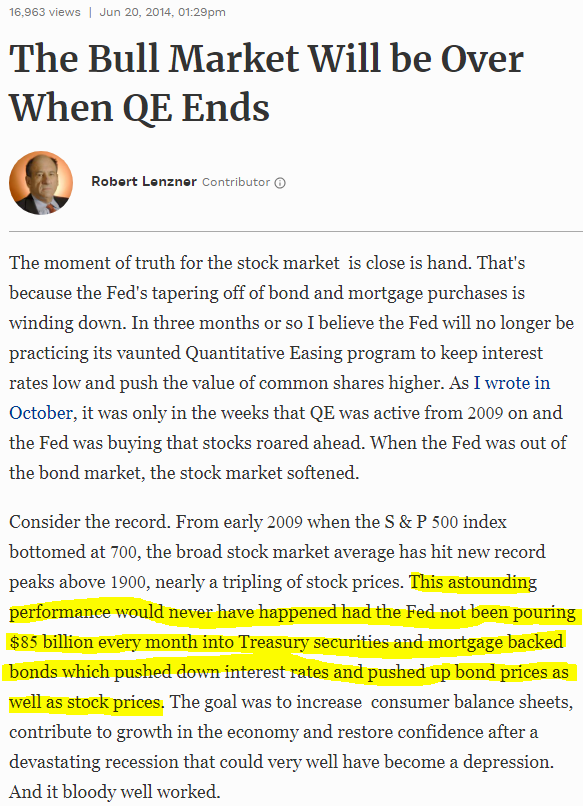 Source: Forbes
He was not alone.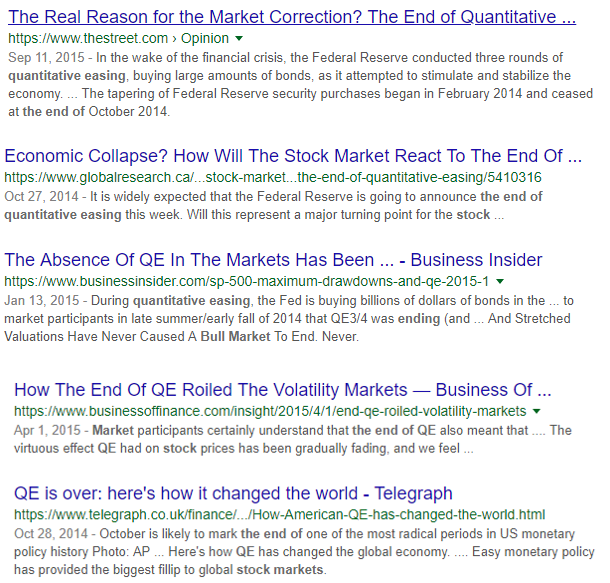 Source: Google
And how exactly did that turn out?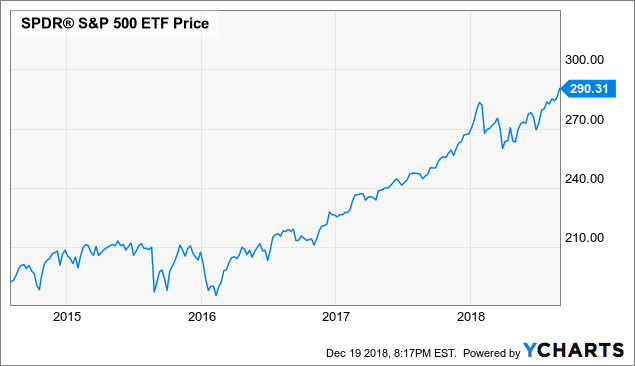 This chart above conveys a lot and it is imperative that investors understand it. The S&P 500 rose from that point of stopping QE by about 1,200 points. Now, while that may be a smaller percentage gain than obtained from the 666 low to 1,700 SPX, it is a higher point gain. So the market gained more dollars of worth after QE ended than when it was running in full swing. If QE was indeed the sole driver of asset prices, why would they increase more after it ended?
QE is less effective than a placebo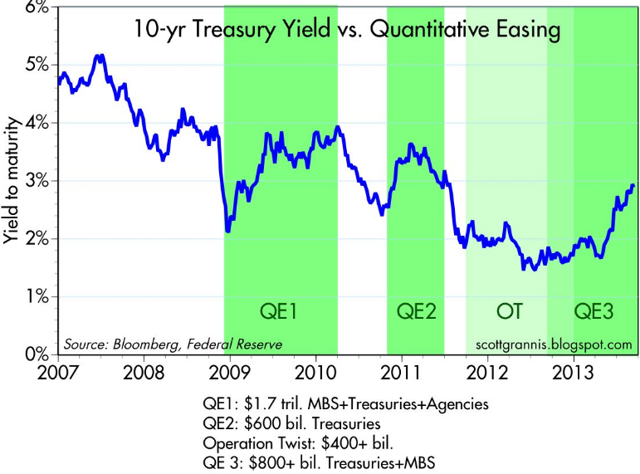 10 year Treasury yields always moved higher during QE and went lower in lull periods. Anyone expecting QT to send yields higher would have to first explain this phenomenon
No transmission this time either
QE allegedly worked by reducing interest rates, which of course never happened. Even if we disregard that, QT should cause its pain therefore increased interest rates. The 30 year Treasury bonds have now recovered back to 3.07%. We would note that they were hovering around 2.9% before QT began. Are people seriously crying over 17 basis points?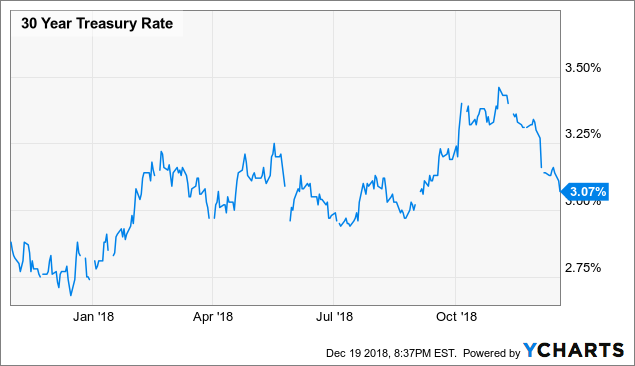 The 30 year treasury rate performance is rather amazing considering the amount of bonds that were sold alongside multiple rate hikes by the Fed.
Conclusion
Yes, we can all make silly correlations, but the fact remains that we don't have a casual link between Fed's QE and asset prices or inflation. This bull market will not end until the majority get that message. The current weakness in stocks is partly from a normal correction and partly from the administration's extremely hostile trade policies slowing global growth. The US dollar strength which is a direct consequence of rate hikes, had also played a role. The balance sheet, on the other hand, is much ado about nothing.
For more analysis such as this, please consider subscribing to our marketplace service, Wheel of Fortune.

The Wheel of FORTUNE is one of the most comprehensive services, covering all asset classes: common's, preferred's, bonds, options, currencies, commodities, CEFs, etc.
Take advantage of our year-end special, which includes significant discounts ($924/year), mega poll with prizes, and a two-week free trial.
Check out our monthly review, where all suggestions since launch appear.
TWoF is a "supermarket of ideas" with emphasis on risk management and risk-adjusted returns. We stock the "store"'s shelves, but you decide what products meet your taste.
Take advantage of this rare offer, before fees rise on (and along the way to) 1/2/2019.