Welcome to the "it's time to shock" edition of Oil Markets Daily!
We understand. You are probably sick of reading oil market fundamental articles by now. Fundamentals don't seem to matter in this market, but for us, that's the only thing we can try to be decent/good at. We wrote in November that Saudi has lowered exports to the US starting in October, followed it up in November, and the December numbers are sort of shocking, to say the least.
Note: Weekly imports get really noisy, so please look at the 4-week trend.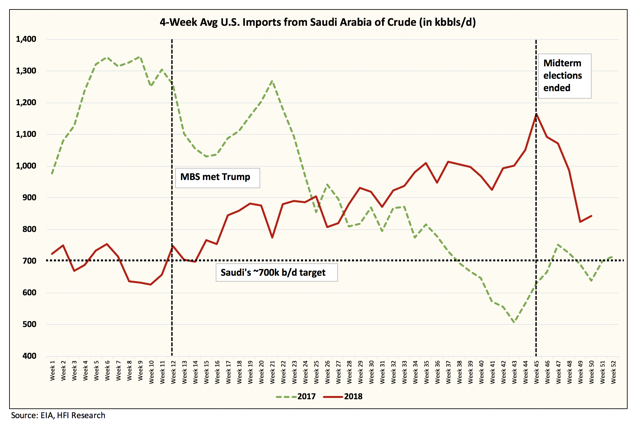 In the latest EIA oil storage report, Saudi crude imports to the US were ~890k b/d. On a 4-week basis, it's at 842k b/d or 142k b/d higher than the targeted ~700k b/d level.
The thing is that Saudi has reduced exports to PADD 3 and most of the vessels landing in late December/early January will be in PADD 5. (PADD 3 is Gulf Coast. PADD 5 is West Coast.)
Now if you break down US crude storage into PADDs, you will see that the crude storage build has been primarily concentrated in PADD 3.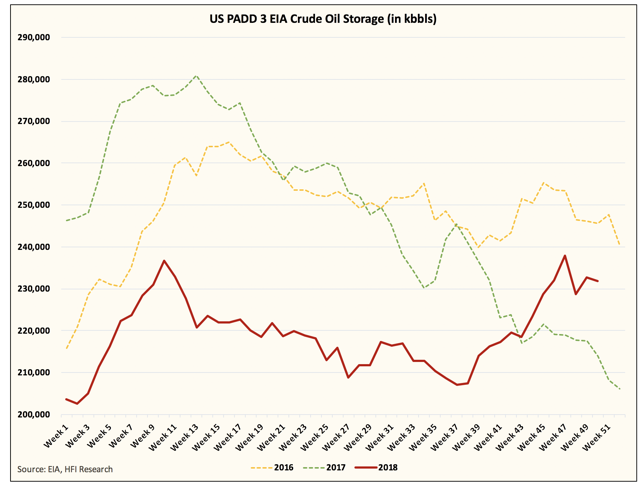 While PADD 5 is below the last 2-years: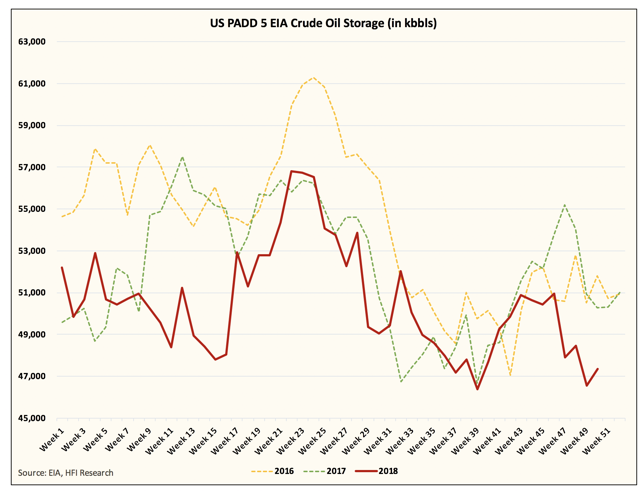 In essence, Saudi doesn't need to just target lower exports to the US, but it needs to target lower exports to PADD 3!
PADD 3 has also had another issue on hand because refinery margins came under pressure as the gasoline storage went into surplus crushing margins. Throughput has been very disappointing in PADD 3 versus expectations and with US oil production surprising to the upside the last 3-months, crude storage has swelled.
Well, here's something we found very interesting.
For the first 20 days, Saudi has exported a total of 469k b/d to the US. All of these exports are going to PADD 5, 0 to PADD 3, and 0 to PADD 1.
Here are the names of the vessels if you would like to double check:
Front Cosmos - Dec 4, 2018 - Long Beach - 999,998 bbls.
Gem No. 1 - Dec 3, 2018 - Long Beach - 2,020,287 bbls.
Zourva - Dec 1, 2018 - PADD 5 - 2,099,998 bbls.
Aquarius Voyager - Dec 18, 2018 - 2,099,998 bbls.
El Segundo Voyager - Dec 8, 2018 - 2,099,998 bbls.
These 5 are departing for the US and are all signaling PADD 5. If exports to PADD 3 drops to zero, the balance calculation for PADD 3 will be little to no build in Q1, while the other regions will continue to draw as refinery maintenance season in the US in Q1 is heavily concentrated in PADD 3.
Bloomberg wrote on Dec 13th confirming our analysis that, "Saudi Arabia to Target U.S. With Sharp Oil Export Cut, Sources Say." We think imports by late Jan and early February may set a new low for Saudi imports.
Another important thing to mention is that PADD 3 has a significant importance on influencing oil prices. Whether it's quant funds trying to trade oil using fundamental data or oil traders looking at storages, PADD 3 can sway sentiment and pricing. So the Saudis understand that by tanking exports to PADD 3, this may play a big role in sentiment.
Lastly, the average Saudi export to PADD 3 this year is around ~300k b/d.
Author's note: Thank you for reading this article. If you found this article insightful, please leave a "Like" below.
Over the weekend, we published our flagship report that included an important discussion on where global oil storage levels are today and how we see the current oil market set-up. In addition, we revisited the key variables for the long-term oil bull thesis. We are now currently offering a 2-week free trial to HFI Research. If you are interested, please see here for more info.
Disclosure: I/we have no positions in any stocks mentioned, and no plans to initiate any positions within the next 72 hours. I wrote this article myself, and it expresses my own opinions. I am not receiving compensation for it (other than from Seeking Alpha). I have no business relationship with any company whose stock is mentioned in this article.