Introduction
Here is the second edition of Simple Digressions review of the streaming/royalty sector. Since the first issue (December 12), the segment delivered outstanding results, led by Wheaton (I discuss this company below). As a result, the sector once again outperformed classic miners (represented by GDX, one of the most popular gold mining ETFs) – look at the red, up-sloping line on the chart below: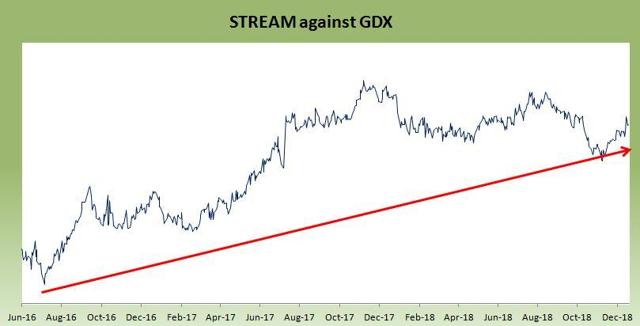 Source: Simple Digressions
Note: the Stream index, replicating the price action of five big streaming/royalty plays (Wheaton Precious Metals, Royal Gold, Franco-Nevada, Osisko Gold and Sandstorm) was created by the author.
Being more specific, between December 12 and December 18 the Stream index beat GDX by 1.6 percentage point (the Stream index delivered a profit of 4.8% while GDX returned 3.2%). This excellent performance was mainly attributable to Wheaton (a profit of 18.9%) - the company notified the market of reaching a settlement with the Canadian Tax Office (I discuss this issue below).
Now, let me look at two valuation measures.
Valuation
In my opinion, the streaming/royalty sector is considered less risky than classic miners. Keeping this thesis in mind I have calculated the equity value of the following streaming/royalty companies: Franco–Nevada (FNV), Wheaton (WPM), Royal Gold (RGLD), Sandstorm Gold (SAND), Osisko Gold Royalties (OR), Metalla Royalty and Streaming (OTCQX:MTAFF) and Maverix Metals (OTC:MACIF). Then, using these figures and current share prices, I have identified the undervalued and overvalued picks. Here is my methodology:
Firstly, I calculate the annual (the last four quarters, starting from Q4 2017) cash flow from operations excluding working capital issues.
Then, I divide the annual cash flow by a discount rate of 5%. If my basic assumption (a streaming/royalty sector is less risky than classic miners) is correct, a discount rate of 5% seems reasonable. Additionally, I presume that, contrary to classic miners, the life of each company under my survey is unlimited.
As a result, I arrive at the core value of the streaming/royalty business; in other words, the value of this business is equal to the time value of money generated by the portfolio of streaming/royalty assets held by each company.
Then I calculate the equity value of each company using the following formula: equity value = core value of the streaming/royalty business + cash less debt (as at the end of Q3 2018).
Finally, I calculate the ratio defined as current market capitalization/equity value; if this ratio is higher than 1.0, a company is overvalued; on the other hand, if the ratio is lower than 1.0, it means undervaluation.
Note: in the case of Metalla and Maverix the annual cash flow from operations is calculated taking the results delivered in 3Q 2018 (and multiplied by a factor of 4). Simply put, these two plays are growth companies, rapidly increasing their quarterly revenue
The sector
Applying the above-discussed methodology to most of royalty/streaming plays, I have arrived at these results: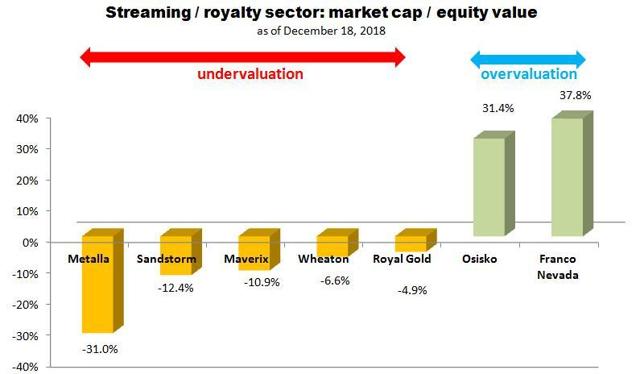 Source: Simple Digressions
There are a few changes, compared to the previous survey. First of all, as mentioned above, since the last report most plays recorded big price increases. For example, Wheaton shares, after a huge price jump of 18.9%, have gone out of deep undervaluation. On the other hand, Maverix is now more undervalued than before. However, the general picture remains unchanged – despite a recent rally, most plays are still undervalued.
Interestingly, the chart below supports a bit different thesis: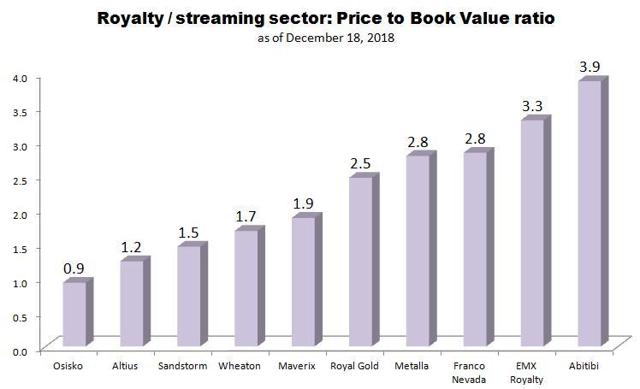 Source: Simple Digressions
The chart shows a Price/Book Value multiple calculated for a bit broader set of streaming/royalty plays. In other words, the Price/Book Value multiple discloses how Mr. Market values the net assets (assets less liabilities) held by each streaming/royalty play. As the chart shows, the highest value is attributable to the assets held by the following plays:
Abitibi (OTC:ATBYF) – the company holds a few royalties on the Canadian Malartic mine, one of the world's best operations owned by Yamana (NYSE:AUY) and Agnico Eagle (NYSE:AEM). Although these royalties are not active now (they deliver no revenue), Mr. Market attributes high value to these assets.
EMX (EMX) – as discussed below, most recently this company has closed a very profitable transaction with its subsidiary, receiving $65M in cash. Hence, a high Price / Book Value multiple.

Franco-Nevada – I am not surprised. Franco is a market leader, so its assets are highly valued.
On the other hand, Osisko shows the lowest multiple. Interestingly, according to the first valuation chart, Osisko is one of the most overvalued plays. I am in between – it looks like Mr. Market is split over Osisko valuation. As a matter of fact, I share this opinion – Osisko is quite a complicated company. Hence, valuation problems…
Latest developments
Wheaton
I am sure that Wheaton shareholders are extremely satisfied – the company reached a settlement of a long-term legal dispute with the Canada Revenue Agency (CRA). To remind my readers, a dispute arose when the CRA questioned the tax policy applied by the company to its foreign subsidiaries. According to the CRA, this income was subject to tax in Canada; the company did not share this opinion. Now everything is clear and the income is not subject to tax in Canada. Finally, the only negative outcome for the company is related to service fees paid by foreign subsidiaries to Wheaton – these fees are taxable in Canada. However, it looks like these taxes are of minor importance to the company.
The market reaction was enthusiastic – since my last survey Wheaton share prices have gone up 18.8%:
Source: Stockcharts
Metalla
On December 11, 2018, Metalla announced the acquisition of a 1.5% NSR royalty on the COSE silver/gold property in Argentina owned by one of the world's largest silver producers, Pan American Silver (PAAS). The purchase price was $1.5M. To finance this acquisition, the company issued 3.8 million shares (plus share purchase warrants) to Haywood Securities at a price of C$0.78 a share. Additionally, Metalla extended a syndicated loan agreement (the company entered it in November to finance the acquisition of a royalty on Santa Gertrudis property owned by Agnico Eagle) from $1.75M to $2.00M.
To remind my readers, the COSE property is close to another Pan American silver project called Joaquin where Metalla has a royalty of 2%. Next year, Pan American plans to start underground operations at both properties – the plan is that the ore from Joaquin and COSE will be trucked to the Manantial Espejo mine, located 145 kilometers from Joaquin and COSE. According to the technical report for Joaquin, this mine is supposed to produce 8.9 million ounces of silver over the next three years. If that is the case, Metalla should report revenue of $2.6M (applying a price of silver of $14.5 per ounce) during that period (2019 – 2021). Unfortunately, Pan American is not specific about COSE (production figures, mine plan etc.).
Summarizing, next year the two royalties on Pan American properties should be reclassified from the development stage to production, increasing the company's revenue and cash flow. As a result, I would not be surprised to see a higher dividend soon.
Finally, any investor interested in Metalla should keep in mind that this company holds a pretty large debt (around C$9M). What is more, to finance its streaming/royalty portfolio, Metalla very often dilutes its shareholders (for example, this year the company increased its share count by 38.6%). However, in exchange for a higher risk Metalla offers significant and quick growth: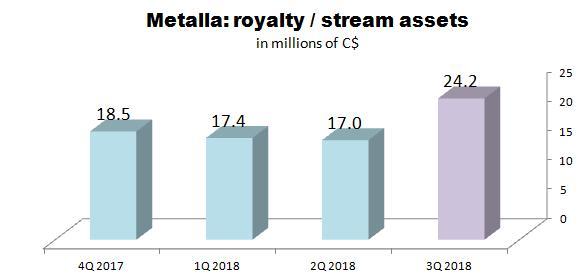 Source: Simple Digressions
Note that in 3Q 2018 the book value of streaming/royalty assets went up by C$7.2M. This quarter the company has added two royalties so far: Santa Gertrudis ($12M or C$16.2M) and COSE ($1.5M or C$2M).
EMX Royalty
EMX is not a typical royalty company. Apart from a royalty portfolio, EMX holds a number of mining assets at various stages of development. What is more, most recently the company's subsidiary called IG Copper has sold the Malmyzh copper/gold project to Russian Copper Company for the total consideration of $200M, of which $69M is attributable to EMX. Up to now the company received $65M. Of course the transaction was extremely positive for EMX but the problem is that the current royalty revenue is marginal (C$1.6M over the last three quarters). Said another way, EMX is building its royalty portfolio applying the following, three-step business model:
Firstly, the company identifies prospective precious/base metals properties around the world.

Secondly, it purchases/licenses them; then the company initiates a limited (as cheap as possible) exploration program.

Finally, it sells them in exchange for cash, royalty or stake in the purchasing company (or a combination of these three approaches).
For example, on December 13, 2018, the company closed a deal with OK2 Minerals. As a result, in exchange for four exploration licenses in Norway and Sweden plus an exploration project in British Columbia sold to OK2, EMX has been provided with royalties on these properties plus a 9.9% stake in OK2.
Summarizing, although EMX is not a typical royalty company I will cover it in my surveys. However, investors interested in EMX should remember that exploration assets the company holds bear a higher risk than the classic streaming/royalty assets.
Osisko Gold
On December 19, 2018, Pretium Resources (PVG), an owner of the Brucejack mine, exercised its option to repurchase Osisko's interest in the Brucejack silver/gold stream. As a result, Osisko received total proceeds of $118.5M, increasing its cash reserves to around $227M. According to the company, the proceeds will be used to repay part of the debt outstanding ($43M) and fund a share buy-back program announced on December 10, 2018 (I discussed this issue in my previous survey). To remind, now Osisko shares are trading at a 10% discount to their book value so a buy-back program sounds like a good idea.
Summary
In this edition of the streaming/royalty sector's review I have added three new plays: EMX, Altius and Abitibi. I hope that this move will increase the attractiveness of the survey for Seeking Alpha investors and readers.
Additionally, I am going to regularly publish the updated Price/Book Value multiples for the streaming/royalty plays. As Chart 3 shows, the results delivered by this model are different from those presented in Chart 2 (a discounted cash flow valuation model). I think that these two different approaches should be more helpful in identifying the undervalued/overvalued plays.
Final note
Did you like this article? If your answer is yes, please visit my Marketplace service, Unorthodox Mining Investing.
This article is an outline of the detailed coverage of royalty/streaming companies available on my Marketplace service. Very often, apart from a typical discussion of the transactions made by streaming/royalty plays, I am trying to evaluate the other party of the deal (a mining company).
Last but not least, now Unorthodox Mining Investing is available at a 5% discount.
Disclosure: I am/we are long CEF, GDX, KL, SAND, ARREF. I wrote this article myself, and it expresses my own opinions. I am not receiving compensation for it (other than from Seeking Alpha). I have no business relationship with any company whose stock is mentioned in this article.