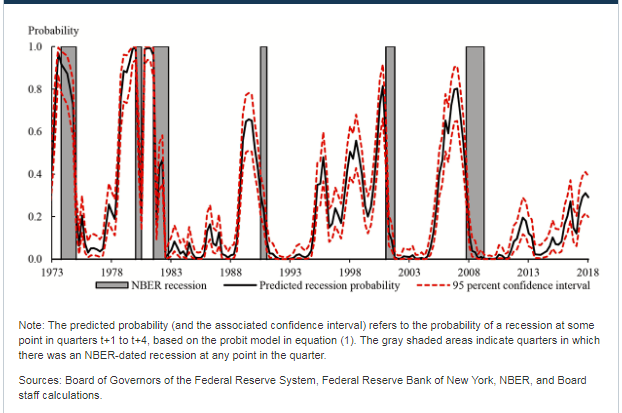 The probability of a recession is creeping higher. Source: federalreserve.gov
The yield curve has inverted. Housing has slowed. The market has been selling off frequently, and cannabis stocks, in particular, have gotten crushed. Investors are being told to run for cover as several sectors are officially in a bear market. Helping to feed the fears are a lingering trade war and a Fed that has been steadily raising rates, all while we are almost ten years into what has turned out to be one of the longest business cycles and bull markets on record. But all good things must come to an end, eventually.
This is an uncertain, late-cycle environment, and there could be more turbulence over the next 12 months. While we are not predicting that a recession is imminent, it is inevitable, and we think it's time to consider the implications of an economic downturn on the cannabis sector.
Unfortunately, due to the regulated cannabis sector being in its infancy, we don't have high quality data on how cannabis consumers behave in a recession. Colorado was the first regulated market to come online in the US, and it did not officially launch until 2010, on the heels of the GFC. Cannabis stocks have never seen a recession.
However, based on the cannabis industry's closest comps, we are inclined to believe that the sector will perform well during a recession and continue its rapid growth, and perhaps actually even accelerate it. In addition, if federal prohibition in the US manages to survive until the next recession, the economic contraction will act as a catalyst to finally repeal it, as politicians will become increasingly desperate for revenue and job creation.
Historically, cannabis' closest comp industries—alcohol, and healthcare—have been fairly recession-resistant, though we would stop short of referring to them as "recession-proof". To be clear, there are changes in consumers' consumption/buying habits, and there are certainly some losers in the equation as certain segments within these industries may see declining sales. However, these sectors typically perform well in aggregate and continue to grow, though margins often come under pressure. Consumers still purchase their booze and medications, and we expect it will be the same with cannabis.
While alcohol and healthcare/pharma are obvious comps to the recreational and medical segments of the cannabis sector, a segment that is less well understood—and may go on to become the largest segment of all—is health and wellness. This differs from outright medical cannabis, as it is not necessarily targeted at specific ailments and symptoms, but is thought of as being more akin to preventative medicine or vitamin supplements.
Based on what the world is learning from the latest research on the endocannabinoid system(ECS), we believe that cannabinoids will come to be seen as essential dietary supplements, especially non-intoxicating cannabinoids like CBD, CBG, THCA, etc. As the medical community comes to better understand the role that the ECS plays in regulating everything from our immune system to our major organs, this segment of the cannabis sector could grow to become the largest one of all. Given what we now know, investors are drastically mistaken to view the sector as vice investing—it is investing in one of the greatest health and wellness and medical disruptions the world has ever seen.
Throughout the GFC, vitamin and supplement sales grew by roughly 8% annually, and the industry has continued to grow. With an aging population and society showing ever-greater levels of health and dietary consciousness, these trends are expected to continue and will benefit the cannabis sector tremendously.
However, as we noted earlier, our bull case for cannabis in a recession goes beyond our expectations of strong consumer demand in spite of a contractionary environment. We believe that if prohibition remains at the federal level once the next recession hits, the economic downturn will act as a major catalyst for cannabis legalization at both the state and federal levels here in the US and abroad.
There is no question that taxing and regulating cannabis has been a major boon to the economies of states that have adopted such programs. Tax revenue has increased, thousands of jobs have been created, and economically-disadvantaged communities have attracted significant investment.
Once we enter the next contraction, pressure will mount on legislatures to take action. The economic benefits of cannabis are too great to ignore, and states and countries won't want to be left behind. As tax revenues decline, and the unemployment rate increases, politicians who have previously stood in the way of legalization will be under increasing pressure to rethink their stance—especially as they witness the increased economic activity in states and countries that have adopted adult-use laws.
This could create a domino-effect as prohibition rapidly falls in state after state, at the federal level, and perhaps several other countries around the globe.
As far as the performance of publicly-traded cannabis equities is concerned, we would expect that any significant correction in the broader market would initially be magnified throughout the sector. Bad days for the major indices are often(though not always) very bad days for the cannabis sector. However, while we expect that this would initially lead to a painful correction in cannabis stocks, we believe it would be relatively short-lived, and that the sector will recover with US-based cannabis assets leading the way.
As companies in the sector continue to grow and report positive results in spite of a difficult economic situation, and the size of the market expands rapidly as additional US States and foreign nations embrace both medical and recreational legalization, cannabis stocks will recover and perform very well. Also, as returns go negative in many asset classes, additional investors searching for growth/positive returns will be left with limited options and will likely begin to rotate into cannabis equities as the sector comes to be viewed in a new light.
This new wave of retail investors, combined with the floodgates being opened to institutional capital due to the fall of prohibition, will be extremely bullish for US cannabis stocks and the sector, in general. Not to mention the inevitable frenzy of M&A activity as the Altria/Cronos and Constellation/Canopy's of the world(and the dozens of companies that will follow in their footsteps) are no longer prevented from investing in US-based cannabis assets. We have no doubt that many deals are being worked on behind the scenes and will be announced as soon there is a change in law.
There has been a lot of negativity surrounding the recent meltdown in cannabis stocks, and understandably so. But at Skytree Capital Partners, we are taking the long-term view of the sector, and we would encourage investors to do the same. The the long-term thesis has never been stronger and the outlook over the next few years is incredibly positive, even in the face of an economic downturn. Ultimately, we believe that not only will the cannabis sector weather the storm of a recession better than most, the recession will actually create a unique dynamic for the cannabis industry that will accelerate its expansion.
Jeff Khoshaba,
Senior Analyst
Skytree Capital Partners
Disclosure: I/we have no positions in any stocks mentioned, and no plans to initiate any positions within the next 72 hours. I wrote this article myself, and it expresses my own opinions. I am not receiving compensation for it. I have no business relationship with any company whose stock is mentioned in this article.