During the last 3 months and as of 12/19/18, the iShares U.S. Preferred Stock ETF (PFF) index has dropped 6.09%, yet my 2 largest preferred stock positions by far which are CHS preferred stocks, NASDAQ:CHSCN and NASDAQ:CHSCL, have dropped to all-time lows as the U.S. markets have been in risk off and throw the baby out with the bathwater mode. I'm sure there was also some year-end tax loss selling in these securities as well. During the last 3 months, CHS Cum. Redeem. pfd. Cl B Series 2 (CHSCN), which normally beats its peers performance wise by a wide margin, has dropped 12.53% to $23.33 with a 7.61% yield and CHS 7.5% Cum. Redeem. pfd. Cl B Series 4 (CHSCL) has dropped 8.17% to a new low of $24.60 with 7.62% yield. As of 3:02 PM on 12/20/18, CHSCN is now trading at $23.01 vs. $25.00 for CHSCL. CHSCN sold at a premium to CHSCL for much of this year. Also during the last 3 months, the 10-year treasury yield has dropped from 3.14% to 2.77% which normally would be a favorable environment for the preferred stock of high-quality companies like CHS Inc. (NASDAQ:CHSCP). CHS Inc. is the nation's leading farmer-owned cooperative and a global energy, grains, and foods giant. They are privately owned and earned $776 million in the fiscal year ending 8/31/18.
CHSCN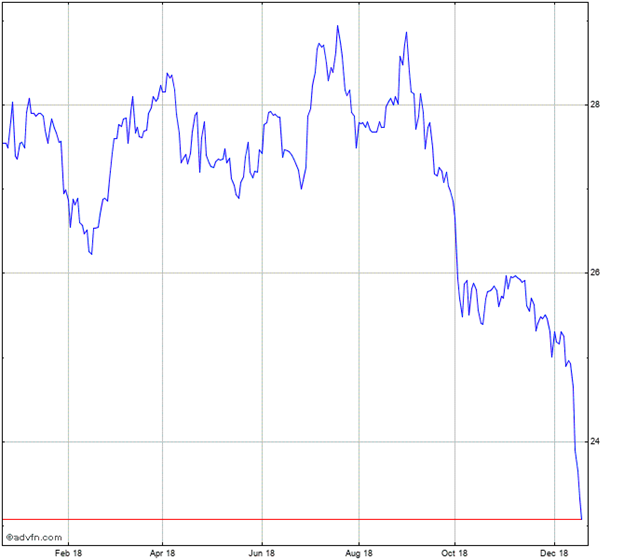 CHSCL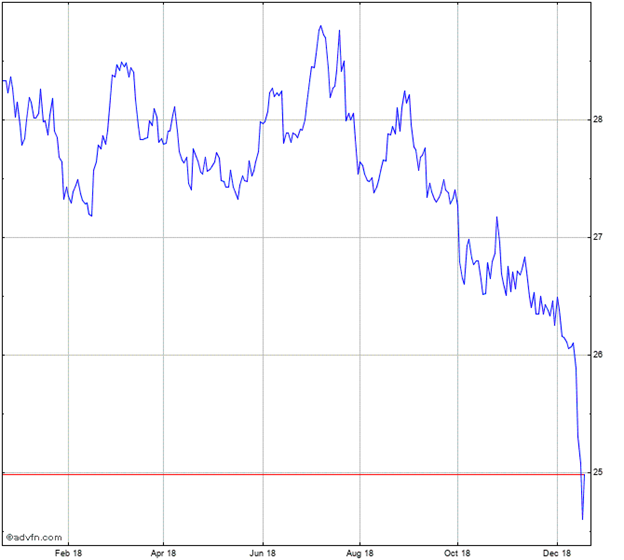 Back in 2009 when the markets were melting down like the world was going to end, CHS 8% Cum. Redeem. pfd. barely budged from its $25 issue price. I suspect this was largely as result of the members of the CHS coop being large holders of this preferred stock. They knew the company was solid as a rock and had an excellent 8% yield. At the same time, the preferred stock of major U.S. money center banks such as Citigroup (C) and Bank of America (BAC) dropped to in many cases 12 cents on the dollar and even Vornado Realty Trust (VNO) preferred stock was cut in half. I took advantage of that situation.
Getting back to CHSCP, back in 2013, the $2.00 CHSCP preferred was callable. Instead of calling it at $25 or leaving open their option to call CHSCP in the future by selling lower yielding preferreds, CHS management actually added 10 years of additional call protection to this preferred stock, receiving nothing in return. Whereas most managements will shaft preferred holders in any way they can if it helps common stockholders, this management seems to treat the preferred stockholders like real owners of the company since in many cases they are. CHS showed its generosity toward their preferred stockholders by giving them 10-year call protection at IPO time rather than the usual 5 years.
On 3/5/14 and 1/13/15, I managed to buy CHSCN and CHSCL on their IPOs after going through lots of hoops to accomplish this. I wasn't able to get full allocations after opening an account with its underwriter D.A. Davidson but managed to take large starter positions in each. While most preferred stocks trade down in the grey market before they are formally listed, this was not the case with CHSCN and CHSCL. Both peaked in the 30 to 31 range back in 2016 as the 10-year treasury reached a low of 1.38%. It wouldn't surprise me if the 10-year treasury eventually breaks below 1.38% and we see 30+ on CHSCN and CHSCL again along with a struggling U.S. economy thanks to all the issues such as tariffs our economy has been dealing with.
I believe CHSCL and CHSCP are great buys at the current prices which are well below their issue prices of $25.00.