One of the major stories in the healthcare space recently is the $4.7 billion judgment against industry giant Johnson & Johnson (JNJ) concerning the alleged the presence of asbestos in baby powder. As might be expected, this had a devastating impact on the stock price, which plunged 10.04% in a single day. This also had a negative impact on the share price of many healthcare funds as Johnson & Johnson has been a top holding for many funds. However, there's one fund that has not been impacted by this development at all and as such could remain a solid way for investors to take advantage of the historically-defensive nature of healthcare in today's turbulent market. That fund is the Tekla World Healthcare Fund (NYSE:THW).
About The Fund
The fund's web site describes its objective as seeking current income and long-term capital gains by investing in companies engaged in the healthcare industry. It does this by investing in both debt and equity securities, although the majority of the fund's assets are invested in common stocks and warrants: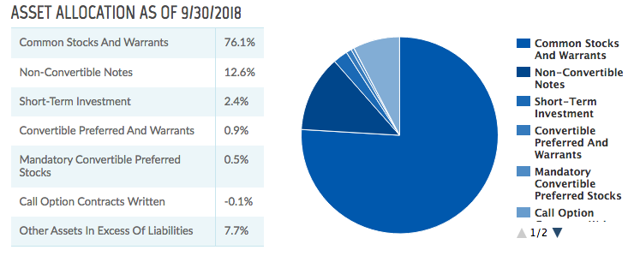 Source: Tekla Capital Management
The allocation to fixed income could certainly serve as a real advantage in today's market. This is due to the fact that debt and other fixed income securities are less vulnerable to fluctuations in the market due to the fact that they sit higher up in the capital stack than common equity and generally have a fixed dividend or interest payment that they must make to their owners. With that said though, these securities to tend to move inversely to interest rates, which have been rising recently. This is not generally a problem if the securities are held to maturity, and closed-end funds have much more freedom to do that than open-end funds do, as closed-end funds do not have to worry about redemptions.
As the name implies, THW is a global fund and therefore invests in companies all over the world. We can see this by looking at the fund's top 10 holdings: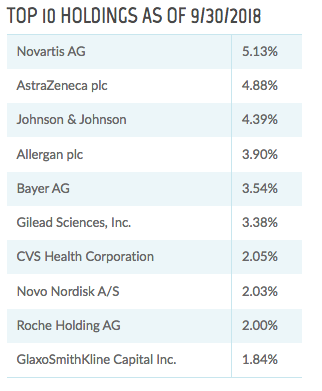 Source: Tekla Capital Management
As we can see here, the fund's two largest holdings are Switzerland's Novartis (NVS) and the UK's AstraZeneca (AZN). While Johnson & Johnson is one of the fund's 10 largest holdings, its weighting is not large enough to have an outsized impact on the value of the entire portfolio. It has nowhere near the weighting that the company has in funds like the Vanguard U.S. Health Care ETF (VHT), where the company's sharp stock price decline would have a major impact on the fund's net asset value.
This is the reason why I generally dislike seeing more than 5% of the assets of any given fund invested in a single security. This is because that situation exposes the fund to idiosyncratic risk. Basically, if some event happens that causes the value of that single asset to decline then it will have a very noticeable impact on the fund as a whole as the risk is not completely diversified away.
Fund Performance
Despite some of the protections inherent in the fund's investment strategy, it has seen its share price decline over the past couple weeks: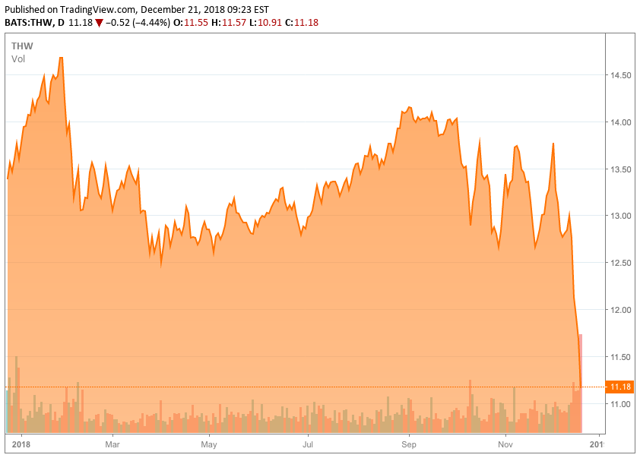 This is indicative of the current market in which everything is being sold off, whether it deserves to be or not. In this case, we have a highly diverse fund in a defensive sector that is not even fully invested in the stock market (due to the fixed income securities in the portfolio) being punished like everything else.
The fund's long-term performance is much better though. We can see that here:

Source: Tekla Capital Management
Admittedly, these returns may look somewhat weak compared to what the S&P 500 returned over the past few years, at least until recently. However, it's important to remember that THW is a global fund and global markets have generally underperformed compared to the American one over the past 10 years. Overall, these returns are certainly respectable.
Distribution
Like most closed-end funds, THW pays out a regular distribution. In this case, that regular distribution is $0.1167 per share per month. This is a level that the fund has maintained for quite some time: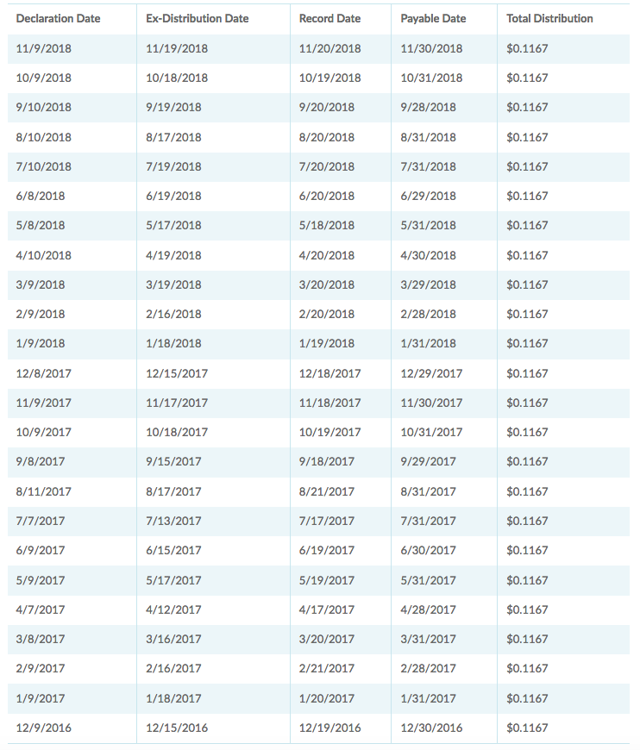 Source: Tekla Capital Management
One of the nice things about this market decline is that it has increased the yield that this distribution gives to new investors. At the current stock price, THW yields 12.52%. This is certainly a reasonable yield to receive to ride out the market turbulence in an otherwise defensive sector.
Valuation
As always is the case, it's critical to ensure that you do not overpay for any of the assets in our portfolio. This is because overpaying for any asset is a surefire way to ensure sub-optimal returns from that asset. In the case of a closed-end fund like THW, the most common way to value it is to use net asset value. This is the market value of all of the securities in a fund's portfolio minus any outstanding debt against that portfolio. It is, in other words, the amount that the fund's shareholders will receive if the fund is liquidated. Ideally, we want to buy shares of the fund when they are trading at a price below the net asset value since this means that we are acquiring shares of the fund for less than they are actually worth. As of the time of writing, THW has a net asset value of $13.10 per share but trades for $11.18 per share. Thus, the fund is selling for a very appealing 14.66% discount to net asset value.
Conclusion
In conclusion, THW is one of the few healthcare funds that did not have outsized exposure to Johnson & Johnson prior to the $4.7 billion legal settlement so did not suffer as much as some when the stock plummeted on the news. It has not been unaffected by the market turbulence though and we have certainly seen the fund's share price decline. This may have presented us with an opportunity to buy in though, given the high yield, discount to NAV, and defensive nature of the sector. Overall, it certainly seems worthy of consideration.