A 60:40 allocation to passive long-only equities and bonds has been a great proposition for the last 35 years… We are profoundly worried that this could be a risky allocation over the next 10."
Sanford C. Bernstein & Company Analysts (January 2017)
Bull markets are born on pessimism, grow on skepticism, mature on optimism, and die on euphoria."
Sir John Templeton
Life and investing are long ballgames."
Julian Robertson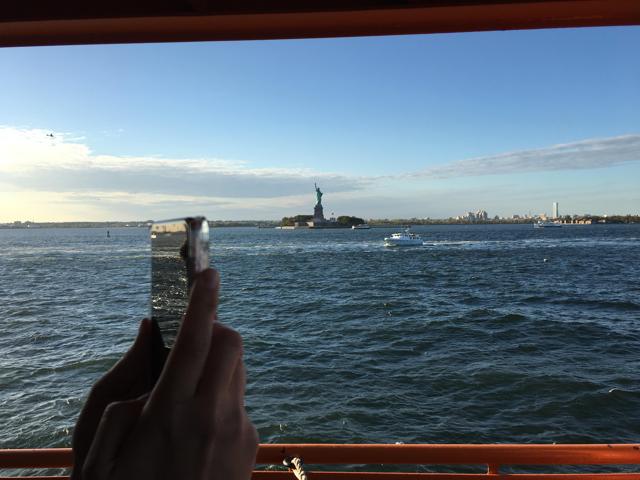 (Author's Photo)
Introduction
It has been a miserable decade for value stocks relative to growth stocks, on par with how bad the relative performance of value stocks was to growth stocks from 1990-2000.
However, that only tells part of the story, as the deep value underbelly of the market has been hammered to a point that there are opportunities that rival the best opportunities from late 2008 and early 2009, in my opinion.
These deep value opportunities are better, in my opinion, than the opportunities that existed in late 2015 and early 2016, as many individual companies have made substantial balance sheet and income statement progress over the past three years, while valuations have generally continued to compress, creating a bigger absolute and relative opportunity.
Building on this narrative, I cover more than 35 companies as an analyst that have the potential to return more than 100% to get back to their discounted cash flow intrinsic values, and the list is growing by the day.
What will be the catalyst for a capital rotation from growth to value, that will redirect fund flows, and unlock this kinetic potential energy in value equities?
Ironically, higher interest rates are the key as they facilitate price discovery and reduce the appeal of longer duration growth assets,, and on that measure, things are nowhere near as dire as 2016, owhat the market believes today.
Let's dive in.
Investment Thesis
We are on the cusp of a historical rotation in capital flow from growth equities to value equities that will exceed the mini-rotation that occurred in 2016 and the rotation that occurred from 2000-2002.
Growth Has Dominated Value
The reasons are varied, including passive inflows and the ETF revolution, which have raised the bar on the level of indiscriminate, price insensitive buying. Adding to the mix, the rise in popularity of momentum investing, trend following investing, and dividend growth investors has accelerated capital flows into the performing sectors, individual stocks, and strategies.
The end result is that growth equities have dominated value equities to the same, or even greater degree, than what occurred from 1990-2000, as the following chart illustrates.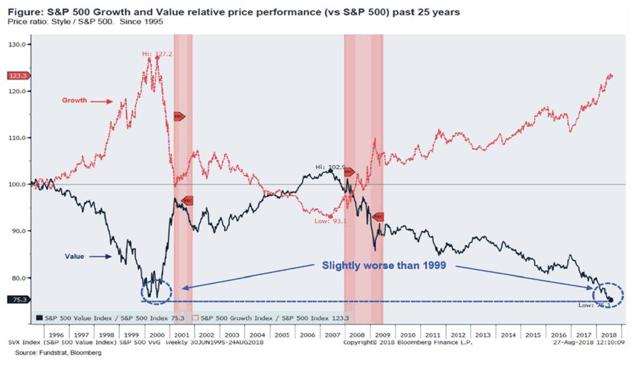 (Source: Fundstrat, Bloomberg)
The melt-up in growth equities relative to value equities has occurred at a more gradual pace than the 1990s divergence, yet the end point is the same. Ironically, growth stocks began their out-performance as the 2007-2009 financial crisis unfolded.
Growth Stocks Are Long Duration Assets
In a world of low interest rates, growth equities have an advantage, as they are essentially the longest duration assets.
Look at longer-term interest rates, as shown by the chart of the U.S. 30-Year Treasury Bond Yield below.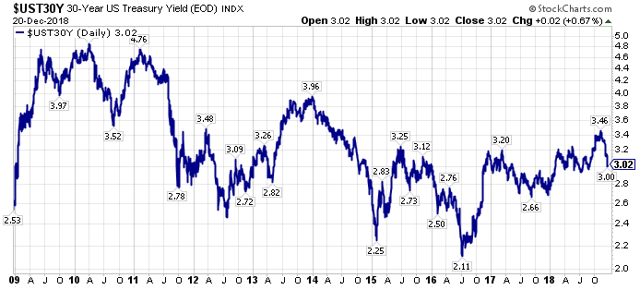 (Source: Author, StockCharts.com)
After peaking in 2010, longer-term interest rates trended lower all the way until 2016, where deflation fears peaked as roughly one-third of the world's sovereign bonds traded at negative nominal interest rates.
Think about that last sentence for a minute.
In this environment of lower interest rates, lower global growth, and lower inflationary expectations, is it any wonder that growth equities thrived?
The answer should is a resounding no.
Growth equities were treasured in a low interest rate, low global growth world over the past decade. This makes sense, as growth equities, particularly the largest capitalization, strongest moat growth equities, are really the longest duration assets, and they benefited, more than any sector, from the historically low interest rate environment.
Stocks like Alphabet (GOOGL), (GOOG), which is my personal favorite of the FAANG equities from a valuation and wide-moat perspective, and Amazon (AMZN) thrived over the past decade, as their future growth, which was viewed as almost certain, was discounted back at very low rates, creating a positive feedback loop that attracted momentum and trend following traders.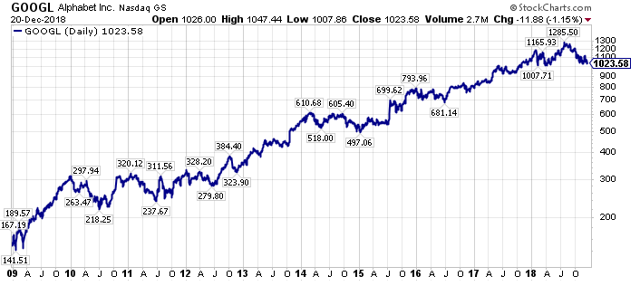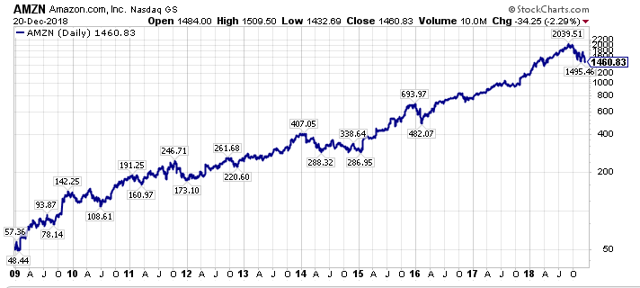 (Source: Author, StockCharts.com)
The end result was one of the greatest bull markets in history, which frankly I did not see coming. Now, of course, it's easy to look back in hindsight. However, this analysis is important because it offers clues about future performance.
Looking Back To 2016 For More Clues
2016 was a unique year, and much like today's investment landscape, there were many crowded trades that started to unwind, particularly in commodities and in interest rates. I wrote a public article on March 4, 2016, titled, "The King Of All Reversal Trades Has Arrived," that captured what was about to unfold.
Looking back, it was one of my better public calls, however, with the benefit of hindsight, I think what I called The King Of All Reversal Trades actually falls short in its comparison to the crowded trades today.
Building on this narrative, we had a secular bottom in commodity prices early in 2016 and a secular top in sovereign bond prices (bottom in sovereign bond yields). These twin secular turning points produced a brief respite (roughly nine months in length) in the growth over value dominance, with value equities emerging from their hibernation, and the results were spectacular, and a preview of what's to come in my opinion.
To provide an example of how powerful a reversal can be when there's rotation from growth to value, and out-of-favor, value and deep-value equities rebound, I have provided a snapshot from Jan. 2, 2017, of a portfolio that we have been running in The Contrarian since the Dec. 7, 2015 inception of The Contrarian, called the Best Ideas Model Portfolio.
Looking at the chart above, you can see that the Best Ideas Portfolio returned 126.4% in 2016 (this portfolio has struggled in 2017 and 2018 for the reasons mentioned above including value compression), driven by the rebound in 2016 in out-of-favor value equities.
Specifically, Teck Resources Limited (TECK), U.S. Steel (X), Westmoreland Coal (WLB), (OTCPK:WLBAQ), Unit Corporation (UNT), Cleveland-Cliffs (CLF), Cloud Peak Energy (CLD), Genworth (GNW), Fannie Mae Preferred (OTCQB:FNMAS), Southwestern Energy (SWN), Freddie Mac Preferred (OTCQB:FMCKJ) and CNX Resources (CNX) all returned more than 100% to the Best Ideas Portfolio in 2016.
Additionally, Freeport-McMoRan (FCX), Bank of America (BAC), Chesapeake Energy (CHK), Transocean (RIG), Star Bulk Carriers (SBLK), Immersion (IMMR), Credit Suisse (CS), Corsa Coal (OTCPK:CRSXF), Deutsche Bank (DB) and Kinder Morgan (KMI) all had very strong returns in 2016, as shown in the Best Ideas Portfolio snapshot above.
Did I make significant mistakes in 2016?
Yes, including Peabody Energy (BTU), SunEdison, and selling Exact Sciences (EXAS) in this portfolio too early (to raise capital and for tax loss selling), which was my most painful mistake, even though we kept EXAS shares in other portfolios. However, the mistakes were overcome by the broader rebound in out-of-favor value oriented equities, aided and abetted by the capital rotation from growth to value in 2016.
From my perspective, even though we saw a significant reversal and rebound in out-of-favor value equities in 2016, that was just the appetizer, as we have seen a value compression in many equities since 2016, over the course of both 2017 and 2018, and growth investments have once again outperformed, stretching the relative performance measurements to an even higher extreme level.
Closing Thoughts - Get Ready For A Bigger Relative Move In 2019 Than 2016 In Value Equities
It's no secret that I have had my epic struggles since 2013, with the notable exception of 2016, in this very narrow, growth-dominated bull market. Frankly, it has been the challenge of a lifetime for somebody who has lived and breathed the financial markets for the past 25 years, including a professional career for more than 20 years.
This challenge of a lifetime is greater than what I endured in 2006 and 2007, when I railed against the structure of the market at the time, and was ultimately vindicated.
Since this challenge has been harder to navigate, longer in duration, and bigger in scope, the opportunity is bigger too, from my perspective.
What should investors do?
The simple answer is to not do what has been working for a majority of the past decade, as real returns, even after the recent declines, are projected to be abysmal for the foreseeable future.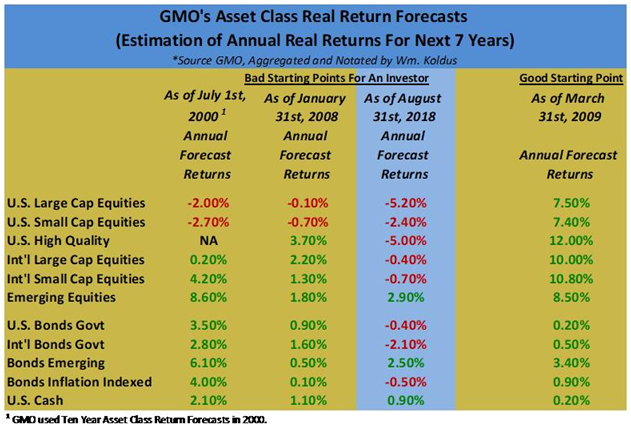 (Source: Author, GMO)
Getting back to what investors should do, in my opinion is to heavily scrutinize their asset allocations, stress testing them to significant declines, as in-favor equities today like Amazon, Intel (INTC), Coca-Cola (KO), Procter & Gamble (PG), and Simon Property Group (SPG), to name a few, offer extraordinarily low free cash flow yields on a historical basis, while embracing out-of-favor equities, particularly value equities, which are poised to have a reversion-to-the-mean trade bigger than 2016, and even bigger than 2000-2002, as the extremes are more stretched today.
On this note, as mentioned in the introduction, I cover more than 35 value-oriented companies as an analyst that have the potential to return more than 100% to get back to their discounted cash flow intrinsic values, and the list is growing by the day.
Ultimately, fundamentals do matter, and price discovery, which has been largely absent from the markets for the majority of the past decade, will eventually return with a vengeance. In this environment, value equities are going to vastly outperform growth equities, partly facilitated by a rise in interest rates, which reduces the long duration asset appeal of the most esteemed growth equities.
While we are just embarking on this journey, we are nowhere near being there yet, and we have a long way to go to rediscover price discovery.
To close, even though it has been a very difficult stretch for value-oriented investors, I think we are about to enter a golden age for active, value investors who do the fundamental work, who can find the turnaround candidates and high cash flow generating companies of today, and the most out-of-favor sectors, and the most out-of-favor equities will be at the forefront of this opportunity.
The Contrarian. For further perspective on how the investment landscape is changing, and where to find the 15% and 20% free cash flow yielding companies of today, and for help in finding under-priced, out-of-favor equities with significant appreciation potential relative to the broader market, consider joining a unique community of contrarian, value investors that has thrived in 2016 and weathered the storm in 2017 to become closer as a collaborative team of battle-tested analysts. Collectively, we make up The Contrarian, sign up here to join.
Disclosure: I am/we are long TECK, X, UNT, CLF, CLD, FNMAS, SWN, FMCKJ, CNX, FCX, BAC, CHK, BCS, RIG, SBLK, CS, CRSXF, DB, KMI, BTE, EXAS. I wrote this article myself, and it expresses my own opinions. I am not receiving compensation for it (other than from Seeking Alpha). I have no business relationship with any company whose stock is mentioned in this article.
Additional disclosure: Every investor's situation is different. Positions can change at any time without warning. Please do your own due diligence and consult with your financial advisor, if you have one, before making any investment decisions. The author is not acting in an investment adviser capacity. The author's opinions expressed herein address only select aspects of potential investment in securities of the companies mentioned and cannot be a substitute for comprehensive investment analysis. The author recommends that potential and existing investors conduct thorough investment research of their own, including detailed review of the companies' SEC filings. Any opinions or estimates constitute the author's best judgment as of the date of publication and are subject to change without notice.