Background on Monroe
Monroe Capital Corporation (NASDAQ:MRCC), a business development company, is a specialty finance investor focused on providing senior, unitranche, junior secured, and subordinated debt financing and minority equity investments primarily to lower middle-market companies in the United States and Canada.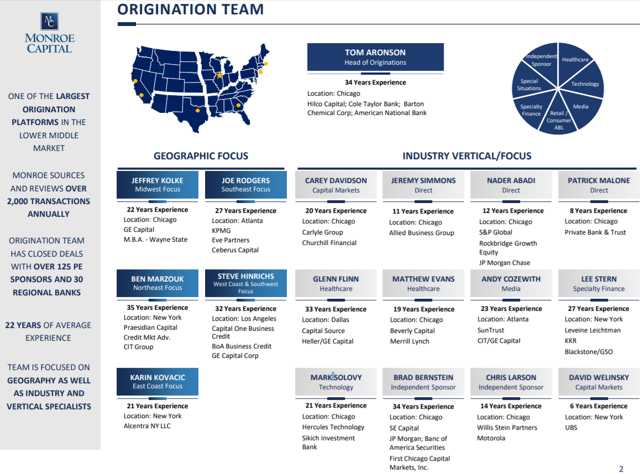 Monroe has a large and established team. It has won various awards in recent years.

The stock chart, however, tells a different story. Monroe has been a wild ride as of late.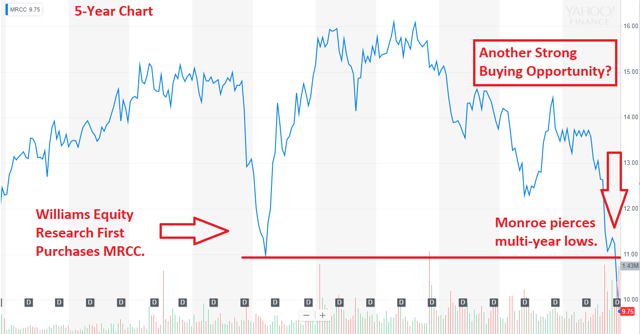 Source: Yahoo! Finance & WER
Portfolio Performance & NAV

We'll start by reviewing the most important aspects of the Q3 results. Net investment income ("NII") was down one penny per share versus the previous quarter, though there was a more significant $5.3 million delta in terms of the change in asset value ($1.0 million decrease in Q3 vs. $4.3 million increase in Q2). Overall portfolio fair value was up slightly versus the beginning of the year, but we need to look deeper into the change in assets resulting from operations.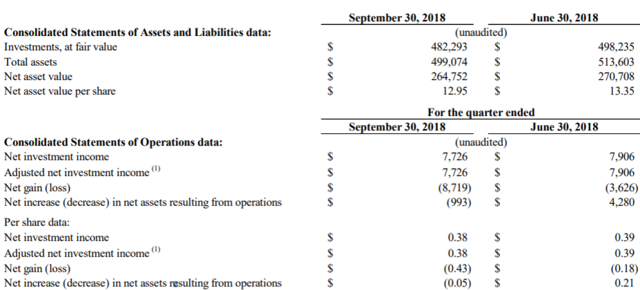 Bottom line, Q3 saw a 40 cent hit to the portfolio NAV as it decreased from $13.25 to $12.95. Today's price of $9.32 means MRCC is trading at a staggering 28%+ discount to net asset value ("NAV"). This is unsustainable in my experience; either the stock will rebound to at least ~$11.0 per share or the NAV must drop another $1.0 in the following 1-2 quarters.
The 40 cent decline in NAV is significant deterioration over the course of only one quarter. The above data chart tells us two things:
1) The income generated from the portfolio remains strong and in excess of the $0.35 quarterly distribution, which makes sense given Monroe's 24 consecutive distributions without a reduction, and
2) there is concern surrounding NAV stability due to non-accruals or a related factor.
The 66 company portfolio ended Q3 with a compelling 86.3% allocation to first-lien senior secured loans, down slightly from 88% at the end of Q2. The portfolio's weighted average yield was 9.7%, excluding any distributions from its equity holdings. The primary contributors to the portfolio issues were Rockdale Blackhawk LLC, being placed on non-accrual, and the disposition of an already troubled investment in Millennial Brands LLC. Per the 10-Q:
The largest contributor to the net unrealized mark-to-market losses during the three months ended September 30, 2018 was our debt investment in Rockdale Blackhawk, LLC ("Rockdale"). On July 24, 2018, Rockdale filed for bankruptcy as part of a restructuring process. During the three months ended September 30, 2018, we funded additional investments under the debtor in possession ("DIP") financing facility established in conjunction with the bankruptcy and received repayments on a portion of our pre-petition debt. On July 20, 2018, we put back our 22.65% equity investment in Rockdale. We placed our investment in the pre-petition debt of Rockdale on non-accrual status in conjunction with the bankruptcy filing.
Portfolio losses over the last year are summed up here:
For the nine months ended September 30, 2018 and 2017, our investments had ($14.4) million and ($8.5) million of net unrealized gain (loss), respectively. The largest contributor to the net unrealized mark-to-market losses during the nine months ended September 30, 2018 were our investments in TPP Operating, Inc. ("TPP") and Rockdale which contributed net mark-to-market losses of ($8.4) million and ($6.3) million, respectively. During 2018, TPP ceased operations and we, along with the other owners, appointed an assignee and pursuant to Delaware state law completed a General Assignment for the Benefit of Creditors to the assignee. The purpose of the assignment was to wind down the TPP business and distribute assets to its creditors. The assignee has informed us that it will have de minimis assets, if any, to distribute to its creditors. As a result, while we still have debt and equity positions in TPP, we have valued these positions at zero as of September 30, 2018.


Rockdale Blackhawk LLC was approximately 7% of assets by fair value at the end of Q3. The LIBOR+13.00% spread is among the highest in Monroe's entire portfolio. Rockdale's existing loan values, which are highlighted above, have suffered mild losses.
We can sum up this section by reviewing the change in net assets from operations:
For the nine months ended September 30, 2018 and 2017, the net increase in net assets from operations was $4.7 million and $9.9 million, respectively. Based on the weighted average shares of common stock outstanding for the nine months ended September 30, 2018 and 2017, our per share net increase in net assets resulting from operations was $0.23 and $0.55, respectively. The $5.2 million decrease during the nine months ended September 30, 2018, as compared to nine months ended September 30, 2017, is primarily the result of an increase in net unrealized mark-to-market losses on investments and the realization of losses on certain portfolio investments, partially offset by an increase in net investment income.
Investment Performance Ratings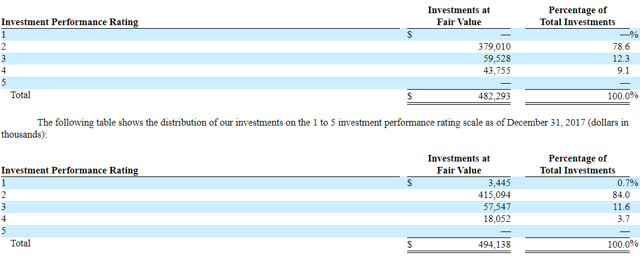 Source: SEC.gov
For those that need a refresher, portfolio assets categorized as 1 are performing above expectations, 2 are in line with expectations, 3 means below expectations but loan payments are still normal, 4 relates to a materially underperforming issuer and payments may be slightly behind, and 5 are seriously troubled companies that are unlikely to pay back all the interest/principal owed (some firms like Golub put the numbers in reverse order). Monroe has 78.6% of its portfolio in highest categories of 1 and 2. Category 3 is at 12.3%, and down the line it's likely some of these assets will not meet expectations (move to 4 or 5), while others will manage to pay all the interest and principal owed. Grade four investments were only 3.7% of the portfolio, and Monroe had zero grade 5 investments. Combined, this grade 4 and 5 exposure is marginally worse than Golub Capital BDC (NASDAQ:GBDC) and Main Street (NYSE:MAIN), but better than the majority of BDCs. Here are a couple charts from SEC.gov to reinforce this important fact:
Golub Capital BDC

Golub's percentage of problematic issues is a mere 1.0%. Note the 87.3% in the top two categories. Golub has the highest-quality BDC portfolio in my opinion. That does not mean it will necessarily provide the best risk-adjusted returns long-term, however.
Medley Capital Corp.

Source: SEC.gov
Medley Capital Corp. (NYSE:MCC) on the other hand had a staggering 15.2% of its portfolio classified as grades 4 and 5 at the end of Q3 2017. This "improved" to 7.7% at the end of last quarter, but still remains over twice as high as Monroe's figure and nearly 8 times Golub's.
There is an important nuance with both Monroe and Medley's recent portfolio trends that we should keep in mind. BDCs can dispose of grade 4 and 5 investments to make it appear the portfolio is doing better when in reality they are taking substantial realized losses. That's how you improve the portfolio at the expense of hits to the NAV. Intentions aside, that's what Monroe did to some extent last quarter as we read about previously.
It ended the period with $148.50 million in additional borrowing capacity on its revolving credit facility which should be sufficient in the medium term.
Distribution Level & Coverage
In terms of NII, Monroe has 108.6% distribution coverage, which is down slightly versus last quarter. The real concern is on the realized and unrealized gains side. To reach a "total net investment income," we'd need to add in the net change in appreciation of portfolio assets and subtract any other costs not already included in the equation. The decline from the $13.77 NAV at the end of last year to today's $12.95 is the problem, and if this trend continues for another quarter, it will likely erode the income-generating base supporting the distribution. Monroe can post about one more decline in NAV like it has experienced in recent quarters before the distribution is at risk. It's possible management could be conservative and take action concerning the distribution level prior to that.
Monroe's recent baby bond issuance, coupled with its revolver, gives it considerable firing power. If put to work quickly, the NAV and income can begin to shift in the right direction. Most of the losses on its struggling positions, both in terms of income and principal, have already been absorbed in its financials. With only 3.7% of the portfolio currently on the firm's equivalent of a watch list, it is unlikely to see a hit to the NAV greater than that in the near-term.
Peer Comparison
Debt to Equity Ratio
Total liabilities of $234.3 million against total assets of $499.1 million result in a debt to equity ratio of .47, which is way under the corresponding figure for Prospect Capital Corporation (PSEC) and Apollo Investment Corp. (AINV) of 0.76 and 0.69, respectively, and only marginally above BDC legend Main Street Capital Corp.'s 0.40. Monroe scores well here (3.5/5).
Portfolio Quality and Trends
The firm's 86.3% allocation to first-lien senior secured loans is not far from the absolute best like Golub. The underlying trends in the portfolio we just discussed, however, have been less than desirable. Given the write-downs associated with Rockdale and Millennial Brands and general declines asset values in the last mine months, the high allocation to the top of the capital stack cannot offset the reality that Monroe needs to improve its portfolio company stability. Monroe barely receives an average score (2.5/5).
Distribution level comparison
Monroe's current $0.35 distribution equates to a $1.40 annually (not annualized) or 14.4%. It's generating NII sufficient to generate a 15.1% cash distribution at current stock prices. Monroe scores great here (4.5/5).
Discount to NAV comparison
To give you an idea how quickly market perception has changed, it was less only a few months ago that the firm traded at a small premium to NAV. I am not one for hyperbole, but the current 25% discount to NAV is a seismic shift in valuation. Only the seriously struggling if not outright mismanaged firms like Medley trade at these levels. Monroe scores great here (5/5).
Management Quality
Significant controversy remains surrounding whether the disclosure of Rockdale Blackhawk LLC's performance issues were considered "material." If so, management may have been required to inform investors months prior to when it did. My opinion as well as the consensus is that Monroe was not required to make the disclosure but probably should have. The base management fee of 1.75% is 25 basis points higher than the BDC average. The 8% hurdle for the 20% incentive fee is only marginally better than the peer average which often has a lower hurdle rate. Monroe is externally managed which is another knock to this grade. Until confidence is re-established, Monroe scores poorly here (2/5).
Judgment Day
Let's put Monroe's current situation into context. If we assume the entire grade 4 portion of the portfolio was stated at full value today but written off during Q4, the portfolio NAV would fall from Q3 by about fifty cents to $12.45 (assets in category 4 are often already partially written off). This is a linear continuation of the worst period in Monroe's history. The firm would likely generate 35-36 cents in income to fund the 35 cent distribution, meaning a cut would not be required but could occur. If the distribution is reduced, the new level would likely be around 30 cents. Today Monroe closed at $9.32, which is a startling 28% discount to Q3's NAV and a 25.1% discount to the $12.45 cited earlier, which represents MRCC suffering through another extremely difficult quarter. Its yield would be 12.9% if the distribution was cut to 30 cents with the stock trading at over a 25% discount to NAV.
In terms of potential upside, two consecutive quarters of NAV stability, much less growth, will cause this BDC to trade back near its NAV given it traded at a premium just a couple quarters ago.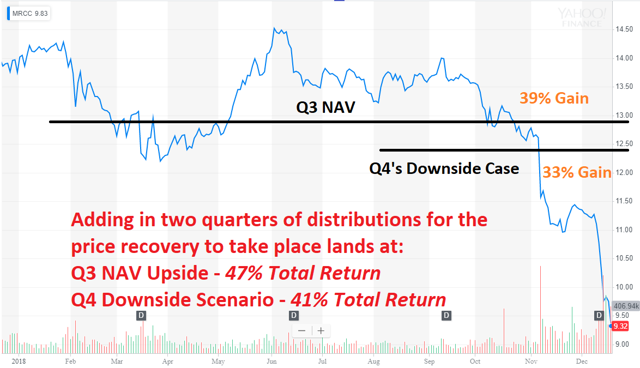 It wouldn't be the first time Monroe's wild trading behavior resulted in a 40%+ total return over a short period of time.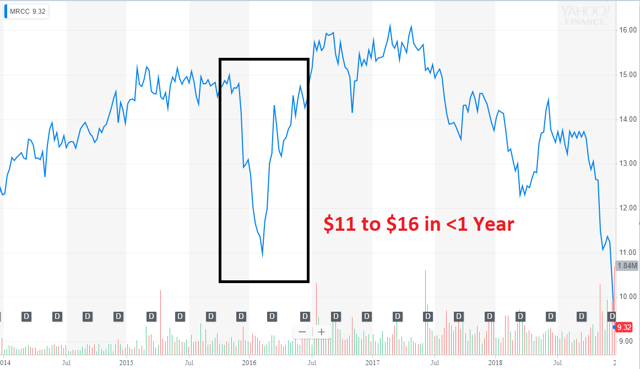 Monroe has its issues, and this is not a stock you can own without adequate ongoing due diligence. At these distressed levels, however, I consider Monroe a buy near today's price for investors willing to take on greater risk. Institutional Income Plus market subscribers will receive live text alerts with guidelines if/when a purchase is made for that portfolio. Please visit the landing page if you are interested in learning more as we embark on its launch.
Disclosure: I am/we are long GAIN, MRCC, BCSF, GBDC, SLRC. I wrote this article myself, and it expresses my own opinions. I am not receiving compensation for it (other than from Seeking Alpha). I have no business relationship with any company whose stock is mentioned in this article.
Additional disclosure: The author may enter into long or short positions in any part of the capital structure of any of the firms mentioned in this article. Readers should always conduct their own independent due diligence and not rely upon information or opinions provided by the author.