With a very down December, it has turned into a very down year in 2018 for the overall market and for small caps in general: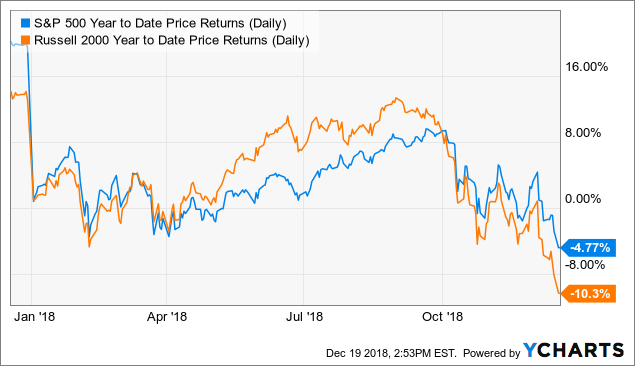 It's anyone's guess as to why this has happened. Trade jitters, Federal Reserve policy, deleveraging, reduced corporate buybacks, risk-off trading, and basic trend following are all possibilities. The reality is it doesn't matter why, but that it is.
I have certainly not been immune to this with my generally long portfolio suffering similar levels of loss. A few high and low lights from the year:
It has been a rocky year for Photon Control. It has made significant strides in leaning out its operations, but an overall downturn in the semi-conductor industry has led to a very soft H2 2018 for the company. This has been compounded with the recent departure of its CEO Scott Edmonds, who was installed during the management shake-up last year. This has contributed to a steep sell-off; I was stopped out per my article on the company, and at this point, the company is a stay away.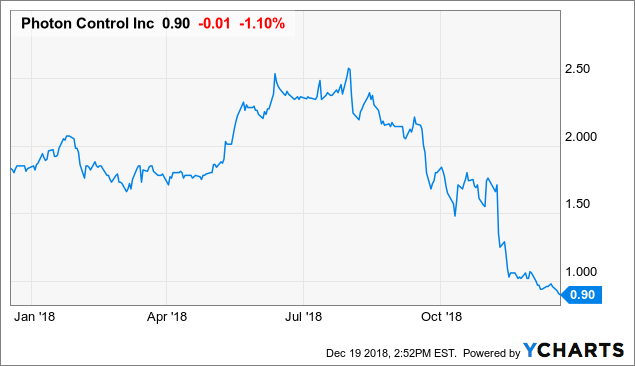 TheStreet (TST)
TheStreet has made some big moves this year to restructure itself. With two key deals, it has monetized its institutional business to the point that it is now trading at a 30% discount to its cash on hand. I have highlighted the company twice this year, here and here. The share price has not responded to these moves, but in light of the overall market, treading water is not the worse outcome even as the company's underlying valuation has improved.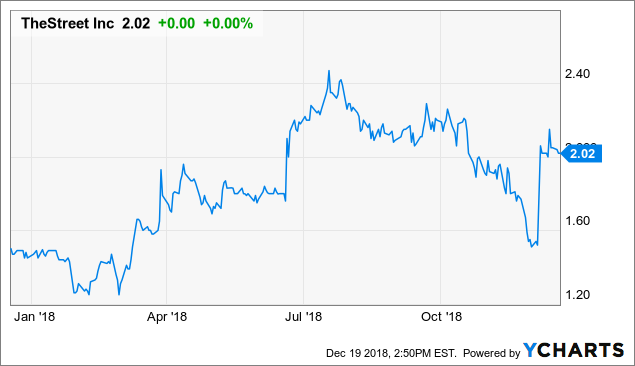 I have got a lot of pun value out of UrtheCast over the years, but the reality was the company was always a high-risk, high-reward play. It originally had a cash-generating business with its base satellite imagery business that it had acquired from Deimos, with two potential company changing options with its UrtheCast and OptiSar constellations of satellites to provide next level imagery and information. I had pointed it out in last year's wrap of its potential.
Unfortunately, all the risk that could happen to the company did. Its base business has gone into a downturn, no longer providing cash to the company. The company has then faced a liquidity crisis, which in turn has jeopardized its future plans, leading to its most recent update on a forbearance agreement. This was a good reminder of the risks that can happen in the small-cap world and why stop losses and position sizing are as important as the underlying investors.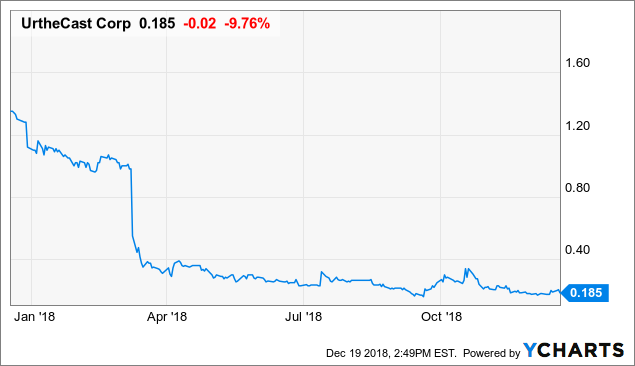 RNC Minerals (RNKLF)
UrtheCast represents the downside of risk, but RNC Minerals represents the upside. I pointed out the potential game-changing nature of its find at Beta Hunt with the stock up already double at the time. The stock rocketed up to the point that it was a 10-bagger, though it has now settled at levels of half these peaks.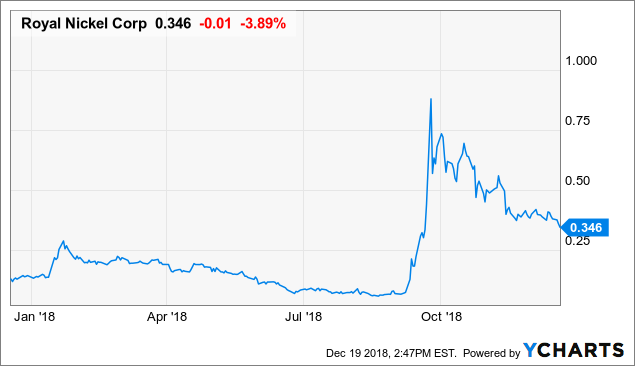 I believe the risk reward is still very strong here as the company recently raised more money to fund its exploration and production at Beta Hunt; the company wisely fixed its balance sheet with the original Father's Day find, taking liquidity risk off the table. It also has the DuMont nickel/cobalt property that it could choose to monetize or develop.
Looking Ahead to 2019
My picks from last year's year-end wrap did not go well. Avadel Pharmaceuticals (AVDL) saw its current business erode more rapidly than expected, and despite a large cash balance, the market has punished this, as well as the slow ramp of its Noctiva drug. UrtheCast has troubles I detailed above. Polar Power (POLA) has had a good year with its sale ramping very quickly both domestically and internationally, backlog is growing, and profitability has improved. With shares roughly flat in this environment, this has turned out okay.
With small-cap investing, you need your big winners to help offset the chance of loss, which can be minimized through position sizing and stop losses. My actual losses on both UrtheCast and Avadel were much less than they would have been due to these strategies, while I have let RNC run, with a few profits taken over $1.
I have written a lot over the years here about hedging via Put positions. This year has been particularly good for this as both shorts I have written about here (Blue Apron (APRN), Cambria Tail Risk (TAIL), and Deutsche Bank (DB)) and others I have taken on myself (General Electric (GE), Snap, Inc. (SNAP) and MiMedx (MDXG) have largely paid off). Tesla (TSLA) continues to defy gravity, despite a lot of operational headwinds. Having a hedge position as a minimum is a must as we go forward with a downtrend firmly in place.
With respect to long positions, there are a few areas I am going to be looking further into 2019.
Dividend Stocks. There have been a number of high-yielding dividend stocks that have been crushed recently. I have taken positions in CenturyLink (CTL), New Residential REIT (NRZ) and American Hotel REIT (OTC:AHOTF) that all have very high dividend positions that are more than covered by their operational cash levels. Although outside my usual area of expertise, these represent some good risk reward while providing some strong income.
Small-Cap Cyclicals. It seems like these have been in a perpetual bear market. There are a lot of good, small-cap companies that give exposure to not only gold but also zinc, oil, copper and uranium. I usually skew towards those that are near-term producers or already producing, with Bonterra (OTCQX:BONXF) as an example. I think there is a lot of value in this area, though there is no indication that the downtrend will not continue. I intend to look at these areas in greater detail going into 2019.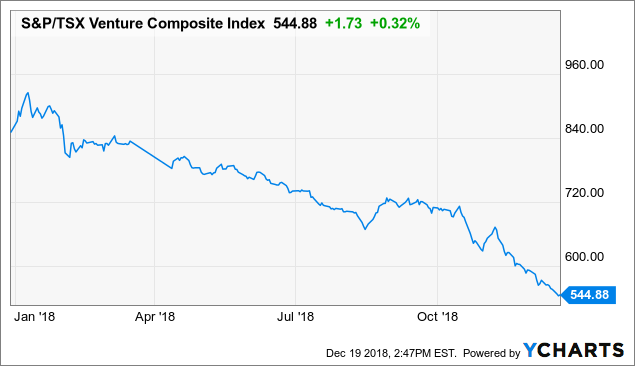 Short Idea. I am going to continue to look at the weaker companies with respect to cash flows and core businesses. High valuation is not enough, and it is too hard to uncover fraud regularly. That said, I still really like Tesla as a short going into 2019.
This is my last post for 2018, so I would like to thank all my readers for reading and their feedback throughout the year. I hope you do gain value, and I appreciate what comes back my way, both good and bad. The community here on Seeking Alpha has made me a better investor and put me in contact with many investors much smarter than me, so thank you, too. Hope you all have a great Christmas and a Happy New Year!