88 companies went public in 2018 with venture capital backing. Excluding Spotify's (NYSE:SPOT) direct listing, the group raised $15 billion in the IPO market. Venture exits accounted for 46% of 2018's total, and VC deal count and proceeds reached a 4-year high. The pickup in activity was driven by biotechs and Chinese tech, so naturally healthcare VCs like Atlas, Flagship, and OrbiMed were active, along with VCs with a strong presence in China (e.g. Sequoia). By sector, venture exits came from 57 healthcare IPOs, 27 technology IPOs, 3 consumer discretionary IPOs (all Chinese), and 1 industrials IPO.
Below we detail some of the most active venture capital firms in the 2018 IPO market.
Insight Venture Partners was the primary backer of three unicorn IPOs this year: Smartsheet (NYSE:SMAR), Pluralsight (NASDAQ:PS), and Tenable (NASDAQ:TENB). It was also an investor in Qualtrics (XM), which was acquired right before its IPO.
Flagship Pioneering was the lead investor on three early-stage biotechs with novel therapies. Rubius Therapeutics (NASDAQ:RUBY) was valued at about $2 billion when it went public, while Moderna (NASDAQ:MRNA) was valued at $8.1 billion, the largest biotech IPO ever. However, as of 12/19/18, each of the three were about -30% below issue.
Canaan Partners was the lead investor in biotechs Arvinas (NASDAQ:ARVN) and Iterum Therapeutics (NASDAQ:ITRM), and financial marketing platform Cardlytics (NASDAQ:CDLX), after being absent from the IPO market in 2017. It also was the #2 shareholder in drug developer Liquidia Technologies (NASDAQ:LQDA).
Explore the IPO Pro Venture Capital Screen to dive down into 2018's VC-backed IPO class: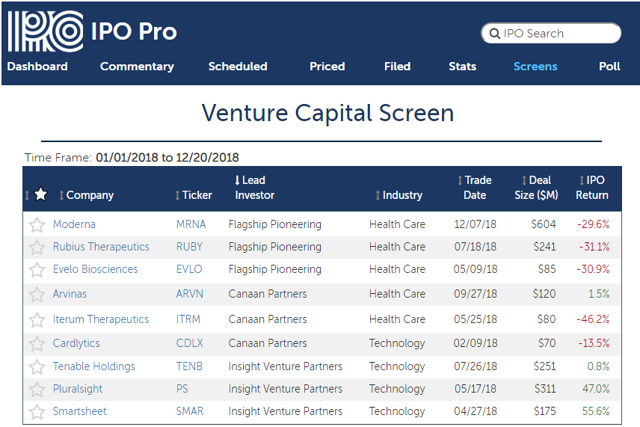 Atlas Venture was also one of the most active venture firms in 2018, appearing as the top investor in biotechs Unum Therapeutics (NASDAQ:UMRX), Surface Oncology (NASDAQ:SURF) and AVROBIO (NASDAQ:AVRO). Its former technology group, now named Accomplice, was the lead investor in Carbon Black (NASDAQ:CBLK). Atlas was also a key investor in Magenta Therapeutics (NASDAQ:MGTA), Translate Bio (NASDAQ:TBIO), and Replimune Group (NASDAQ:REPL).
Benchmark Capital had a good year, appeared as the lead investor on successful tech IPOs Upwork (NASDAQ:UPWK), Zuora (NYSE:ZUO), and Elastic (NYSE:ESTC).
New Enterprise Associates was the top VC in two small drug developers, PhaseBio (NASDAQ:PHAS) and Liquidia Technologies; a third, Centrexion Therapeutics, postponed. NEA was also a secondary investor in Bloom Energy (NYSE:BE), Allakos (NASDAQ:ALLK), and Elastic.
Kleiner Perkins Caufield & Byers was the #1 investor on just one deal in 2018, but that was the best-performing VC-backed IPO. Biotech ARMO BioSciences (NASDAQ:ARMO) raised $128 million in January, and was acquired in May at $50, a 194% return from the IPO price. KPCB also appeared as a key shareholder of fuel cell company Bloom Energy, Inspire Medical Systems (NYSE:INSP), and Carbon Black.
Sequoia Capital was the lead outside investor on just one IPO in 2018, Dropbox (NASDAQ:DBX), the largest US-based VC exit, after leading four IPO exits in 2017. However, Sequoia appeared as a major shareholder in a long list of other IPOs, including four based in the US and four in China: Moderna, Guardant Health (NASDAQ:GH), Eventbrite (NYSE:EB), Carbon Black, MOGU (NYSE:MOGU), CooTek (NYSE:CTK), Viomi Technology (NASDAQ:VIOT), and Pinduoduo (NASDAQ:PDD). It was also an investor in Qualtrics.
OrbiMed Advisors was the lead investor on two deals this year: biotechs Tricida (NASDAQ:TCDA) and LogicBio (NASDAQ:LOGC). The life sciences venture specialist was also a key investor in nine other healthcare startups: Synthorx (NASDAQ:THOR), SI-BONE (NASDAQ:SIBN), Arvinas, Principia Bio (NASDAQ:PRNB), Crinetics Pharmaceuticals (NASDAQ:CRNX), Verrica Pharmaceuticals (NASDAQ:VRCA), Inspire Medical Systems, and ARMO Biosciences, and resTORbio (NASDAQ:TORC).
Chinese tech behemoth Tencent (OTCPK:TCEHY) has an active venture arm, and was the top outside investor in Pinduoduo and NIO (NYSE:NIO), the two largest VC exits by deal size, Spotify, the year's largest listing by market cap, MOGU, and Qutoutiao (NASDAQ:QTT). Tencent also made several private equity investments (e.g. Cango), and spun off its Tencent Music division in a billion-dollar IPO.