There is no Santa. Investors who believed he would ride to the rescue in his sled have been sorely disappointed this December. Nowhere else has this been as apparent as in the case of AltaGas (OTCPK:ATGFF).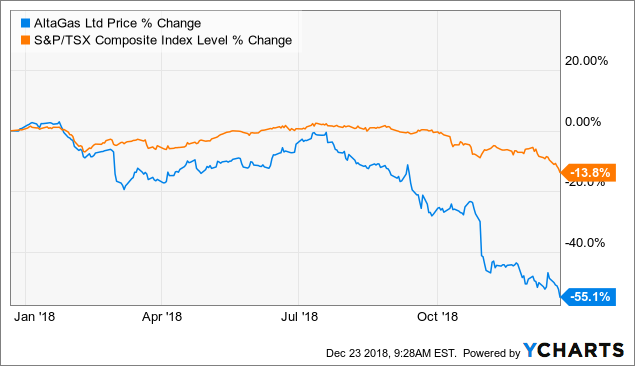 We had earlier in the year made the strong case for a dividend cut, and said:
So the answer on the dividend is that if AltaGas can sell assets at 12X multiples, the dividend is possibly safe until the next recession. If AltaGas realizes that it can only average 10X or less EBITDA multiples today, the dividend is safe till this Christmas or Thanksgiving, whichever comes first.
AltaGas did make it past Thanksgiving (both the US and the Canadian ones), but finally bit the bullet on December 13. We look at the new plan and tell you whether it can work.
The plan
AltaGas had taken a lot of time to acknowledge that a company tottering with 7X debt to EBITDA could not keep paying 70% of their funds from operations (FFO) in dividends while spending another 200% for growth. Any analyst could have told them that, but the company took its sweet time acknowledging this. The cut that did happen was accompanied by three key pieces of information.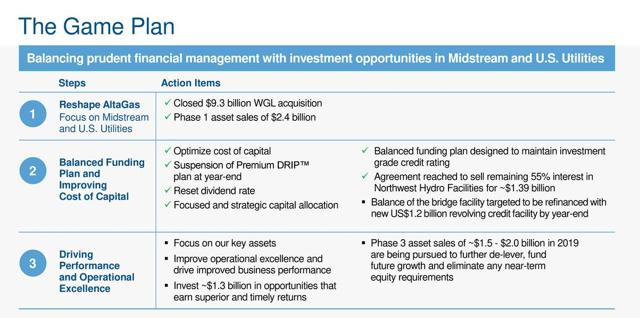 Source: AltaGas presentation
We had maintained that the WGL acquisition would come with such a boatload of capex that AltaGas will literally sell every last Canadian asset trying to fix natural gas pipes in WGL jurisdictions. We can see this in the old WGL presentation which has since been taken down.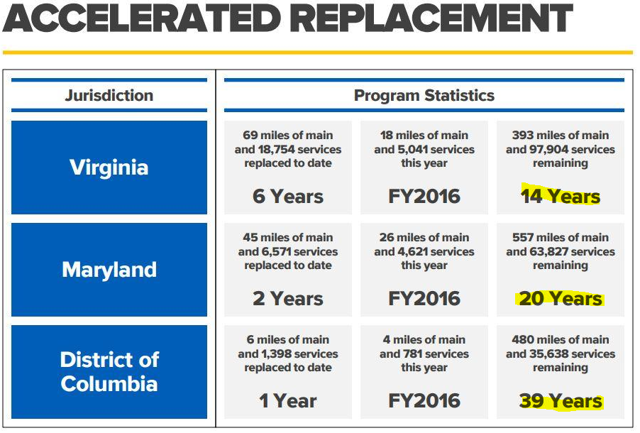 Source: WGL presentation (link no longer available)
The selling of Northwest Hydro's remaining stake was something we were pretty sure would happen. AltaGas got $1.39 billion for the remaining 55% stake sell. The first 35% sale was for $922 million and extrapolating that valuation gets us $1.45 billion. The lower value obtained likely was due to the market turmoil and/or AltaGas' relatively desperate position. This was pretty much the only asset left in the AltaGas portfolio that would get very high EBITDA multiples so we knew it had to go to rapidly give them breathing room.
AltaGas is targeting an additional $1.5-$2.0 billion of sales in 2019. Those if executed would put total sales at close to $6 billion. They paid $9.3 billion for WGL. So our call that they would sell a cumulative $9.3 billion in assets over time, does not look so silly after all. In hindsight, AltaGas might have done much better to advise its shareholders to just sell AltaGas shares and buy WGL shares instead of going through expensive portfolio restructuring.
Where does this leave us
The guidance for 2019 came in at approximately $900 million for FFO.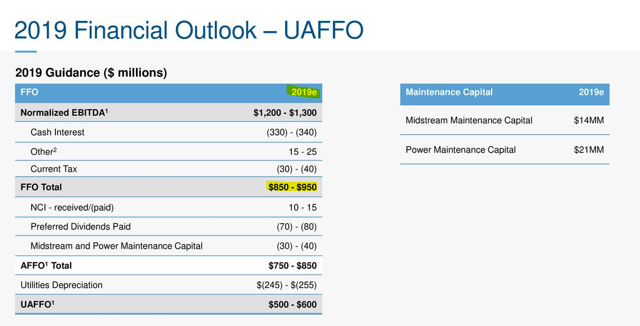 Source: AltaGas presentation
We compared this to our own outlook a few weeks back.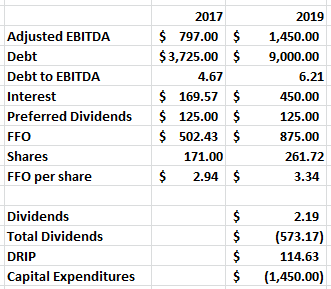 Source: Author estimates from earlier article
Our FFO estimate was quite good at $875 million. Both our EBITDA and interest expenses were higher as we had not accounted for the further asset sales. We had also modeled the dividend being maintained, precisely to show why it could not be maintained. The cut obviously frees up some internal capital and reduces debt.
The capital expenditures did come in lower than expected as well, as AltaGas was able to chop $150 million off this number.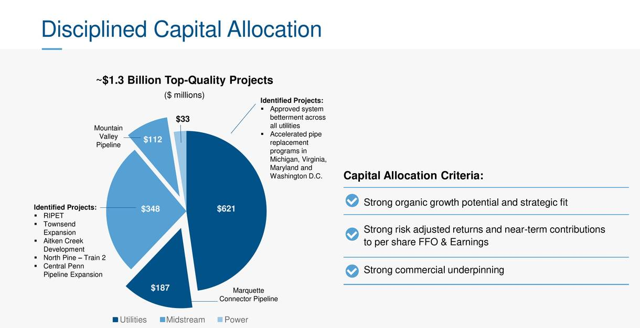 Source: AltaGas presentation
One continued issue for AltaGas is that the $621 million allocated for Utilities is pretty inflexible and will continue at that or a higher rate pretty much forever.
The dividend reset does save some significant cash over time.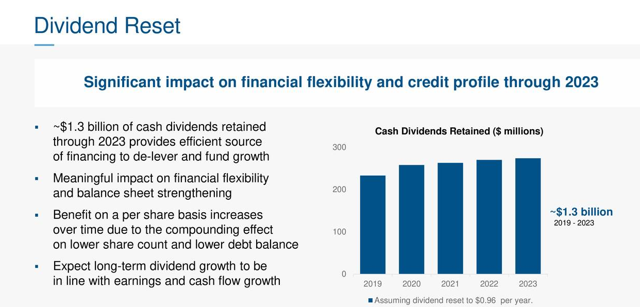 Source: AltaGas presentation
We still think that it is going to be very tight to deleverage this effectively as our equation of FFO minus dividends minus capex remains extremely negative in 2019 and 2020. The rating agencies, which prior to this decision were ready to downgrade AltaGas, will now have to assess the risks of keeping it as investment grade.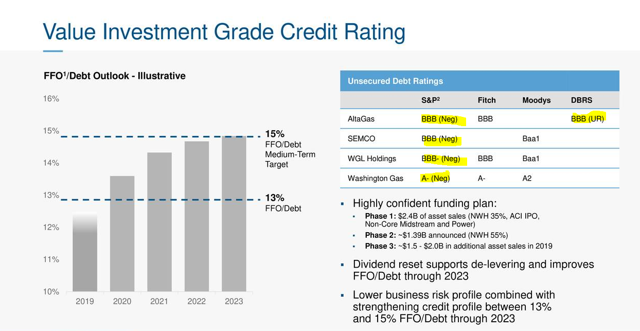 Source: AltaGas presentation
Key risks for AltaGas
There are 3 key risks for AltaGas, each with significant implications. The first is a broad based market shutdown, which makes any asset sale at reasonable valuation difficult. This would make it very hard to fund the latter part of the year.
The second is an across the board rating downgrade into junk territory. That is extremely unlikely, and the downgrade will probably be one step down, keeping AltaGas above investment grade.
Finally, the rate cases that are pending will be key. Any denials of rates asked for, or a significant reduction in the final amount as has happened in the past, can be very detrimental.
Conclusion
AltaGas' plan can work out. Capital markets need to cooperate for that, though. Our base case is that the bull market is not over and this reset in sentiment is good for a bigger move up. Should we be wrong on that, AltaGas will have to go to a zero dividend.
We did not cite the US dollar as a key risk for now, AltaGas' US FFO and capex in the US are about even. That may change down the line and we will reassess then. Ultimately, we think things will work out and AltaGas will deliver great returns from this point after tax-loss selling is done.
Cautious investors looking for a high yield exposure to AltaGas, should consider AltaGas' preferred shares series E.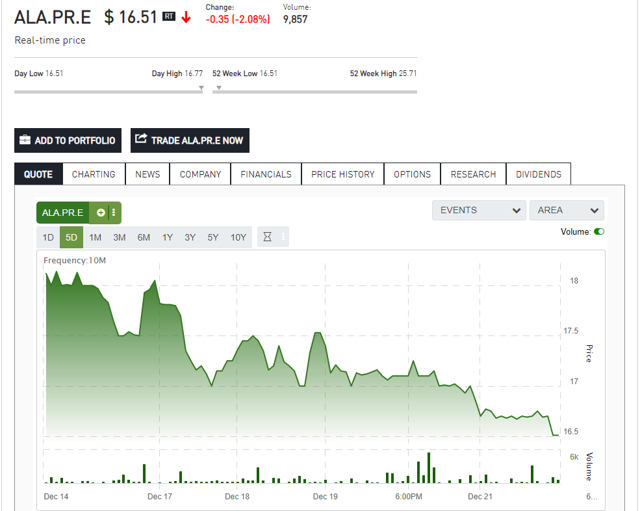 These currently yield over 8% at current price based on the latest reset.
With respect to any Series E Shares that remain outstanding after the Conversion Date, holders shall be entitled to receive, as and when declared by the Board of Directors of AltaGas, fixed cumulative preferential cash dividends, payable quarterly. The new annual dividend rate applicable to the Series E Shares for the five-year period commencing on and including December 31, 2018 to, but excluding, December 31, 2023 will be 5.393 percent, being equal to the sum of the five-year Government of Canada bond yield determined as of today plus 3.17 percent.
For more analysis such as this, please consider subscribing to our marketplace service, Wheel of Fortune.

The Wheel of FORTUNE is one of the most comprehensive services, covering all asset classes: common's, preferred's, bonds, options, currencies, commodities, CEFs, etc.
Take advantage of our year-end special, which includes significant discounts ($924/year), mega poll with prizes, and a two-week free trial.
Check out our monthly review, where all suggestions since launch appear.
TWoF is a "supermarket of ideas" with emphasis on risk management and risk-adjusted returns. We stock the "store"'s shelves, but you decide what products meet your taste.
Take advantage of this rare offer, before fees rise on (and along the way to) 1/2/2019.