With the Canadian Market (EWC) locked in an intermediate downtrend for the majority of 2018, it's difficult to find any net gainers for the year. Despite the negative 12 percent year-to-date return for the Canadian Market, Summit Industrial REIT (OTC:SMMCF) has managed to put up a 28% gain. The return is even more impressive when adding in the near 6% yield the stock has paid.
Despite this run-up, I see no reason to cash in all the chips just yet. Summit Industrial REIT continues to remain in an intermediate uptrend, and the technicals are suggesting the stock can continue higher. I remain long one-third of my initial position established at $8.16 CAD, and have trailed my stop higher to the $8.85 CAD level to lock in an 8% gain.
While coverage on Summit Industrial REIT has been generally favorable, the prevailing sentiment from analysts since Q1 has been to wait for a pullback to buy the stock. The long awaited pullback has not materialized, and this is because leaders in a sector rarely provide "easy" opportunities to buy them. As disclosed in my February article "Summit Industrial REIT: More Highs Ahead?", I initiated a full position in the stock in Q1 at $8.16 CAD. The stock has since seen a steady move higher, and the position is up roughly 16% from the entry price.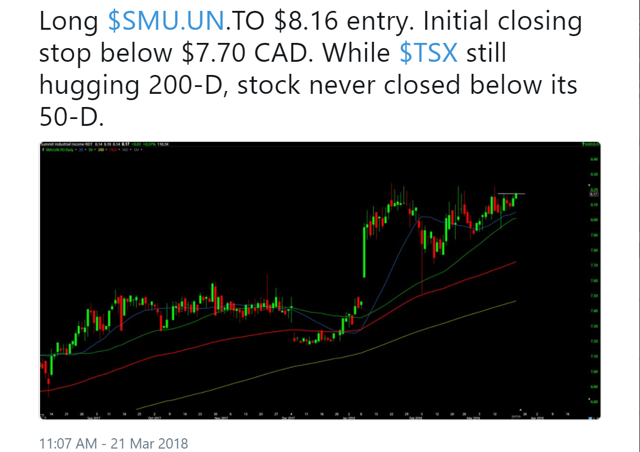 Source: www.twitter.com/taylordart01
Beginning with the fundamentals for Summit Industrial REIT, the company continues to fire on all cylinders. Summit Industrial REIT just recently announced a solid increase in the growth of their portfolio with the acquisition of several new light industrial properties across GTA (Greater Toronto Area), Ottawa, Montreal and Alberta. The average occupancy for the properties is over 98%, and the weighted average lease expiry is over five years. This new acquisition comes on the back of the acquisition of over 30 light industrial properties and a data centre in 2017, and the acquisition of nine additional properties (prior to the most recent one) in 2018. These acquisitions, done at well below replacement cost, are allowing the company to see accelerated growth across its portfolio, and this has helped to bolster the company's financial metrics.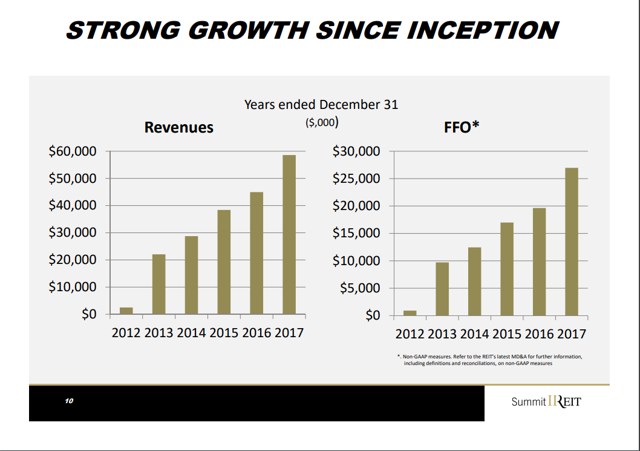 (Source: Company Presentation)
Taking a look at annual revenues and annual FFO, we can see a steady uptrend with an acceleration in growth as of full-year 2017. This trend is continuing in 2018 as revenue for the first nine months of 2018 has thus far come in at $65.4 million, well above full-year 2017 revenue of $58.6 million. This is exceptional growth for the industry where most peers are lucky to grow revenue at high single-digits per year. Despite all of these acquisitions, the company's leverage ratio has stayed relatively stable at 44% vs. 51% in March.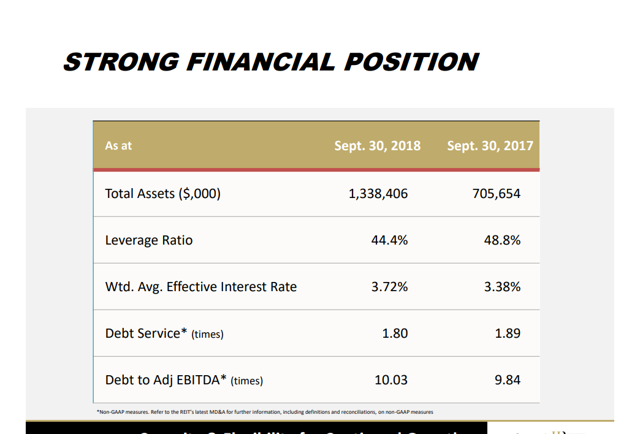 (Source: Company Presentation)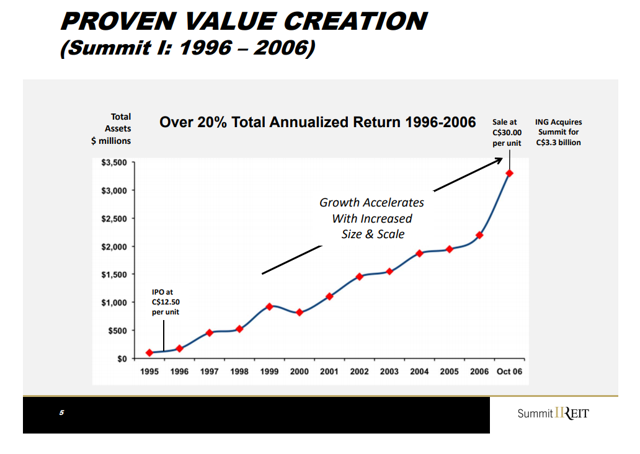 (Source: Company Presentation)
The company has a track record of excellence after powering Summit REIT #1 from a company with less than $250 million in assets, to over $3 billion before they were acquired by ING. The board's interests are aligned with the company as they continue to hold a 7%+ position in the company, and despite the steady appreciate in share price, management continues to be net buyers of stock as shown below.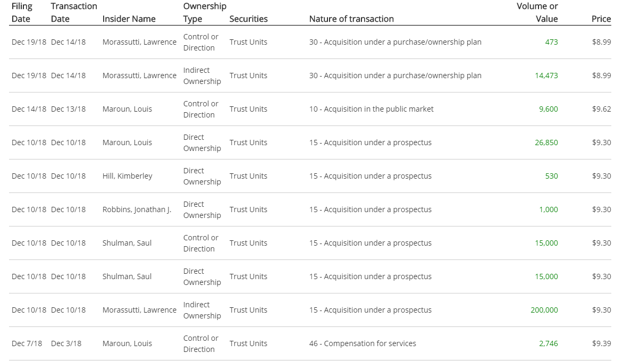 (Source: CanadianInsider.com)
At a current price of $9.39 CAD, the company continues to pay a 5%+ dividend with a monthly distribution of $0.043 CAD, or an annual payout of over $0.51 cents. This is an exceptional payout ratio for a company putting up growth in these numbers as the company is attractive even without a distribution based on their robust growth profile in both revenue and FFO.
So how am I positioned after this 20% run-up?
Admittedly while I am happy to still be holding roughly 2/5 of my position bought at $8.16 CAD, I have not traded the stock as well as I should have. This mistake in selling as much as I did came due to what's been a terrible market environment for the Canadian Market and choosing to trade a more conservative strategy of booking partial gains when they became available.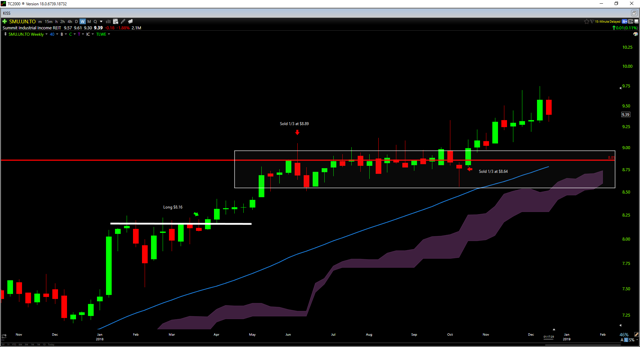 (Source: TC2000.com)
I have sold off just over 60% of my position so far at an average cost of $8.77 CAD for a 7.5% gain, and continue to hold a 2/5 size position in the stock which is up roughly 16% from the entry. While my sells were clearly premature on the stock, I am surprised the stock has managed to defy gravity despite a violent bear market on the TSX and this is why I booked some gains when I did. Given the fact that the stock has held up so well despite what's been a pathetic performance for the Canadian Market, I believe it's worth giving the stock room to work and using a relatively wide stop. For this reason, I have my stop on the position on a daily close below $8.85 CAD which would represent roughly a 10% pullback from the recent all-time high at $9.74 CAD. As we can see from the below chart of Summit Industrial REIT (left), and the TSX (right), Summit Industrial REIT is clearly trading in its own world here. The Canadian Market continues to make lower highs and lower lows and has broken below 12-month support and Summit Industrial REIT continues to grind higher mostly unfazed. Often, when a stock can put up this type of performance despite a bear market in the major averages, the stock becomes a coiled spring just waiting for the market to finally turn around. Once the market weight is lifted off of the stock, it can quickly catapult higher and resume its upward course. In this case, Summit REIT's fundamentals continue to improve but I believe the market is the only reason it's being held back here.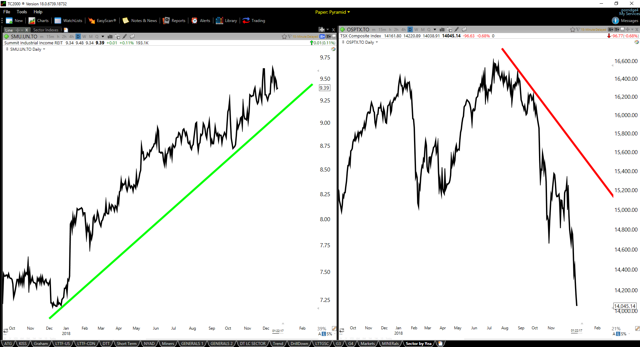 (Source: TC2000.com)
Based on Summit REIT's continued acquisitions and impressive growth in FFO and revenues, I believe the stock to be a hold and I am looking for potential new setups to try to add back some of my position. Currently I do not see a setup to add back to my position, but it is one of my top ideas where I would consider adding a little exposure under the right conditions. As long as the stock does not put in a daily close below $8.85 CAD, I plan to stick with my position. Summit Industrial REIT is one of the few positions I have left on the Canadian Market as it continues to defy gravity in a turbulent market for the TSX, and otherwise I am holding a cash position of over 85%.
Disclosure: I am/we are long SMMCF. I wrote this article myself, and it expresses my own opinions. I am not receiving compensation for it (other than from Seeking Alpha). I have no business relationship with any company whose stock is mentioned in this article.