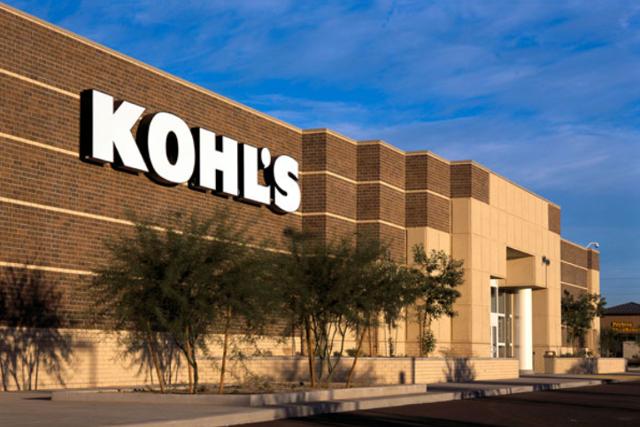 Back where we started 2018
Kohl's Corp. (KSS) has, at times, been a strong buy recommendation of mine in the retail sector and at others, I've avoided it based upon valuation. The stock has been a victim of soaring and plummeting sentiment in the past several years, leading to outsize price action in both directions. That has created opportunities in the stock from both sides and today, I believe we are firmly back into the area where buying Kohl's makes sense.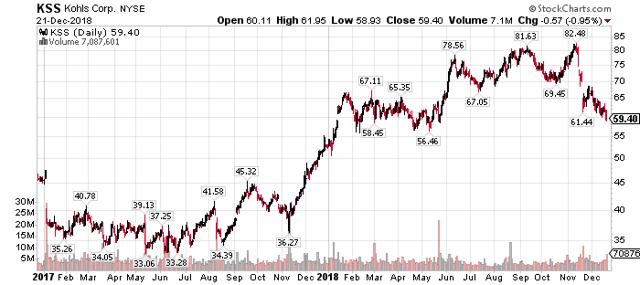 Results continue to impress
The company's Q3 earnings were strong and replete with a guidance boost just before the critical Christmas shopping season. Total revenue was up 1.3% while comparable sales rose 2.5%. This is a vast improvement over the year-ago period's comparable sales gain of just 0.1%, and continues the improvement Kohl's has seen for the full year thus far. Indeed, Q3 marked five consecutive quarters of positive comparable sales growth, something that wouldn't have been crossing the minds of investors just a couple of years ago.
However, today's Kohl's is different than it was in years past. The company has renewed its focus on its inventory assortment, as well as the speed with which it can come to market with new merchandise. This is critical for an apparel retailer because trends change and in the past, Kohl's simply didn't adapt. Today, that is no longer a problem. Not only does this show up as a positive for comparable sales and revenue, but it works for margins as well.
In addition, Kohl's has ramped up its digital offerings, including the app customers can use in-store as well as making sure its digital fulfillment capabilities are up to par. In short, Kohl's has made the necessary investments to be a proper 21st century retailer in what is, frankly, a 20th century business. However, Kohl's is remaking the department store model in its own image to fit its customer base, and it is working well.
Margins were up in Q3 as well as gross margins increased 25bps to 37%, extending its full-year gains over last year in the process. Kohl's inventory management, including carrying less and being quicker to market, are getting consumers to shop and buy, but also affording margins the benefit of fewer markdowns. This is a key benefit of a more efficient inventory strategy, and for the first three quarters of this year, gross margins are up 39bps. I expect we'll continue to see margin improvement in the coming quarters, including Q4, thanks to the company's more efficient management of its assortment.
Unfortunately, the investments the company is making in digital capabilities and its supply chain are expensive. SG&A costs continue to rise and in Q3, added 40bps as a percentage of revenue to 29.7%. This is a common problem among retailers today, so Kohl's certainly isn't alone. However, the good news is that the acceleration of SG&A costs should slow in the coming years as the company reaps the benefits of its digital fulfillment capabilities without constant investment at a high level. Hourly store labor rates are a concern for the industry as well, but given comparable sales are rising nicely, I'm not particularly concerned about labor rates at this point. Rising comparable sales are more than enough to offset a small increase in hourly labor, so I don't think that's a material risk today.
Guidance up, stock down
Kohl's raised its guidance for the full year to a range of $5.16 to $5.36, which was a $0.20 increase on the bottom end from prior guidance. Despite this, the stock has been mercilessly hammered since the report came out, and is trading at multi-month lows. Indeed, today, it trades for just 11.3 times the midpoint of its updated guidance, which compares very favorably to its longer-term average price-to-earnings ratio of 14 to 16. That implies there could be significant upside in the stock simply from multiple expansion in the coming years as Kohl's has reverted right back to a negative sentiment stance from investors.
But Kohl's is more than just a valuation story as the company saw increased traffic levels during the period of Black Friday through December 10, and while that is only a small fraction of the fourth quarter, it is a critical fraction. Higher traffic bodes very well for Kohl's and its comparable sales, as well as margins.
A 4%+ yield and cheap valuation make it a buy
Finally, investors shouldn't forget that Kohl's pays a very nice 4.1% yield. Kohl's has long been an income stock and today is no different as the recent selloff has brought the yield back above 4%. There really aren't that many stocks in the market that yield in excess of 4% outside of income categories like REITs and MLPs, so Kohl's is a bit unique in that respect. The dividend is also less than half of earnings so it is ultra-safe in addition to having plenty of room to continue growing in the coming years. Even if you don't believe in the growth of revenue and earnings, Kohl's may strike your fancy as an income stock with its robust yield.
In total, I think Kohl's is back to being an attractive buy again. I've oscillated on this stock in the past few years as the valuation has risen and fallen, but I think we're at the point where investors can take a look again. Could it get cheaper? Sure, we are in a nasty market right now and anything could happen. But for those with a long time horizon and an eagerness to pick up a high-yielding stock that is cheap, you can do a lot worse than Kohl's. I'm switching my call back to a buy on Kohl's once again on the valuation, yield and improving fundamentals.
Disclosure: I/we have no positions in any stocks mentioned, and no plans to initiate any positions within the next 72 hours. I wrote this article myself, and it expresses my own opinions. I am not receiving compensation for it (other than from Seeking Alpha). I have no business relationship with any company whose stock is mentioned in this article.