Thanks to Alphabet Google's (GOOG) (GOOGL) Waymo autonomous vehicles [AVs] have now arrived in November 2018, just 2 months earlier than I had expected.
For a background on this topic investors can read my earlier article:
Fully Autonomous Vehicles have arrived - November 2018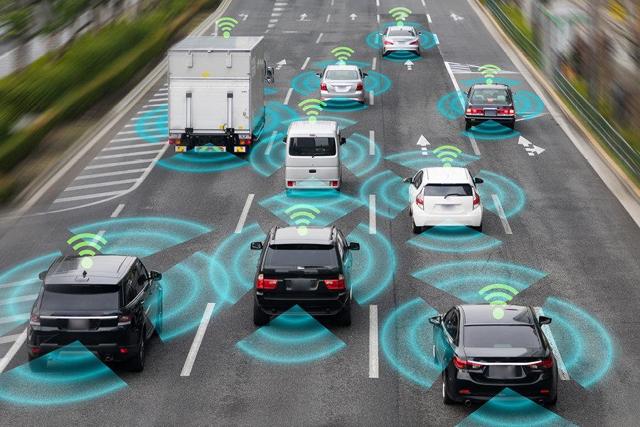 A brief summary from my past article with some updates
Variant Market Research - From 2016 to 2025 the global self-driving car market forecast to grow at CAGR 25.7%.
ResearchAndMarkets.com - From 2018-2022 the global autonomous vehicles market to grow at a CAGR of 41.61%. Or 19% CAGR between 2016 and 2023.
Toyota's e-Palette self-driving, ride sharing, EV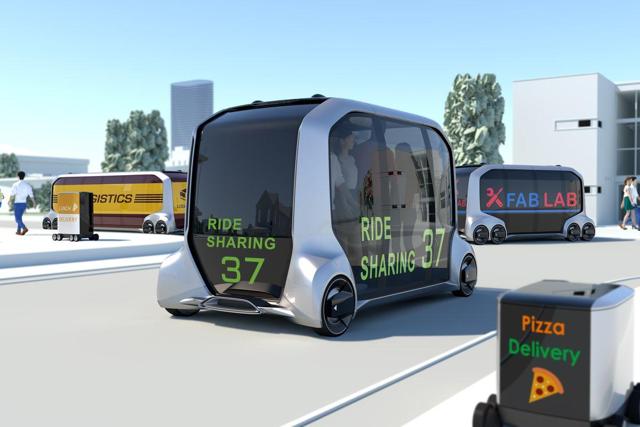 Toyota concept autonomous vehicles for all purposes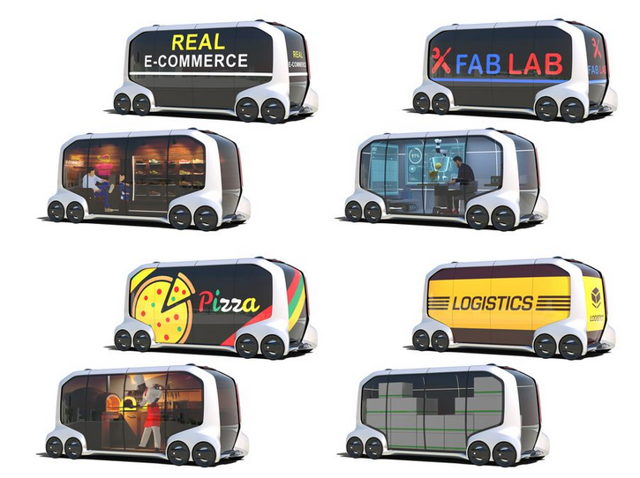 Source: CES 2018
The leaders in autonomous vehicles testing
The graph below gives a 2016 guide as to the main players and in particular how many miles have been tested as of 2016. Google (via their self driving car subsidiary Waymo) are the clear leader. Note Delphi Automotive is now Aptiv.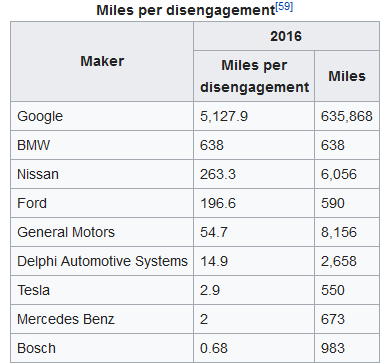 Below is a 2017 update showing Alphabet Google/Waymo and GM as clear leaders with extremely low number of disengagements per 1,0000 miles driven. Or put another way Waymo leads with 5,595.95 miles driven before an engagement occurred.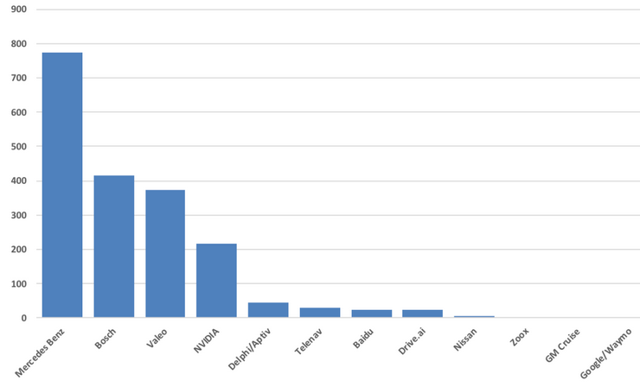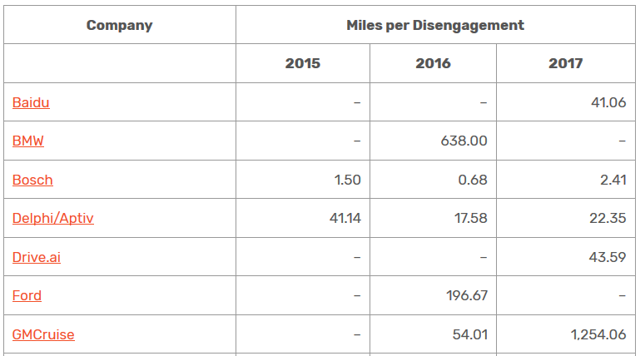 On January 31 2018, it was reported that "Waymo orders thousands of cars. With 600 cars Waymo today operates the largest fleet of autonomous test vehicles. But now the Google-sibling seems to ramp up its efforts even more. Thousands of more Fiat-Chrysler Pacifica Minivans were ordered and are scheduled for delivery over the course of the year. The exact number is supposed to be below 10,000 vehicles."
Developments since my last article in May 2018
Alphabet Google's Waymo remain the global and Western leader in autonomous vehicles with the most miles tested, and are currently rolling out AVs in Phoenix Arizonia. Baidu is the Chinese leader at this stage, having already launched their level 4 autonomous electric mini-buses in China (airports and tourist spots). General Motors (GM) who plans to launch their autonomous electric cars in 2019, are the next main contender. Tesla (TSLA) and Ford (F) are also well advanced.
Mercedes-Benz's plan for surviving the auto revolution. Between electrification, autonomy, car sharing, and ride hailing, the car industry is undergoing a monumental, unprecedented shift. Of course the phasing-out of traditional cars is already taking place: the announcement of the Paris government to ban first diesels and then combustion-engine cars. And many major cities are going to go 100 percent electric. Truly self-driving cars will be applied in the first step in mobility services, like MyTaxi, Uber, Lyft, etc, for one simple reason: The sensor technology and computing power will be quite expensive. Private customers will have to wait until it gets cheaper, because the first step will be far too expensive. This development is definitely coming, but it won't come overnight. So one part of your fleet will be self-driving cars, but there will still be a huge portion of human drivers in Uber and MyTaxi.....And the self-driving car, which of course will be electric. It's coming in the next decade. It's all on its way."
On May 14 Reuters reported: "Tencent gets self-driving car test license from China's Shenzhen city - report. China's southern city of Shenzhen gave the green light to tech giant Tencent Holdings to test its self-driving car on some public roads as the country seeks to bolster its position in the global race for autonomous vehicle technology."
On May 24 Green Car Reports reported: "The Apple car to finally hit the road, only it's a VW Bus. After years of trials aimed at remaking driving in the mold of the iPhone, Apple is finally building some self-driving electric cars to test on roads in the San Francisco Bay Area-and they're Volkswagen buses."
On May 31 Forbes reported, "GM's self-driving fleet gets $2.25 billion capital infusion from SoftBank ahead of 2019 launch."
On May 31 Reuters reported, "Mapbox partners with Microsoft (MSFT), Intel (INTC) to provide self-driving car maps."

On June 15, 9 to 5 Mac reported: "Apple hires senior engineer from Waymo for its self-driving car project."

On June 16, Yahoo Finance reported: "How self-driving cars will take to China's roads. Self-driving cars could take to China's roads by as early as 2020."

On June 1, Micron Technology stated: "1% autonomous vehicle penetration requires 25 times more memory than we have in total capacity today."

On June 7, Bloomberg reported: "Volvo cars sets new goal for robo-taxis in biggest industry bet. Driverless vehicles to make up one third of sales by 2025. Half of the cars the Swedish company offers will be available through its subscription service, creating links to more than 5 million consumers and generating new sources of revenue."

On July 5, ABS-CBN reported:

"China's Baidu rolls out self-driving buses. China's internet giant Baidu announced Wednesday it had begun mass producing the country's first autonomous mini-bus, as the firm prepares to roll them out in tourist spots and airports. The 14-seater Apolong, about one-third of the size of a normal bus, has no steering wheel, driver's seat, accelerator or brake. Co-produced by Baidu and Chinese bus manufacturer King Long, they will soon be pressed into commercial use in enclosed areas such as tourist areas and airports in several cities including Beijing, Guangzhou, Shenzhen, and the country's new megacity Xiong'an. Early next year, they are set to enter Japan's self-driving market as shuttle buses at nuclear power stations or in Tokyo to ferry around elderly people in local communities. The vehicles have the "fourth level" of automation as defined by the Society of Automotive Engineers, meaning they can operation within an enclosed location without human intervention."

Baidu's autonomous electric mini-bus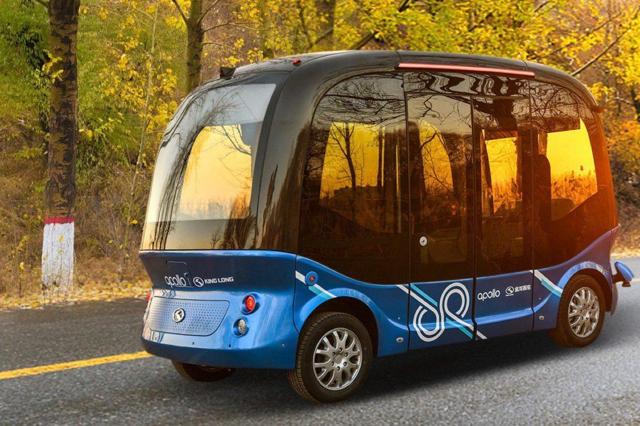 On July 10, Seeking Alpha reported: "Baidu and Hyundai expand connected car collab. The companies will first co-develop a connected car service providing a wide range of in-car content including real-time traffic status and end-destination information based on big data, maps, AI, and portal services. The team will also create Hyundai vehicle models embedded with Baidu's Xiaodu In-Car OS for volume production. Xiaodu currently consists of the dashboard, smart review mirror, infotainment, and an in-vehicle robot."

On July 10, Seeking Alpha reported: "Uber, Alphabet invest in bike sharing service. The bike sharing economy... UBER and Alphabet (GOOG, GOOGL) are among the investors in the latest funding round for bike sharing service Lime, which raised a total of $335M and valued the startup at $1.1B. Uber will work with Lime as a strategic partner in the electric scooter space with the companies working to co-brand Lime's scooters and make the service available on the Uber app."

On August 3, Green Car Reports reported: "Tesla will roll out new Autopilot later this month. Tesla announced Wednesday that it would release a complete update to its Autopilot system later this month, including new self-driving capabilities. The new version, which Tesla owners and fans have long-awaited, will update the system with faster hardware as well as new optical software that CEO Elon Musk says will improve safety."

On August 27, CNBC reported: "Toyota is investing $500 million in Uber at a valuation reported at $72 billion. In June, Toyota invested $1 billion in Southeast Asian Uber-rival Grab. Under the deal, the companies will incorporate self-driving technology into vehicles based on Toyota's Sienna minivans, and the companies plan to begin piloting the program in 2021, they said. Toyota has dubbed the platform "Autono-MaaS," standing for "autonomous mobility as a service."

On September 6, Green Car Reports reported: "Volvo puts Ikea-like living room in self-driving concept car. With its latest self-driving car concept, Volvo wants to take on the airline industry. Without a need for a steering wheel, Volvo opened up the interior of its 360c concept to accommodate a coffee table, a card table, a desk, and even a first-class airline-style bed."

On September 12, Endgadget reported: "BMW developed a self-driving motorcycle to further its safety efforts." You can view a video here.
On October 9, Bloomberg reported: "Daimler to work with Geely on ride-hailing service in China. Daimler, Chinese shareholder Geely weighing a 50:50 venture. New China business would take on industry leader Didi Chuxing."
On October 22 Telegraph.co.uk reported: "Oxbotica plots London driverless taxi service by 2021 in deal with Addison Lee."
On October 26, Automotive News reported: "VW, Ford are mulling self-drive tie-up as talks broaden, report says. Talks between Volkswagen Group and Ford Motor Co. on forming an alliance have broadened to include potential collaboration on autonomous driving and arrangements to make vehicles for one another, people familiar with the matter told Bloomberg."
On October 26 Telegraph.co.uk reported: "Chinese Tesla rival NIO invests in sensor firm to create 'eyes' for driverless cars. Innovusion, a startup specialising in LiDAR sensor technology for autonomous vehicles, has raised $30m after a funding round led by Chinese Tesla-rival Nio."
On November 1, CNBC reported: "Volvo and Baidu join forces to mass produce self-driving electric cars in China. The Swedish carmaker, which is owned by Chinese auto manufacturer Geely, will offer its expertise in advanced technologies in the auto industry, while Baidu provides its autonomous driving platform Apollo, the two companies said."
On November 7, Bloomberg reported: "Hyundai bets on EV era with $250 million Grab investment. Hyundai Motor Group agreed to invest an additional $250 million into Grab Holdings Inc. and sell a fleet of electric vehicles to the Singapore-based ride-hailing company as the automaker expands in mobility services. The South Korean company is actively considering an expansion of this EV mobility service into other Southeast Asian countries such as Vietnam and Thailand, Chi said."
On November 7, Telegrapgh.co.uk reported: "China's Tencent builds driverless car team in Silicon Valley."
On November 7, Wired reported:
Waymo finally takes the driver out of its self-driving cars. Eight years after launching its self-driving "moon shot," Waymo, aka Google's driverless car company, is having its Neil Armstrong moment. The company is now running its autonomous minivans around Phoenix with no human inside to grab the wheel if things go bad, CEO John Krafcik announced Tuesday. And in just a few months, it will invite passengers to climb aboard the world's first driverless ride-hailing service.
A Waymo autonomous vehicle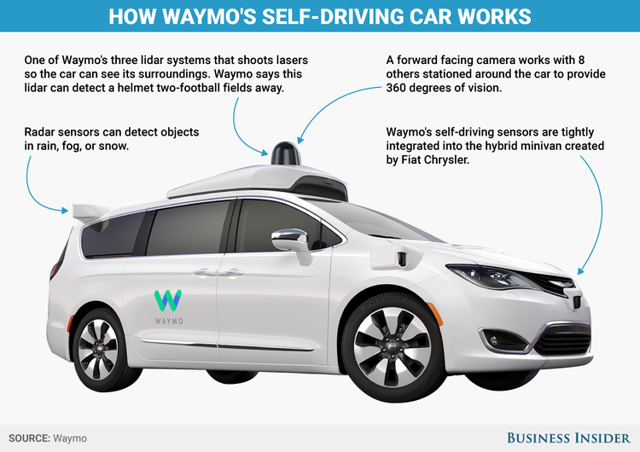 Beneficiaries of autonomous and ride sharing vehicles
The leading AV companies - Alphabet, Baidu, GM, Tesla, Ford, etc.
The ride sharing apps - Uber, Lyft, Didi Chuxing, Grab Taxi, Ola, Gett, Mytaxi, and DriveNow. Note in the short to mid-term those app companies that don't move to AVs may find they lose market share to competitors who can offer cheaper rides.
The electric vehicle [EV] car makers as most AV companies choose electric due to the large cost savings over a long driving life (~1 million kilometers per vehicle is possible).
The lithium-ion battery manufacturers and the EV metal miners - Lithium, cobalt, graphite, nickel, rare earths.
The on-board entertainment and data providers - Apple (AAPL), Google, Netflix (NFLX), Amazon (AMZN), Facebook (FB), Tencent [HK:700] (OTCPK:TCEHY); as well as the systems providers to connect cars to the internet (

optional

) - 5G providers Verizon (VZ) and AT&T (T), Sprint (S); mapping companies (Google, Baidu (BIDU), Alibaba (BABA)); payment services companies (Visa (V), Mastercard (MA), American Express (AXP), Samsung Pay, Apple Pay, Alipay (BABA); cyber security companies (HACK).
The onboard computer and software providers that run the AV - Aptiv (APTV), Bosch (OTC:BSWQY), STMicroelectronics (STM); Nvidia (NASDAQ:NVDA), Intel (INTC), Samsung Electronics (OTC:SSNLF), NXP Semiconductors (NXPI), Qualcomm (QCOM).
Optical cameras and sensors companies - Sony Corp [JP:6758] (SNE), Panasonic Corp. [JP:6752] (OTCPK:PCRFY), Valeo [FR:FP] (OTCPK:VLEEY).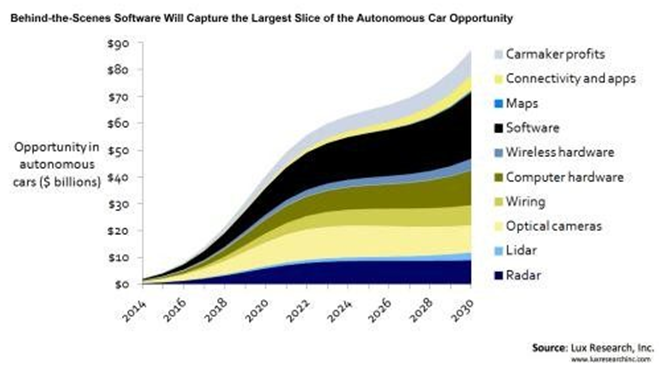 Risks
Technology risk - It appears Alphabet Google may have now solved this.
Litigation risk - The risk of AV companies being sued for accidents etc. Insurance companies will have a say in this also.
Regulation risk - Governments are still deciding if AVs are safe for public roads and hence AVs are not always allowed on public roads.
Public acceptance issues and driver job losses.
Further reading
Conclusion
The first roll-outs of lower level autonomous vehicles have been happening already over the past few years, accelerating in 2018. Tesla pioneered much of the early work with several driver assist and other autonomous features. Baidu have recently launched their autonomous electric mini-buses that have level 4 capability (no hands, no eyes, no mind needed), that will operate mostly in closed loops such as airports and tourist spots. Alphabet Google (Waymo) is considered the industry leader and are the first globally to have level 5 autonomous vehicles (no human needed in the car) on public roads. Others including Tesla and GM are not too far behind.
The beneficiaries of the AV trend are a large group and there should be many winners. Those companies such as Alphabet Google (Waymo) who have invested large dollars, are most advanced and across several areas, should do very well. The ride sharing apps (all private) that can move to AV fleets (using EVs) will do best, those that don't may perish. The software providers such as Nvidia should also do very well as they are controlling the brain of the AV. Finally niche companies offer excellent upside in areas as diverse as onboard entertainment and traffic management.
It is good to remember in a fully AV the passengers will be free from driving and will want online 5G connection to allow great entertainment on the go. Finally almost all companies see autonomous cars as being electric, which will be the ICEing on the cake for the EV boom as it accelerates taxi and 'transport as a service' [TAAS] fleets to be built in ever larger numbers.
The robo-taxi has finally arrived as "fully self-driving cars are here".
As usual all comments are welcome.
Trend Investing
Thanks for reading the article. If you want to sign up for Trend Investing for my best investing ideas, latest trends, exclusive CEO interviews, chat room access to me, and to other sophisticated investors. You can benefit from the work I've done, especially in the electric vehicle and EV metals sector. You can learn more by reading "The Trend Investing Difference", "Recent Subscriber Feedback On Trend Investing", or sign up here.
Latest Trend Investing articles:
Disclosure: I am/we are long GOOG, FB, SAMSUNG ELECTRONICS (XLON:SMSN), BABA, MU. I wrote this article myself, and it expresses my own opinions. I am not receiving compensation for it (other than from Seeking Alpha). I have no business relationship with any company whose stock is mentioned in this article.
Additional disclosure: This article first appeared on Trend Investing on November 22, 2018; therefore all data is as of that date. The information in this article is general in nature and should not be relied upon as personal financial advice.
Editor's Note: This article discusses one or more securities that do not trade on a major U.S. exchange. Please be aware of the risks associated with these stocks.