2018 has been an extremely tough year for the majority of European airlines. There have been numerous bankruptcies, strikes, and of course the deep uncertainty surrounding Brexit and how this will affect air travel between the United Kingdom and the EU. However, these circumstances have significantly reduced the share price of most European Airlines to the point where bargains are appearing. I will discuss how UK listed EasyJet plc (OTCPK:EJTTF) (OTCQX:ESYJY) currently presents good value to prospective investors.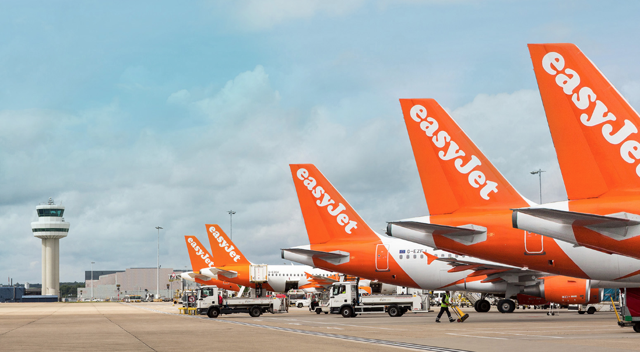 Brexit
What will happen to airlines travelling between the UK and the EU after Brexit? This question is critical to EasyJet as around half of the company's 315 strong fleet is based in an EU member state.
What we do know is that the UK and the EU have stated that they want to maintain flights between each other. However, in the absence of an agreed deal by March 2019, a failure of airlines to properly prepare would cause havoc when trying to operate. UK and EU airlines would have to seek individual permissions from the states they fly in and out of. Furthermore, UK airlines would not be able to operate domestic flights between EU destinations, and vice versa.
In order to mitigate any disruption from Brexit, EasyJet has established EasyJet Europe. The Vienna headquartered company will allow EU domestic flights to continue after the UK has departed from the EU. In addition to having an EU based company operating domestic EU flights, there is a requirement that a majority of its equity capital must be owned and controlled by nationals of an EU member state, or any 'qualifying nationals'. These include Switzerland, Norway, Iceland and Liechtenstein. Currently 47% of Easyjet's equity capital is held by qualifying nationals, below the threshold for a majority. The company has stated that in the event where a deal is not agreed, action would have to be taken to reduce the equity capital of non-qualifying nationals. This would involve suspending rights to vote and attend shareholder meetings and possibly forcing the sale of shares owned by non-qualifying nationals.
The company has already recognised £7m in costs relating to the re-registration of aircraft in Austria so that it can continue to operate EU-EU flights. As can be seen, Brexit will have a minimal effect on how the company can operate its current flight routes.
European airline insolvencies
As aforementioned, insolvencies in Europe have been plentiful in recent years. In the last two years alone we have seen the collapse of Monarch Airlines, Air Berlin, Primera Air, Cobalt and the Italian Alitalia. Fears have also been raised with regards to the ability of Flybe and Norwegian Air to continue operating in the near future as cashflows dwindle.
Industrial action has also been prevalent across the airline sector. Across Europe we have seen industrial action in the form of strikes from workers, ranging from air traffic controllers to pilots, from Air France (OTCPK:AFRAF) and Ryanair (RYAAY). This resulted in numerous flight cancellations, delays, mounting losses and of course frustrated passengers. EasyJet note in their 2018 Annual Report that they received an estimated gain of £20m profit as disgruntled customers switched from rival airlines.
EasyJet has been able to capitalise off the weakness of its competitors. Passenger count in 2018 increased by over 10.2% to a record 88.5m passengers, resulting in record revenues and profits. Increased passenger numbers were aided by the acquiring operations at Berlin's Tegel Airport after the Air Berlin insolvency, resulting in a boost of £198m to the top line.
The company should continue to benefit in the coming years from further insolvencies in smaller, undercapitalised competitors through increased passenger count and acquiring assets cheaply.
Costs
Fuel
Fuel is understandably one of the major costs airlines have to account for. In the case of Easyjet, fuel represented around 22% of the total costs for FY2018. Due to the volatile nature of the price of oil, this can become an unpredictable cost for the company year on year. 2018 was no exception. The year had started off on a high of $70bbl for brent crude. The price steady increased throughout the year before plummeting to around $53bbl, where it stands today. The company tries to minimise volatility in prices through actively hedging the price of oil. If oil continues to decline, or even maintains the current level throughout 2018, this could help the bottom line significantly.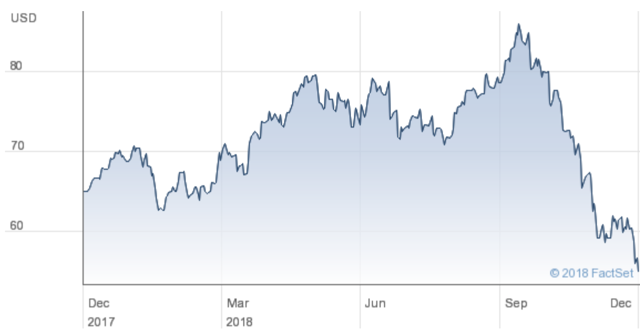 Emissions Trading System
Since 2012, CO2 emissions from aviation have been included in the EU emissions trading system (EU ETS). The system works on a principle of 'cap and trade' whereby a cap on emissions is imposed and tradeable certificates are issued to companies. This means that airlines operating in the EU are required to monitor, report and verify their emissions and to surrender allowances against those emissions. Companies will receive tradeable allowances covering a certain level of emissions from their flights per year. After each year a company must surrender enough allowances to cover its total emissions for that year. Any spare allowances can be kept for future years or sold for profit to companies struggling to stay under the emissions cap for a given year. Large fines are imposed on companies who do not stay within the permitted cap.
Costs are rising significantly for European airlines as a result of the ETS imposed on them. What is making it more difficult for airlines is that price of these certificates have been rising significantly, up 365% in the last 5 years.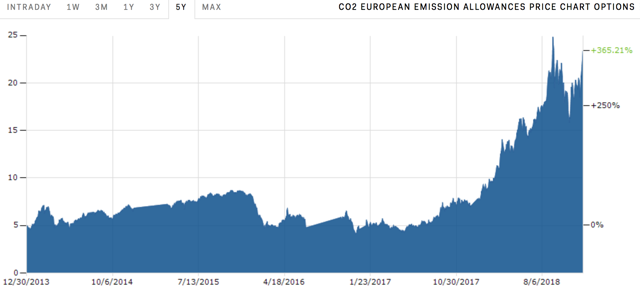 The rising costs are forcing companies to either pay more for the certificates if they buy beyond their annual allowance, or increase expenditure through leasing newer models of aircraft that have lower CO2 emissions.
While this system may be good for the environment, aeroplanes cannot keep increasing their fuel burn efficiency by large amounts year on year. The below chart shows how EasyJet has improved their efficiency over time.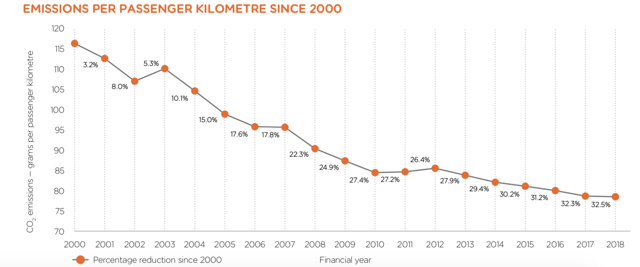 What is noticeable is that the speed at which they are doing so is declining to the point where efficiency improvements are becoming negligible. This declining rate of efficiency coupled with rapidly increasing price of ETS certificates is bound to increase costs for operators.
What should be noted is that non-EU flights after Brexit will not be subject to the ETS. The date at which this happens is unclear and it might extend beyond March 2019 for a transition period. However, it should be noted that the UK has confirmed its commitment to the Paris Agreement to reduce emissions and will likely create a similar scheme for UK operators. However any new scheme could be made to be cheaper for certain sectors compared to their EU counterpart companies.
Company Performance
Taking into account the uncertainty regarding Brexit, the rising costs throughout 2018 and the numerous insolvencies, Easyjet has performed remarkably well.
Revenue has increased by 16.8% YoY to £5,898m, up from £5,047 in 2017. Load factor (number of passengers as a percentage of number of seats flown) has risen to a record high to 92.9%. This highlights that the company is maintaining almost full capacity on its flights.
Total profit per seat increased to £6.07 in 2018, up from £4.71 in the previous year. This has respectively led to a total profit increase to £445m, up from £385m. This figure includes the expected costs of £152m associated from the acquisition of Tegel operations.
The Dividend
The company operates a policy of a 50% payout ratio for dividends. This means that the dividend distributed will always be 50% of total profit. Although profit has been steadily rising over recent years, it can be easily affected by sharp fluctuations in certain costs such as the price of oil. Many investors will not like this as they look for companies which increase their dividend in every consecutive year, regardless if total profit rises. Arguably, EasyJet's approach is better for the long-term investor as the dividend policy will not allow the company to allocate dividends when it simply cannot afford to do so. Although this might seem obvious, many companies go bust through religiously trying to increase their dividend, regardless of the change in their total income.
The dividend for 2018 is 58.6p for 2018, a rise of 43.3% from the previous year. The sharp fall in the company's share price earlier this year from around £18 per share to around £11 has pushed the dividend yield up to 5.35%.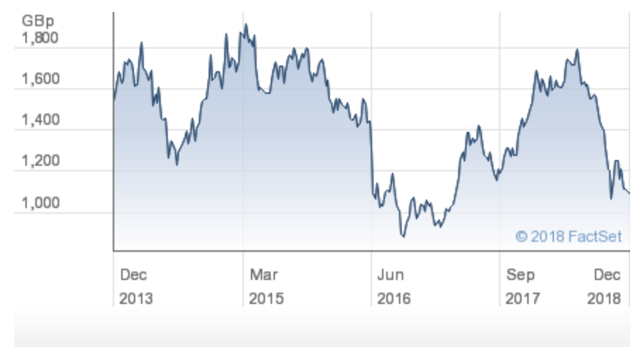 The dividend is due to be paid on 22 March, with an ex-dividend date of 28 February. What should be mentioned is that EasyJet has a rather unconventional dividend payout policy compared to the broader market. Where UK companies generally pay the dividend by way of an interim dividend (normally 1/3 of the total) and a final dividend (normally 2/3) biannually, EasyJet pays out the entire dividend on a single day. This means that investors buying the shares now will be guaranteed an income of 5.35% on 22 March.
Conclusion
Although Brexit presents a large risk, the risks and uncertainties are overblown in relation to EasyJet plc. The company has structured its business, with minimal cost so that it can continue to run seamlessly even in the event of a no-deal Brexit.
EasyJet has managed to avoid, and benefit from, the plague of bankruptcies of rival European airlines while managing to grow both the top and bottom line. In doing so, it has been able to increase its dividend by over 43% year on year, giving prospective investors a 5.35% yield.
Disclosure: I/we have no positions in any stocks mentioned, but may initiate a long position in EJTTF over the next 72 hours. I wrote this article myself, and it expresses my own opinions. I am not receiving compensation for it (other than from Seeking Alpha). I have no business relationship with any company whose stock is mentioned in this article.
Editor's Note: This article discusses one or more securities that do not trade on a major U.S. exchange. Please be aware of the risks associated with these stocks.