Introduction
In this analysis I introduce the investment thesis for Russian banking behemoth Sberbank (OTCPK:SBRCY), which despite its strong economic fundamentals and dominant market position in Russia trades with a disproportionate discount to its intrinsic value. This discount is a result of sanctions imposed on the Russian economy and its banking sector. I believe this brings an opportunity to own a bank with moat-like characteristics, which trades with more than 70% discount to its intrinsic value and 9% gross dividend yield at its current prices.
Business overview
Sberbank is the largest bank in Russia with the international franchise in more than 22 countries. The bank's business is built on three key pillars:
traditional retail banking
financial services (insurance, wealth management and brokerage)
other non-financial businesses (Yandex market and e-commerce initiatives)
What makes Sberbank so dominant is its strong position especially in traditional retail and financial services business. To give you a quick taste of Sberbank's dominance, it has more than 30% market shares in Russian banking sector assets, it holds approximately 45% of the country's retail deposits and it provides 41% in consumer loans and 34% of total corporate loans. Despite Sberbank's market position, its stock lost over 50% since the geopolitical tension between USA and Russia led to introduction of sanctions on the Russian economy.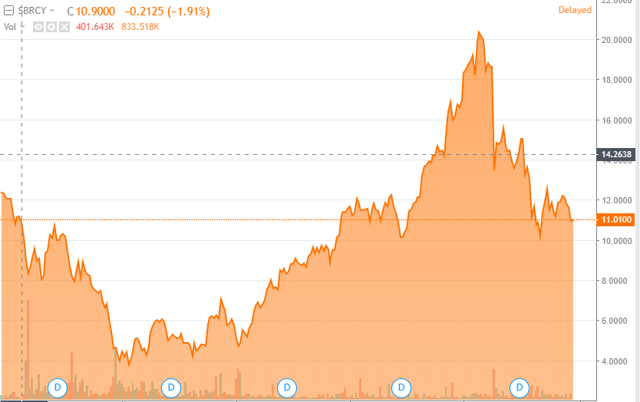 Source: seeking alpha
Competition in the Russian banking sector
Before jumping straight into the valuation of SBRCY, it is worth to look at the position of the bank within the Russian market. First and foremost, the Russian government owns 50% stake in the bank which is a blessing and a curse at the same time. On the one hand, many retail customers take SBRCY as a guarantee of stability especially during hard times, which helps to attract deposits and increase market share when tomorrow seems uncertain. On the other hand, for many western investor funds, SBRCY is too interlinked with the Russian government, which keeps them from significantly increasing their equity stakes.
The Russian banking sector is dominated by five major banks, which are directly or indirectly owned through the Russian government, however Sberbank has the strongest position among them. Sberbank's ability to increase its market share especially in traditional retail banking is visible on both sides of its balance sheet, which make it possible to profit on deposits as well as loans provided.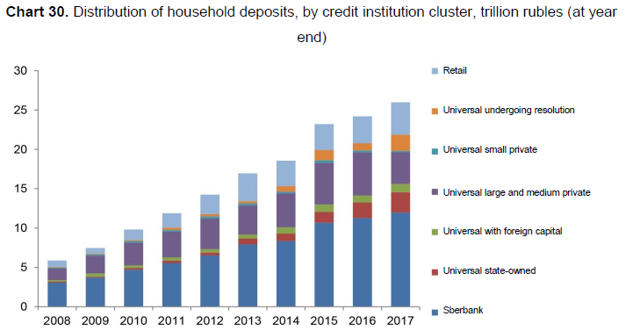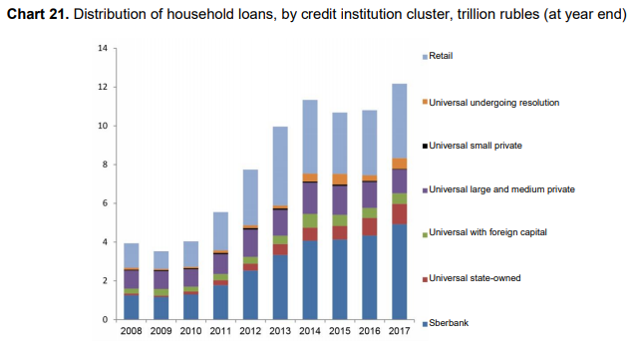 Source: The 2008-2017 Decade in the Russian banking sector: Trends and factors
From the graphs above, it is visible that Sberbank is able to increase its market share in both deposits as well as loans provided, with limited impact of western sanctions which took place since 2015.
There are two main factors responsible for this trend. One is revoked licenses in the Russian banking sector to several smaller banks and migration of clients to safer banks. Since 2013, the number of operating banks in Russia halved from 1,092 to 517. This move helped the largest 5 institutions to cement their market position with Sberbank one of the biggest beneficiaries.
The other factor is also related to decreased competition and is described with Herfindahl-Hirschman Index (HHI), which measures the concentration of the market. Based on this index, the concentration of the Russian banking sector is in the range of moderate concentration (1000 – 1800) and in 2017 was 1200. In comparison, based on the data provided by ECB, the HHI for the Eurozone in 2017 was only 113. The difference is strikingly high and tells a lot about composition of competition in the Russian market.

Source: The 2008-2017 Decade in the Russian banking sector: Trends and factors
Operating efficiency and strong financial performance
Favorable operating environment and cost efficiencies have positive impact on Sberbank's profitability and its operating efficiency. To compare Sberbank with its global peers, I looked at its ability to achieve high return on equity (ROE) and cost effectiveness measured with cost to income ratio (CI ratio).
Global banks for the past 10 years struggled to significantly decrease their costs bases. There are several structural factors behind this trend such as higher regulatory costs, increased requirements for technological innovations or growing competition from fin-techs. As is visible on the graph below, average cost to income ratio for global retail banks is the range of 50% to 70%. At the same time, Sberbank can regularly achieve cost to income ratio below 50% with a projection for 2019 to achieve CIR less than 35%.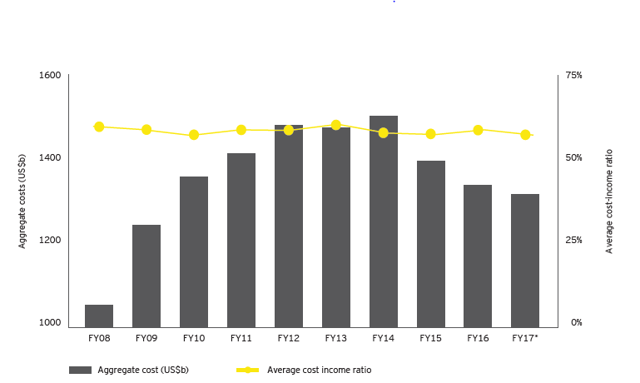 Source: Ernest and Young: global banking outlook for 2018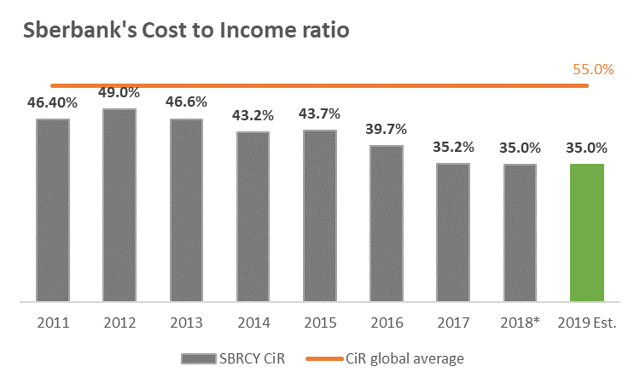 Source: annual reports
There are several reasons behind such a low costs base compared to its competition. The most important ones are economies of scale which grow with increased market share, initiatives to rationalize branch network and the number of full-time employees as well as strong focus on cost cutting. Additionally, Sberbank's goal to improve back office processes through digitalization and AI slowly bear its fruit.
Similar picture is present with regards to profitability. High costs efficiency leads to high returns on equity, as the main indicator of profitability in the banking sector. Sberbank's ability to achieve high returns on equity is even more significant when it is compared with global peers. It's not a secret than since global financial crises many retail banks were not able to earn returns on equity above their costs of equity which is approximately 10% for global retail banks. The graph below confirms that for the period mentioned, there were only two years when banks created returns above their cost of equity.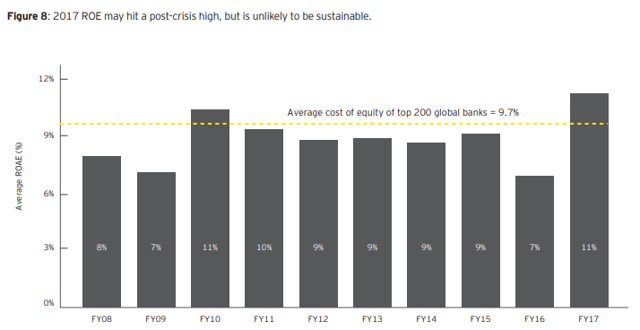 Source: Ernest and Young: global banking outlook for 2018
Taking into consideration intricacies of the Russian market, I calculated that cost of equity for Sberbank is approx. 11%, which makes only one year when Sberbank did not create value for its shareholders. Positive fact is that Sberbank earned these high returns even during times of international sanctions, slump in oil prices and outflow of foreign capital from the Russian economy.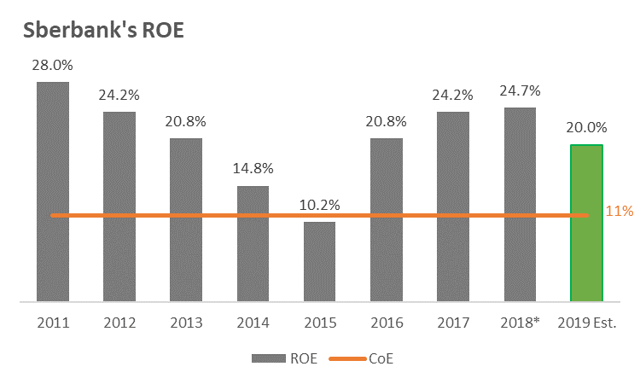 Source: annual reports
Valuation
In my valuation of Sberbank I used free cash flow to equity model for the forecasted period of next five years and subsequently Gordon growth model for the terminal year. I build my assumptions based on the 2019-2020 guidance, provided at Sberbank analyst day this December. Other inputs where obtained from Bloomberg terminal. Inputs after 2020 are my own. In the table below, I summarize assumptions used in the valuation.
Given the above-mentioned assumptions, the intrinsic value of company should be approximately $19 per share, which means that at current prices over 70% undervalued. Using the interval of 15%, which is the range in which intrinsic value can oscillate based on the market noise, the intrinsic value should trade somewhere in the range of $16.5 to $22.
I also attached sensitivity analysis, which summarizes different values based on various growth assumptions in terminal value and Beta.

Source: own calculations
Conclusion
Based on the assumptions used in my valuation, it seems that at current prices, Sberbank is at least 70% undervalued. Additionally, with the expected dividend for FY18 ($0.968), gross dividend yield is approx. 9%. Even though, Sberbank might seems to be a bet on the Russian economy, Sberbank's ability to earn high returns on equity along with its cost discipline makes it an attractive long-term investment, regardless of current adversary macro environment.
Disclosure: I am/we are long SBRCY. I wrote this article myself, and it expresses my own opinions. I am not receiving compensation for it (other than from Seeking Alpha). I have no business relationship with any company whose stock is mentioned in this article.