Summary
The US Federal government shutdown is expected to stretch past Christmas into late next week.
The Fed has carried out an apparently "dovish hike" by dropping a previously expected third hike next year.
We continue to focus on fund sector valuations where we think preferreds and EM external debt are reaching attractive levels.
The US Federal government has shut down, marking the third shutdown this year. The impasse has to do with a $5bn funding provision for a border wall which does not have the necessary 60 votes in the Senate. President Trump views this as a keystone of his campaign and has refused to agree a budget deal without it.
The Fed hiked its policy rate this past Wednesday in what was termed a "dovish hike" by market commentators because the committee also lowered its expected number of rate hikes in 2019 to just two. The markets, however, did not react well with equities closing the week in bad form. There is no hiding that there is a clear disagreement between the Fed and the markets on the medium-term glide path of the economy with the Fed being much more upbeat about macroeconomic activity. While the market has been wrong in the recent past, particularly during the 2015 energy crash when a recession was priced in which never materialized, it is important to remember that market dynamics can bring about their own reality through the corporate and consumer spending channel where economic growth hits stall speed from which it does not easily recover.
During this period of market volatility, we have leaned toward lower volatility and consumer balance sheet-driven assets such as loans and mortgages. And while loans have not been fully immune from a sharp decrease in risk appetite, we think the expectation of an imminent Fed pause is overblown, and loans should continue to benefit from higher short-term rates over 2019. And since the Fed balance sheet runoff appears to be on autopilot, the continued supply should keep pressure on interest rates and benefit lower-duration products such as loans and floating-rate mortgages.
Macro
FOMC raised the policy rate 25 bps at its policy meeting taking this year's hikes to a cumulative 1%. The committee also trimmed its 2019 forecast to just two more expected hikes. The market, however, remains skeptical that the Fed will be able to carry on with many more hikes with the 12-Month Fed Funds futures contract already close to upper policy rate bound of 2.5%.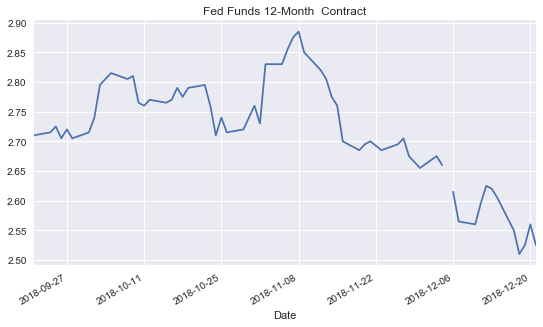 Source: ADS Analytics LLC, Bloomberg
There were some upbeat news in the generally disappointing housing market as starts rose higher-than-expected 3.2% while existing home sales beat consensus by 2.3%, rising 1.9%.
Elsewhere, consumer spending continued to rise at a good rate, supported by falling gasoline prices and solid personal income. University of Michigan consumer sentiment rose to 98.3 from the previous month, although we expect this to moderate in light of the ongoing shutdown and volatility in the stock market.
Markets
The asset return distribution this week is highly skewed to the left with about a third of major assets scoring small positive returns with the rest of the ETF benchmark universe deep in the red.
Commodity and equity-linked assets underperformed as oil finished lower by double digits, and MLPs not far behind. Utilities stayed true to their defensive stance and outperformed equities. On the credit front, investment grade outperformed loans which, in turn, outperformed high yield bonds. Dollar weakness led to positive performance for EM local bonds and flat EM currencies. Agencies and commercial mortgages finished in the green.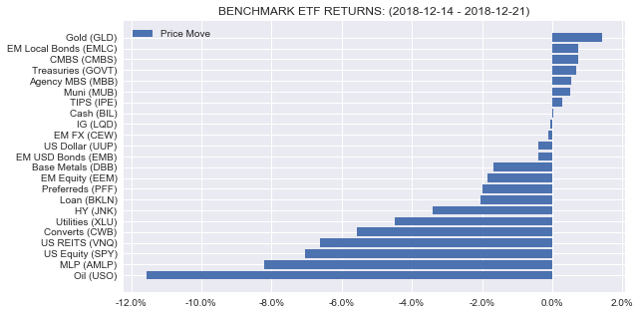 Source: ADS Analytics LLC, Bloomberg
Zooming out a bit, in the chart below, which sums up year-to-date returns of major asset classes, we can see that 2018 is only the second worst year for annual returns with 2015 being marginally worse. The difference is that, while 2015 was followed by two very strong years, 2019-2020 may not be as kind to investors, with many commentators predicting a recession in the next few quarters. While economic activity remains very good, the market clearly thinks that a policy mistake is the catalyst that will get us to the next recession.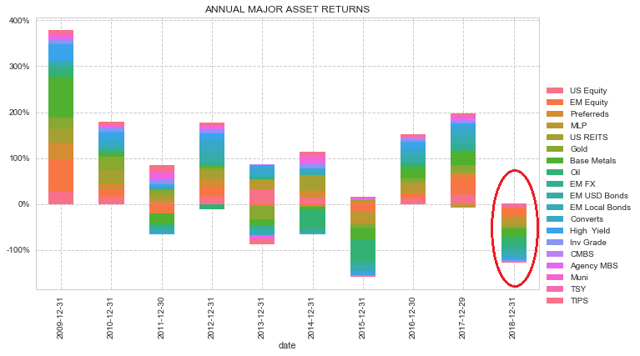 Source: ADS Analytics LLC, Bloomberg
Fund Space
The price action in closed-end funds this past week looks pretty grim. All sector discounts, save for Converts, widened, and all sector NAVs, save for Munis and Agencies, fell. Total return distributions in closed-end funds are not dissimilar to that of ETFs with equity-linked funds underperforming, govies and mortgages outperforming, and credit ending up in the middle.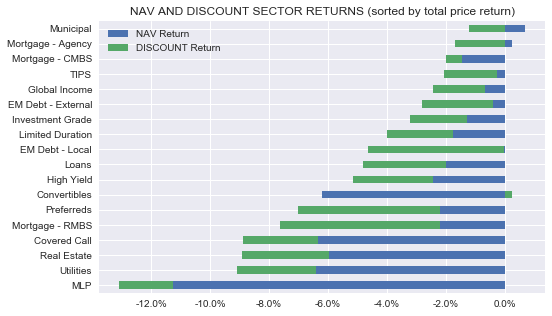 Source: ADS Analytics LLC, Bloomberg
Checking in on disaggregated sector returns over the past year, the picture looks quite stark with all sector NAVs lower and all sector discounts wider.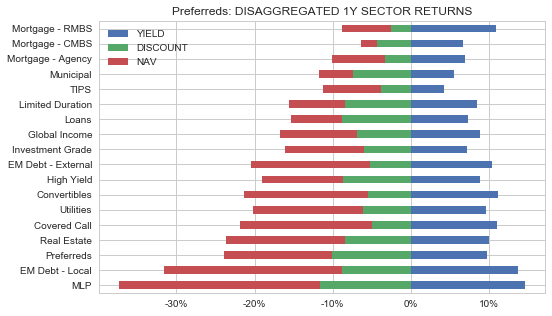 Source: ADS Analytics LLC, Bloomberg
Taking a longer-term view across sectors and years gives us a clear indication of how grim this year has been with 2018 clearly coming in as the second worst performer in a decade and only second to 2008 in two decades.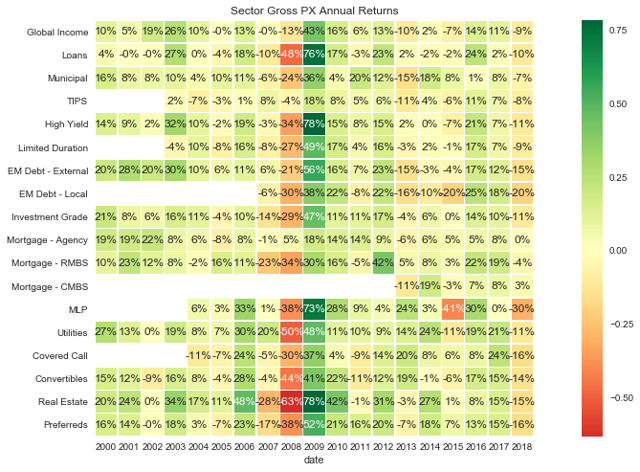 Source: ADS Analytics LLC, Bloomberg
Ranking the sectors in order of total performance clearly shows that Mortgages are poised to finish best in 2018 with govies, short-term bonds and loans putting in decent relative performance.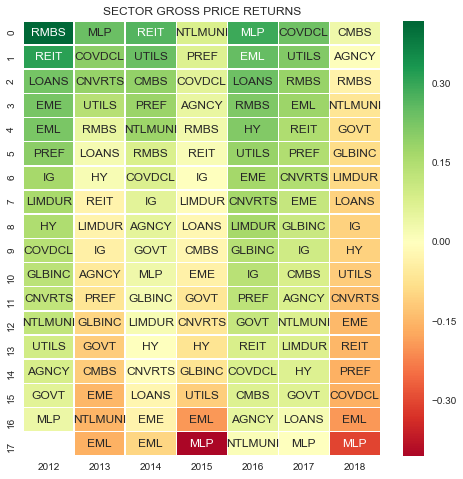 Source: ADS Analytics LLC, Bloomberg
Wherefore Art Though Valuations - Part 2
Continuing with our valuations review of the closed-end fund space from our past weekly, where we covered the overall spread to yield and found the overall space unappealing, this week, we review a few key absolute yield metrics that can guide us on CEF valuation views.
The first chart shows past 12-month yields of CEF sectors aggregated into four major asset classes since 2010. What the chart tells us is that equity yields are looking appealing as they are close to the highs, while yields of the other major asset classes in aggregate are not as compelling at the moment.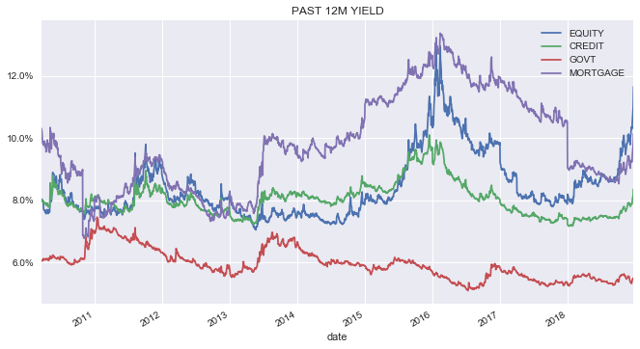 Source: ADS Analytics LLC, Bloomberg
The second chart shows individual sector yields since 2010 as box plots (the box itself covering the region between 25th and 75th percentiles). We think by this metric preferreds, EM external debt, convertibles, real estate, utilities all look appealing to us.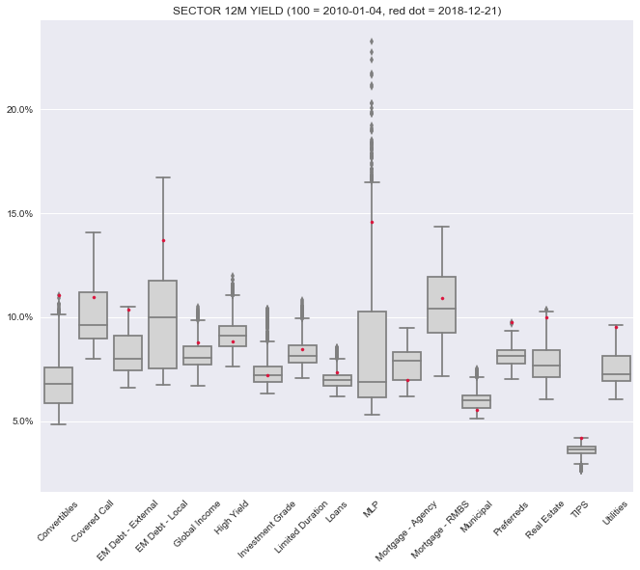 Source: ADS Analytics LLC, Bloomberg
We think there is value in preferreds and EM external debt, specifically as the banking sector has sold off in anticipation of a recession. However, the capital position strength of the banking sector means the systemic likelihood of failure to repay principal on preferred issuance is extremely unlikely. EM external debt, and sovereign debt, in particular, benefits from an overall improved position of EM borrowers, more credible monetary and fiscal policies and lower vulnerability to external financing shocks. We think these attractive valuations provide a decent margin of error for allocations to these sectors in a tough market environment.
Conclusion
This year has been a tough one for fund investors with 2018 beating only 2008 for total returns since 2000. The sharp selloff, however, does have its bright side in sharply higher yields in many of the fund sectors we follow. We particularly like preferreds and external EM debt for fixed-income focused investors, with utilities and real estate for more aggressive investors. Ultimately, attractive valuations are what is required for financial markets to attract sufficient capital to stabilize, and we think these sectors stand to benefit from this eventual rebalancing.
Disclaimer: This article is for information purposes only and does not constitute investment advice or an offer or the solicitation of an offer to buy or sell any securities. Past performance is not a guarantee and may not be repeated. Investment strategies are not suitable for everyone and you should always conduct your own research or speak to a financial advisor. Although information in this document has been obtained from sources believed to be reliable, ADS ANALYTICS LLC does not guarantee its accuracy or completeness and accept no liability for any direct or consequential losses arising from its use. ADS ANALYTICS LLC does not provide tax or legal advice. Any such taxpayer should seek advice based on the taxpayer's particular circumstances from an independent tax advisor.
Disclosure: I/we have no positions in any stocks mentioned, and no plans to initiate any positions within the next 72 hours. I wrote this article myself, and it expresses my own opinions. I am not receiving compensation for it (other than from Seeking Alpha). I have no business relationship with any company whose stock is mentioned in this article.