Since the S&P 500 (SPY) peaked on September 20th, the broad market benchmark is down 17.5%. This article covers the top performing decile of the large cap benchmark, the stocks that have bucked the recent negative market trend. We examine this list to understand the drivers of market outperformance during the broad-based sell-off.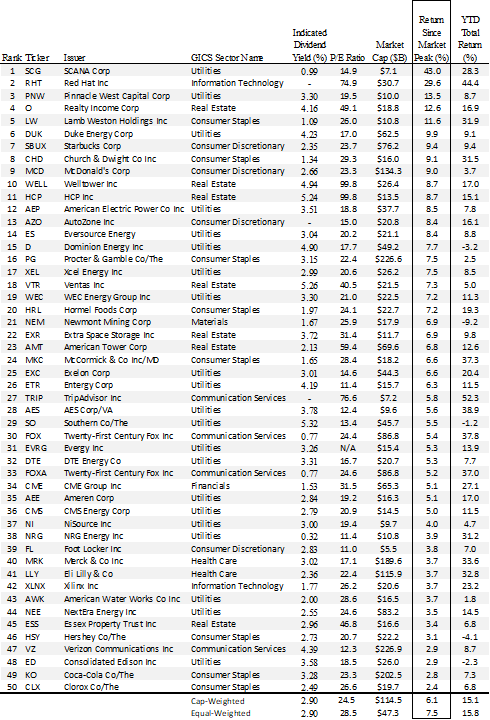 The two largest outperformers have seen their share prices driven higher by expected M&A. SCANA Corp (SCG), which has faced challenges from a failed nuclear plant build, is in the process of merging with Dominion Resources (D), the 15th company on this list. Red Hat (NYSE:RHT) is being acquired at a meaningful premium by International Business Machines (IBM).
Defensive sectors dominate this list. Utilities (XLU) are roughly 7x more represented on this leaders list than in the broad benchmark. Consumer staples companies (XLP) are more than 3x represented on the leaders list. REITs (XLRE), led by retail favorite Realty Income (O) and the healthcare REIT giants Welltower (WELL) and HCP Inc (HCP), are more than 2x represented on the leaders list. Collectively, these defensive sectors represent more than half of the capitalization weight of the leaders list. These companies tend to benefit from lower interest rates, and have in part rode the 30bp rally in 10-year Treasuries that has occurred coincident with the market sell-off.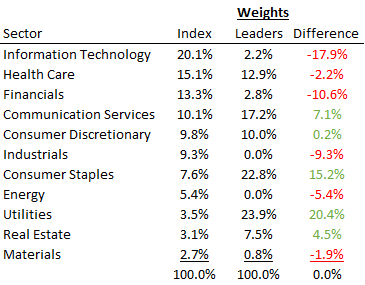 In addition to more defensive sectors being more represented in the list of leading companies, this list of companies also tends to have higher quality balance sheets. Of the companies on the leaders list, only Lamb Weston (LB), the holdco of utility AES Corp (AES), NRG Energy (NRG), and Foot Locker (FL) borrow in speculative grade markets. The leaders list is storngly populated by companies with investment grade bonds in their capital structure. Additionally, the equal-weighted market capitalization of the leaders ($47B) is about 2.8x that of the lagging decile ($16.7B), suggesting increased scale for the market leaders during the sell-off.
I hope this look at the top performing sector is illustrative for Seeking Alpha readers. Defensive sectors and high quality companies with strong balance sheets have tended to be the constituents that outperformed during this broad-based sell-off.
Disclaimer
My articles may contain statements and projections that are forward-looking in nature, and therefore inherently subject to numerous risks, uncertainties and assumptions. While my articles focus on generating long-term, risk-adjusted returns, investment decisions necessarily involve the risk of loss of principal. Individual investor circumstances vary significantly, and information gleaned from my articles should be applied to your own unique investment situation, objectives, risk tolerance and investment horizon.
Disclosure: I am/we are long SPY. I wrote this article myself, and it expresses my own opinions. I am not receiving compensation for it (other than from Seeking Alpha). I have no business relationship with any company whose stock is mentioned in this article.