'Twas the night before Christmas, when all through the house

Not a creature was stirring, not even a mouse;
Most of us are familiar with these opening lines from A Visit from St. Nicholas by Clement Clarke Moore. Later in that poem are the lines:
...And mamma in her 'kerchief, and I in my cap,

Had just settled our brains for a long winter's nap,

When out on the lawn there arose such a clatter,

I sprang from my bed to see what was the matter.
By now, many Sirius investors might think that the clatter was caused by the falling price of Sirius XM Holdings (SIRI). The shares are down 27% (or -$2.12) from the $7.70 post-merger high reached on June 18th. On the plus side, Sirius closed out 2017 at $5.36, so last Friday's $5.59 closing price still leaves it with a 2018 gain of more than 4%. That's better than the YTD performance of the broader market indices like the NASDAQ 100 (which includes Sirius) or the S&P 500. Both of those indices are currently down for the year.
This hasn't been the only year where the Sirius share price has been volatile. In fact, it has often been a wild ride for Sirius since Seeking Alpha published my first article on the company in May of 2011. In 2011, the share price started the year at $1.67 and finished the year at $1.82. In between, the price reached a high of $2.44 and a low of $1.27.
At the time of that May 2011 article, the company's most recent quarterly results showed that 44.7% of new car trials converted to self-pay subscribers, self-pay monthly churn was 2.0%, and that gross subscriber additions totaled 2,052,367 (the total number of gross subscriber additions for all of 2011 was 8.7 million). The most recent quarterly results for 2018 show that the new vehicle consumer conversion rate was 39% and that churn was only 1.8%. The company hasn't reported gross subscriber additions for several years.
Even though the company no longer reports its gross subscriber additions, at the Credit Suisse 22nd Annual Technology, Media & Telecom Brokers Conference late last month, Sirius CFO David Frear discussed the number of trials (a similar metric to those 8.7 million gross subscriber additions in 2011) the company would run:
"And so 2019 it will be more of grinding it out, it is tens of millions of transactions that we go through, you know we'll go through over 20 million trials on the new and used car side."
Times have certainly changed - total subscribers have grown from 20.2 million to 33.7 million and annual revenue has increased from $3.0 billion to an estimate of ~$5.725 billion - and I have reported many of those changes in nearly 350 articles since that first article. There have been multiple articles about the numerous lawsuits, including one involving Howard Stern, another involving the major record labels, and many others involving The Turtles, SoundExchange, Carl Blessing, aggressive marketing, etc. There have also been articles about the dramatic changes in the amount and structure of the music royalty fee as well as articles about many of the company's metrics, its expenses, its acquisitions - just about anything that caught my attention and I thought might be of interest to shareholders.
Back to 2011... I also wrote an article titled, Sirius XM And Liberty Media In 2012, an article that looked at what might transpire in 2012. It also included a fictional letter to Santa Claus that then-CEO Mel Karmazin might have written. For some long-forgotten reason, I failed to construct a Dear Santa letter in 2012, although I have included one in a late December article each year since then.
This year my spies that work at Sirius have been feverishly searching for CEO Jim Meyer's letter to Santa. They have looked through his trash, flirted with his secretary, hacked into his computer and cell phone, tailed him to Macy's parade to see if he would try to get close to Santa...
Hey! I never said that my spies were particularly smart, or even very effective. On the plus side, they work cheap. And, fortunately for those many readers that requested I write an article about Jim's Dear Santa letter - well, there were at least two of you that asked about it - my spies did manage to find a crumpled draft in the Sirius trash at their New York City headquarters.
For your enjoyment - or irritation, since my articles seem to annoy many Seeking Alpha readers - here is that letter:
December 24, 2018
Mr. S. Claus
North Pole
Dear Santa,
First, let me apologize for sending this letter off so late. I know that you are especially busy at this time of year, but I've been really busy too. I have spent much of my time over the past year trying to run my company, provide customers with a fantastic and inexpensive product, making deals with Amazon (AMZN), settling lawsuits, trying to placate shareholders, working with all the automobile manufacturers, trying to please Mr. Malone and Mr. Maffei over at Liberty Media (LSXMA) (LSXMK)...
So, I want to tell you that I think that I've been a really, really good boy this past year. I had my company pay out a $69.144 million sound recording legal settlement so hard-working artists can get some extra money. I can't help it if all of the money doesn't get into the hands of the artists that play songs and sing about you... You know the ones I'm writing about; Santa Claus is Coming To Town (I like the Bruce Springsteen version), I Saw Mommy Kissing Santa Claus (I like the Jimmy Boyd version, not the one by the Jackson Five or John Mellencamp), Santa Baby by Eartha Kitt, Here Comes Santa Claus... I have been playing Christmas music for months just to make people happy. Isn't making people happy what Christmas is all about?
There were other high points for the year. You granted my wish to get some traction going on the Connected Vehicle Services portion of my business. I have to thank you for that. You even had Fiat-Chrysler start shipping the new product on one of their models. I thought that might shut up that Crunching Numbers guy over at Seeking Alpha. He has been making fun of me for the past five years because that $530 million purchase never made the expected revenue targets. Unfortunately, you didn't give him writer's block like I asked for in past years, and while he gave me credit for getting to cash flow break-even, he had the audacity to point out that the revenue from that business was less than $85 million for the first three quarters. That doesn't make me happy.
And, of course, I would like to thank you for finally getting Howard Stern to put out that video product. It's only a couple of years late, but what the heck, it's Christmas and we're all supposed to be happy - at least Howard's fans have something else to be happy about. Now, if it's not too much to ask, how about giving me some instructions about how to make money from that egotistical, primadonna's video product. I'm sorry if I sound a bit ungrateful, but at times you really get me upset, and I'm simply trying to earn a buck while making everyone happy. Again, isn't that what Christmas is all about - spreading peace and joy?
As to being upset, you screwed me late last year with that massive 40% royalty increase that was handed down by the Copyright Royalty Board a week before Christmas. And it wasn't just me. There were lots of others that were unhappy. My bosses over at Liberty weren't happy. My subscribers weren't happy because I had to raise the cost for their subscriptions. (You didn't think I would have my company eat that increase, did you?) My shareholders weren't happy when the share price tanked on the announcement of that decision...
And speaking of that share price... you really have a mean streak for someone often referred to as "That jolly old elf". Are you smiling all the time because you keep thinking of new ways to screw with me? Last year the share price got up to $5.89 before tanking by the end of the year. Then, you played around some more with my emotions. First, you send the price to that $7.70 high this past summer. It must have occurred during your vacation when the elves were in control.
Now, just in time for Christmas, we're down to $5.59. That's even less than the $5.89 2017 summer high. What have I done to deserve this? I'm just trying to bring joy and gladness to everyone. Isn't that what the Christmas season is all about? Well, that and the holiday shopping that drives our economy and keeps people working... where was I going with this? Oh, I remember. Santa, you're really not doing your part.
These sudden share price drops make everyone sad (well, everyone but those blood-sucking short sellers)... They make me look very bad to my bosses over at Liberty Media. They make me look very foolish after I was bragging to my shareholders about increasing the dividend by 10%, something that would have made them happy if you hadn't taken their joy away with those massive share price declines.
Sure, Santa, you gave me another little present when you allowed me to buy that PayTollo stocking stuffer, but what the heck were you thinking when you had Liberty force me to buy Pandora Media (P)? What am I supposed to do with that money losing, streaming music, jukebox that sticks ads into their playlists? For years we said that Sirius would always provide ad-free music. Now it will only cause confusion for my wonderful subscribers and shareholders.
And, of course, issuing all those shares to Pandora stockholders dilutes my current shareholders. I just know that the Crunching Numbers guy is waiting to pounce on me and my company when we first have to report consolidated results. Maybe you could have the government squash the acquisition as being anti-competitive? But PLEASE, don't tell my bosses over at Liberty that I can't figure out how to turn that business around. That would give them the perfect excuse not to give me another one of those sweet one-year, $10 million contract extensions. Even if I don't get extension this coming year, I would like to thank you for that three-year consulting agreement at $2.2 million per year that would kick in.
Sincerely yours,
Your buddy,
Jim Meyer
CEO Sirius XM Holdings
P.S. This is Mr. Meyer's administrative assistant. I feel badly when I saw my boss's picture in the annual report. All the executives at Liberty Media wear these nice dress shirts and ties and Mr. Meyer's pictures in the annual reports show him never wearing any tie. I know that asking for a Christmas tie must seem like a cliche, but it would be great if you could have one custom made for my boss, especially if it included this image of the cute little Sirius dog: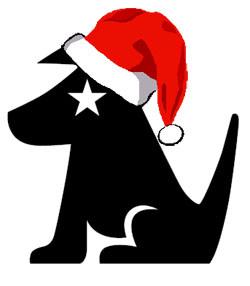 End of Letter.
Do I have spies at Sirius headquarters, or think Meyer believes in Santa Claus, or that his administrative assistant would have the audacity to stick a paragraph at the end of his correspondence. Of course not.
Do I think this might be a good time to go long with Sirius? Well, for one thing, there's the potential for a Santa Claus rally. Aside from that, there could be, especially if Santa can inspire Sirius execs to find some quantifiable synergies with their Pandora acquisition. However, to play it very safe, there could also be some very nice returns for those wishing to go a more conservative route. Go long and simultaneously sell a long-term covered call with a $5.50 or $6 strike price.
Finally, did I have fun writing this? Absolutely! I also hope that at least a few of you enjoy it as well. Regardless, as that Clement Clarke Moore poem concludes:
But I heard him exclaim, ere he drove out of sight,

"Happy Christmas to all, and to all a good-night."
Disclosure: I am/we are long SIRI. I wrote this article myself, and it expresses my own opinions. I am not receiving compensation for it (other than from Seeking Alpha). I have no business relationship with any company whose stock is mentioned in this article.