The Federal Reserve's decision this past Wednesday was the fourth time this year alone to raise the most watched Fed funds rate. The Fed also announced that the committee would continue to raise rates at least another two times next year, down from three they previously predicted. Fed Chairman Jerome Powell said "some further gradual increases" would be needed for the world's largest economy to combat inflation. Critics of the Fed have discussed a more wait and see approach as the economy and stock market show signs of serious deterioration as of late. Chris Turner, ING's head of strategy said, "The Fed's decision to push ahead with its fourth hike of 2018, but shave 25 basis points off its profile for expected hikes, has seen the US 2-10 year Treasury curve flatten further and risk assets suffer."
Risk of recession is growing, monthly
The Federal Reserve District of Cleveland released a table that shows the economy is at a 20% risk of going into recession next year. When this table is updated for December, I would assume the risk will be much higher than even 20%. You also have to remember, the Federal Reserve doesn't want to create panic in the financial markets by suggesting they do indeed see a risk of recession. This surely would combat any effort they are doing behind closed doors to keep up with their mandates. The end mission for the Federal Reserve is to create financial stability within our financial markets.
Monthly Risk Of Recession
| | November | October | September |
| --- | --- | --- | --- |
| 3-month Treasury bill rate (percent) | 2.40 | 2.31 | 2.17 |
| 10-year Treasury bond rate (percent) | 3.06 | 3.18 | 3.05 |
| Yield curve slope (basis points) | 66 | 87 | 88 |
| Prediction for GDP growth (percent) | 2.0 | 2.0 | 1.6 |
| Probability of recession in 1 year (percent) | 20.3 | 16.6 | 16.5 |
Source: Cleveland Federal Reserve Bank
As of today, the yield curve continues to twist and become flatter. With the 3-month treasury bill rising as of today to around 2.64%, the ten-year note is falling to around 3.02%. If you draw out a line graph, you could see as long as short-term rates keep rising and long-term rates keep falling, this presents what we call a flat to inverting yield curve.
Why does this matter to investors?
As short-term treasury bill rates continue to rise, it creates opportunities for professionals like myself to recommend clients to take capital out of the stock market and invest it in short-term treasury bills. This scenario also leads investors to ask, "why lend out money for 10-years at 3.02%, when I can almost get that yield for 3 months instead?" This creates a domino effect of capital leaving riskier assets that create growth and opportunities in our economy and leads investors and savers to lend it to the United States Treasury instead.
Historically, inverted yield curves predicted recessions
Due to this strong historical correlation, the yield curve is often seen as an accurate forecast of the turning points within the United States economy. For example, in 2000, the yield curve inverted before the technology bubble popped, creating many problems for retirees and investors as equity valuations plunged for nearly three consecutive years.
The shape of the yield curve changes with where the state of the economy currently is. An upward sloping yield curve usually suggests the economy is growing. A flattening yield curve suggests an economy is basically slowing, while an inverted curve suggests that the economy may be heading for a recession. For those who say it's only flattening, let me give you one guess to what happens after.
When the economy is heading towards a recession, and knowing interest rates trend downward, investors are more willing to take the risk and invest in longer-term securities immediately to lock in current higher yields. This also increases the demand for longer-term securities, boosting their prices and further lowering their yields. Not as many investors want to invest in shorter-term securities when presented with lower reinvestment rates. With not as much demand for shorter-term securities, their yields actually start to go up, while demand for longer-term rates causes yields to flatten which we see happening today.
Inverted yield curve and recession predictions are near perfect
According to a study from the San Francisco Federal Reserve, an inverted yield curve has preceded all of the nine recessions the U.S. economy has suffered since 1955, making it an extremely accurate barometer of financial markets sentiment. As with any indicator or measure, there is always that one time it doesn't work, and people want to throw it out.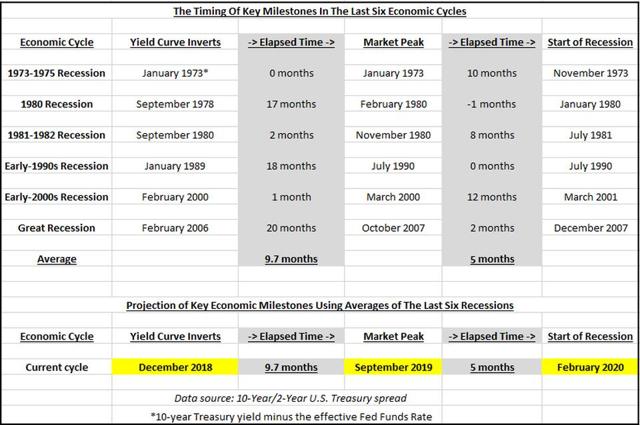 As more and more fund managers weigh where to invest clients' capital, the treasury bill keeps becoming more and more attractive, creating this self-fulfilling prophecy of a recession. The more and more money that leaves our financial markets for companies to use to hire, to use for expenditures, the more of a risk of recession.
How to invest within an inverted yield curve climate?
Speaking for myself here, I just recently purchased 6-month treasury bills. With yields approaching 2.67%, and equities looking to end in a negative on the year, it's a pretty easy decision to purchase treasury bills. They are short term, liquid, and you can go to sleep knowing that your money is supposedly in good hands within the United States Treasury. Even with all the recent political turmoil, there is no place I'd rather trust my hard-earned savings than the good ole' United States of America. If you don't want to buy treasury bills directly from the treasury direct website, or your brokerage, you could always purchase the iShares short-term treasury bond ETF (SHV). This fund has over $12 billion in assets and does pay a monthly dividend instead of getting a semi-annual payment as with treasury bills themselves.
The iShares short-term treasury bond ETF is pretty stable price wise as well. Let's take a look at the chart below, which shows the price history of SHV.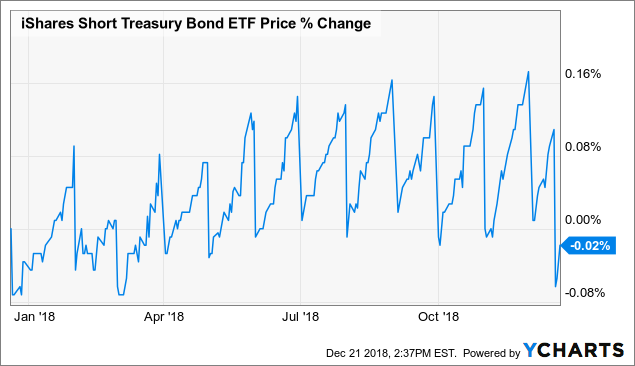 As you can see above, as interest rates have risen this year, SHV price has remained steady. Let's take a look at a monthly return table by portfoliovisualizer.com that demonstrates the steady monthly returns of SHV as well.
| Year | Month | Return |
| --- | --- | --- |
| 2018 | 1 | 0.13% |
| 2018 | 2 | 0.01% |
| 2018 | 3 | 0.17% |
| 2018 | 4 | 0.09% |
| 2018 | 5 | 0.16% |
| 2018 | 6 | 0.15% |
| 2018 | 7 | 0.13% |
| 2018 | 8 | 0.18% |
| 2018 | 9 | 0.14% |
| 2018 | 10 | 0.17% |
| 2018 | 11 | 0.19% |
As you can see above, SHV has provided steady monthly returns. For those of us who enjoy collecting a monthly dividend check, this can be a great way to earn some interest on your money while not worrying about price volatility.
Summary
When you look at the fundamentals of why the yield curve is flattening, it's pretty clear the Federal Reserve sees frothy levels in asset prices as a whole. Investors need to take caution of this occurrence of the flattening and inverted yield curve to guide themselves into protecting their wealth. In today's economic climate, where we can now make interest on our savings, it's time to consider treasury bills with the help of our time-tested yield curve.
Additional Disclosures: Ortner Capital recommends you consulting your own financial professional before taking any action based off this article. These are opinions expressed solely of Mr. Joshua A. Ortner, CTFA.