The recent quarter was a pretty crazy one in the Equity markets. The high level of volatility that we faced during the months of Feb-April returned with a huge selloff which no one can tell when it would end.

.
There are many explanations that were highlighted to explain this huge selloff. Political instability, global economy coolness, trade wars, inflation, disconnection between the Fed and Main Street, Commodity prices and in particular Oil prices collapse. All could be very much valid and the combination of it all could raise the anxiety which led the S&P500 to dive from ~2,900 points to ~2,400 points in less than a quarter.
Investors should remember that these things happen from time to time. And during these times of red screens every bad news is interpreted as a disaster.
Assuming that there is some rational out there, and any crisis is controlled to some degree by the players there are good chances that towards H1'19 there would be some deal (either good or bad) with China, the Brexit would come to some type of a resolution, the FED would be able to take his two hikes later than sooner, or even in 2020 (we've seen it before) and Oil price could rise up again due to lower supply and higher demand and quickly drive the Energy sector upwards.
At this point my main focus are opportunities in the Energy sector. Not necessarily the big mammoths, like Exxon Mobil (XOM) but Close End Funds that pay handsome dividends and that were bitten down dramatically. I would mention two interesting funds later in this article.
As the year is coming to its end it is time to summarize the progress that was made by my 4% dividend yield portfolio during this recent quarter.
I generate this portfolio back in November 2014 with the goal to generate a dividend cash flow that is constantly growing.
The portfolio includes today a total of 24 holdings.
The recent quarter was pretty busy in term of dividend hikes.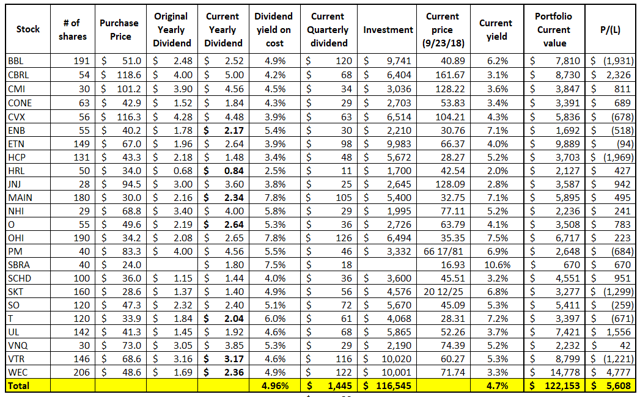 Both Enbridge, Hormel, AT&T, Omega, Main, Ventas and WEC energy raised its dividend. To me this is a good sign that a significant portion of the portfolio is confident about its cash flow and business health down the line.
The pullback in the market didn't skip my portfolio which dropped by 5% in value from end of Q3'18.
As long as the dividend trajectory is pointing upwards and the absolute quarterly dividend went from $1,428 to $1,445 I am very pleased.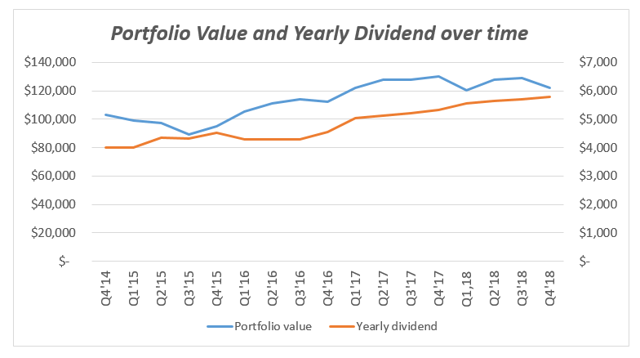 What's next?
In the Q3'18 summary I explained why I decided to stick with cash and not to reinvest yet the dividends. The pull back in the bond market last quarter was a sign that money could be drawn to less risky assets, if yields are similar or better that the dividend yield of the Equity market.
The recent message from the FED, forecasting only two hikes in 2019 could lead investors to move away from bonds (especially after the rally it delivered during the recent month) and I expect some of it to return to the equity markets sooner than later.
Smart money would move to the most bitten sectors.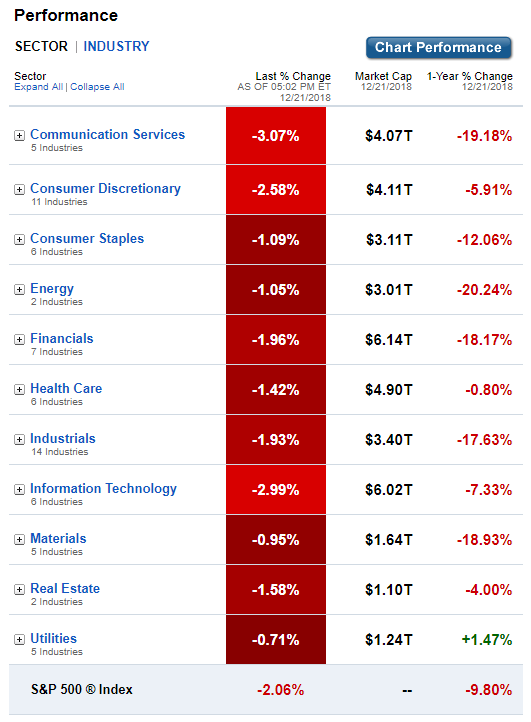 During the recent year the most bitten sector was the Energy sector and this is where I am considering to invest some dry power in the coming weeks.
I am looking to add one of the next two Close End funds: either Cushing Renaissance Fund (SZC) or Adams Natural Resources Fund, Inc. (PEO).
SZC seeks high total return through investment in companies across the energy supply chain spectrum. Its top holdings includes Viper Energy Partners LP (VNOM) and DCP Midstream (DCP) and BP Plc (OTCPK:BPAQF). All bitten very badly during the Oil price collapse. The attractive thing about SZC is its current discount from NAV which is at 13.8% and the distribution rate is at 12.6%.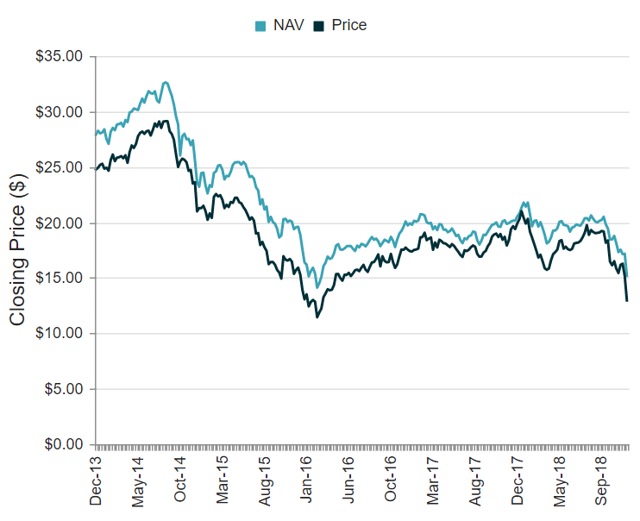 The issue that it is very volatile but very close to the bottom of Feb-16.
The second interesting CEF is PEO which invests in USA equity and equity related securities of natural resources companies. Its price is even lower than 2016. Its top holdings are Exxon and Chevron (CVX) but it also holds Schlumberger Limited (SLB) and Conocophillips (COP) which could recover if oil price bounce back.
The distribution yield is only at 8.3% but the discount to NAV is at 14.5%.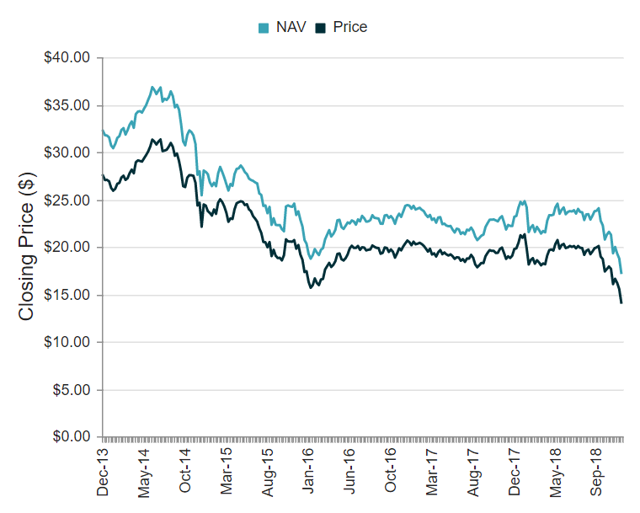 The oil price is currently at $45 which is not a sustainable equilibrium. All parties, including the U.S, Saudi Arabia, Russia, Canada etc would prefer to see it rise back to >$55. I expect it to take place sooner than later and first clue appeared today in the SA news: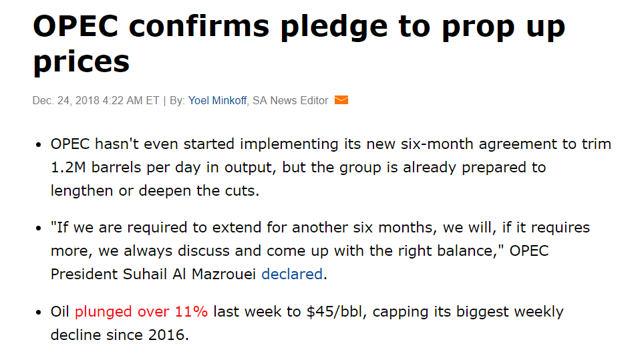 Conclusions:
The portfolio that was aimed to deliver a 4% dividend yield and grow over time continues to produce positive growth in the dividend front. In 16 quarters the dividend went up from $1,000 to $1,445.
2018 was volatile year and we exit it with many unknowns. I expect that many of those would be resolved in the next couple of months.
As Equity markets are 20% lower from their all-times-high it could be a good starting point to go out shopping again. I prefer to enlarge my Energy holdings in the coming weeks if Oil price would start moving upwards.
Happy Investing and Happy New Year to all!
Disclosure: I am/we are long BBL, CBRL, CVX, HRL, O, OHI, NHI, CMI, MAIN, VTR, HCP, SCHD, WEC, SO, t, PM, VNQ, UL, SKT, JNJ, ENB, ETN, CONE, SBRA. I wrote this article myself, and it expresses my own opinions. I am not receiving compensation for it (other than from Seeking Alpha). I have no business relationship with any company whose stock is mentioned in this article.
Additional disclosure: The opinions of the author are not recommendations to either buy or sell any security. Please do your own research prior to making any investment decision. If you want to get frequent updates on my portfolio, please push on the "Follow" button. Happy investing!
Editor's Note: This article discusses one or more securities that do not trade on a major U.S. exchange. Please be aware of the risks associated with these stocks.