My last couple of Seeking Alpha articles on gold (see here and here) were focused on the bullish catalysts that global warming and yawning US Federal deficit spending would be for the price of gold moving forward.
Not surprisingly, we've continued to see more natural disasters (and off-budget recovery costs...), and of course, the $100 billion monthly Federal deficits so far in fiscal year 2019 - which started on October 1st - are coming in just as expected. A recent title of a Forbes article says it all: "Trump's Economy: The Federal Budget Deficit Is On A Path To $1 Trillion." Note that author Chuck Jones points out that this is with an economy that grew 3.5% in Q3.
Let's walk through some of the other factors than can affect the price of gold and see how the environment stacks up moving into 2019.
Interest Rates
No doubt you are already familiar with the recent Federal Reserve decision to hike interest rates again. But of course, along with that came a much more dovish outlook going forward, although many didn't like the way Fed Chairman Powell chose his words. Regardless, the 10-year Treasury has been on an absolute tear of late. The rally in the 10-year has driven down the yield by roughly 0.4% just since the start of November. That's about half of the entire yield gain this year. Primarily, the 10-year yield rose as a result of four Fed rate hikes that have lifted the Fed Funds rate a total of 1%. Yet, now, the 10-year yield is up only ~0.4% YTD, less than half the increase in the Fed Funds rate: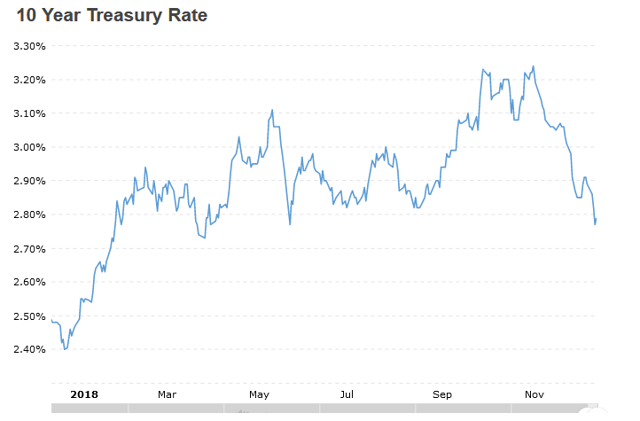 (Source: MacroTrends)
This relationship appears to be very unusual, and gold investors have to be pleasantly surprised to see such a drastic drop in the 10-year's yield - especially considering the relatively hawkish Fed comments of the not-too-distant past.
US Dollar Index
Meantime, although there has been some weakness in the US$ as of late, which is, of course, bullish for gold, year to date the US$ index is still up about 5.2%:

(Source: MarketWatch)
Yet, gold is only down ~3% this year. In other words, despite a 5.2% increase in the US$ and four Fed Fund rate hikes of an aggregate 1%, gold is down only ~3% YTD. That's quite remarkable.
Going forward, gold investors are likely considering the chance that a slowing US economy (as signaled by the drop in equity markets and the price of oil) will add even more to the current $100 billion monthly Federal deficit spending rate. That would likely put more pressure on the US$ going forward - which, of course, would be bullish for gold.
Political Uncertainty
My first article on gold in the "age of Trump" was right after he was elected and people were selling gold like crazy (see "Gold: The Possibility Of A Trump Induced Rally"). In one of the bullets points for that article, I said:
The bottom line is that the future looks very uncertain and volatility can be expected.
Boy, was that ever an understatement! But recently, things have gotten worse than even I expected. We've got a government shutdown (after a bi-partisan spending bill was actually agree to), and we've got news that Secretary of the Treasury, Mnuchin, churned up liquidity worries where, apparently, there were none. That just made a bad situation worse. Quite predictably, the market tanked another 653 points (2.9%) on Christmas Eve. Ho ho ho.
But likely the biggest recent shock wave - because it was felt globally by all of the US's allies (and foes...) - was the recent resignation of Secretary of Defense Mattis. It wasn't just that Mattis quit, but the statement he made in his letter to Trump:
My views on treating allies with respect and also being clear-eyed about both malign actors and strategic competitors are strongly held and informed by over four decades of immersion in these issues. We must do everything possible to advance an international order that is most conducive to our security, prosperity and values, and we are strengthened in this effort by the solidarity of our alliances. Because you have the right to have a Secretary of Defense whose views are better aligned with yours on these and other subjects, I believe it is right for me to step down from my position.
Mattis clearly takes issue with Trump's continuing denigration and disrespect of traditional democratic allies, while simultaneously embracing authoritarian leaders like Putin of Russian and Mohammed bin Salman of Saudi Arabia.
Then, of course, you have all the investigations that Trump will be involved in next year as the Democrats take over the House and gain subpoena power. This, of course, is on top of what has already happened to many of Trump's closest advisors with respect to the Russia investigation (See "The Big Picture").
Meantime, Trump is waging a personal war on Federal Reserve Chairman Powell, comparing the Fed to a "powerful golfer who can't putt". Some have accused the president of "plunging the country into chaos".
What does all this have to do with gold? Simple. It raises economic and geopolitical risks and uncertainty to the "red alert" level. The markets hate uncertainty and typically flee to gold in times like this. After all, the United States is normally a steady ship in global waters. Increasingly, many believe that may no longer be the case. US allies clearly see this happening. But more importantly, so do its foes. Apparently, American investors are now jumping on board.
The Bottom Line
Other than inflation, which continues to moderate as energy prices take yet another drastic downturn, most of the leading indicators for the price of gold are either bullish (falling yields) or extremely bullish (uncertainty and market volatility).
We have already seen this play out in Q4. "Gold" has been "green" in Q4, while the S&P 500 and DJIA averages are deep into bear market red territory. The SPDR Gold Trust ETF (GLD), which is considered by some investors as "paper gold" because the ETF closely tracks the price of gold, has dramatically outperformed the major stock indexes so far in Q4: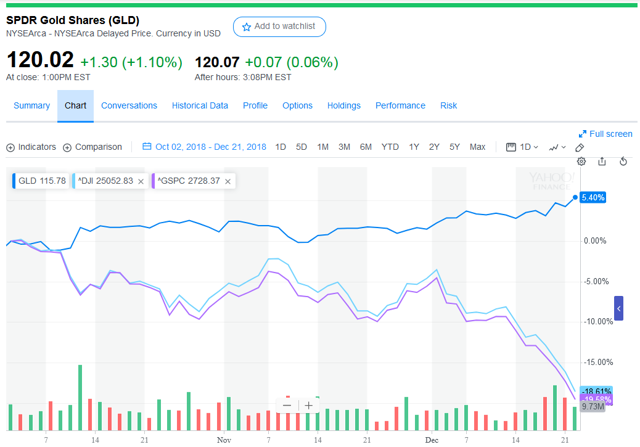 (Source: Yahoo Finance)
As can be seen in the chart above, GLD is up 5.4% since the start of Q4 (October 1st). Not a huge amount, but certainly much preferable to the DJIA's -18.6% showing or the S&P 500's -19.6% performance.
I expect gold to continue its ascent next year. That's because I see Federal deficits continuing to expand due to unwise tax-and-spend policies. And I continue to expect much higher levels uncertainty and volatility - both politically and economically.
Meantime, while the US economy grew 3.5% in Q3, the market seems to be signaling that a big problem is on the way. US/China trade? War? More drama in the US government? Who knows? But one has to wonder why the US was only able to grow 3.5% in Q3. With all the de-regulation, removal of almost all clear air and clean water regulations, all the big tax cuts for the super-rich and corporations, and the $100 billion monthly deficits, all the US could get is 3.5%?
Gold is on its way higher, and there is no turning back now. Uncertainty at almost every level is running rampant. Almost all leading indicators are bullish for the future price of gold. Some may think it a bearish contrarian indicator, but note that Barron's had a recent piece by Myra Saefong that was quite bullish on gold for 2019, while Reuters reports that hedge fund managers are piling into gold.
In addition to GLD, there are many ways investors can invest in gold. You can invest directly in gold by purchasing gold coins, or you can invest in a multitude of specialty products. For instance, the iShares Gold Trust ETF (IAU) or the ProShares Ultra Gold ETF (UGL). UGL is a 2x performer as compared to the gold bullion price in London. Then, there are the individual gold mining stocks like Newmont Mining (NEM), Barrick Gold (ABX), and Randgold Resources (GOLD). I don't track these companies, as I prefer to own gold bullion. But I will end with a chart of how these companies have performed so far in Q4 as compared to GLD and note that they are, obviously, much more highly levered to the price of gold (which was up ~5.4% since October 1st):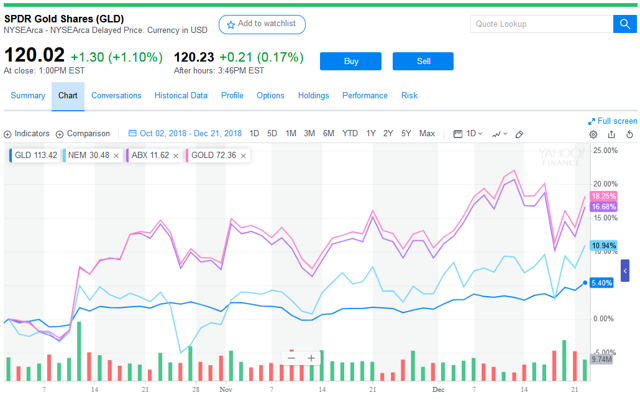 (Source: Yahoo Finance)
Disclosure: I/we have no positions in any stocks mentioned, and no plans to initiate any positions within the next 72 hours. I wrote this article myself, and it expresses my own opinions. I am not receiving compensation for it (other than from Seeking Alpha). I have no business relationship with any company whose stock is mentioned in this article.
Additional disclosure: I am LONG gold bullion. I am an engineer, not a CFA. The information and data presented in this article were obtained from company documents and/or sources believed to be reliable, but have not been independently verified. Therefore, the author cannot guarantee their accuracy. Please do your own research and contact a qualified investment advisor. I am not responsible for investment decisions you make.