There have been a spate of common stock buyback announcements by Dry Bulkers during the months of November and December, including Diana Shipping Inc. (DSX), Star Bulk Carriers Corp. (SBLK), Safe Bulkers Inc.(SB), and Golden Ocean Group Limited (GOGL). The Dry Bulk shipping sector in general has experienced a sharp selloff during Q4 2018 after shipping rates peaked in August and as the selloff in the broader market accelerated in late December.
The following graph shows the price performance of DSX, SBLK, SB, and GOGL during the past 12 months.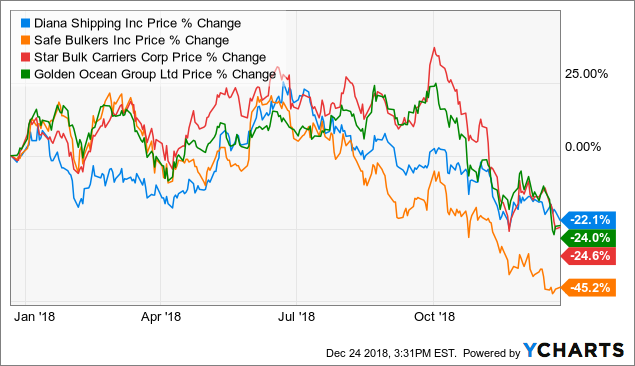 Details of the Buybacks
Details of the buybacks and certain factors that may have influenced management's decisions regarding the size of the common stock buyback are provided below.
DSX:
Unlike the other buybacks, DSX executed a tender offer at an over the market share price. This gave all shareholders the opportunity to realize a return of capital, if they wished, by participating in the tender, though only a portion of the shares tendered will actually be purchased.
The company has a lower risk profile due to its rolling medium-term TC strategy. It should continue to generate decent cash flow even if the economy slows during 2019. DSX's preferred stock broke below $24 subsequent to the buyback announcement, so there was not an opportunity to repurchase the preferred at a discount through a tender offer until after the commitment to buy common had been made. With the preferred available to be called at par on February 14, 2019, a redemption of the fairly high-cost preferred may be the next return of capital decision by the company during 2019.
If DSX does redeem the Series B Preferred and there is not an economic slowdown during 2019, the probability of the reinstatement of a small common stock dividend will increase.
SB:
This is the smallest of the four buyback announcements made. SB has a significant amount of high-cost preferred trading at a steep discount to par in the market. It is a bit of a surprise that the company opted to announce a common stock buyback rather than more aggressively repurchasing the Series C and D Preferred. SB completed a refinancing of its Credit Facilities that pushed out balloon payments due at maturity into the 2023-2025 time frame. The company's stated objective is to reduce debt outstanding to the equivalent of the scrap value of its assets. Reinstatement of a common stock dividend is unlikely prior to SB repurchasing or redeeming its preferred.
Of the four companies that announced buybacks, SB has the greatest exposure to a decline in rates due to an economic slowdown.
GOGL:
GOGL is the only company of the four that is currently paying a common stock dividend. The dividend likely has provided support to the stock price, and it has outperformed SB and Navios Maritime Partners LP (NMM), two companies with greater floating rate risk on their Dry Bulk vessels. GOGL has a significant amount of cash on its balance sheet, and it will likely use a large portion to fund the maturity of its convertible notes on January 30th, 2019. Although the maturity of the convertibles will be a large use of cash, GOGL likely generated enough free cash flow during Q4 2018 to fund most of the common stock buyback.
SBLK:
SBLK has the largest buyback of the four companies, and it has been disclosing small (15k-25k shares) but steady repurchases in the open market on a reasonably frequent basis since the buyback commenced. It will be interesting to see if the company accelerates the rate of repurchases if its stock price is dragged down further by the general market selloff. At its current rate of purchase, the buyback will be spread out over a year.
SBLK has been a very opportunistic buyer of vessels using cash, debt, and common stock. This will likely halt while its stock languishes at its yearly lows. Given its history of acquisitions, the buyback, which is optional (as opposed to DSX's tender offer), may be halted if asset acquisitions become more attractive than the discount from book value of its common stock.
Comparative Statistics
The following table provides some comparative statistics of DSX, SB, GOGL, and SBLK. I have also added NMM, which has not announced a common unit buyback. The purpose of adding NMM was to illustrate how undervalued the common units are currently and to further bolster my argument in a recently published article that the common units already discount concerns about the company being impacted by the financial straits of its GP, Navios Maritime Holding, Inc. (NM).
Please note that the data comes from SA's Key Data page for each of the companies. I have verified or corrected the cash and debt balances and estimated FY 2018 EBITDA based on the nine months EBITDA at Q3 2018 disclosed in the financial statements of each company.
| | | | | | |
| --- | --- | --- | --- | --- | --- |
| Dry Bulk Shippers | | | | | |
| Common Stock Buyback Analysis | | | | | |
| | | | | | |
| | SBLK | DSX | SB | GOGL | NMM |
| Share Price @ December 24th | $8.30 | $3.16 | $1.72 | $6.08 | $0.84 |
| Market Cap (millions) | $761.94 | $355.09 | $176.70 | $871.26 | $152.51 |
| Enterprise Value (millions) | $2,176.94 | $960.20 | $744.10 | $2,247.26 | $664.18 |
| Price/Book | 0.48 | 0.56 | 0.39 | 0.57 | 0.19 |
| Price/Tangible Book | 0.48 | 0.56 | 0.39 | 0.57 | 0.19 |
| Price/Cash Flow | 8.54 | 6.89 | 4.17 | 7.63 | 4.46 |
| Enterprise Value/EBITDA | 9.15 | 10.86 | 7.55 | 9.86 | 4.61 |
| Total Cash (millions) | $224.46 | $201.50 | $64.00 | $368.90 | $58.32 |
| Total Cash Per Share | $3.33 | $1.64 | $0.41 | $2.17 | $0.35 |
| Total Debt (millions) | $1,415.00 | $605.11 | $567.40 | $1,376.00 | $511.67 |
| Total Debt-to-Equity | 97.10% | 94.61% | 116.59% | 90.89% | 63.41% |
| Long-Term Debt/Total Capital | 49% | 49% | 54% | 48% | 39% |
| EBITDA | $237.94 | $88.42 | $98.51 | $227.94 | $144.18 |
| 52-Week Price Range | $8.00 - 15.38 | $3.03 - 5.16 | $1.61 - 4.00 | $5.75 - 10.05 | $0.80 - 2.62 |
| 52-Week Performance | -25.14% | -19.16% | -45.79% | -24.22% | -59.91% |
The unmistakable conclusion from this table is the undervaluation of NMM relative to the other companies. The Price-to-Book and Enterprise Value-to-EBITDA ratios for NMM are strikingly low. As discussed extensively in other articles, the economic interests of NMM management are not aligned with those of the common unitholders, so a buyback announcement is a low-probability event.
Conclusion
Given the differences in current valuation, average fleet age, progress on addressing BWTS and IMO 2020 emissions protocols, fixed versus floating contract exposure for 2019, and upcoming capital expenditures on newbuildings and vessel acquisitions, the Dry Bulk companies have pursued varying sizes of buybacks. It is interesting to note that 3 of the 4 companies that announced buybacks do not currently pay common stock dividends. Three of the companies also have upcoming maturities of unsecured or convertible debt or initial call dates for high-cost preferred that will likely be addressed with free cash flow during 2019.
Whether the announced stock purchases will prove to be a bottom in their respective stock prices will be determined by the course of the economy during the 1H 2019 and the impact on supply/demand in the Dry Bulk sector. I addressed this in my recent article on NMM, titled "2019 Cash Looks Strong. Units Plummet Anyway". What is certain is that the managements of four Dry Bulk companies are confident in their current levels of cash and near-term cash flow prospects to repurchase shares currently trading at considerable discounts to book value. Long term, this is likely a sensible decision barring a recession during 2019. It may also be a sensible decision for investors with a longer-term investment horizon.
Disclosure: I/we have no positions in any stocks mentioned, and no plans to initiate any positions within the next 72 hours. I wrote this article myself, and it expresses my own opinions. I am not receiving compensation for it (other than from Seeking Alpha). I have no business relationship with any company whose stock is mentioned in this article.