General Electric (NYSE:GE) has become the poster boy for what happens after years of poor management decisions. The stock has been in a constant decline for close to two years now as quarter after quarter brings bad news. The stock itself has declined from $30 to $7.15 during that period.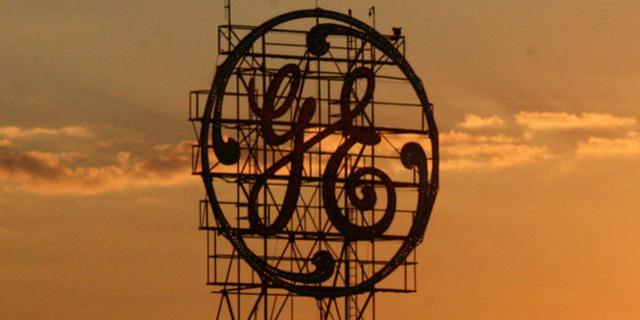 I believe the stock has fallen much farther than it should have due to several issues.
1. The company recently announced it was dropping its quarterly dividend to $0.01. GE had been the ultimate dividend stock for decades. This meant a huge portion of its stockholder base has lost its reason for holding its stock. This has put intense downward pressure as they sold out.
2. GE stock has been one of the biggest losers this year in the S&P 500 and its tax loss season until December 31.
3. The stock market is in the middle of its biggest "risk off" move since the last recession. Any stock seen as higher risk is getting slammed and many have been cut in half. Moves like this can completely change very quickly.
4. GE has had bad news, quarter after quarter for two years. This has caused many to throw in the towel, and sentiment to reach rock bottom.
5. GE Power swung to a loss after being the most profitable segment of GE in recent years. This took a large portion of earnings away. GE Power also recently announced a $23 billion goodwill write-off.
6. GE Capital announced a $9 billion cash infusion primarily to shore up its long term care re-insurance division. Another $15 billion will be contributed through 2024.
The first three listed should be temporary, the fourth and fifth medium term, and the sixth longer term. Despite these issues, GE has numerous catalysts and hidden values that can propel the stock price much higher. In fact just the fading away of the first three items alone should lead to a rally. It may have already started. GE stock gained 0.7% last week while the S&P 500 was down 7.4%. GE's catalysts and hidden values are detailed below.
Catalysts
1. A Healthcare spinoff
A Healthcare spinoff will create value to GE shareholders in many ways. They are;
A. Higher PE Ratio at the Spinoff
GE currently has a PE ratio of about 10. The spinoff should trade closer to 20 based on peer values. A peer comparison is shown here.
Significant value is then unlocked. My estimate is $26.8 billion of value is created. The calculation is as follows.

Source: My GE sum-of-the-parts article 11/13/18
This example assumes no IPO. In reality, 20 to 40% of Healthcare will likely be sold in an IPO to raise cash to pay down GE corporate debt. The spinoff is also likely to take some corporate debt and some pension liability with it. However, those figures will just offset the benefit to GE, and thus have little impact on shareholders. For example, if the spinoff takes $10 billion in debt, GE has $10 billion less debt. The spinoff value goes down by $10 billion and GE value goes up by $10 billion. So, value created is still around $26.8 billion. While a spinoff reduces GE's earnings, that is more than offset by increased overall value (GE+spinoff) created by the higher PE ratio at the spinoff on the same earnings.
B. A spinoff should reduce GE debt to manageable levels
If there is a 40% IPO GE raises $21.44 billion in the IPO ($53.60 billion market cap X 40%). That assumes Healthcare takes no debt or pension with it. If Healthcare takes say $10 debt and a pension of $5 billion. Total raised by GE is $25.44 billion all of which can be used to reduce debt. The calculation is below.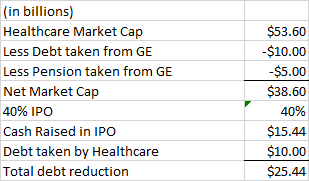 Source: See first chart plus authors assumptions
C. Lower pension at GE
When spun off, Healthcare should take some of the pension liability with it.
D. Spinoffs perform better
Spinoffs in general are considered an anomaly in that they have historically on average created significant value. This is counter-intuitive because a spinoff requires the spun company to add significant infrastructure for new management, accounting, facilities, HR etc. Yet, what in fact happens is the management of both the spinner and spinoff become more focused. Also, the parent company gets less of a conglomerate discount.
E. The debt taken on by Healthcare will be less expensive to them than currently at GE
The Healthcare business is very stable with high profit margins. Its debt, unless excessive, is likely to be rate well above the BBB+ of GE. This will benefit the Healthcare spinoff with less interest expense, thus a higher profit.
F. A Debt Reduction Will Remove Any Need For An Equity Raise Or Downgrade Concerns
Here is a schedule showing the debt situation today and what an IPO of Healthcare would do assuming a 40% IPO and Healthcare takes $10 billion in corporate debt.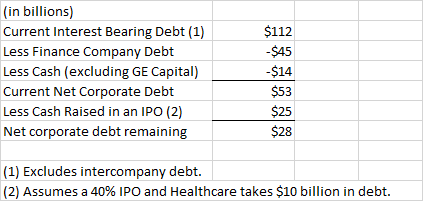 Source: GE 9/30/18 10-Q
In fact, GE is going way beyond what it needs to in order to bring debt levels to a manageable level. Money raised from a Healthcare IPO is in addition to that currently being raised by other asset sales. GE is in the process of selling 12.5% of Baker Hughes. That portion is currently worth about $2.7 billion. GE is also selling its transportation division to Wabtec for $2.9 billion in cash plus stock in Wabtec. Some smaller assets are also being sold. GE also has a $41 billion credit line with only $2 billion currently drawn. GE could also sell the remaining 50% it owns of Baker Hughes. GE arguably doesn't need any of the foregoing if it can raise at least $20 billion from Healthcare.
Some may ask, is this enough for the credit agencies? GE currently has a BBB+ rating on the majority of its debt. I would be shocked if they did not talk to those agencies when preparing their asset sale plan. Leveraged companies routinely talk to the credit agencies when they plan major changes in the level of debt. In fact, there is little danger of a credit downgrade right now as long as the asset sales are in process, unless of course there is a big downturn in earnings.
Some may also ask, why deduct finance company debt from a calculation of debt? All debt at the subsidiary level is held by GE Capital. The majority of that debt was used to finance loans and leases on aircraft engines, power turbines, and imaging machines. The borrowers of those loans should be large and strong companies such as airlines, utilities and hospitals. This is captive financing of GE's products. Captive financing tends to be more profitable as there is no marketing costs needed and less need for office space. The loans and leases financed are marketable and can be sold if needed. GM and Ford have much more debt used for their captive finance operations. Analysts do not count that debt as corporate debt either.
2. A Debt Reduction Reduces Interest Expense
Lower interest expense means higher earnings. It also may improve credit agency debt ratings leading to lower interest rates on future debt issuances.
3. Rightsizing Power
The power segment until 2018 was the largest and most profitable division of GE. It is the decline in earnings here that had the most impact on GE's earnings over the past two years. GE Power earnings swung to a loss and a $23 billion goodwill write-off occurred. However, as noted below, with the decline in revenues, half of Power's revenues are now from a stable service and maintenance operation. Turbines have a 30+ year life which makes this revenue very recurring, stable and long term. I do believe that fossil fuel power turbines are starting a secular decline. Both of GE's primary competitors, Siemens and Mitsubishi are also seeing revenue declines, though less than GE. The rest of GE Power needs to be rightsized and should be profitable once done so, but at a lower level than in the past. Rightsizing GE Power could pop the stock by $3-7 by itself. It should be noted that there is a defect issue with GE's latest turbines which if serious could continue to hurt sales.
4. Long Term Care Premium Increases at Genworth
The second largest segment of GE Capital is Long Term Care Insurance (LTC). Much of LTC's business is re-insuring Genworth, which was spun off from GE 15 years ago. LTC has been in runoff (no new policies) for at least ten years. Genworth has gotten the State insurance regulators to allow premium increases of 100% or more on its older policies. Those are the ones re-insured by GE. This benefits GE in two ways. First of all, it increases reserves against losses at Genworth considerably. Secondly, it reduces the number of policies GE has to re-insure. Many currently healthy insureds will refuse to pay the higher rate and drop the policy. Genworth is also in the process of being acquired which should shore it up some more.
5. The Cash Infusion Into GE Capital
GE is in the process of infusing $24 billion into LTC. It has contributed $9 billion already. This should be more than sufficient for years to come and may help an eventual sale.
6. GE Aviation is the Ultimate Warren Buffett company
GE Aviation is a powerhouse. It is the leader in its industry, growing 10% per year, has a huge service and maintenance operation, and a backlog of over 7 years of sales. It also has what Warren loves, a huge moat. Warren is unlikely to be interested in GE as it sits today due to its complexity. But if it does what it has announced, it will be a much simpler operation, with well over half the value coming from aviation. It is also currently undervalued. Warren may be interested in some sort of investment. He has done it with GE before.
7. Electric Vehicles
More EVs means more need for power. GE supplies equipment and servicing for both fossil fuel and wind power.
8. New Management
GE recently hired Larry Culp as its new CEO in October. Mr. Culp had a six month head start as a member of the board before becoming CEO. He has a strong resume, previously with Danaher. The stock price there increased by 7x while he was there from 2001-2014. He has been active from the get go with restructuring and naming new management.
Hidden Values
1. Aviation Financing and Servicing
GE Capital's largest segment an aircraft engine leasing business. There is $29.4 billion in aircraft engine leases. These should mostly be to airlines, most of which are very profitable right now. A typical profit margin on commercial loans and leases is about 2% on the dollar (about $600 million per year). But revenues are running $4.8 billion a year, which would indicate an interest rate of 16% ($600M/$29.4B). There is no way the interest rate is over 6% based on how strong their customer base is. It appears the bulk of revenues then are from service, maintenance and parts for the engine being leased. That means the service and maintenance business alone is probably a $3 billion+ business per year. With a typical operating margin of 15%, operating income is estimated at $450 million for service, maintenance and parts. Add that to a $600 million per year profit on the leases themselves and operating income is $1.05 billion per year. It is worth at least $15 billion, in my opinion, due to how stable, growing and recurring this business should be.
2. GE Power Servicing and Maintenance
While sales of new turbines have declined, and may be in a secular decline going forward, GE Power has a very stable service and maintenance division. In fact, last quarter this segment was 47% of total revenues for GE Power. Turbines last for 30+ years and GE has a huge installed base. In fact, this segment has a massive backlog of over 6 years. This captive type of business tends to be very profitable as it is recurring, stable and less competitive. This business currently has about $11 billion of revenues a year. A market value for a high margin, predictable business such as this can be quite high. I'm not going to try to estimate it, but it should be well over annual sales. This should also be a less asset heavy business than much of the rest of GE.
3. Predix
GE has developed a software platform called Predix to collect and analyze data from industrial machines. This is part of the rapidly developing Internet of Things (IoT) industry. This business is not yet part of any of GE's segments that it breaks out in its SEC filings. This business is not currently profitable but has significant potential as IoT continues to take off.
Other Items
GE should actually fare better in a recession than most. GE Aviation and GE Healthcare are worth close to 75% of the whole at this point, as shown in my sum-of-the-parts below. Aviation has an over 7 year backlog that will go right through any recession. The last recession was brutal and it had no impact on their backlog. Any cancellations were quickly replaced by customers who wanted that place in line. Healthcare is also much less cyclical than most industries.
Normally sum-of-the-parts is not very useful for a company. But when a conglomerate is splitting up, it becomes more useful. I recently did a sum-of-the-parts calculation a summary of which is below. My value is $16.35. I believe there should be a conglomerate discount of 15%, leaving a value of $13.90. The reason I don't use a higher discount is because after the spinoffs and asset sales, GE will be primarily an aircraft engine business. A full discussion of my assumptions is detailed here.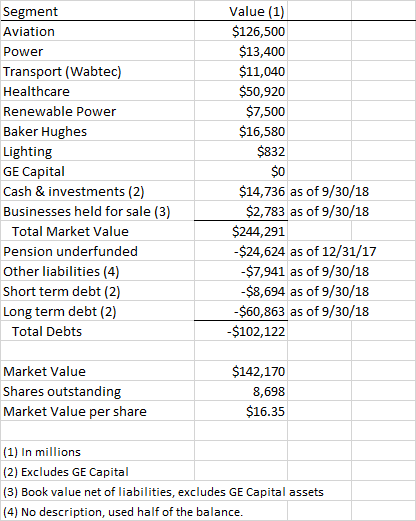 Sources: My GE sum-of-the-parts article 11/13/18
Remaining issues
One remaining issue is opaqueness at GE Capital. There is $30 billion in other receivables or other assets that are not further explained. We also need more detail on the size of LTC and what the exposure is.
Another issue is complexity. GE does business all over the world and has thousands of different operations. The announced restructuring should simplify it some.
There needs to be an end to bad news. At this point, even minor bad news is hurting the stock. As covered above, there is a large group of potential good news that is out there.
Summary
GE's stock is being held down by at least six factors, half of which are temporary. The others are fixable mostly in the intermediate term (1-2 years). GE has numerous catalysts that can pop the stock. It also has many hidden values. The stock itself appears to be bottoming. It gained 0.7% last week while the S&P 500 was down 7.4%. I recommend a long position in GE stock. My one year price target is $13.90.
Disclosure: I am/we are long GE. I wrote this article myself, and it expresses my own opinions. I am not receiving compensation for it (other than from Seeking Alpha). I have no business relationship with any company whose stock is mentioned in this article.
Additional disclosure: Please left justify.