One of the advantages of remaining detached from the daily thrall of the stock market is the capacity to see prices in terms of data and probabilities rather than emotion. The comfortable rubric "buy low, sell high" seems like a fairy tale at times like these when panicked investors sell wantonly into a market devoid of buyers. There also remain 3 more potential days of tax-loss selling before the 2018 trading year ends.
But if you are looking for a contrarian opportunity to put money to work in the new year, read on.
Short-term selling panics of this magnitude are often signs of a correction, not a bear market. A previous correction that began in the latter half of 2015 and extended into February 2016 lasted 8 months. Small-cap indices fell approximately 25% from peak to trough. But a year later, they were hitting new highs.
Our current sell-off has lasted 4 months. Small caps are now down about 26% from their August 2018 highs, returning to their breakout point of mid-November 2016.
The news out there is abysmal. We are on track to close out the worst stock market December since 1931, a time when unemployment stood at 20% and the Standard & Poor's Index had already lost 60% of its value. This past week, the Dow Jones Industrials dropped 7%, followed by another 3% on Monday, December 24. And on Thursday, December 20, 2018, the CBOE Put/Call ratio registered its most bearish call ever.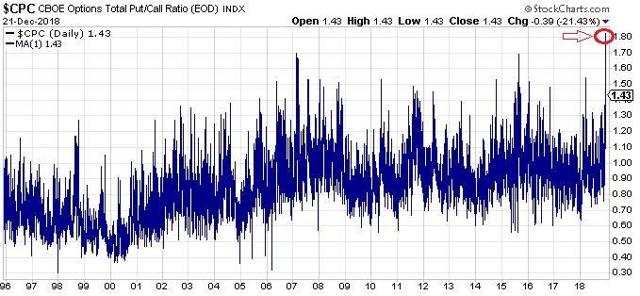 But rather than viewing this turn of events as the beginning of a bear market, I see it as a correction in the midst of a secular bull market that began in March 2009 and which first broke to new all-time highs in January 2013.
If you sell amidst a selling stampede like we have now, you risk losing your position when the bull market resumes. The great bull markets (1949-66, 1962-2000) lasted for at least a generation, and if we are in one, years of upside remain ahead.
In one week, we will be entering the 3rd year of the Presidential Cycle, arguably the most positive (for stocks) year in the four-year cycle. See a chart and explanation of this cycle by Troy Bombardia at BullMarkets.co.
Median Returns following the US mid-term elections (1950-2014)
| | | |
| --- | --- | --- |
| Elapsed Time | Return | Percentage of Positive Returns |
| 6 mos. later | +15.2% | 100% |
| 9 mos. later | +16.51% | 100% |
| 1 year later | +14.9% | 100% |
| 1.5 years later | +20.57% | 100% |
You will notice that in 65 years, there has not been a single deviation from positive results at the 6-month to 1.5-year marks after the US mid-term elections.
"As for the first five days of January, the last 43 times these days were up, the market had full-year gains 83.7% of the time, with an average return of 13.7%. The 25 down "first five days" were followed by 14 up years and 11 down, for an average gain of 1%". (See "Hirsch & Mistal, Stock Trader's Almanac 2019", November 14, 2018)
The previous two bear markets - the Dotcom Bust (2000-03) and the Financial Crisis (2008-09) - were characterized by wildly high P/E ratios, rampant speculation, even mania (first in Nasdaq stocks, then in housing), followed by severe damage to the economy.
None of those conditions exist today.
The forward P/E (2019) on the SPX 600 (SLY) is a modest 14x earnings (See: "Stock Market Briefing: S&P 500/400/600 Weekly Fundamentals", pg. 18, Ed Yardeni, December 21, 2018)
Unemployment sits at a 50-year low.
Inflation is beneath the Fed's target rate of 2%.
Credit quality is the highest (and tightest) in decades.
There is a lot to like about the current economy. It leads one to believe we are in a stock market panic, not the foreshadowing of an economic downturn.
The one fly in the ointment is the Fed's recent interest rate hikes. In reality, we are adjusting to - or rather returning to - a time of normalized rates after 8 years of quantitative easing. The Fed's actions are the result of a strong economy, not a weak one on the verge of recession. We are moving into a future where strong corporate earnings are the main drivers of stock prices, not accommodating interest rates.
Like a rubber band stretched to extremity, I expect a violent snapback rally in January 2019 to carry the markets higher into a strong Spring and Summer ahead. I think the only thing that could derail it (temporarily) would be unexpected results from the Mueller investigation or an unusual action by the US President against the Federal Reserve. Those fears, however, may already be baked into the market at current prices.
Included below is a twenty-three year chart of the Russell 2000 Small-Cap Index (RUT) (the SPX Small Cap 600 is a corollary of this index). Notice how prices are still contained within the long-term channel that began in March 2009.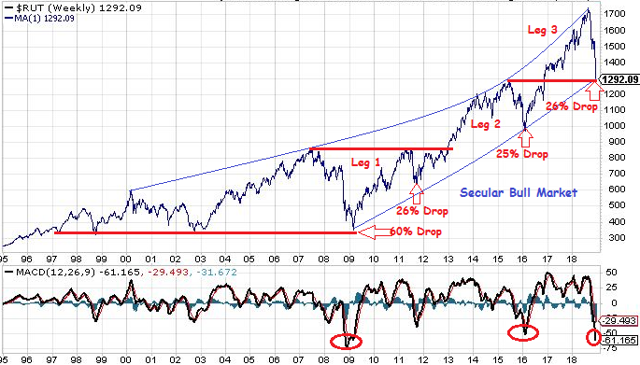 (Source: StockCharts.com)
Lastly, view this chart below from IndexIndicators.com. It measures stock index movements by percentages. The extreme selling that we see illustrated here (in green) for Q1'2016, Q4'2016, and now Q4'2018 has existed at all major inflection points in market sentiment. In the dramatic drop of the past 2 days, the number of small-cap stocks below their 200-day moving average has only increased slightly on the momentum chart.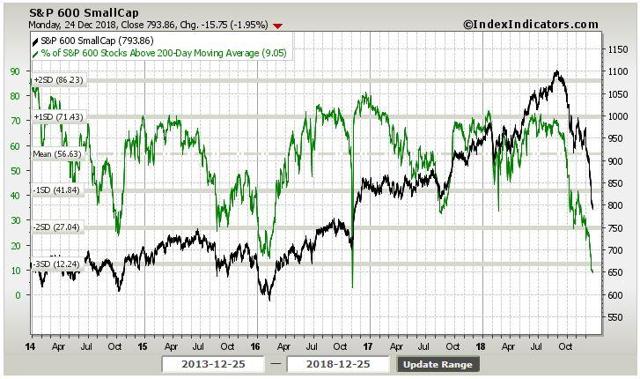 Superb buying opportunities often follow panics. But you had to withstand the fear around you to take advantage of it and fight the instinctual urge to flee. This is one of those moments. I am convinced that cooler heads will prevail after January 1, 2019, and an entirely new year of trading will begin.
Investors who missed the outsized returns in small caps of the last two years now have an opportunity to re-enter the small-cap market at the same level it was positioned on November 11, 2016.
There have been three pullbacks since the beginning of the secular bull market in March 2009. Each pullback has been dramatic and relatively short-lived. The two rallies after the previous lows were long and sustained and led to new all-time highs.
| | | | |
| --- | --- | --- | --- |
| Beginning date | End Date | Duration | Percentage |
| March 9, 2009 | July 1, 2011 | 28 mos. | +139% |
| July 1, 2011 | September 30, 2011 | 3 mos. | -26% |
| September 30, 2011 | June 19, 2015 | 45 mos. | +100% |
| June 19, 2015 | February 12, 2016 | 8 mos. | -25% |
| February 12, 2016 | August 24, 2018 | 30 mos. | +77% |
| August 24, 2018 | December 21, 2018 | 4 mos. | -26% |
+++++++++++++++++++++++++++++++++++
How would I trade this situation? Begin a 50% position in IWM or SLY at the open on December 26th or 27th. Cautiously add an additional 25% tranche if the ETF drops another 10% below its current position. Save the remaining 25% as insurance for an additional tranche at a later date.