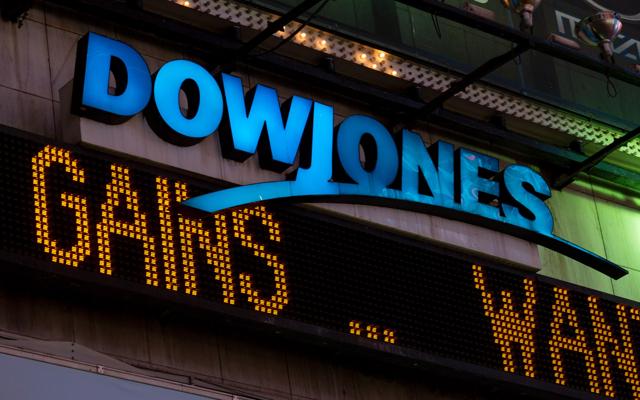 Welcome back to my fellow readers to my yearly Christmas article. I haven't been as active as I would like this year due to becoming a father, relocating to a safer area and just being busy in general.
Though in that year my readership has grown to nearly 2,000 followers so I'm grateful to those of you who care to read what I have to say. Let me get started by wishing you all a Merry Christmas and a Happy Near Year!
Here are the previous articles and their performance.
2018 Results
I knew 2018 was going to be a tough year for investors and this resulted in me only recommending 3 companies, I'll provide my reasoning for why they were chosen from my previous Christmas article below.
It may take another few years to see how this plays out, so holding your nose and buying may be the best option while IBM share price is depressed compared to its peers. Therefore I'll recommend IBM as a speculative buy.

Buying At Fair Value

If you want to buy at a reasonable price of 15x-16x free cash flow, then Boeing and Cisco are the only companies I can recommend, as both companies are boosting guidance and have increased dividends by 20.4% and 11.5% respectively in 2017.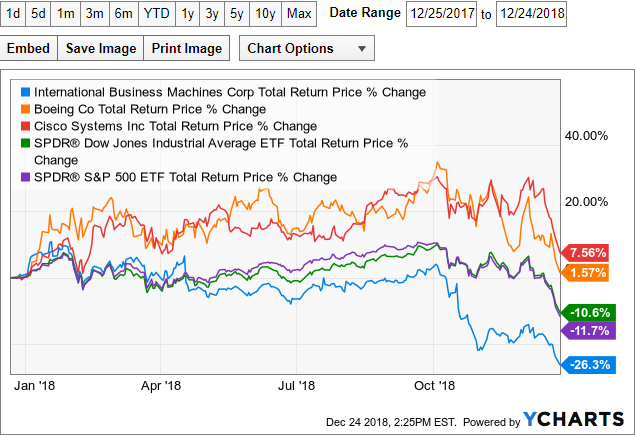 | | | | |
| --- | --- | --- | --- |
| Company | 01/01/2018 | 12/21/2018 | Total Return |
| International Business Machines (IBM) | $1,000 | $737.00 | -26.30% |
| Boeing (BA) | $1,000 | $1,015.50 | 1.55% |
| Cisco (CSCO) | $1,000 | $1,072.10 | 7.21% |
| Stock picks listed above | $3,000 | $2,824.60 | -5.85% |
| SPDR DJIA ETF (DIA) | $3,000 | $2,682.00 | -10.60% |
It's a shame that I selected IBM but you know what they say... fool me once shame on you, fool me twice shame on me. Maybe I'm just being impatient, but I feel the company has had several years now to steer the ship in the right direction, and its recent acquisition of Red Hat (RHT) at a questionable valuation leaves much to be desired. This could be a case of IBM becoming another General Electric (GE) in waiting.
Dow Jones Spreadsheet For 2019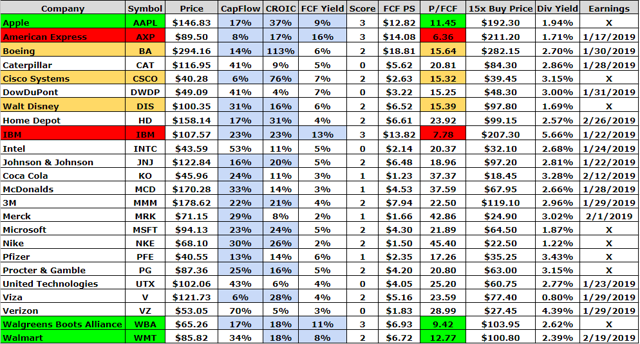 Data provided by Morningstar and Seeking Alpha, compiled by author
Below is an explanation of the metrics used for the research and what figures are needed in order to qualify for further due diligence.
CapFlow: To get this figure, we simply divide the annual capital expenditure by the cash flow from operations. This gives investors an idea of the percentage used to maintain the business from its cash flow. Any cash left over is what we call the free cash flow, which can be used for acquisitions, dividends, share buybacks or reinvested into the business. To score a point on the screen, we'll look for no more than 33% of cash flow being spent on capital expenditure.
CROIC: Cash flow return on invested capital is used by dividing your free cash flow by the long-term debt and total equity. This simply tells you the return the business earns on the money it invested. For example, a company above 20% CROIC means it makes more than $20 for each $100 invested. To score a point on the screen, we'll look for 15% or more.
FCF Yield: This is basically the inverse calculation of the P/FCF metric, investors use this to assess the valuation of a stock. It's widely known to be better than P/E, as this uses free cash flow, which is harder to manipulate compared to the earnings. To score a point on the screen, we'll look for 7% or more, which is the inverse of P/FCF 15 (100 / 15 = 6.66).
My Stock Picks For 2019
Walgreens Boots Alliance (WBA)

There isn't much for me to say about this company since my last article from October 12th titled Walgreens Boots Alliance Shows Great Results As It Integrates Rite Aid Stores.
Trapping Value published an article 3 days ago on the company's Q1 results titled, What Walgreens Cannot Get Right, and while it may seem bearish, he goes into detail on why he expects a much higher stock price in the future.
The fact that Walgreens Boots Alliance's return on invested capital continues to increase nicely, and its free cash flow per share grew by 26.69% in 2018, gives me enough reason to remain optimistic. You're buying a company with a free cash flow yield of 10.62% in today's market environment when the average is 6%, so you're buying at a great discount to the market. I'm still recommending a strong buy at today's price of $65.26.

I've mentioned on previous Christmas articles that the company is focused on building its eco-system within its services segment. The company recently announced it's no longer going to publish unit sales results for the iPhone, iPad and Mac.
What we can see from the latest annual report is that iPhone unit sales increased by only 0.44% this year, and you can guarantee that will decline due to the attempted boycott by the Chinese over the arrest of Huawei's CFO and ongoing trade war with the US. Not to mention they are supposed to be banned in China and now potentially Germany, due to infringing on Qualcomm's (QCOM) patents. Revenue from the iPhone grew by an impressive 18%, showing that it's down to the pricing power of the product alone since sales growth proved to be barely noticeable.
The company's services segment continues to impress with revenue growth of 24%, showing no signs of slowing down following its 23% growth in 2017.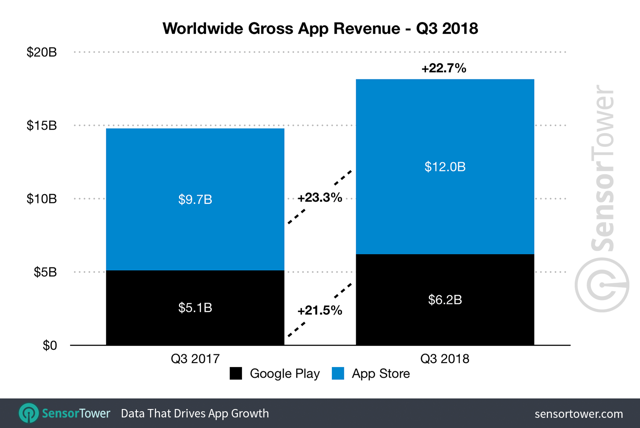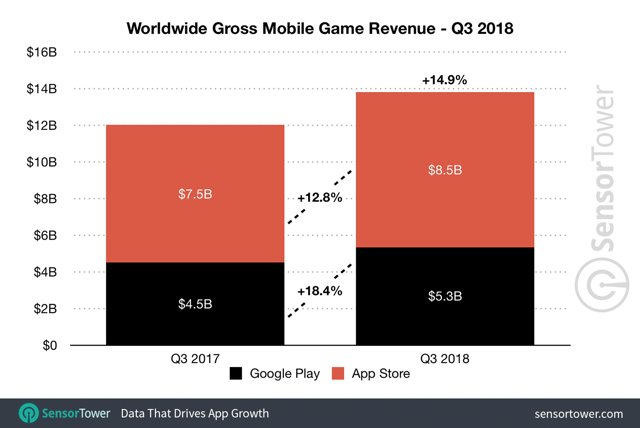 Source: Sensor Tower
Warren Buffett doesn't really like technology stocks and usually avoids them, but he understands that close to 2.5 billion people own a smartphone and that kind of "real estate is worth a fortune". He may not have personally made the decision himself on Apple, but in the latest Form 13F filing Berkshire Hathaway (BRK.B) owned $57 billion worth of the stock, representing 26% of the portfolio. Understandably that value has decreased since Apple's share price has declined by 13% since last month, but this shows the level of conviction Berkshire Hathaway has. I'm recommending a strong buy at today's price of $146.83.
Walmart (WMT)

Walmart is probably 1 of the only rivals of Amazon (AMZN) that has not taken a serious hit to its business, not only that but its rapid acquisition of eCommerce stores proves that Walmart is adapting to Amazon's relentless assault on brick & mortar stores.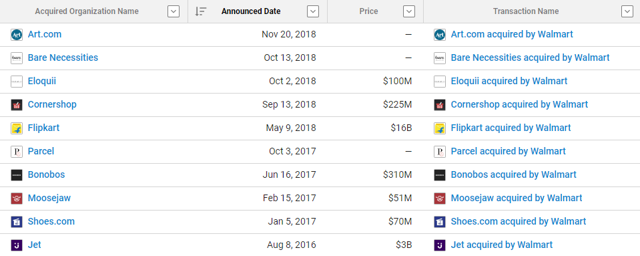 Source: Crunchbase
Most investors talk about Jet and Flipkart due to the size of the acquisition, but how many of you knew of the countless others? They also clearly operate in different niches that will help Walmart diversify further. For example;
Flipkart is the second largest e-commerce company in India behind Amazon India, boasting over 100 million registered users
Cornershop is a grocery delivery service in Chile & Mexico
Eloquii deals in plus-size clothing and accessories
Bare Necessities are independent boutique retailers offering luxury lingerie and swimwear.
Art.com is an e-commerce website that sells fine arts, prints and decorations made by artists and photographers.
The company's annual report is due on February 19th so I'm expecting the company to shed some light on the e-commerce segment of their business and what their projected growth rates are once they've been fully integrated into the financial reports. Unfortunately, we'll most likely have to wait for 2020 to get a clearer picture.
Admittedly the company is not sexy for income investors, as it only offers a yield of 2.39% and its dividend increases of 2% over the past couple of years have been frustrating. However, the company has increased the dividend for 43 years in a row and it's making moves in the industry which could ultimately prove to be a catalyst not only for the share price but also the dividend growth. I'm recommending a buy at today's price of $85.82.
Disney (DIS)

Though Disney is not trading at a discount like the other 3 companies above, because I published an article on December 16th titled Disney Will Break The Global Box Office Record In 2019 With Its Strongest Ever Movie Lineup, I feel obligated to include it here!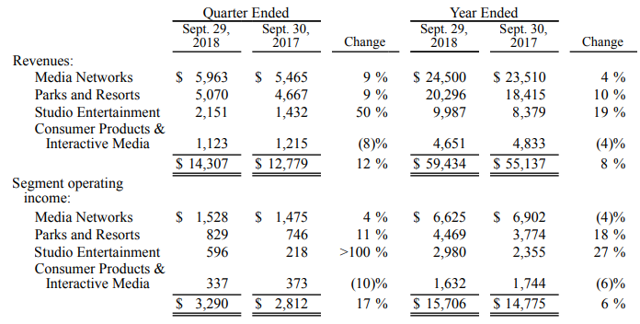 Though the company already has DisneyLife which has the biggest collection of Disney movies and kid's TV shows, and ESPN+ with the help of its majority acquisition of BAMTech, Disney will soon be launching Disney+ in late 2019.
On the Parks and Resorts segment, StarWars: Galaxy's Edge is opening at Disneyland and Disney World in 2019 which will prove to be a huge hit with fans of the franchise. There will also be a skyliner gondola system which will transport guests between Epcot, Hollywood Studios and 4 hotel resorts including Disney Riviera which is still under construction.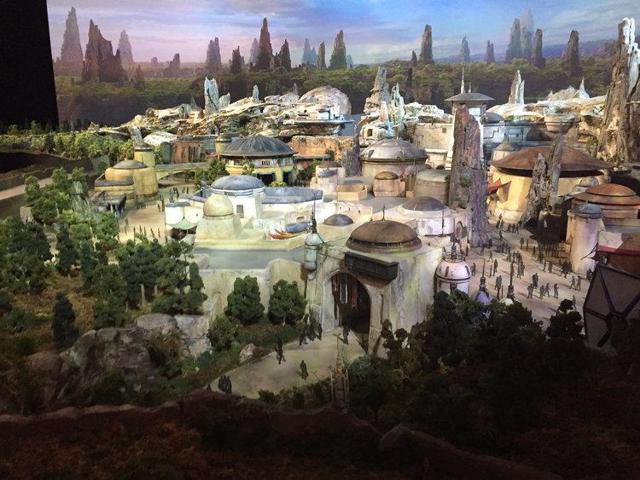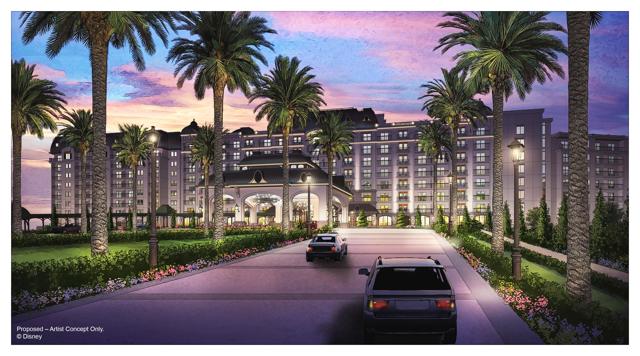 Source: Disney
I did promise my readers I was going to do an in-depth article on these segments so that's all I'm going to put here for now. I'm recommending a strong buy at today's price of $100.35.
Conclusion
The S&P 500 declined by 7% last week alone and today's session has been officially confirmed as the worst pre-Christmas session since records began 122 years ago. This also signaled the start of a bear market that we've not seen since 2009, so I wouldn't be surprised if cash is the best asset-class in terms of performance for 2019.
The companies I've picked in this article are trading at cheap valuations compared to the rest of the Dow Jones and the stock market in general, that even if we were to have another crash/recession there is a large enough margin of safety to outperform the index.
I would like to end this article with how I began, by wishing all of you a Merry Christmas and a Happy New Year! Below is a picture of my 3 month old daughter on Christmas Eve :).
If you appreciate these articles and wish to be notified on future publications, either on my portfolio journey or research that I do for Seeking Alpha, please click on the "Follow" button and feel free to either inbox me or leave a comment below.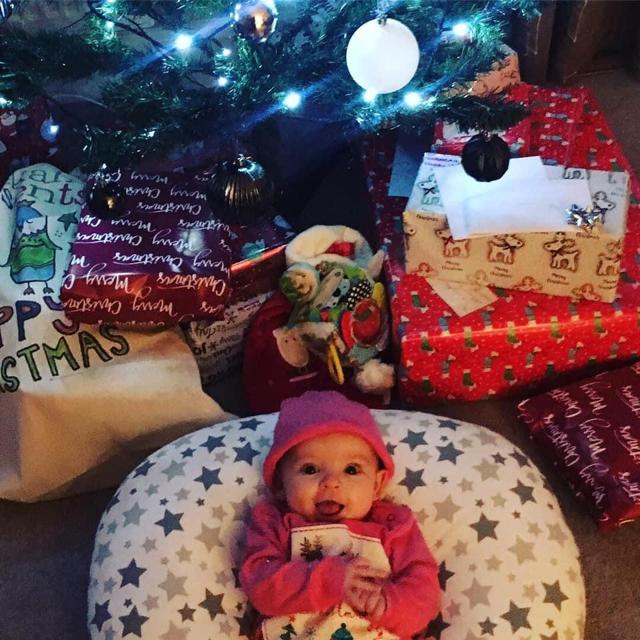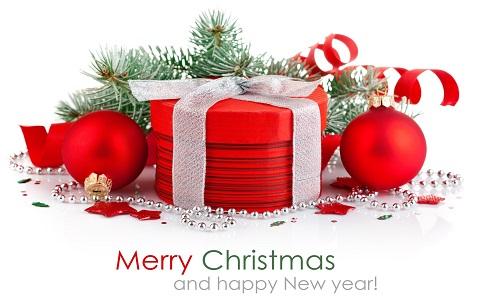 Disclosure: I/we have no positions in any stocks mentioned, and no plans to initiate any positions within the next 72 hours. I wrote this article myself, and it expresses my own opinions. I am not receiving compensation for it (other than from Seeking Alpha). I have no business relationship with any company whose stock is mentioned in this article.