Tailored Brand's (TLRD) third quarter reminded investors of all the challenges still facing retail today: competitive pricing, marketing (in)-effectiveness, and macro uncertainty (i.e, tariffs and Brexit).
Consolidated sales of $813 million were in-line with expectations, but the performance from Men's Wearhouse suit sales and corporate apparel sales drove the downward revision of EPS guidance from $2.35-$2.50 to $2.30-$2.35. Management emphasized the poor sales performance was due to its marketing strategies, and not competitive pricing from department stores. Despite comparable retail sales rising 2.3% YoY, and significant growth in their custom suiting business, TLRD's valuation plummeted.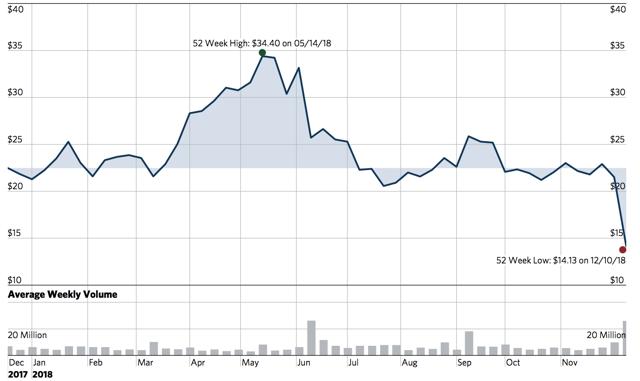 Source: Jefferson Research
We think the long case depends heavily on how management executes. Until we get more visibility around the progress of management's initiatives, we expect the stock to remain choppy.
Men's Wearhouse and Corporate Apparel in the Red, Custom Suiting in the Green
Starting in late October, Men's Warehouse has witnessed a decline in suit sales which has flowed into 4Q. Given the retail segment's headwinds were not contained to one specific region or store, management has decided to lower EPS guidance from $2.35-$2.50 to $2.30-$2.35. They believe the slowdown is attributable to a promotional strategy that was not competitive enough in the industry. TLRD was focusing on branding in its marketing efforts, but its recent "call to action" in its advertisements has led to a slight improvement. It is important to note, the non-custom business in MW remains in the red.
The company has prioritized custom suiting, which has seen a 150% YoY sales increase and is now over 20% of all suit sales on a YTD basis. Custom suit sales have gone from $2M/week last year to $5M/week, and there are plans underway to enhance this service offering through shorter shipping times (7 days for express). This type of growth works in TLRD's interest, but also has investors asking themselves: Is custom suiting threatening the non-custom business?
Sales in the company's corporate apparel segment decreased by 3.6% in Q3. TLRD expects corporate apparel (which management describes as non-core) to have sales between $55M and $60M in 4Q as Brexit continues to hurt customer demand. Management concluded that the segment's goodwill was fully impaired and recorded a non-cash goodwill impairment charge of $24 million.
Healthy 2Q and 3Q Comps in an Increasingly Competitive Industry
Tailored Brand Q2 price multiples came in lower than industry averages, highlighting the company's potential for future growth and earnings. Q2 price to earnings (10x), price to cash flow (5.6x), and price to sales (0.3x) grew stronger since Q1. However, the specialty retail industry became more competitive. In other words, if we focus on TLRD's performance relative to the sector's averages, we see that PS may have improved, but PE and PCF became less attractive. Additionally, the weaker PEG ratio (from 1x to 2x) puts into question the company's ability to maintain a healthy level of growth. With Men's Wearhouse and corporate apparel down in sales, either new revenue streams or new marketing strategies will impact TLRD's model.
Moving forward to 3Q, all retail segments comps rose: Men's Wearhouse (+1.7%), Jos. A. Bank (+3.8%), K&G (+ 4%), and Moores (+1.2%). Corporate apparel sales were stricken due to Brexit-related consumer reaction and a weaker British pound, resulting in a 3.6% decline (YoY). K&G's 3Q results provided some relief to rising concerns over the performance of MW. Similarly, Jos. A Bank saw strong comp growth, driven by increases in transactions and AUR, but offset by a decline in UPT. TLRD's updated guidance assumes flat-to-low digit Q4 comp growth across all retail segments.
A Path Towards Sustainable Improvement
Tailored Brands has good earnings, a healthy balance sheet, and cash flows that represent strong operational efficiency. The stock has taken a hit given the decline in suit sales at MW, as well as in corporate apparel. However, given TLRD's other retail segments performed well, the decline in sales is not a reflection of an industry- or company-wide threat. Management is working on communicating this message to investors by revamping their marketing efforts in Q4.
As for balance sheet efforts, TLRD has continued to reduce inventory and debt, and generate steady cash flow from operations. For the first nine months, CF from operations was up $25M versus last year, primarily driven by higher net earnings (after adjusting for non-cash items). Additionally, they have maintained their commitment to deleveraging as almost $50M in debt in 3Q was paid down, bringing the YoY decline to ~$300M.
Switching over to the income statement, we note adjusted GM expanded 40bps to 44.6% in the quarter following four consecutive quarters of contraction. Operating margin also saw an increase of 110 bps to 10.6%, and could expand as productivity improves and the custom clothing gains popularity.
Avoiding Tariff Impacts on Profits
Tariffs that are currently in place do not affect the goods TLRD sources from China. Given the political climate, there is a possibility of stricter trade measures. However, management has emphasized these will pose a limited threat to profits. To negate the adverse impact from any new tariffs, the company plans to source from additional countries, lowering direct imports from China from 30% of goods in 2018 to 15% in 2019. TLRD also negotiated terms with its Chinese vendors under which they will absorb most costs associated with additional tariffs.
As a result, and in considering the current product cost structure, the company believes it can absorb new tariffs as high as 25%, with little impact on profits.
Risks to Keep in Mind
Weakness in Men's Warehouse: The decline in performance indicates the possibility of MW losing market share to department stores. It is important to note; management has affirmed re-strategizing its marketing efforts will mitigate such risks. However, with the loss of a significant US customer in FY19, investors are taking a closer look at the bigger picture.
Corporate apparel and goodwill impairment: The corporate apparel sales outlook has softened due to Brexit uncertainty, pound weakness, and the loss of a major U.S. customer. As a result of the corporate apparel segment weakness (which fell 3.6% YoY), the company took a $24mn goodwill impairment charge in 3Q.
Macro-Environment: Brexit, tariffs imposed by China, and any unexpected macroeconomic events could take a toll on TLRD's retail segments in the short term. Management's new plans of sourcing from other countries and negotiating with its Chinese vendors in response to new potential tariffs have, as of now, proven to be effective. As a result, the company's ability to deal with macroeconomic events is not under scrutiny when evaluating TLRD over the long term.
Conclusion
The third quarter has highlighted what key challenges the retail industry is facing today: competitive pricing, the effectiveness of marketing strategies, and cyclicality driven by unfavorable macroeconomic events (i.e, tariffs and Brexit). Going forward, TLRD's performance will be a direct reflection of how capable management is in addressing such risks. The most recent initiative was taken within the Men's Warehouse business, in which management tuned their promotional strategies to drive higher suit purchases, for which they are currently seeing strong preliminary results.
3Q results were overall solid with modestly better than expected SSS and EPS. Even though there is an improvement at Jos. A. Bank, the performance of Men's Wearhouse will likely weigh on valuation in the short run, and indeed until management can prove sales were down as a result of marketing strategies rather than an overall weakening role in the specialty retail sector.
Disclosure: I/we have no positions in any stocks mentioned, and no plans to initiate any positions within the next 72 hours. I wrote this article myself, and it expresses my own opinions. I am not receiving compensation for it (other than from Seeking Alpha). I have no business relationship with any company whose stock is mentioned in this article.