Q3 and Q4 to date have been dismal for U.S. ethanol producers for a multitude of reasons, not least being the rapid decline to the prices of crude and gasoline that has occurred since October (see figure). This decline has corresponded with adverse policy and regulatory developments that have reduced demand for U.S. ethanol both domestically and abroad, forcing ethanol producers to face steadily declining margins.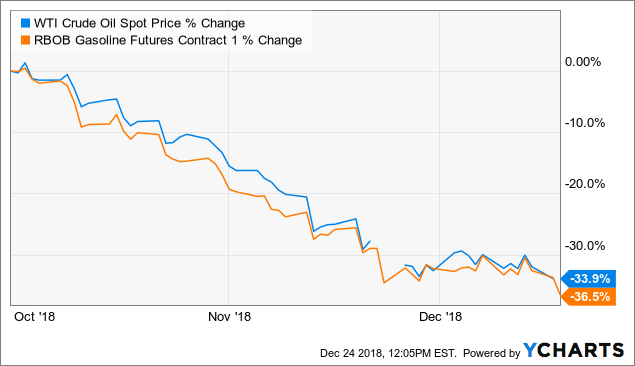 The corresponding declines to ethanol producers' share prices that has been underway throughout Q4 accelerated last week in response to the latest round of turmoil in the energy markets. Lower-margin producer Pacific Ethanol (PEIX) has seen its share price decline by more than 50% in Q4 to date (see figure), while those of larger, more diversified peers The Andersons (ANDE) and Green Plains, Inc. (GPRE) are also down by 24% and 29%, respectively. Only high-margin producer REX American Resources (REX) has outperformed the S&P 500, the latter having declined by 20% over the same period.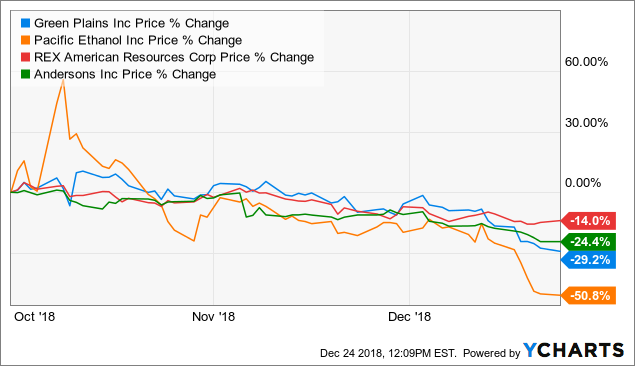 The main catalyst for the movement lower in Q4 has been the fall of the ethanol sector's return over operating costs, as measured by Iowa State University's Center for Agricultural and Rural Development, to its lowest level in several years (see figure). Interestingly, this is not because of the most recent decline by gasoline prices despite the fact that the price of ethanol, which is a partial substitute for gasoline, tends to track that of the refined fuel relatively closely. The price premium of ethanol over gasoline on an energy-equivalent basis has actually increased from about -20% at the end of Q3 to over 120% at the time of writing, its highest value in more than a year (see second figure). The fact that the price of ethanol has increased relative to that of gasoline has helped to keep ethanol operating margins near, if not above, zero.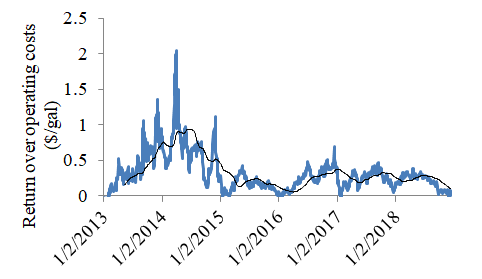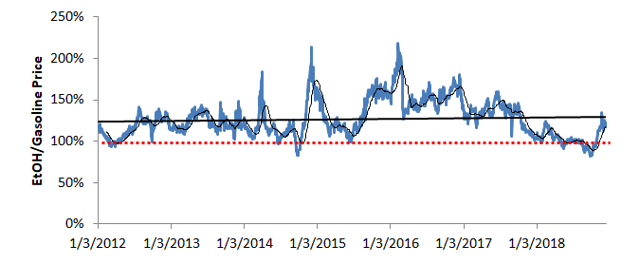 Sources: CARD, EIA (2018).
That price premium has been particularly important in November and December as the prices of two of ethanol's most important inputs, corn and natural gas, have moved against producers (see figure). Corn has been an average of 5% more expensive in those two months than in Q3, for example, while natural gas has been 34% more expensive over the same period. This has been decidedly to ethanol producers' disadvantage given that the price of ethanol is almost 20% lower now than its Q3 high despite the rising ethanol price premium. Ethanol share prices held up relatively well as gasoline prices plummeted in the second half of Q3 because producers' input costs, especially for corn, remained stable or moved lower as well. That situated has reversed in recent weeks even as gasoline prices have continued to decline.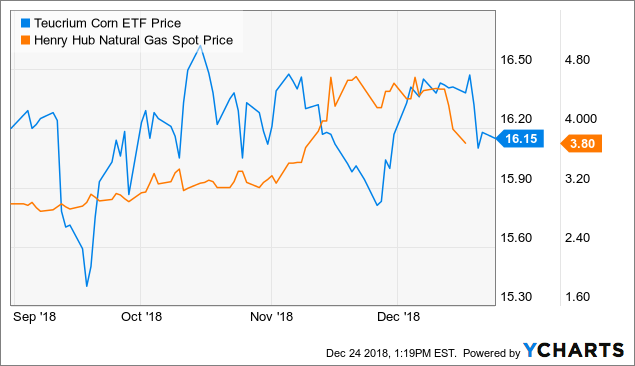 The good news for ethanol producers is that ethanol production margins tend to bottom out in late Q4 and early Q1 as demand experiences seasonal weakness and corn prices respond, often by moving higher, to Q4's crop harvest. The corn ethanol crush spread, which measures the difference between the prices of ethanol and corn, has fallen to or below zero in every North American winter since 2015 and in six of the last seven winters (see figure). The crush spread then rebounds in the spring as transportation fuel begins to rebound and corn planting expectations improve. That's not to say that ethanol producers' share prices will not experience continued volatility in the coming months, especially if crude prices continue to fall. It does mean that the current negative margins are unlikely to last, however.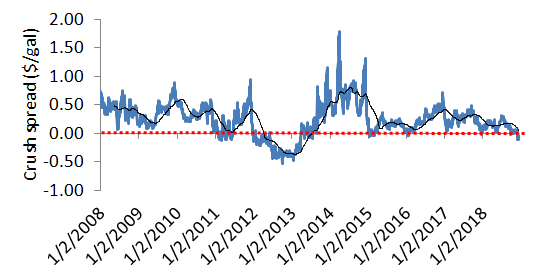 Source: CARD (2018).
Ethanol producers have experienced uncommonly low production margins ever since energy prices first collapsed in the second half of 2014, however, and Q4's energy price decline was especially unwelcome as a result. Of America's four main publicly-traded independent ethanol producers, only REX American Resources can consider its balance sheet to be in strong condition thanks to the lack of long-term debt and minimal current liabilities on its books. The Andersons, Green Plains, Inc., and Pacific Ethanol have all seen their current ratios move lower in recent quarters despite the year's earlier periods of relatively high production margins (see figure). Likewise, all three producers have regularly failed to record EBIT-to-interest expense ratios of 1 or greater in numerous quarters over the last two years (see figure), and their ability to do so in the near future will be especially constrained by current margins. This has forced Green Plains, Inc. in particular to revamp its business model by selling off ethanol production assets and purchasing non-fuel assets such as feedlot operations. The almost 30% reduction to that company's share price that has occurred this December alone can be attributed to the slow pace of this transformation at a time when ethanol production is looking increasingly unattractive as a business model.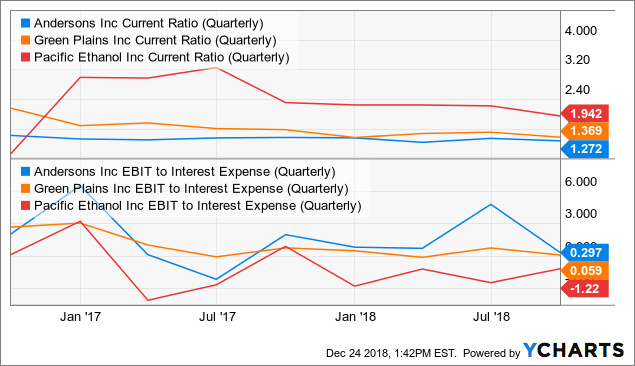 Finally, U.S. policymaking continues to inject uncertainty into the ethanol operating environment. While ethanol producers cheered last month's news that the Trump administration has temporarily frozen its controversial policy of awarding "hardship waivers" to small refineries (including those owned by large companies such as Exxon Mobil (XOM)) pending review, refiners expect the waivers to be distributed again next year. Reuters recently reported that the EPA has already received 22 hardship waiver applications for 2018 even though the compliance deadline is not until March 2019, and more applications are certain given that refiners have not been excluded from the recent turmoil in the energy markets. These waivers allow the beneficiary refiners to avoid biofuel purchases that they would otherwise be required to make under the U.S. blending mandate, reducing domestic ethanol demand at a time when major foreign markets have imposed steep import tariffs on U.S. ethanol.
U.S. ethanol producers will be glad to turn the page on what has been a dismal year in terms of both production margins and share price returns. Q4 has seen the ethanol operating environment sink to its lowest point yet, but it is worth remembering that December has historically been when production margins reach bottom.
Disclosure: I/we have no positions in any stocks mentioned, and no plans to initiate any positions within the next 72 hours. I wrote this article myself, and it expresses my own opinions. I am not receiving compensation for it (other than from Seeking Alpha). I have no business relationship with any company whose stock is mentioned in this article.
Editor's Note: This article covers one or more microcap stocks. Please be aware of the risks associated with these stocks.