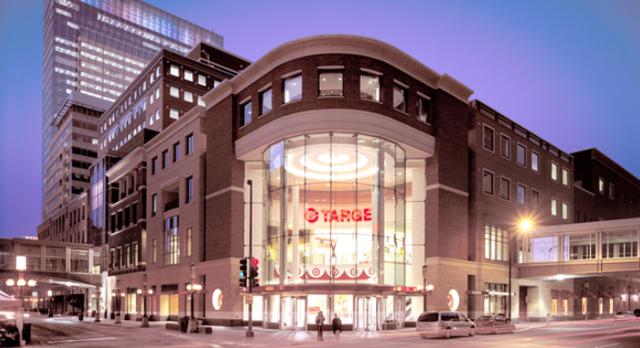 A sharp, deep selloff creates opportunity
Target (TGT) has had a rough few months. The broader market has been weak, of course, but Target is now more than 30% off of its high set back in September. That's a sharp and deep selloff for a company that is performing very well. In addition, not only is the stock much cheaper than it was in September, but the yield is back in excess of 4%. This proved to be a strong buying opportunity last time it happened, and I think the confluence of these factors makes Target a strong buy today.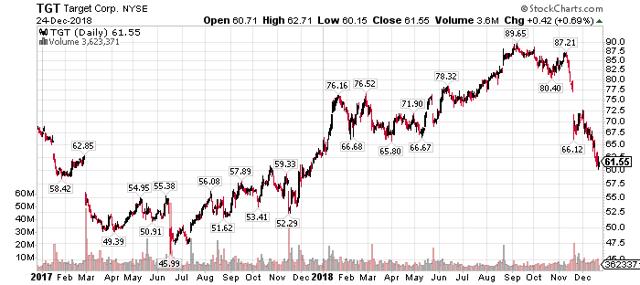 Growth continues unabated
Target's Q3 results were, frankly, outstanding. Yet, the stock was crushed at the time and continues to be crushed today, falling through its former 2018 low to levels it hasn't seen since late 2017. Total revenue was up 5.6% in Q3, thanks mostly to a strong 5.1% increase in comparable sales. That gain was thanks to a 5.3% gain in traffic, partially offset by a 0.2% loss of average ticket size. I've always maintained that comparable traffic is one of the most important indicators for any retailer, as it tells investors how popular the brand is. After all, if a retailer doesn't have traffic, it has nothing. Retailers need to generate transaction growth to boost revenue over time, and Target is doing a fantastic job of it thus far this year.
In addition to strong store performance, the company's comparable digital channel revenue soared 49% in Q3, adding 1.9% to the headline comparable sales growth number during the quarter. This has been a multi-year, very expensive initiative Target has embarked upon and the results are clearly positive. The company continues to invest in the digital shopping experience through its app, which now integrates Cartwheel, it has invested in store pickup, drive-up service, Target Restock, and its delivery partnership with Shipt, which it purchased about a year ago. These efforts have built the foundation for Target to continue to grab market share in its categories as a digital destination for shoppers in the coming years, in addition to the company's stores.
The only problem with these initiatives is that they are very expensive and require nearly constant reinvestment. Indeed, in Q3, gross margins were down 90bps to 28.7% thanks to growth in digital fulfillment expenses, which was partially offset by merchant initiatives. This is not a new problem for Target as it continues to spend on the necessary initiatives to build out its digital capabilities. I believe this is the right thing to do despite its cost because the last couple of years have shown that retailers that have strong digital presences are winning, while those that haven't adapted aren't. Target is firmly in the former category and despite the loss of margin, the company is taking the prudent course of action.
SG&A costs were essentially flat to last year as a percentage of revenue, which meant that operating margin fell a total of 40bps to 4.6% in this year's Q3. That's obviously not a desirable result but keep in mind that investments in the company's digital infrastructure won't be necessary on the current scale forever. Even with all of this, Target managed to grow adjusted EPS by 20% over last year, thanks in part to a lower tax rate.
Capital returns and a very favorable valuation
Target's buyback program continues to return capital to shareholders, although the timing of Q3 purchases really couldn't have been worse. Management spent $526 million on 6.3 million shares for an average purchase price of $84. Compared to the $61 shares trade for as of this writing, that amounts to a significant destruction of value. I love a good buyback as it juices EPS growth over time, in addition to affording the company a bit of savings on the dividend. However, Target struggled with its capital returns in Q3. The only silver lining is that management had nearly $2 billion remaining on its buyback authorization at the end of the quarter and is hopefully out now buying in force with the lower share price.
Speaking of the lower share price, management guided for full-year EPS of $5.40 at the midpoint. That level of earnings produces a PE ratio of just 11.4, which compares very favorably to its typical PE ratio in the mid-teens. This makes the stock very cheap by just about any standard today, meaning downside risk to the multiple is much lower than upside potential.
In addition to that, the yield is telling you it is time to buy. The yield today is 4.2% and the 5-year growth rate is 13%. Further, Target is only a couple of years away from becoming a Dividend King, which is a small group of stocks that have increased their dividends for at least 50 consecutive years. That sort of track record is tremendously difficult to find and when coupled with a yield as high as Target's, it is extraordinary. The last time the yield was as high as it is today, shares of Target were poised to go on a monster rally, rising from the mid-$40s to nearly $90. I don't see a near-doubling of the stock coming by any means, but as a valuation measure, the dividend is also very much in favor of the bulls.
More growth ahead
Target is also experiencing success with its in-house brands, something it has performed some trial and error with in recent years.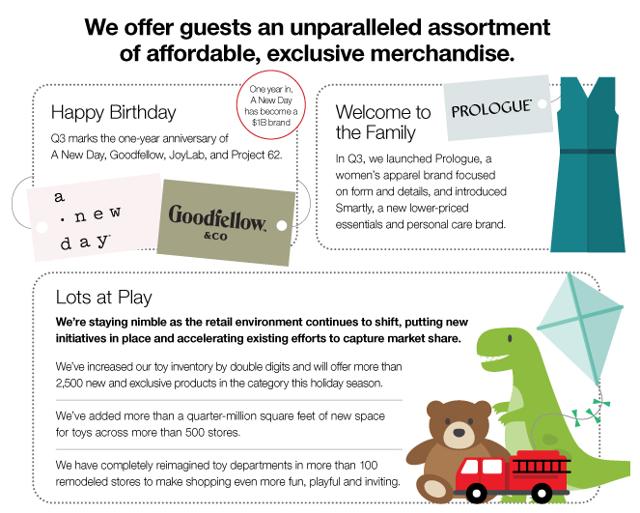 Source: Q3 supplemental materials
The brands listed above are performing very well, including A New Day, which has become a $1 billion brand in just a single year. The company is experiencing success with Good fellow, Project 62 and JoyLab as well, and has just launched Prologue (women's apparel) as well as Smartly (personal care). The company's efforts in producing its own brands not only drive traffic to the stores thanks to their exclusivity, but also more favorable margin profiles than vendor-sourced products. I love the focus on private label brands and it appears management does as well as they continue to invest in this space.
In total, Target offers investors growth potential with its hot comparable sales numbers, soaring digital revenue and growth in private label brands. In addition, the stock is cheap by just about any measure with a 4%+ yield paying you to wait. While general market malaise may take the stock down further during this selloff, those that buy Target at $62 will do very well for the long term thanks to the combination of earnings growth and a reversion to the mean of its PE ratio. Target is a strong buy today.
Disclosure: I/we have no positions in any stocks mentioned, but may initiate a long position in TGT over the next 72 hours. I wrote this article myself, and it expresses my own opinions. I am not receiving compensation for it (other than from Seeking Alpha). I have no business relationship with any company whose stock is mentioned in this article.