Over the last decade, we have experienced one of the longest running bull markets in history. But good things never last forever and stock prices are finally coming back to Earth. The market's free fall in December is on track to be the worst since the Great Depression, with major indexes down over 12% since the start of the month. These historic levels of decline show no sign of stopping either. In addition to existing worries regarding the United States-China trade war, investors now have a new concern back home with the US government shut down over border disputes. However, these declines have also created opportunities for value investors to swoop up incredible bargains that will position their portfolio for long-term success.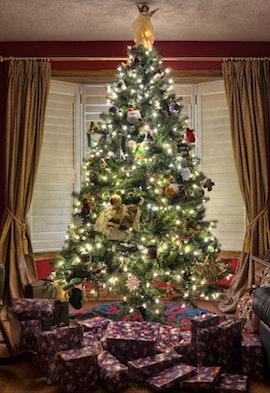 1. Biotech Giants Deeply Undervalued
Even before this decline, biotech has been one of my favorite sectors and one of the few that I believed were cheap in the previous bull market. But now, these historic declines have made them even more attractive and a must-buy for long-term investors. While bargains can be found everywhere, there are some companies that clearly stand out from the rest. One of these is Celgene (CELG). I last wrote about this company in February and provided five compelling reasons why investors should invest in the company. 10 months later, the stock has suffered considerably and is down nearly 30%. However, this is not the result of poor financial performance or clinical setbacks. In fact, the company has done the exact opposite. Throughout the year, it has consistently smashed analyst estimates and delivered strong top and bottom line growth. In the most recent third quarter, it reported revenue of $3.89 billion, up 18% YOY, and income of $1.64 billion, up 8% from a year ago. And due to stock buybacks, EPS growth was incredible, up 20% to $2.29 per share. These gains were driven by strong organic growth and market expansions in its approved drugs. Its most lucrative product, multiple-myeloma drug Revlimid, once again performed well and grew sales 18% due to increased market share. Its newer immunology drug Otezla grew even faster, with sales up 40% YOY. These were driven by expanded market access and higher inventory levels of the drug that allowed it to become available to more patients around the world. This lead to solid performance in international markets, particularly in France and Japan.
While its financial results are clearly fantastic, the fundamental reason the stock has suffered so much is because of its heavy reliance on mega-blockbuster drug Revlimid. Even after years of research and development, it still accounts for over 60% of the company's revenue and investors are concerned how this revenue stream will be filled once the drug eventually goes generic. This is where Celgene's numerous late-stage pipeline products come into play. It has a trio of drug candidates that it plans to submit to the FDA for approval in early 2019, all of which have the potential to immediately become blockbuster drugs. The first of these is Ozanimod. Earlier this year and before my article regarding Celgene was published, it received a rare Refusal-to-File (RTF) letter from the FDA because their NDA contained insufficient clinical and non-clinical pharmacology data. The stock dropped 9% the very next day. Since that disappointment, the company has been working feverishly to fix those issues and has since included drug-to-drug studies in its NDA to complement additional pharmacology data it provided. Management has also worked with global health authorities to ensure such a problem does not occur again. Ozanimod is an incredibly important asset, with peak sales once pegged at $4-6 billion, and approval is one of the key ways Celgene hopes to diversify away from Revlimid. The second of the trio of drugs that is anticipated approval in 2019 in fedratinib. Since being purchased in January through the acquisition of Impact Biomedicines, it has done nothing but impress. Clinical data has met all primary targets and it has had successful meetings with both US and European authorities in preparation for a regulatory submission. If approved, it will compete with Jakafi in myelofibrosis, a drug that currently delivers over $1.3 billion in sales for Incyte (INCY) and Novartis (NVS). Finally, the last of the trio is MDS drug luspatercept. Developed in collaboration with Acceleron Pharma (XLRN), it delivered promising Phase 3 clinical data in June that saw it achieve all key primary and secondary endpoints. Regulatory submissions are expected in the first half of 2019.
These three drugs are important short-term catalysts for Celgene and right now, approval looks likely. Yet, even with these breakthroughs right around the horizon, the company is still absolutely dirt-cheap. Using 2018 earnings estimates, which it recently revised upwards, its current PE ratio is less than 7! Forward PE is even lower, under 5 times 2020 projected earnings. These low multiples are unprecedented, especially considering the company routinely delivers double digit growth and has a bright future ahead.
Another of my favorite biotech companies is AbbVie (ABBV), and its story is remarkably similar to that of Celgene. It too is heavily reliant on one drug; in AbbVie's case, it is global bestseller Humira, which also represents over 60% of total sales. And likewise, its business is also growing strongly. In the third quarter, revenues were up 18.5% with EPS up over 50%. This remarkable growth was driven by gains in not only Humira but also cancer drug Imbruvica, which increased global sales by over 40%. These gains, however, have not been reflected in the stock price, which is down 13% over the past year. Investors still question AbbVie's ability to replace revenue from Humira (generic in 2023), which is expected to reach $21 billion in annual sales by 2020.
AbbVie knows it has to diversify as well, which is why it has been building a robust pipeline that is considered one of the best in all of biotech. Its two shining stars, Risankizumab and Upadacitinib have been cruising through clinical trials and are expected to one day each contribute $5-6 billion in peak sales. Beyond these two, it has many other lucrative product candidates, which I explained in depth in a previous article. In total, CEO Richard Gonzalez expects AbbVie will bring 20 new products or indications to market by 2020, which will help generate as much as $35 billion in combined revenue. This more than offsets the loss from Humira and allows for continued growth in the future.
Even with its strong emphasis on R&D, AbbVie has been determined to aggressively return capital to shareholders. It recently raised its dividend 11.5% to $4.28 per share annually, the second it has done so in 2018 after raising it by 35% in February. At its current stock price, this means ABBV is yielding a historically high 5%. AbbVie also has a long track record of dividend growth. Since it spun off of Abbott Laboratories (ABT) in 2013, it has raised its dividend by a remarkable 168% while ABT has raised it by a much lower 129%. Combined with its years with ABT, it has raised its dividend for 45 consecutive years: nearly reaching the status of a Dividend King (50 straight years). It has also returned capital to shareholders through share repurchases, and recently announced a $5 billion increase to its existing repurchase plan that seeks to take advantage of its low stock price.
2. Facebook Has Fallen Too Much
As an investor seeking value opportunities in the market, I don't often invest in tech companies as valuations are often exorbitant and unjustified. But Facebook (FB) has become a rare exception. The stock has been cut nearly in half since its mid-2018 peak and provides an excellent opportunity for investors to gain exposure to the tech sector at a very reasonable price. This decline was caused by numerous widely publicized data sharing scandals that have plagued the company and garnered the attention of Congress and the general public. Its fake Russian accounts and Cambridge Analytica scandal brought needed attention to how fake news and Facebook data could influence public opinion and potentially sway elections. As a brief summary, upwards of 120 Russia-backed accounts were found to have made 80,000 posts that reached as much as 126 million Americans during the 2016 election cycle in an effort to interfere with the election. Cambridge Analytica, a political consulting firm, was found to have collected personal info of up to 87 million people and used it to create "profiles" for targeted political advertising.
But these alone did not lead to Facebook's 2018 downfall. The more impactful reason was its slowing growth. Its second quarter results severely disappointed investors and while it narrowly beat EPS estimates, revenue sorely disappointed. There were also some ominous harbingers for the company's future. CFO David Wehner warned investors of slowing revenue growth in the future and projected that expense growth would outpace revenue growth in 2019. Due to recent scandals, Facebook would also have to devote more resources and hire additional personnel to combat growing data concerns, depressing operating margins. He cautioned that current margins of 44% (42% in Q3) were unsustainable and would settle in the future around the mid-30s. These announcements were disastrous and caused $100 billion in market cap to be wiped out overnight.
Even with this, there are still positives to Facebook stock. In the third quarter, Facebook saw revenue increase to $13.54 billion that while only up 4% sequentially, is still up 33% YOY. This came as Monthly Active Users (MAU) only grew 10% YOY, meaning Facebook was able to better monetize its existing customer base. However, that will not continue forever and Facebook must find new ways to expand in the future. And there is an in-house way for it to do so: through Instagram. Instagram is a photo-sharing mobile app extremely popular among the younger generation. As our population ages, this will be the future growth driver of the company. In fact, Keybanc analyst Andy Hargreaves forecasts that Instagram will contribute 58% of FB's total ad revenue by 2020 and have over 1.4 billion MAUs.
Another revenue source is through the monetization of WhatsApp. Purchased in 2014 for a record $19 billion, WhatsApp is a leading messaging app with 1.5 billion MAUs worldwide. But only now has the monetization of this service begun. One of the ways is by charging businesses to deliver messages to customers at a price ranging from 0.5 cents up to 9 cents per message. It has also begun to sell ads on the WhatsApp status feature, something similar to Instagram and Facebook stories. These actions are expected to quickly make WhatsApp profitable. While the amount of revenue it will generate is unclear - some have estimated $5 billion by 2020 - it will definitely be a needed new source of revenue for a company dying for growth.
As another positive, the company is without question financially stable. It delivers strong operating cash flows of $7.5 billion per quarter and free cash flow of $4.15 billion. This has allowed it to consistently add to its massive cash pile, now over $41 billion high. Having all this cash allows Facebook to control its own destiny, and it can use it for suitable acquisitions such as in cybersecurity (i.e. PANW, FTNT, CHKP, etc.) or to jump start immediate growth (i.e. SNAP, which while unlikely is still a possibility). Recent stock declines have also made the stock rather cheap and the low valuation itself de-risks much of the company. Its stock trades at just 18 times earnings, the lowest valuation in the history of the company and half of Alphabet's (GOOG)(GOOGL) PE ratio, which is the other dominant ad seller in the world.
3. High Yield Stocks Remain a Good Alternative
Not all high yield stocks are worthy of investment, but some can deliver both strong returns and a healthy payout each quarter to investors. One of these companies is the battered AT&T (T). AT&T has not had a great 2018. Its legacy wireline service continued to deteriorate and its rate of subscriber loss at DirecTV quickened as the cable cutting trend continued to gain momentum. In the third quarter, it had a net loss of 359,000 DirecTV subscribers, a reversal from the second quarter when it achieved a net gain of 80,000 subscribers. Throughout the year, management touted its gains to DirecTV NOW as helping to offset traditional video losses, but this service gained just 49,000 subscribers (compared to +342,000 in Q2) as a price increase discouraged new sign-ups.
There are bright spots for AT&T though. Its $85 billion acquisition of Time Warner is a game-changer for the industry and gives the company access to high quality original content through Warner Bros, Turner, and HBO. In the third quarter, higher subscription revenue and TV licensing fees at Warner Bros helped drive overall revenue growth of 15%. It also contributed to free cash flow growth of 16.6% to $6.5 billion, which will be used to pay off debt from the Time Warner acquisition. 5G is also a potential catalyst for the company. This will be the first major change to the wireless landscape in a long time and will provide a prime opportunity for AT&T to steal customers away from its rivals. It is a leader in this space and will be the first to launch a 5G mobile service in the US, when its new network goes live on Friday, December 28th in a dozen cities nationwide. If it later bundles its 5G service together with content from Time Warner, that will be a very enticing effort for consumers to switch to AT&T.
However, it will take time for these fruits to materialize and translate into financial growth. Meanwhile, investors will be paid a hefty dividend to wait. AT&T is known for its sustained dividend growth, and is a dividend aristocrat with 35 years of consistent dividend growth. As the stock trades below $28, its dividend sits at over 7%. This is at the top of its historical yield range and each time it has reached such a point, the stock has always rallied. Past performance is not a guarantee for the future, but can be a guide for what is to come. AT&T is also incredibly cheap, with a PE around 5, historically low as well.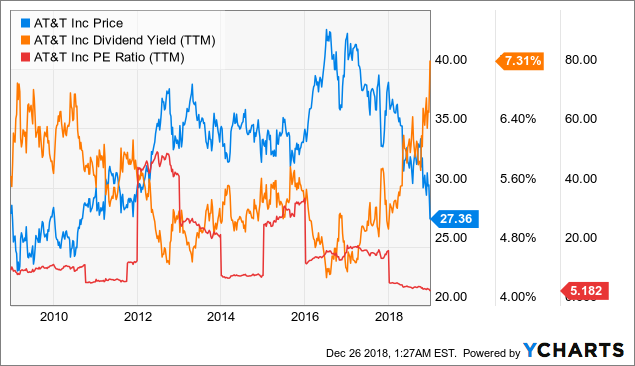 Another high yield stock for investors to consider is International Paper (IP). IP makes packaging and pulp and paper products for almost all industries and is the largest paper mill in the world. The nature of its business makes it extremely cyclical as demand for its products is inherently tied to state of the global economy. With the recent sell-off, fears of a global downturn have sent the stock to a 52-week low. But its underlying business has actually been performing well. Third quarter sales were up 7% to $5.9 billion and profits of $738 million are up 6% YOY. If investors do not believe a global economic slowdown is around the corner and that markets will soon rebound, International Paper is a solid investment choice. To ease your decision, it also has a healthy dividend that management has been increasing feverishly since its last cut in 2009. It recently increased its dividend to $2 per share each year and at current prices, that translates to a 5.3% dividend. While IP doesn't have as long of a dividend track record as others in this article, this yield is very sustainable and only represents 40-50% of its free cash flow. In addition, a new $2 billion stock buyback was approved by its board along with the dividend increase and will be on top of $430 million remaining from the last buyback authorization.
Conclusion
There is a lot of uncertainty in the markets right now. These fears have resulted in a large sell-off that have created opportunities for value investors. The most obvious bargains are in biotech, with Celgene and AbbVie being standouts that each have robust pipelines completely discounted by the markets. Facebook has glaring problems but has lots of opportunity as well and its low valuation almost completely de-risks any investment in the company. Finally, high-yield stocks give investors opportunity to make profits while having a source of income from their investment. Happy Holidays and enjoy these holiday presents from the market, they won't last.
Disclosure: I am/we are long CELG. I wrote this article myself, and it expresses my own opinions. I am not receiving compensation for it (other than from Seeking Alpha). I have no business relationship with any company whose stock is mentioned in this article.
Additional disclosure: I am/we are long GILD, T.