As the massive sell-off in stocks continues, investors are seeking the protection of the market's classic safe haven assets. On a year-to-date basis, the S&P 500 is trading lower by -12.06% and the Dow Jones Industrial Average has lost -11.84%. Equities have officially fallen into bear market territory and this has significantly darkened the outlook for 2019. Earlier this year, the SPDR Gold Trust ETF (NYSEARCA:GLD) had been written-off by a large majority within the analyst community. As bullish stock investors clearly held the advantage, valuations in GLD dropped to multi-year lows and many investors were beginning to question its strength and validity as a true safe haven instrument. But now that the tide has turned in equities, those assessments have been proven to be incorrect. GLD is now trading near its highest levels in six months, and these bullish trends look set to move higher as long as widespread uncertainty continues to grip the financial markets.
For most of the year, valuation levels in the SPDR Gold Trust ETF were almost exclusively focused on the downside. This bearish activity occurred even as the market experienced many of the "flash crash" events which were present during the early parts of this year. Selling pressure in GLD continued until mid-August, when the ETF hit its annual lows at 111.10. Since then, however, the SPDR Gold Trust ETF has reversed strongly and generated outperforming gains of 8.03%. Deteriorating growth figures in emerging markets and new possibilities of a prolonged government shutdown in the United States have added to the weaknesses in equities which were already present. The resulting uncertainty has driven investors back toward the SPDR Gold Trust ETF as a classic safe haven beneficiary.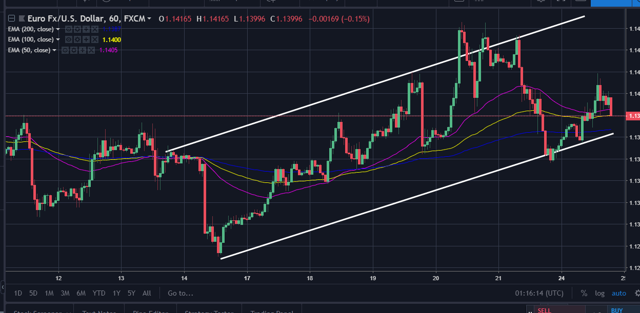 (Source: Author)
Moreover, that safe haven status seem to be ready to outperform other protective instruments (for example, the U.S. dollar). When viewed in terms of the EUR/USD currency pair, the greenback has started showing losses and this gives us evidence that the prior bullish trend in the currency may be ready for reversal. Precious metals assets are largely priced in U.S. dollars, and a declining value in the currency can make gold assets cheaper for global investors. In these December trends continue, it should provide some supportive lift for GLD heading into 2019.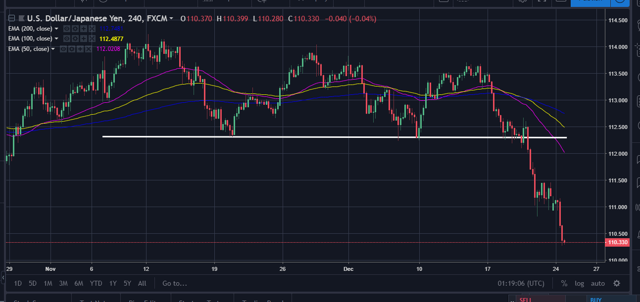 (Source: Author)
Trend reversals in the U.S. dollar index have also become apparent relative to the Japanese yen, which has gained 3.68% since the USD/JPY hit its highs in early October. The Federal Reserve has altered its monetary policy stances in recent meetings, and it looks to be relatively certain that the U.S. currency will not benefit from three or four rate hikes in 2019 (as previously thought). The Trump tax cuts are already priced into market valuations in equities, and the deteriorating growth environment could weigh on the U.S. dollar in the quarters ahead.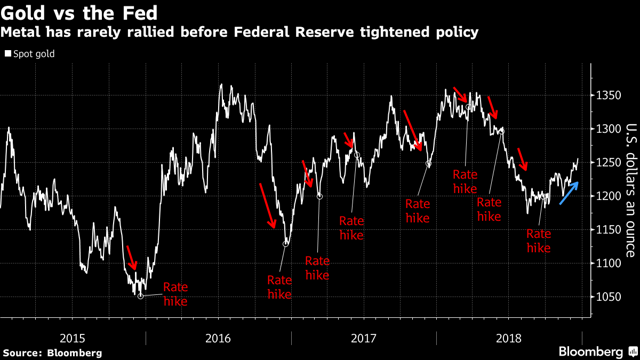 (Source: Bloomberg)
The market seems to agree with this stance, as investors have actually broken from the historical trends found in behavioral economics. In most cases, the underlying price of gold does not rally before the Federal Reserve raises interest rates. This is because gold is a non-yielding asset, and this characterization is also valid for those holding long positions in the SPDR Gold Trust ETF. Interestingly, precious metals have actually moved higher into the most recent Fed rate hike. This indicates growing divergences in investor expectations with respect to the ways precious metals instruments will travel in the quarters ahead.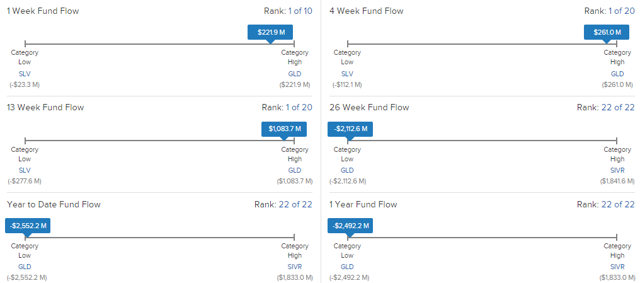 (ETFdb.com)
Long-term, the fund flows which have been directed toward GLD offer a primary indicator of the market's demand for safe haven assets. As stocks rallied over the last year, the SPDR Gold Trust ETF was negatively impacted by outflows of $2,492.2 million. This negative trend held up in a consistent manner, with outflows of $2,112.6 million over the last 26 weeks.
Those trends appear to have reversed, however, during more recent trading periods. Over the last 13 weeks, GLD has benefitted from inflows of $1,083.7 million. This actually puts the fund near the highs for the category, and this bullish reversal has continued over the last week and the last month of trading. Ultimately, this suggests that the SPDR Gold Trust ETF rests on strong footing within the market as we begin 2019.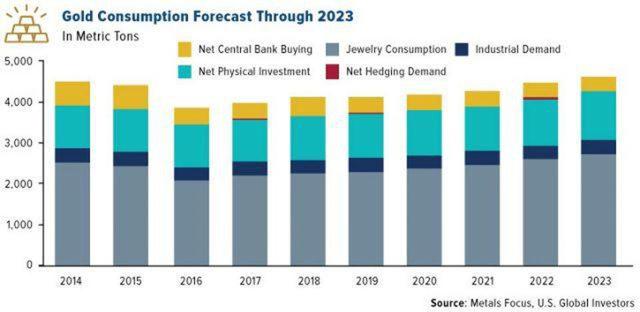 (Source: U.S. Global Investors/Metals Focus)
Even longer-term, those same trends appear to have the fodder needed to build on recent rallies. Gold consumption forecasts through 2023 suggests that growing demand levels will continue. Large portions of this growth in demand are expected to come from jewelry production and industrial uses. But what is most striking about these trend expectations in the rise in net physical investment which is anticipated to occur over the next half-decade. If these forecasts come true, it would mark a significant trend shift in the ways investors view GLD and other precious metals instruments within the broader market.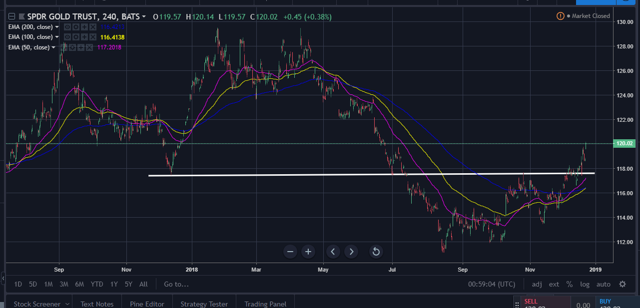 (Source: Author)
Of course, many GLD bears will likely argue that recent moves have done little to change the broader price trends in the SPDR Gold Trust ETF. In many ways, this is a fair criticism because GLD has retraced less than 50% of the peak-to-trough losses which have been generated this year. But precious metals investors are increasingly viewing GLD as a preferred diversifier which protects against volatility in equities and systemic risks in the global economy.
As the massive sell-off in stocks continues, investors are seeking the protection of the market's classic safe haven assets and GLD may continue to be a primary beneficiary of these trends. In most cases, the month of December is the "most wonderful time of year" for stocks. Unfortunately for many, the Santa Claus rally seems to be rewarding precious metals investors rather than those with exposure to the S&P 500, NASDAQ, and Dow Jones Industrials. The SPDR Gold Trust ETF is now trading at its highest levels in six months and many investors are asking one key question: Will these trends continue in 2019? A short-term answer to this question might still be premature. But what is clear is that GLD has placed itself on a firm footing to outperform in 2019.
Thank you for reading.
Now, it's time to make your voice heard. Reader interaction is the most important part of the investment learning process! Comments are highly encouraged. We look forward to reading your viewpoints on GLD.