Lately, it's been difficult to not just stare at the losses. The total value of my investment club's portfolio looks as if 2018 didn't even happen. And, as the market thrashed in this last quarter of 2018, it's quite logical to want to be assured we understand why the majority of our investments gave up their gains for the year.
And yet, perhaps it would actually offer more value to understand why a few companies' share prices held their ground. It's not surprising to see defensive names in our portfolio such as Realty Income (O), Duke Energy (DUK), Xcel Energy (XEL), and Otter Tail (OTTR) closing out the year nearer their 52-week high. But, even these defenders aren't our best performers this year.
Our three best performers, actually, have little in common. But, there is one key factor they do share.
Background
When 2016 began, there was a hint of market turbulence. My investment club determined it was time to adapt our investing strategy and prioritize income-building. We switched from a GARP (growth at a reasonable price) focus to a DGI (dividend growth investing) focus. Our current strategy is based on a self-defined GRAVY criteria for dividend growth investing - "GR" owth "A"bility, "V"aluation, and "Y"ield. We strive to invest in healthy, fairly-valued dividend payers with clear potential for dividend growth.
Despite struggling with the transition in the first year, we're actually quite satisfied with our efforts over this last three years. Our income has more than doubled. Plus, we're on track to double it again by year-end 2022 through reinvesting, dividend growth, and disciplined investing.
But, due to this last quarter of 2018, the DGI investments we've made over the past three years delivered a mixed bag of results relative to share price. And, not a single one is a top performer for 2018. Our three top performers were GARP investments we made well before 2016.
The Three
My investment club's top three performers in 2018 are Axon Enterprise (AAXN), Insperity (NSP), and Antares Pharma (ATRS). Not one of the three is anywhere near its 2018 high. Still, each has delivered share price appreciation over 30% in 2018.
| | | | | |
| --- | --- | --- | --- | --- |
| | Dec 29, 2017 Close | 2018 High | Dec 24, 2018 Close | 51-Week Gain |
| Axon (AAXN) | $26.50 | $76.45 | $39.74 | 49.96% |
| Insperity (NSP) | $57.35 | $121.15 | $87.47 | 52.52% |
| Antares (ATRS) | $1.99 | $3.93 | $2.63 | 32.16% |
Axon Enterprise is a disruptor in the law enforcement and public safety arenas. In its beginning, as Taser International, its primary product line included tasers or conducted electrical weapons [CEW] and reloadable cartridges. Body cameras and in-car cameras were the next hardware offerings and prompted the company's name change. The need to access, transfer, track, organize, retrieve, share, and manage digital evidence captured by those cameras drove Axon's development of a cloud-based application, Evidence.com. Sales of software and services followed with an emphasis on generating recurring revenue. Applying artificial intelligence and analytics to the vast store of digital evidence is now underway.
Since its formation in 1986, Insperity has operated as a PEO (professional employer organization) for small- to medium-sized businesses. In a PEO model, a resource, the human, is "co-employed" by an administrative employer, such as Insperity, and a worksite employer, the small- to mid-sized employer. This allows the worksite employer to focus on its core business, the employee to be better served from an HR perspective and the administrative employer to bundle services for multiple businesses at competitive prices for both employee and employer. In early 2017, Insperity began developing traditional HR services to capture those companies not interested in or not ready for a PEO or co-employment model. Workforce Acceleration, the traditional service, is being rolled out in the last quarter of 2018. It is defined as a "self-service, human capital management software bundle, plus professional HR support as needed". Options include payroll and tax administration, time and attendance processing, HR administration, onboarding, performance management, employee-related compliance support, and brokered benefits management.
Antares Pharma is a specialty pharmaceutical company with a focus on delivering treatments to patients in ways that reduce side effects. Its pressure-assisted injectors, needle-free injectors, and multi-use injectors are easy to use while assuring accurate dosing. Injections increase the bioavailability and efficacy of the treatments while bypassing gastrointestinal limitations of oral treatments and eliminating the potential of transference from topical treatments.
At first glance, these three companies have very little in common. Yet, if there is any sameness amongst the three companies, it would assist my club in navigating some potentially choppy waters when we start investing in 2019.
A Shared Thread
Finding similarities between a law enforcement and public safety service provider, a human resource service provider and a specialty pharmaceutical is not straightforward. Axon Enterprise and Antares Pharma are definitely disruptors in their respective industries. But, Insperity's latest focus is on traditional services in its industry.
Though not readily evident, there is a common thread. Whether it be through disruption or not, all three companies are experiencing significant expansion in their respective total addressable markets (TAM). It is pertinent this is not capturing more market share. But, rather, the applicable markets are growing and expanding.
Axon Enterprise's services are being employed far beyond a municipality's law enforcement agency.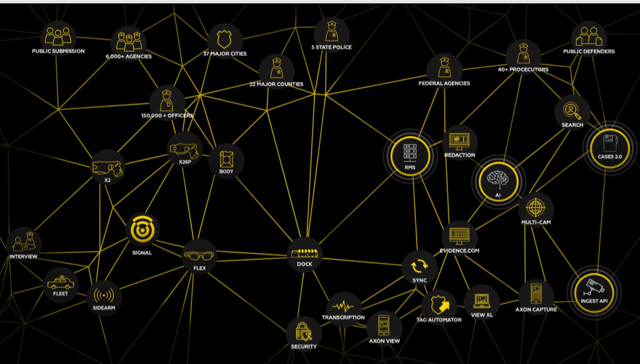 And, as Axon's services grow, so does its TAM.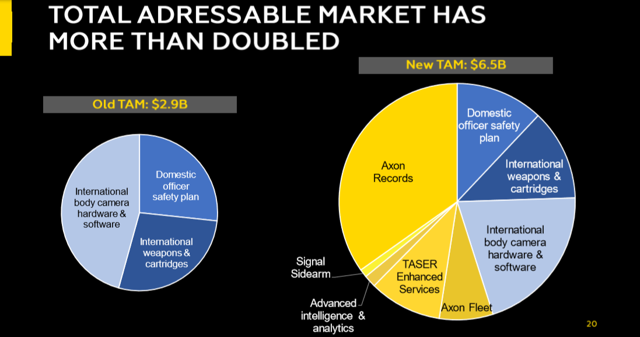 As well, as its products and services are adopted by public safety agencies beyond traditional law enforcement, its ultimate goal of making the world a safer place becomes more realistic.
By expanding beyond PEO services and offering traditional human resource solutions, Insperity's total addressable market grows exponentially at minimal extra costs.
And so what we see is that from the same effort, the investment we make in our more than 550 Business Performance Advisors out in the marketplace, that we're able to take their same time and effort that they spend, and instead of just getting the co-employment sale, also getting a couple of Workforce Acceleration traditional employment bundle sales."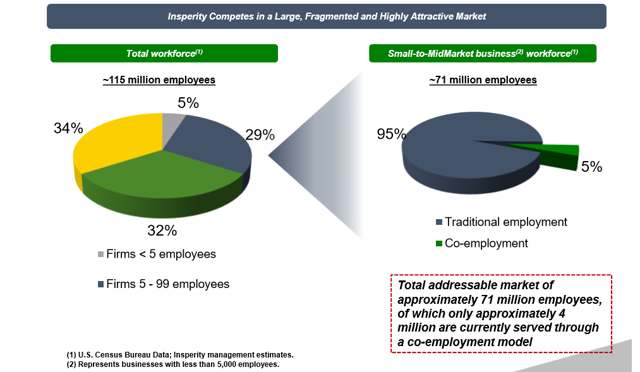 Furthermore, Insperity still has plenty of room to expand its geographic footprint.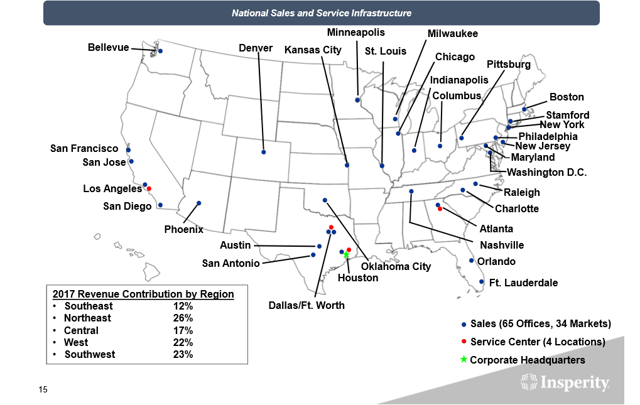 From an achievement's perspective, Antares Pharma had its best year in 2018. Its Makena auto-injector for preventing pre-term birth was approved by the FDA in February and launched by AMAG Pharmaceuticals (AMAG) in March. News of the long-awaited approval for a generic EpiPen finally arrived in August and Teva Pharmaceutical (TEVA) did a limited launch in the U.S. in late November. Antares' XYOSTED for testosterone replacement was approved October 1st.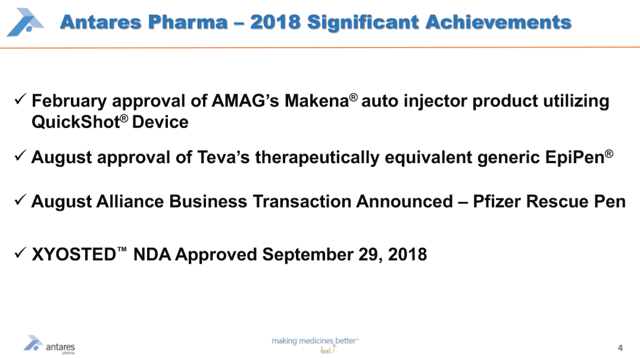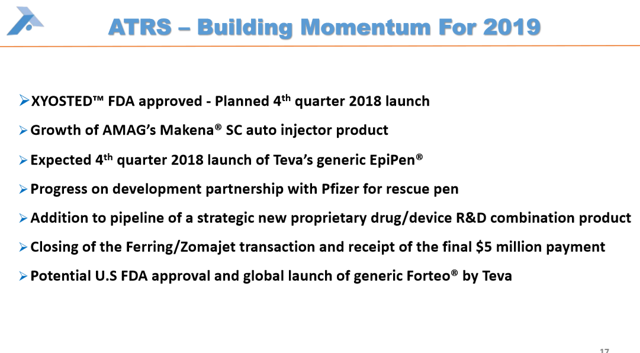 Off Their Highs
Despite their growth potential, these three companies' share prices are well off their 2018 high.
| | | | | |
| --- | --- | --- | --- | --- |
| | Dec 29, 2017 Close | 2018 High | Dec 24, 2018 Close | Off High |
| Axon | $26.50 | $76.45 | $39.74 | -48.02% |
| Insperity | $57.35 | $121.15 | $87.47 | -27.80% |
| Antares | $1.99 | $3.93 | $2.63 | -33.08% |
A few felt Axon's share price and Insperity's share price ran too far too quickly in 2018 as both more than doubled. Antares' investors would more than likely defend its share price appreciation and may even lament it should have risen higher.
Next
Regardless of their 2018 highs, all three companies will most likely end the year in the green. But, more importantly, all three most likely deserve a decent bounce in share price once the market's current turmoil eases.
In early 2018, Axon's CEO gave up his salary and accepted a ten-year compensation plan based on stock option awards for specific milestones. On December 19th, the company introduced an employee compensation plan aligned to the same milestones as those in the CEO's plan. With its entire workforce rewarded for growth, it probably wouldn't be prudent to bet against Axon.
With three pertinent FDA approvals in 2018, Antares' potential revenue growth all but speaks for itself. There's a great SA summary offered here detailing the numbers. But, there are also those who suspect the company's ability to successfully migrate from a development pharma to a commercial pharma as it launches XYOSTED.
Insperity's potential lies with both the introduction of its Workforce Acceleration service as well as with its traditional PEO services and geographic expansion. Double-digit growth in 2019 is still a probability.
Beginning 2019
As we contemplate an approach to take in 2019, my investment club will likely debate whether to reinvest in success or whether to average down or whether to select new opportunities. We'll have to choose because it's not as if we have unlimited funds to do everything we'd like to do.
There are plenty of companies in our portfolio worthy of averaging down. And, I don't doubt there are plenty of companies in which we'd like to start building a position.
Our original investments in both Axon and Insperity have already doubled. We've recouped the dollars and theoretically moved these two to the "retired" segment of our portfolio. But, that's only semantics. Bringing an investment out of retirement is as simple as adjusting some formulas on a spreadsheet. Thus, reinvesting in all or any of the three would be viable options for my investment club.
Regardless of reinvesting, averaging down or investing anew, I'm going to champion the notion of embracing the similarity identified in our three investments with the best share price appreciation for 2018 - total addressable market expansion. After all, during this turmoil, it does seem to be a factor the market has punished less.
Disclosure: I am/we are long AAXN, ATRS, NSP, TEVA, O, DUK, OTTR, XEL. I wrote this article myself, and it expresses my own opinions. I am not receiving compensation for it (other than from Seeking Alpha). I have no business relationship with any company whose stock is mentioned in this article.
Additional disclosure: I belong to an investment club that owns shares in AAXN, ATRS, DUK, NSP, O, OTTR, TEVA, XEL.