2018 is quickly coming to a close. For those of us involved in the Chinese market, this can not come fast enough! That being said, the rough year has provided some attractive buying opportunities and below are just a few that I am interested in.
iQiyi (IQ)
iQiyi had a strong run after its IPO earlier this year. After hitting markets at $18, the stock reached more than $40 less than four months later. However, the stock has been on the decline ever since and now sits at $15 per ADR.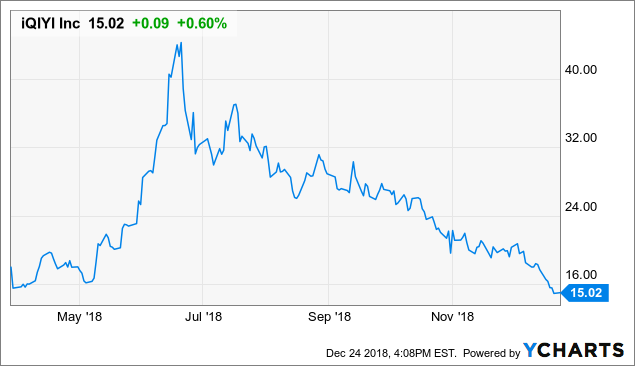 Just because the stock has declined does not on its own mean that the stock is now cheap. However, looking closer we see that the stock is actually at its cheapest level based on valuation ratios. The current P/E sits around 13x but P/S (which I focus on more for growth) is less than 5x.

Source: Morningstar
The company is expected to continue to expand and grow in the foreseeable future. Revenue is projected to nearly reach $6 billion year-end of 2020 but profitability will still be out of reach. iQiyi is the market share leader with 37% and is investing heavily into original content, this is a proven model thanks to Netflix (NFLX).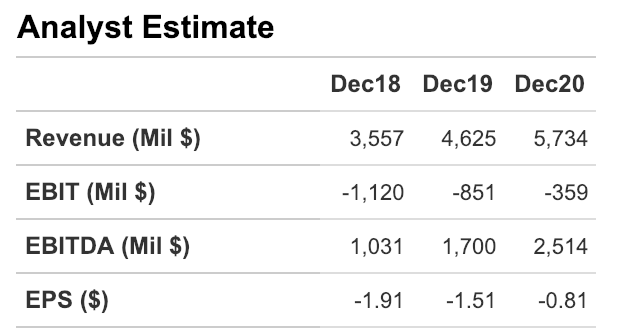 Source: GuruFocus
Alibaba (BABA)
BABA stock has had a rough second half of 2018 but the business itself has remained strong. The stock has continued to be punished as the US-China trade war has escalated. There is also concerns over the slowing of the Chinese economy but Alibaba is diversified, both in segments and countries.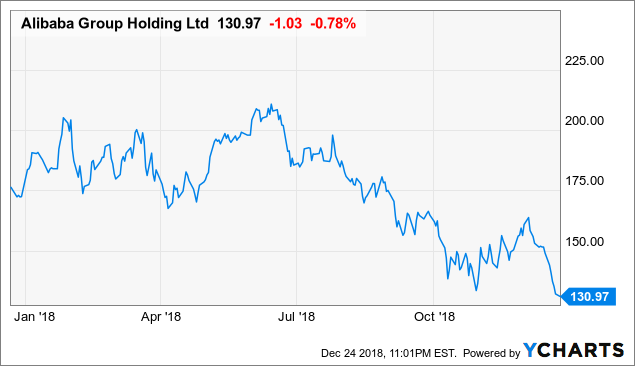 Most recently Single's Day broke records again, continuing the events multi-year streak. This year total GMV surpassed 2017 GMV with just over 8 hours remaining. Revenues for the event were just below $31 billion, up 24% from 2017 (the lowest growth in the events history).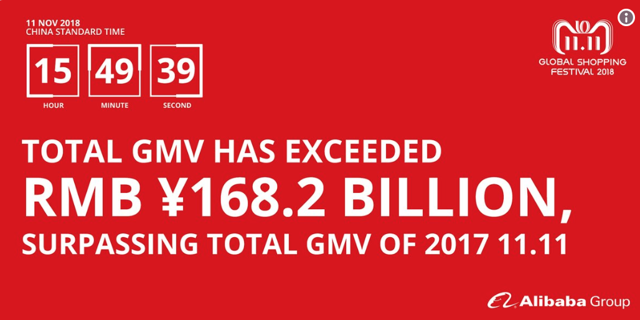 Source: Twitter
The stock has been punished as of late thanks to concerns over the economic slowdown occurring within China. This is warranted in the short-term as the company posted its lowest growth for Single's Day and cut revenue forecasts for the next year. That being said, the company is pushing strong into the cloud business which is young and growing within the country. Along with this is the growth of the middle-class which will continue to boost sales in the long-term as more Chinese citizens enter this socioeconomic class. There is also an aggressive plan to adopt emerging technologies such as voice and AI, coupled with the emergence of physical locations.
Margins have been compressed lately but that is mostly thanks to increased investment activity. There is also pressure from the diversification of the business into higher-cost segments such as the cloud business which requires heavy infrastructure costs compared to Alibaba's conventional asset-light model. That being said, FCF continues to grow and cash/debt still sits at about 1.3x.
China Southern Airlines (ZNH)
Airlines are an attractive bet for China's future. Travel is growing thanks to the increase in the middle-class along with improving infrastructure. ZNH is down more than 50% since March and this dip has been seen before. Over the past three- to four years, the stock has appeared to remain above the $25 level and financials have grown since.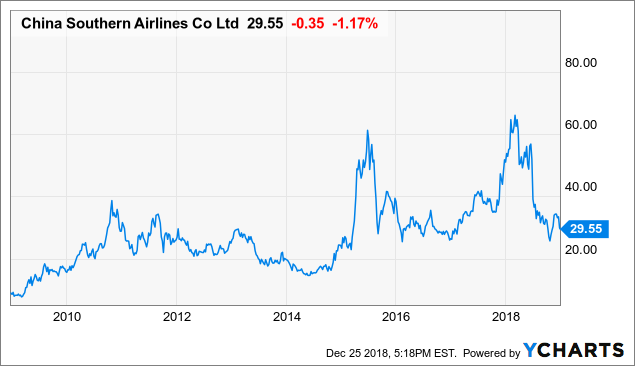 The company has been investing heavily into its fleet with the purchase of new planes bringing the average age of the fleet to 6.9 years, one of the youngest in the industry. What attracts me is the improvement in financials. Even though their has been hefty investment into new planes, debt ratios are at some of their best levels. ROIC is more than 2x WACC indicating strong performance and use of capital. Couple this with a P/S of 0.3x, a PEG of 0.6, and a P/FE of 8x and ZNH is worth a look.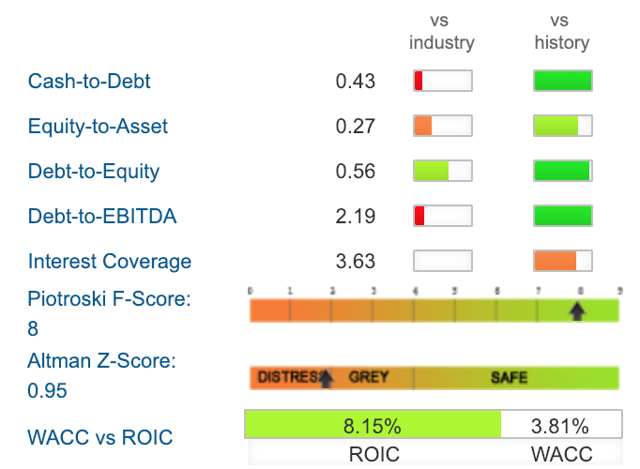 Source: GuruFocus
Conclusion
These are just a few of the stocks that are on my potential list. Given the recent turmoil we have seen in Chinese equities and the current geopolitical/economics status of the country, it is not a surprise that some may be significantly undervalued based on long-term potential. Even though there is economic slowing, there are still segments within the economy that are growing thanks to overall growth in income and the middle-class.
Once we see trade war tensions ease there should be a rally in prices. Given that China is slowly overtaking global operations (fueled by their expansion into Africa) there is more potential than most would care to admit. As always, the overhanging concern is the will of the government. For example, earlier in the year we saw video games stall as the government withheld titles publication, only to resume within the last week. Overall, there is enough potential to warrant the risk, but there is risk.
If you are interested in China and want to learn more about the economy and the opportunities within, give Corporate China a shot. Subscribers gain access to:
Reviews of economic reports
In-depth company analysis
Price targets and the models used
Daily news headlines and how they affect the market
This is an exciting time to be monitoring the Chinese economy. Geopolitical events such as the on-going trade war and a slowing economy are creating a tough environment full of emotion. I sort through the emotion to find the opportunity. If you are interested, start today with a free trial!
Disclosure: I am/we are long IQ, BABA, ZNH. I wrote this article myself, and it expresses my own opinions. I am not receiving compensation for it (other than from Seeking Alpha). I have no business relationship with any company whose stock is mentioned in this article.