To call 2018 a bad year for shareholders of General Electric (NYSE:GE) would be a grave understatement. Throughout the year, the company has undergone expanded investigations by the government, shuffled top management, sold off various assets, and, on multiple occasions, revise down performance expectations before ultimately eliminating them for the foreseeable future. By practically all accounts, the industrial conglomerate has been hit harder, and in almost every way possible, more than it has ever been hit before in its more than 100-year history. Now, as 2019 approaches, the big question facing shareholders is "what's next?" While it's possible 2019 will bring with it even more pain than 2018 has, the more likely scenario is that the firm will use the New Year to restructure its operations (out of bankruptcy) and will, if all appropriate steps are taken, prepare for a turnaround that could bring to shareholders significant value.
Expect the breakup to occur
One thing that very few people will disagree with, I think, is that a breakup of General Electric must occur. The business has become so large that it is, from a management and capital allocation perspective, inefficient. When you have so many divisions, figuring out where and how to deploy limited capital can be hard, while as separate entities, the fact of the matter is that individual management teams can focus on their core operations. By breaking up, the firm will also, for the most part, rid itself of GE Capital, which is likely where any currently undisclosed problems probably reside.
As management indicated while John Flannery was still General Electric's top dog, I fully expect the company to divest of itself its GE Healthcare segment in some way, shape, or form. Management has indicated that this will take place through an IPO, but it's expected that shareholders might still retain some of the business, though all of this could change over time. We already know thanks to an announcement earlier this year that the firm is likely to continue winding down its ownership in Baker Hughes, a GE Company (BHGE), by selling off its stake in the firm, but a big question here might relate to timing. Since the end of September, shares of the oilfield services firm have plummeted 34.6%, so while the company has struck a deal for a sale of some of its stock, I suspect that additional sales will only happen following a recovery in unit price.
Following the spinoff of its Transportation segment into a commanding interest in Westinghouse Air Brake Technologies Corporation (WAB), also known as Wabtec, next year, I believe management will likely begin monetizing its interests there as well. Personally, I see monetizing both Wabtec and Baker Hughes further as a sizable mistake given the future outlook I have for both energy and transportation in the US, but the cash generated from these deals will allow management to reduce debt and/or to invest further into what operations are left.
One thing I would love to see transpire is the sale or spinning off of General Electric's Power segment. At this time, the firm intends to separate that into two different sets of operations, which may be setting the stage to sell or spin off at least one of them. I see this new decision under CEO Culp as a sign that he understands Power is General Electric's most significant problem at the moment, and since plans to retain power occurred while Flannery was still in charge, I have modest hope that management will divest of the segment or at least part of it.
Don't expect a distribution hike
During its third quarter earnings release earlier this year, management made a significant change to General Electric's dividend policy. They said that, effective this month, the company would only pay out $0.01 per share each quarter as a distribution, down from $0.12 per quarter previously. This decision, though controversial, will result in the firm's annual distribution falling from $4.175 billion per year to just $347.925 million per year. While I would have loved to see it cut all the way to zero so that management would have even more cash to put toward debt reduction and investing in core assets, the savings seen are material regardless.
Investors hoping for the distribution to recover in the near future are, I think, engaging in wishful thinking. As of the end of its latest quarter, General Electric had cash, cash equivalents, restricted cash, and marketable securities worth $61.69 billion, which is a lot to work with, but it also had $114.97 billion worth of debt (inclusive of $2.70 billion of non-recourse debt). Admittedly, debt was down from the $134.59 billion the firm had at the end of its 2016 fiscal year, but as assets come off the books, debt also must be reduced. Some of this could be taken off by spinning off various assets (for instance, the firm could probably spin in the low tens of billions of dollars off with its Healthcare segment if it so decided), but it's likely that a lot of the work toward reducing debt will be tied to asset sales and the cash that otherwise would have been allocated toward its quarterly dividends. Until management can reduce debt, it's unlikely we'll see a hike, and that probably won't occur until, at the very best, late next year.

*Taken from Moody's
Where does debt need to be in order for management to consider raising its distribution again? The short answer is that it's anybody's guess, but more likely than not, it's by whatever amount would allow the firm's credit rating to rise back into the As. As you can see in the image above, the firm's credit rating, as calculated by Moody's (MCO), used to be Aaa until it fell in 2009. Since then, the rating has fallen further and, today, the firm's long-term debt rating is Baa1. This still places it in a category known as "investment grade," as the image below illustrates, but the drop, even though it's not on watch for a further downgrade at this time, will weigh on financing options until the situation can be improved.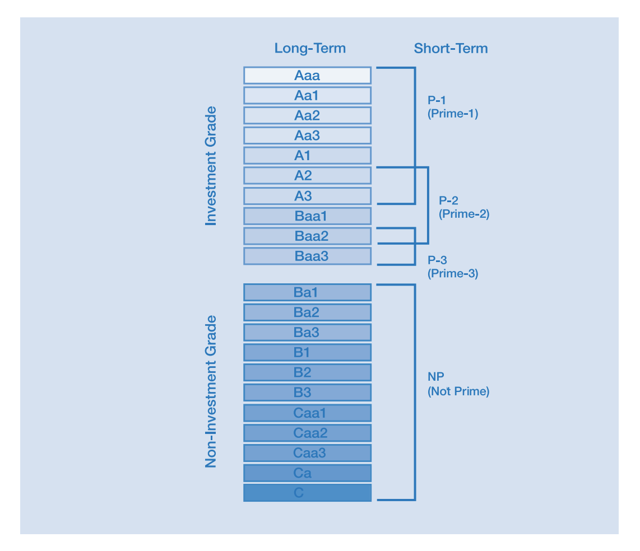 *Taken from Moody's
A lot of cost-cutting and wheeling-and-dealing
If General Electric is going to not only survive but thrive for the long haul, there's no doubt the firm will need to cut costs. This is especially true if the company elects to keep its Power segment, but irrespective of it, certain corporate costs will need to be slashed as the firm works to spin off its assets. Although management has, in recent times, done well to push for cost cutting, when the company actually starts to break up, we will know whether, and to what extent, this is actually true. One strategy that could work quite well could be what the firm struck with Baker Hughes. As part of its share divestiture, the two companies have entered into a series of joint agreements that will keep their operations intertwined through things like guaranteed low pricing and joint buying of key assets. I suspect this kind of wheeling-and-dealing to continue as the conglomerate sells off more of itself.
Takeaway
Based on the data provided, it's clear that 2018 has been awful for General Electric, but investors who are expecting more pain to follow through 2019 might be on the wrong side of the bet. If 2018 was the crash for the business, 2019 will likely be the start of a true recovery for the firm, especially if management can work to restructure the entity in the way that they should. Obviously, whether the firm is successful or not, investors should expect a tremendous amount of volatility during the process, but that could present opportunities to buy and sell at attractive prices for the emotionally-detached investor.