'Twas The Year Before The Debt Ceiling
Summary
A poetic overview of 2018's key events and how they will affect 2019.
Investors need to monitor certain data points in the New Year.
Our trade idea for 2019.
2018 has been quite the year. While there is a few trading days remaining we are on pace to have the first down year in over a decade. As the new year comes, lets review 2018 and see if we can learn from history to make better investing decisions in the future.
Government Shutdown
'Twas the year before the debt ceiling, when all through the house

Not a politician was seen busy planning a chouse.

Indexes entered into bear markets as we all stared,

Meanwhile tweets came of Trump axing the fed chair.
At the point of writing this article, the Government has been shut down. Without being able to find a bipartisan solution to the border wall, certain agencies have start to close. This is compounded by the fact that the debt ceiling is due to be reviewed on March 2, 2019. In 2011, a similar strife occurred, the credit rating of America's sovereign credit was downgraded and the NYSE:SPY fell 20%. Investors need to keep an eye on this political situation particularly as we get closer to early March.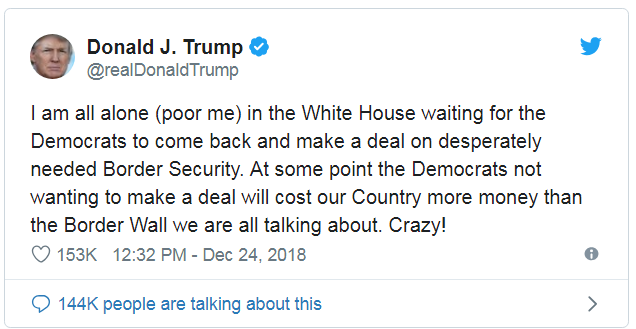 Recession and Consumer Confidence
Investors were restless up in their beds,

While visions of coming recessions danced in their heads.

With "Happy New Year" still written on my cap,

Cryptocurrency markets still near lows of their crash.
With CNBC and Fox business having headlines speaking to market sell off and bear markets, there is a good chance that we will "talk" ourselves into a recession. Confidence is a vital factor to the economy. If the average citizen begins to see news outlets and high ranking officials begin to talk about recession it may spark off a negative multiplier effect caused by less consumer spending. Consumer spending make up about 70% of our economy. Investors need to keep an eye on retail sales in 2019.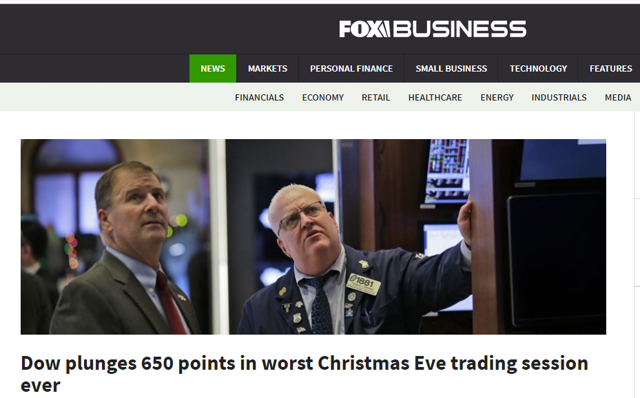 Strong Dollar and Yield Curves
On my nightstand my phone vibrated with clatter,

I sprang out of my bed to see what was the matter.

Notifications from Twitter came with a news flash,

Volatility was back up and the price of oil crashed.

Major markets were again hitting new lows,

I wondered how low these prices can go.

When, what to my wondering eyes should appear,

But a yield curve inversion for those who fear.
There have been nine hikes since the Federal Reserve began to raise rates. As expected, investors flocked to the US to get better yields. This caused the US dollar to strengthen. The US dollar and commodities have an inverse relationship since most commodities use the dollar as their benchmark pricing mechanism. Currently Fed Funds futures are pricing in one rate hike in 2019. The US dollar should continue to strengthen but at a much slower pace than in 2018. Ever since the great financial crisis, the yield curve has been relatively flat. As interest rates were raised it put pressure upwards on the short end of the curve thus increasing the chance of inversion. At time of this writing the 1-5 year spread has inverted. An inverted yield curve has been an accurate predictor of recessions in the past. This is because of how banks operate within our financial system. If banks can not borrow near term at lower rates and lend out in the future at higher rates, it will inhibit their lending business and liquidity in our markets. While the yield curve has inverted in 2018, the one spread most investors keep their eye on is between the 2-10 year spread. Investors will need to monitor the health of spread in 2019.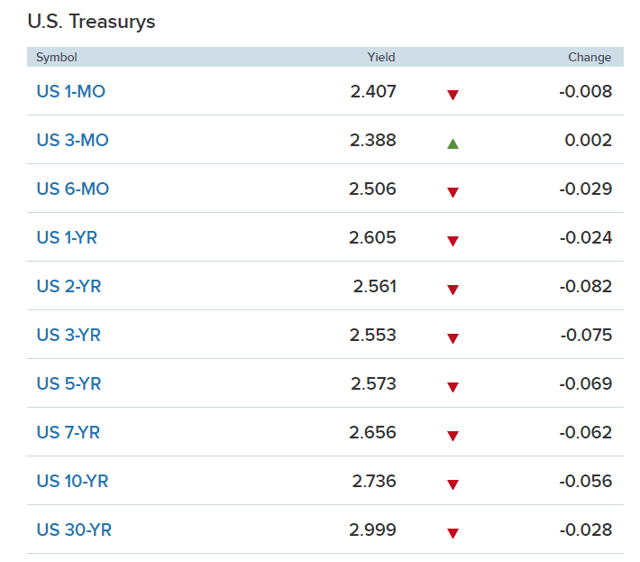 Plunge Protection Team
Mnuchin woke up and his anxiety grew,

Within moments he knew exactly what to do.

More rapid than eagles, the phone calls they came,

And through tweets and press releases, listed them by name.

Now, Fargo! (NYSE:WFC) Now, Goldman! (NYSE:GS), Now JP (NYSE:JPM) ! Now Citi! (NYSE:C)

On America! (NYSE:BAC), On Stanley! (NYSE:MS), Please check your liquidity!

Tell the markets we are fine, we can stabilize markets that shook,

Investors called their bluff after a few looks.
The stock market has been one of the metrics that the current Presidential administration use to grade their performance. With such volatility in December, the administration made quite a PR blunder when they tried to calm the markets by telling them that they have called CEOs of major banks to assure that they have ample liquidity and that the economy is fine. The markets were not receptive to their message and instead got more nervous selling off as they tried to clarify their messaging. As 2019 approaches we see the following risks that may cause more volatility in the market place and it will be interesting to see how/if the "Plunge Protection Team" responds.
Italy's fiscal situation
Finalization of the Brexit Deal
Rate hikes from the Federal Reserve
US-EU Trade Talks
US-Chine Trade Talks
Start of the 2020 election cycle
Conclusion
We anticipate December 2018 as a bell weather of how 2019 will be; lots of volatility and continued political interference. The stocks that stand to benefit from this are the financial exchanges NASDAQ:CBOE, NASDAQ:CME and NYSE:ICE. With more volatility comes more volume which will benefit these exchanges with transaction fee revenues. As we are now in a market where they "shoot first and ask questions later", we anticipate that the markets will continue to have multiple intra-day swings.
The year is almost over now after all of this fright,

"Happy Holidays to all, and to all a good-night!"
Disclosure: I/we have no positions in any stocks mentioned, and no plans to initiate any positions within the next 72 hours. I wrote this article myself, and it expresses my own opinions. I am not receiving compensation for it (other than from Seeking Alpha). I have no business relationship with any company whose stock is mentioned in this article.