As a dividend growth investor, I am always looking for companies that have long track records of dividend growth. The longer the growth streak, the more proof the company has been able to increase its dividend throughout various portions of the economic cycle. A dividend isn't worth much to me if the company cuts it when economic conditions soften.
I like Real Estate Investment Trusts, or REITs, because they often have generous dividend yields. REITs are required by law to pay out at least 90% of taxable income in the form of dividends. One REIT that I have followed for some time that has a very impressive dividend growth streak going is Dividend Achiever W.P. Carey (NYSE:WPC).
Company Background and Recent News
W.P. Carey is one of the largest global real estate investment trusts in the market. Properties are net leased, meaning the tenant pays property expenses in addition to rent. The REIT invests in commercial properties and leases them to businesses in the industrial and retail sectors. W.P. Carey's properties can also be used for self-storage and office and warehouse space. The REIT earns approximately one-third of sales from western and northern Europe. The company also provides asset management services and real estate financing.
Though only a public company since 1998, W.P. Carey has been in business for 45 years. The REIT has 1,186 properties leased to 304 tenants that covers 133 million square feet of space. W.P. Carey has a current market cap of $11 billion and produced $785 million in revenue last year.
W.P. Carey announced on June 18th of this year that it would be purchasing Corporate Property Associates 17, or CPA:17, for $5.9 billion in a stock-for-stock deal. The deal had been expected to close by the end of 2018, but instead closed during the most recent quarter.
Recent Financial Results
W.P. Carey reported financial results for the third quarter on November 2nd. Funds from operation, or FFO, totaled $1.48 during the quarter, beating the average estimate by $0.23. This was an 8% increase from the previous year. Revenue declined 0.7% to $209.4 million.
Breaking down results by business segment, Real Estate produced adjusted FFO of $1.12 per share. Net revenues for Real Estate increased 1.3% to $173.4 million due to rent escalators and new acquisitions. This was partially offset by the selling of a hotel property in the second quarter of 2018. Occupancy rate for this division was 98.7%, or 98.3% including CPA:17. Weighted average lease term improved to 10.2 years, or an average of 10.5 years with CPA:17. The Investment Management division generated adjusted FFO of $0.36. Net revenues declined 14.3% to $24 million.
The completion of the CPA:17 acquisition caused W.P. Carey to lower its FFO forecast for 2018 to a midpoint of $5.39 from $5.45 previously due to costs associated with the purchase. The cap rate, the ratio of net income to property asset value, is 7% for CPA:17.
REITs like W.P. Carey purchase new properties in order to help grow their business. These acquisitions are often funded by debt. In a rising interest environment, financing this debt can become expensive. W.P. Carey has $4.4 billion in total debt, but a little more than a quarter of this is due over the next five years. Fortunately, W.P. Carey has built in rent escalators that can help pay interest on its debt.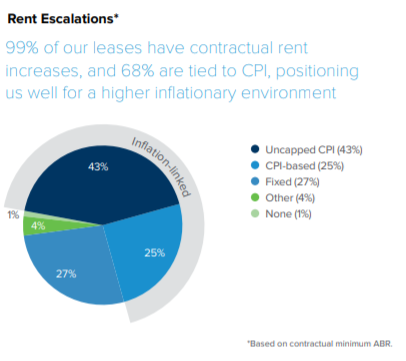 Source: W.P. Carey's 2017 Annual Report.
Two-thirds of W.P. Carey's lease agreements are tied to the Consumer Price Index, or CPI. As inflation increases, so will the rent on the REIT's properties tied to this index. While debt levels are high, they are not exorbitantly so, which means the REIT's dividend is likely to avoid being cut to help pay back what W.P. Carey owes.
Dividend History
W.P. Carey has increased its dividend for the past 21 years, giving the company one of the longest dividend growth streaks in the REIT sector. In fact, only seven other REITs can claim a longer dividend growth streak. The U.S. Dividend Champions says that W.P. Carey's dividend survived two recessions. While past success is not indicative of future success, this does show me that the company was able to increase its dividend through several swings in the economy.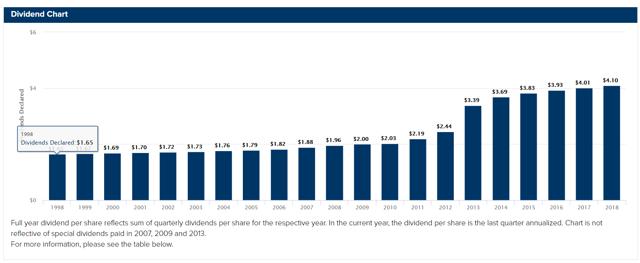 Source: W.P. Carey's Investor Relations Website.
W.P. Carey has increased its dividend:
By an average of 3.6% per year over the past three years.

By an average of 11.4% per year over the past five years.

By an average of 8% per year over the past ten years.
As you can tell from the annual averages, dividend growth has slowed in recent years. With a dividend yield of 6%, I am willing to trade some extra income for slower dividend growth. For comparison purposes, the S&P 500 has a yield of just 2.17%. W.P. Carey has paid a special dividend in the past, but not since 2014.
W.P. Carey paid out $4.09 in dividends for 2018. This will equate to a payout ratio of 75.9% if the company achieves its midpoint guidance of $5.39. Like most REITs, W.P. Carey has a very high payout ratio. The five- and ten-year average payout ratios for W.P. Carey are 77.1% and 68.7%, respectively, so the current ratio is in the longer term range.
While most companies typically follow a standard schedule of raising the dividend once per year, W.P. Carey tends to increase its dividend every quarter. The REIT has added a $0.005 to its dividend for the past eleven quarters, including a recent raise for the upcoming January 15th payment. The new annualized dividend is $4.12. If the REIT sticks to its half penny raise for each quarter, then the dividend will likely total $4.135 for 2019. This would represent dividend growth of 2.7% to 3.1% from 2018's total. This projected growth is slightly below W.P. Carey's three-year average rate.
My Valuation for W.P. Carey
If you're not familiar with how I value stocks, I take the current price and compare it to fair values and price targets from a number of different sources to see how over or undervalued shares are currently. I then take the average of these values to determine a price target.
| | | |
| --- | --- | --- |
| Current Yield | Years of Div Growth | 5-Year Div Growth |
| 6.02% | 21 | 11.40% |
| Thomson Reuters | Current P/FFO | 5 Year Avg P/FFO |
| $69 | 12.7 | 12.7 |
| Value Line Safety and Fin Strength | Value Engine Fair Value | Value Engine 1 Yr Price Target |
| 2 / B+ | $71.87 | $65.27 |
| | | My Price Target |
| | | Under $68.60 |
Value Line awards W.P. Carey a 2 for safety and a B+ for financial strength. I am looking for at least a 2 for safety and a B++ for financial strength as this gives me confidence in the company's financial position. W.P. Carey's safety rating satisfies my criteria, but falls a notch short on financial strength. This is not necessarily a deal breaker for me, but I would only purchase shares of the REIT if they are trading at least at my fair value.
Shares of W.P. Carey closed Friday at $68.40. Using the REIT's midpoint for guidance for 2018, the stock trades with a price-to-funds-from-operation ratio, or P/FFO, of 12.7 currently. This equals on the dot the stock's five-year average P/FFO. The S&P 500 has a price-to-earnings multiple of 18.5.
Value Engine has a one-year price target of $71.87, which would offer a return of 5.07% from current levels. Value Engine's fair value for W.P. Carey is $65.27, showing shares to be trading at a 4.58% premium to their fair value estimate.
CFRA and Morningstar, two of my usual sources, don't offer a price target or fair value estimate for W.P. Carey. Instead, I used Thomson Reuters for an additional data point. Reuters has a one-year price target of $68.80, less than a tenth of a percent above the most recent closing price.
Average these values out and I find that shares of W.P. Carey are just 0.29% undervalued at the moment.
Conclusion
W.P. Carey had a mixed quarter, but was able to grow funds-from-operations by 8%. At 98%, the REIT has a very high occupancy rate and the acquisition of CPA:17 offers a compelling cap rate. Like other REITs, W.P. Carey has a fairly high debt level, but only about a quarter of it comes due over the next five years.
W.P. Carey offers a very generous yield, even if dividend growth has declined in recent years. The current yield is almost triple that of the market index. The stock has also held up this year, losing just 0.70% while the S&P 500's total return is a loss of nearly 8% for 2018. The yield plus the better performance versus the market index make W.P. Carey very attractive to me.
Given the company's B+ financial strength rating, I need shares to trade at least at fair value before purchasing. My sources give me a fair value of $68.60. Any price below this amount and I would be a buyer of W.P. Carey.
What are your thoughts on W.P. Carey? Is there a REIT you prefer? Feel free to leave a comment below. If you liked what you read, please consider hitting the "follow" button at the top of the page.