Investment Thesis
The fact that Intercontinental Exchange (ICE) takes a fee from virtually every transaction made on the NYSE and all of the eleven other exchange it owns combined with the fact that exchange operation (in the United States) is only a one or two-player game means that the enterprise has a sustainable and profitable business model which will greatly increase its stock price over the decades to come.
The Only Real Player
Of the two major exchanges in the United States, the NYSE is by far the biggest (with a total market cap of $23.2 trillion) compared with the NASDAQ (with a total market cap closer to approximately $10 trillion).
There's no doubt that there's certainly some degree of prestige associated with being listed on the New York Exchange in comparison with the NASDAQ, with no physical presence. The NASDAQ is undoubtedly the best low-fee exchange for smaller companies and those naturally attracted to an electronic exchange (such as internet companies). However, the New York Exchange was founded in 1792, and will very likely continue to be the home of long-term oriented stocks, in contrast with the growth-focussed listings on the NASDAQ.
Fundamentally, they are also different types of equity market. To compare the NYSE-operated auction market with the NASDAQ-operated dealer market is not a valid comparison. Both have their separate purposes, target market and operating procedures, and both are essentially monopolies in their own corner of the financial exchange market.
Ultimately, companies wanting to be publicly listed will choose one of the two main exchanges. For these companies, it makes much more sense to trade on a large, liquid exchange rather than any unproven and likely very illiquid potential competitor. This definitely scares off any serious competition for the two major exchanges the way things currently operate.
Fees In Every Market Environment
One of the best aspects of owning a stock exchange is that even in a bear market, as long as transactions are occurring, the company is entitled to take their commission. According to its 2017 income statement, ICE was able to generate $5.83 billion in transaction fees, and has increased this figure significantly since 2013 (when it earned just $1.8 billion from equivalent commissions).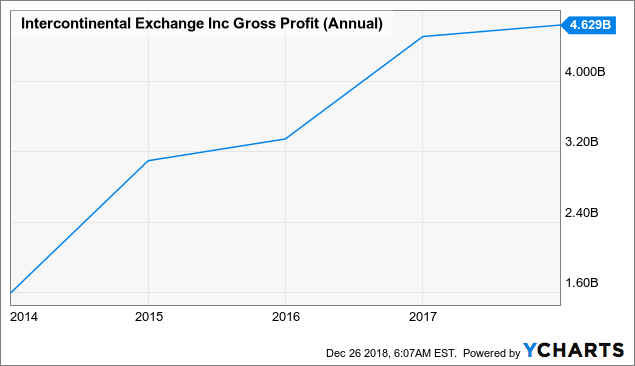 Strong Fundamentals
Despite being a virtual monopoly, which one might imagine would attract large numbers of investors, Intercontinental Exchange is also very attractive on the basis of financial ratios and valuation.
The company has a P/E ratio of just 15.9x, competitive versus the S&P 500 average P/E of around 18x. Its defensively low price-to book ratio of around 2.4x demonstrates that it is a value (as well as a growth) stock. It is very asset-heavy as a result of requiring all of the physical infrastructure for the exchange - this arguably also provides a margin of safety for investors. As an added bonus, the company also pays a dividend, currently at a yield of 1.36%.
What About Blockchain?
One could certainly introduce the question of whether centralised exchanges like the NYSE might soon be replaced by a decentralised blockchain-driven solution.
Honestly, this does seem unlikely. Blockchain has to a degree proved its efficacy for the transfer of money (through Bitcoin). Though stock markets are a relatively simple concept, the question to be asked is who would start this blockchain solution for trading equities? The technology on which Bitcoin is based is great for sending imaginary money to anonymous people. For trading real shares in real companies, the blockchain solution is at best unproven.
Even if blockchain technology is somehow eventually responsible for managing the market, it seems highly likely that Intercontinental Exchange would be involved in some way. The company has certainly demonstrated its enthusiasm for these new technologies by establishing Bakkt, described as "an open, seamless global network to enable you to buy, sell, store and spend digital assets simply, safely and efficiently".
Conclusion
Intercontinental Exchange operates in a market where competition is virtually impossible due to the scale of infrastructure and trust required to be able to set up a competing stock exchange. For this reason, it would be fair to call it a monopoly. It's also a monopoly which can choose how much to charge on the millions of daily transactions which it handles through the exchanges it is responsible for running.
For this reason, Intercontinental Exchange looks set to be a long-term success. Investing a proportion of your portfolio in the company with a view to making significant gains over the next 10-20 years would appear to be an excellent idea.
Disclosure: I/we have no positions in any stocks mentioned, and no plans to initiate any positions within the next 72 hours. I wrote this article myself, and it expresses my own opinions. I am not receiving compensation for it (other than from Seeking Alpha). I have no business relationship with any company whose stock is mentioned in this article.