Welcome to our Cannabis Industry Analysis where we analyze the latest and hottest topics in the industry to help you stay ahead of the curve.
Introduction
Statistics Canada started including cannabis in their monthly retail trade figures release starting in October. Since Canada legalized recreational cannabis on October 17, the October retail trade figures included the first two weeks of legalization sales, which totaled $43 million. The data has profound implications for the industry's largest producers such as Canopy Growth Corp. (CGC), Aurora Cannabis (ACB), Aphria (APHA), HEXO Corp. (HYYDF) and CannTrust Holdings (CNTTF). These stocks need strong sales in early 2019 in order to sustain their valuation. Investors have not had the opportunity to assess market size and profitability potential for Canadian pot stocks. The early readings sent mixed signals to the market as severe supply shortages hampered early sales.
(All amounts in C$ unless otherwise noted.)
$43 Million Sold in October
Since Canada officially legalized cannabis on October 17, 2018, the country has generated $43 million in sales during the two weeks. The data came from Statistics Canada as part of their monthly retail trade data release for the month of October. The fact that cannabis is being included in the monthly trade data along with traditional sectors such as automobile, clothing, food, electronics etc., suggested the importance of this industry to the country's economy. It is safe to say cannabis will become an indispensable part of the Canadian economy.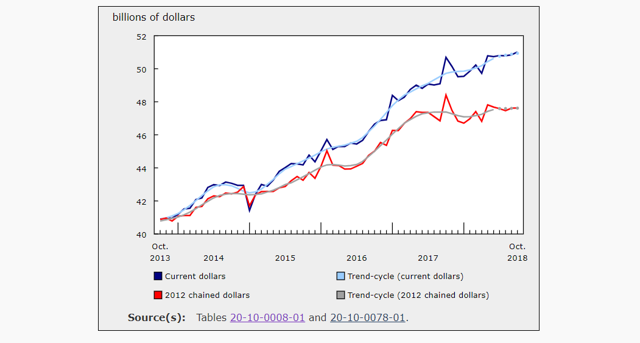 (Source: Statistics Canada)
Based on the data from Statistics Canada, below is the breakdown of the $43 million by province. Ontario and Quebec accounted for half of the total sales, followed by Alberta, Nova Scotia, and British Columbia. The breakdown is not surprising, as Ontario and Quebec are two of the largest provinces. However, British Columbia definitely disappointed with only $2.3 million in sales while having Canada's third-largest population. The poor performance could be due to a vibrant and longstanding illegal market in B.C. and the fact that it had only one store open on day 1 of legalization.
Ontario: $11.7 million
Quebec: $10.8 million
Alberta: $5.6 million
Nova Scotia: $4.5 million
British Columbia: $2.3 million
New Brunswick: $2.1 million
Newfoundland: $1.7 million
Prince Edward Island: $1.4 million
Saskatchewan: $0.3 million
Another interesting data point to look at is the sales per capita among the top provincial markets in Canada. It is very telling and interesting to see that the top four provinces with the biggest sales per capita are the four smallest provinces by population. Meanwhile, the largest provinces (Ontario, B.C., Alberta, Quebec) posted much lower sales per person, likely due to severe product shortages and inability to open enough brick-and-mortar stores on day 1. PEI has the highest spend per person despite having the smallest population among the provinces.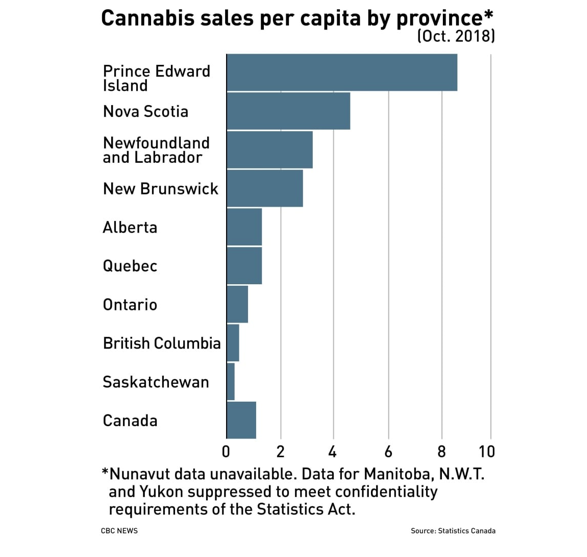 (Source: CBC News and Statistics Canada)
Case Study: Massachusetts
We thought it would be interesting to compare Canada's performance with that of another state that recently started legal recreational sales. Massachusetts legalized recreational pot in 2016 and opened its first two retail stores in November 2018. The two cannabis dispensaries generated total sales of US$7 million between November 20 and December 9, a period of 3 weeks. Sales have slowed down during the fourth week, and total cumulative sales stood at US$9.3 million as of December 16, 2018.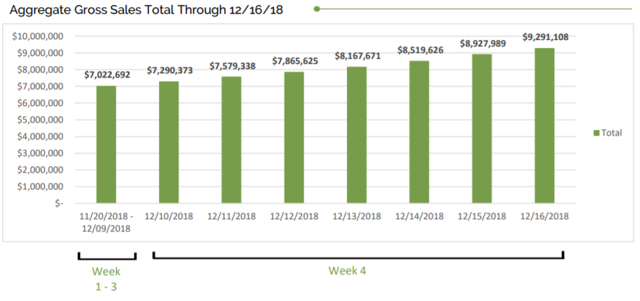 (Source: MA Government)
To put this into perspective, Massachusetts has a population of 7 million, compared to 37 million in Canada. The closest Canadian province in terms of its population would be Quebec with 8.4 million residents. With only two retail dispensaries and no online shopping, the U.S. state generated US$7 million in sales during the first three weeks, which implies US$4.7 million sales during the first two weeks using straight-line extrapolation. For comparison purposes, adjusting for the difference in population, Massachusetts would have generated US$25 million in sales, compared to the $43 million in Canada. Note that we have ignored the foreign exchange rate and the fact that Massachusetts had only two stores open and did not have online sales, which was a critical component of Canada's legal pot sales after accounting for 100% of Ontario and a majority of other provinces' sales during October. While the numbers look better for Canada, one should expect the country as a whole to perform much better and avoid the operational challenges that have plagued the licensed producers and governments alike.
Conclusion
Canadians spent $43 million on buying legal cannabis during the first two weeks of legalization in October. The smaller provinces in the country reported the highest sales per capita due to better preparation, while the largest provinces struggled to put their act together. The chaotic scene in Canada resulted in a big disappointment for pot investors, which is reflected in the share price of Canadian cannabis stocks. On the other hand, the two stores in Massachusetts generated over US$7 million in sales from legal pot during the first three weeks since opening in November this year, indicating massive consumer demand and the potential for the U.S. market.
Disclosure: I/we have no positions in any stocks mentioned, and no plans to initiate any positions within the next 72 hours. I wrote this article myself, and it expresses my own opinions. I am not receiving compensation for it (other than from Seeking Alpha). I have no business relationship with any company whose stock is mentioned in this article.