Indian Imports A Growing Tailwind To Maritime Trade
Summary
China has been a key driver of growth in maritime trade over the past two decades.
But as China slows, so will the major demand driver for many key segments of maritime trade.
India is the only country that has the scale to take up where China is leaving off. So how is import growth coming along for key segments?
Note: This article was originally published November 30th on Value Investor's Edge, a Seeking Alpha subscription service.
Overview
Back in the 1990's and early 2000's shipping experienced a boom when China began a massive and coordinated economic shift. This led to demand for energy and raw materials. The shift also produced a massive manufacturing base which began catering to the global merchandise demand. Consequently, demand for dry bulk, tankers, and containerships saw an uptick.
But China has been slowing down amid another coordinated shift. GDP growth has been dropping since peaking in 2007 at 14.23%, according to the World Bank, with 2017 seeing 6.9% growth. In the third quarter from a year earlier China's economy grew at a slower than expected pace of 6.5 percent, marking the weakest rate since the global financial crisis.
Meanwhile, growth in India is firming up and projected to accelerate to 7.3% in the 2018-19 fiscal and 7.5% in the next two years.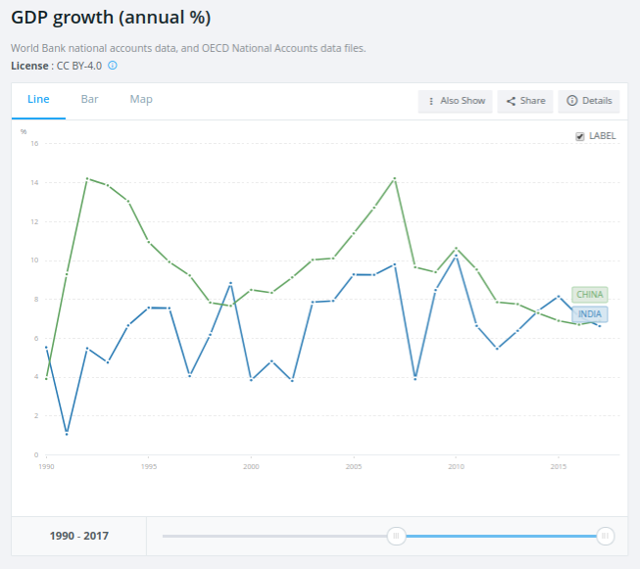 Source: World Bank
Side note: India uses FY instead of calendar, which runs from April 1st to March 31st. Currently we are in FY 2019, otherwise stated as FY 2018-2019.
Though China's $12.2 trillion economy is five times larger, India is now poised to be the world's fastest growing major economy.
As a result, Indian demand for key products has been growing.
Iron Ore
Even though iron ore is abundantly available in India imports are on the rise. Iron ore imports into the country skyrocketed 190% to 6.34 million tons during April-August, the first five months of this financial year.
Until recently, India had been a net exporter of iron ore, but several factors are playing into a trend of India increasingly tapping global markets for supply.
Increasing steel production has played into greater demand for iron ore.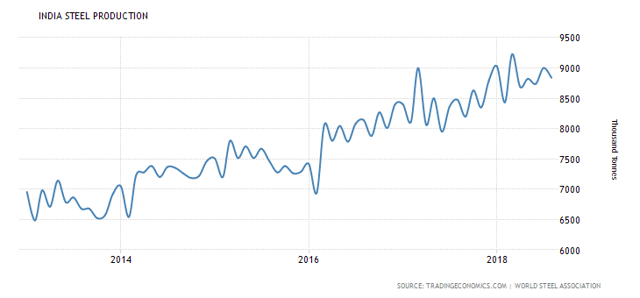 Source: Trading Economics
India's steel production in 2017 stood at 101.4 MT. Crude steel production has been growing at a CAGR of 5.49% over the last 6 years. India's steel output is expected to grow at a CAGR of 8.9 per cent during 2017-21. Plans to achieve 300 mt by 2031 are firmly outlined.
This increase in production and consequently iron ore demand comes at a time when challenges over recovering domestic supply remain.
In 2011 the Supreme Court began clamping down on illegal mining. Operations were suspended in key production regions and output has only just recovered to levels seen before this Government intervention.
Perhaps more importantly is that levels of FDI have dropped off as well. A recent report by the Centre for Monitoring Indian Economy pointed out that foreign direct investment inflows had slowed down significantly, from US $659 million in 2014-15 to about $36 million at the end of 2017-18. Mining's overall contribution to FDI had declined from 2.06% to 0.08% in the same period.
This lack of investment means that there are limitations on the availability of higher grade ore from domestic mines as they get older and the quantity of fines extracted is higher. Usually, steel plants are averse to lifting lower grade fines — higher grade ore is more suitable for their operations.
Mining Weekly confirms that Indian steel producers are not technically equipped to feed their blast furnaces with low grade fines.
The increased production of Indian iron ore has led to increasing stockpiles of low grade fines and regions like Jharkhand and Odisha reported there were no international buyers for the last several months. International buyers led by the Chinese are either booking high grade lumps or concentrates with virtually no takers for low grade Indian fines.
Only 18.9% of India's reserves are shown to be high grade.
The shift for higher quality iron ore in China can be traced to a growing concern over air pollution. Something India may want to consider as it now holds the top spot.
Aside from preferences, large scale and efficient operations overseas mean that importing, for the most part, is the cheaper option compared to buying from the domestic market.
Indian steel mills are also reporting challenges securing domestic iron ore that is suitable. Miners are not getting enough railway rakes, as these are diverted to the coal sector. Furthermore, freight and passenger trains in Asia's third-largest economy jostle for space on the same tracks, and goods carriers often have to make way for passenger traffic, prolonging turnaround time for wagons hauling commodities.
Therefore, a fast growing steel industry is likely to be supplied by an increasing amount of overseas iron ore as domestic quality, output, logistics, prices, and availability all appear to play into this shift.
If imports stay on track, 2019 will likely be one of the strongest years for iron ore imports in several.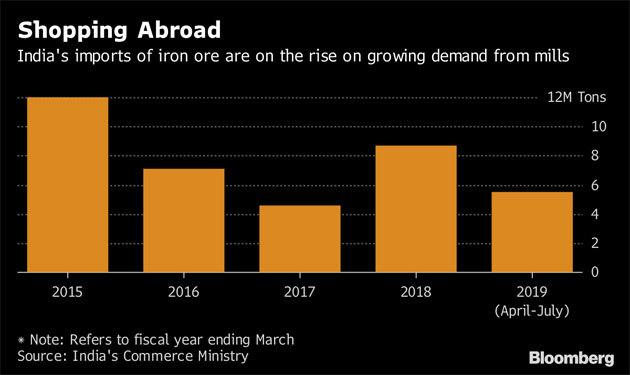 Source: Bloomberg
Major producers see this as a potential long term trend in the making and Australia's government expects annual imports to rise to 19 million tons by 2020.
Coal
With a decade-low stockpile at Coal India's mines and more than half of the plants at "supercritical" level of less than seven days' stock, the reliance on imported coal for several power plants will increase the flow of imports into India.
This is quite a turn for a country which in 2017 saw the head of the coal ministry, Piyush Goyal, proclaim that "We don't wish to import coal from anywhere in the world. We have sufficient coal capacity in our country."
This could be due to the fact that state-owned Coal India continues to struggle to step up coal production and has fallen well short of previous targets. Or it could be that coal fired electricity, which fuels approximately 75% of India's domestic energy needs, is finding it difficult to keep up with recent robust industrial production.
Industrial production in India has grown at an average of more than 7% this year, which has led to an increase in power generation by 6% over January to August 2018.
Wood Mackenzie's coal principal analyst Pralabh Bhargava reported:
Growth in domestic coal production and dispatches can only partially meet the growing demand for coal, which is resulting in increased reliance on imports.
While India has indeed been increasing its own domestic output the gains are not enough to keep up with the robust demand.
A key supplier of coal to India has become the USA. According to the EIA, shipments of US coal to India over the first half of 2018 are 136.6% higher than the same time last year. The USA now supplies roughly 8% of India's imported coal.
Even though this report is about India, I can't help but share this chart showing key coal consumers relying more on US produced coal, which represents a long haul voyage for dry bulk vessels.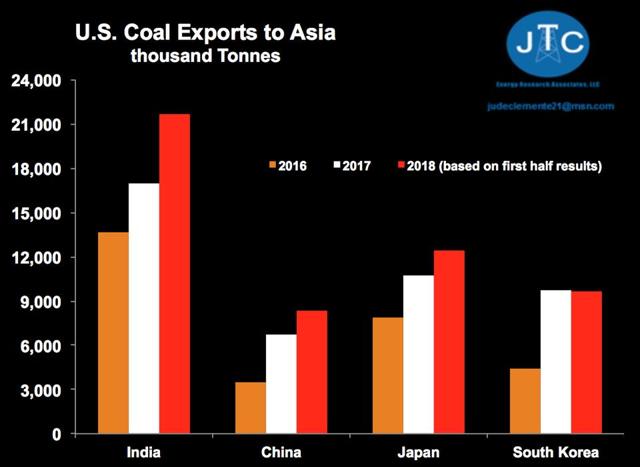 Source: Forbes
Since we're on the subject of voyage lengths a subtle shift has been taking place beyond the US gaining market share. That of increasing imports from South Africa.
The shift could be attributed to the fact that a large part of India's coal imports are used by consumers other than on-grid power plants. A significant portion of coal-fired generation capacity is used by captive power users. These users include aluminium smelters, cement makers and other industries. Given these consumers have to run their captive power plants in order to produce their goods, this demand isn't very price sensitive. It makes sense for captive-power plant buyers in India to seek higher quality coal as it maximizes the output from their plants.
This could explain why South African and US coal have been gaining favor.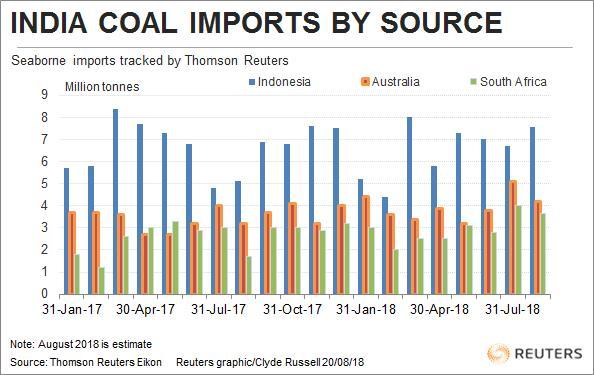 Source: Reuters
India's domestic coal reserves face a similar challenge as that of iron ore. By and large, India's coal is of poorer quality and has a lower gross calorific value.
Additionally, domestic demand growth for the commodity is like to outpace domestic supply growth paving the way for increasing imports. Domestic output is likely to remain stagnant at 2.5%-3.5% according to the Times of India. Furthermore, they stated that "improved capacity utilisation in power, cement and steel sectors will be major drivers of coal import."
Pralabh Bhargava echoed that sentiment:
Growth in domestic coal production and dispatches can only partially meet the growing demand for coal, which is resulting in increased reliance on imports. With the power sector increasingly relying on imports, we expect the rally in Indian imports to continue till early next year.
This goes a long way in explaining why India's thermal coal imports rose at the fastest pace in three-and-a-half years, up 35% to 42.7 million tonnes during the three months ended Sept. 30.
With BP projecting that Indian demand for coal will see the biggest growth among all energy segments, expanding by 132% through 2014, the import story may just be getting started.
Crude Oil
Indian crude oil production has been on a long term downward trend for several years.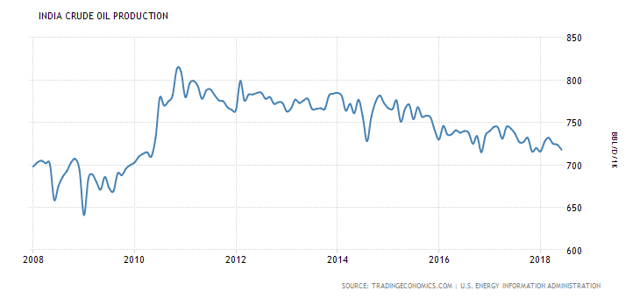 Source: Trading Economics
Meanwhile, demand for crude is growing at an impressive clip.
India imports around 82.8% of the oil it consumes. The BP Energy Outlook projects that it will see its energy consumption growing at the fastest rate among all major economies by 2040. Oil imports will rise by 175%, BP says, estimating India's oil consumption at 10 million bpd in 2040.
OPEC's latest report echoes those findings. According to the 2018 World Oil Outlook, India will see the largest additional demand of any nation at 5.8 million bpd, likely passing the 10 million bpd mark sometime towards the end of 2040.
These are some very healthy growth estimates for a country that recently overtook Japan to become the world's third-biggest crude oil importing nation after China and the US.
Increasing crude imports are almost guaranteed as India has embarked on a massive build-out of their refining capacity.
The Business Standard reports that the current refining capacity of 247.6 mtpa in India is projected to increase to 259 mtpa by 2020 and further to about 439 mtpa by 2030. Over that period, demand is seen to be 220 million tons, 271 million tons and 335 million tons, respectively. These figures indicate that India still has ambitions to maintain a 25% product export rate in the long run.
Gibson Shipbrokers spelled out a similar story:
Looking further ahead, irrespective of prices, developments in Indian refining capacity are likely to be the main driving force behind the growth in crude import demand. Between 2019-2022, 550,000 b/d of additional refining capacity is due to come online, roughly the same as demand growth projections over the corresponding period. Even if domestic demand does falter, high run rates are likely to keep import volumes high. If unexpectedly the domestic market cannot absorb all the product, then refined product export volumes will have to rise.
LNG & LPG
As the fourth largest importer of LNG, India has a profound impact on the market. Though the 19.22 MT purchased in 2017 was only 1.3% above the previous year, import volumes in 2018 are once again growing strongly.
LNG World Shipping reports:
Imports for April-July 2018 reached 7.46M tonnes, a 20.3% jump on the same period a year earlier. Utilisation rates at Dahej, the largest of the country's four import terminals with a capacity of 15M tonnes per annum of LNG, have been running at over 100% throughout this year.
That utilization rate would seem to put a damper on future growth, however, India's four receiving terminals will soon be joined by at least half a dozen new import terminals over the next few years, three of which are set to be operational before the end of 2018. This additional capacity represents about 98.05 mmtpa, which would allow the nation to reach a total LNG import capacity of 128.05 mmtpa. Meaning India will be able to import roughly 226% more LNG in the very near future. It's also noteworthy that there are several more import terminals in the planning stage.
India is pushing to more than double the share of natural gas in its energy mix to 15 percent by 2022. Even as the country is moving towards becoming a gas-driven economy, domestic production has been on a consistent decline over the past five years, falling another 1.43% in September.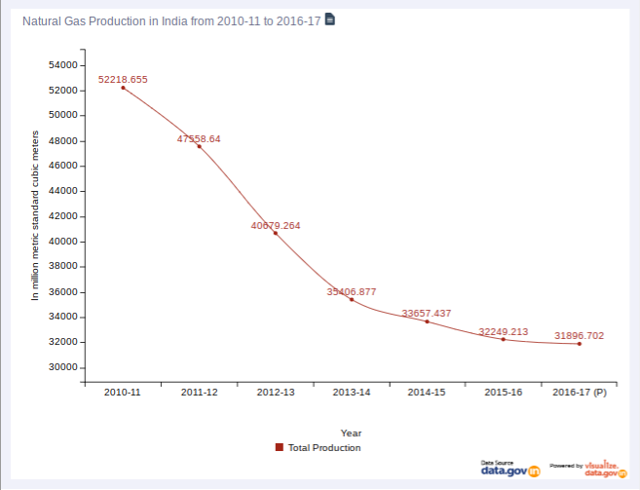 Source
Though India aspires to increase domestic production of oil and gas (doubling gas output by 2022) by recently announcing that foreign investors will have opportunities to invest in projects worth $300 billion, that might be a tall order to attract that level of investment. According to data released by the Department of Industrial Policy and Promotion, the petroleum and natural gas sector attracted FDI worth $7 billion between April 2000 and June 2018.
Even if India does manage to double its output it would only bring them slightly above 2010 levels. Demand has grown significantly since then and is still projected to outpace any supply gains keeping LNG imports growing.
Conclusion
Imports to India went up 10.5% year-on-year to $41.9 billion in September of 2018.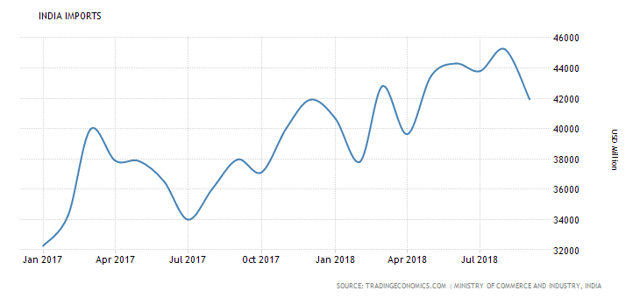 Source: Trading Economics
They were boosted by purchases of gold (51.5%), petroleum and crude (33.6%), coal, coke and briquettes (23.6%), and electronic goods (11.4%).
BP projects that oil imports will rise by 175% and account for 65% of the increase in energy imports, followed by a 291% gain for gas and 79% for coal through 2040.
With steel capacity set to rise and limited high quality reserves which will become more sought after going forward, iron ore imports should also see increases.
India appears to be on a solid growth trajectory. However, as they experience that growth imports will become a larger part of the picture as domestic production in key areas concerning shipping fails to keep pace. This looks to benefit gas carriers, dry bulk, and crude tankers. If India can achieve their goal of refinery production beyond domestic demand those volumes should also add to product tanker demand as well.
Just a few years ago, the contribution by India to global maritime demand was looking a bit weak. However, recent developments appear to have strengthened their potential contribution to seaborne trade.
Thank You
If you found this article helpful and/or would like to easily refer back to it in the future, please click the "Like" button and it will be saved to your favorites.
If you are wondering what is the best way to invest in maritime trade please visit Value Investor's Edge.
Value Investor's Edge
Value Investor's Edge is a top-rated research service dedicated to offering actionable trades and strategic income opportunities. We now cover a variety of deep value and income-driven sectors, while maintaining our focus and very profitable record of shipping industry coverage. Members receive exclusive access to over a dozen reports per month, including regular shipping and commodity macro analysis from James Catlin, exclusive content by top-tier deep value analyst J Mintzmyer, industrial and MLP ideas from Michael Boyd and international insights from Ian Bezek. This winning team has developed a dedicated following of highly knowledgeable investors and industry professionals who also share their own thoughts and ideas.
Disclosure: I/we have no positions in any stocks mentioned, and no plans to initiate any positions within the next 72 hours. I wrote this article myself, and it expresses my own opinions. I am not receiving compensation for it (other than from Seeking Alpha). I have no business relationship with any company whose stock is mentioned in this article.