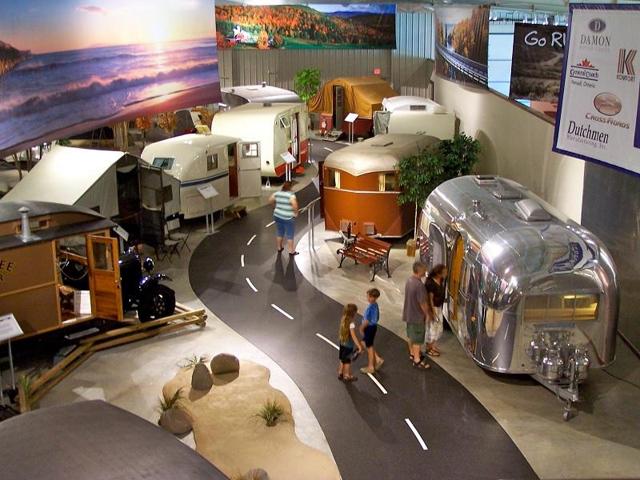 RV/MH Hall of Fame in Elkhart Indiana. Source: RV Share
Last week, Federal Reserve Chairman Jerome Powell hiked rates and suggested more were on the horizon. The angst surrounding financial markets would lead one to believe a falling stock market could be a predictor of an economic slowdown. RV shipments could be an even more accurate predictor. A decline in RV shipments preceded the last two recessions. That said, we may already be in the throes of recession.
RV shipments for November 2018 were 33,023, down 21% Y/Y. Towable RVs fell 21%, while motorhomes were down 17%. Through year-to-date November 2018 shipments were 444,090, down 3% Y/Y.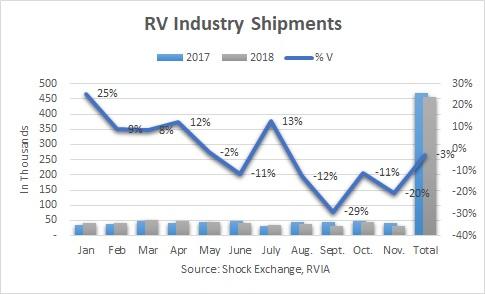 In the first half of 2018, RV manufacturers could not ship units fast enough. Dealers did not want to miss out on sales, so shipments may have exceeded consumer demand. Thousands of RVs remain on dealer lots awaiting buyers. A slowdown in shipments could be a necessary evil in order to work down excess inventory.
In its most recent quarter, Winnebago (WGO) reported double-digit revenue growth and management indicated it was taking market share from competitors. The company's dealer inventory exceeded 21,000 units, representing a 30% increase Y/Y and 8% sequentially. Winnebago could be stuffing the sales channel to devour whatever is left of the industry's remaining demand. Its dealer inventory represents over 55% of total RV shipments for the month of December 2017. That implies shipments for December 2018 could also free fall as the industry continues to work through inventory balances.
The average cost for RVs can range from $30,000 for towables to as much as $100,000 for motorhomes. It may be only a matter of time before declining shipments create ripples through the economy. They could negatively impact RV parts suppliers like LCI Industries (LCII) and Patrick Industries (PATK). The hit to labor and the decline in orders of aluminum, steel and other parts and supplies cannot be good for the economy.
RVs represent discretionary items that are typically the first to get cut when households feel a pinch. The question remains, "What other discretionary items will be cut out?" Luxury goods, apparel, entertainment, leisure activities and automobiles could get hit next.
Unemployment Rises In Elkhart Indiana
Elkhart, IN is known as the "RV Capital of the World" as the lion's share of RVs sold in the U.S. come from Elkhart and the surrounding area. Elkhart has about 55,000 residents and unemployment in the region could be the canary in the coalmine. Falling RV shipments oftentimes lead to rising unemployment in Elkhart.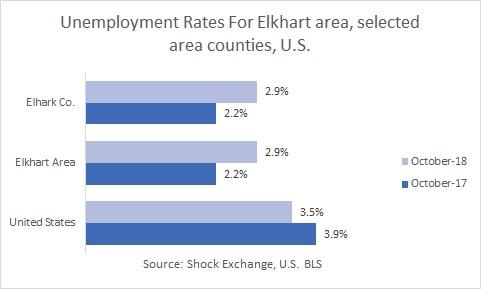 October 2018 unemployment for Elkhart was 2.9%, up from 2.2% in the year earlier period. Unemployment for the U.S. was 3.5%, down from 3.9% in the year earlier period. Falling shipments have forced some RV manufacturers to reduce the work week for employees. The spike in unemployment also does not fit the narrative that falling shipments will dissipate as heightened inventory is worked down. It likely implies manufacturers expect shipments to continue to fall. That's not good for Elkhart or the U.S. economy.
Conclusion
We are likely in the throes of recession. Cyclical names and companies with high debt loads could fall hard over the next few quarters. That includes RV-related names like LCII and WGO and PATK.
Disclosure: I am/we are short WGO, LCII, PATK. I wrote this article myself, and it expresses my own opinions. I am not receiving compensation for it (other than from Seeking Alpha). I have no business relationship with any company whose stock is mentioned in this article.