Over the weekend, we published an exclusive report to subscribers detailing why there was no logic in the recent oil sell-off. Even if the bears are right that this sell-off was demand related, we believe the magnitude and the speed of the sell-off make no sense.
But what's going to be troubling for the oil market going forward is that this sell-off in oil is far different than the one in 2016. And below, we will explain why.
Permian - It's not like 2016
In the midst of the previous oil crisis just 3 short years earlier, the Permian was still being discovered as the new prime shale play of the US. Multi-pad horizontal drilling was just being discovered as the be all for US shale, so the Permian received a lot of capital inflows.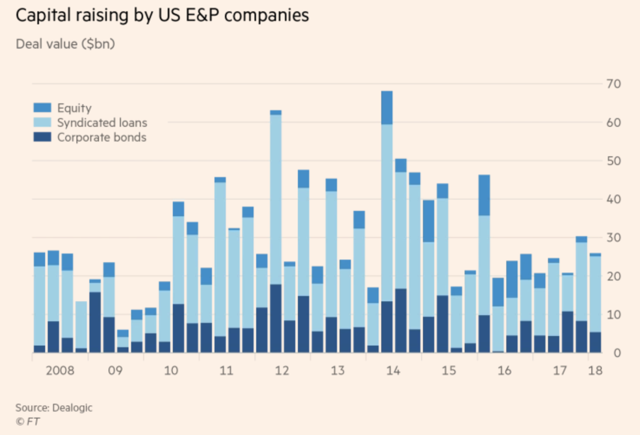 Permian producers and private equity raised a record amount in early 2016 to pile into the Permian. Deals were being done at $43k per acre, and producers like Parsley Energy (PE), one of the worst offenders in the Permian basin, grew production from 25k boe/d to 120k boe/d.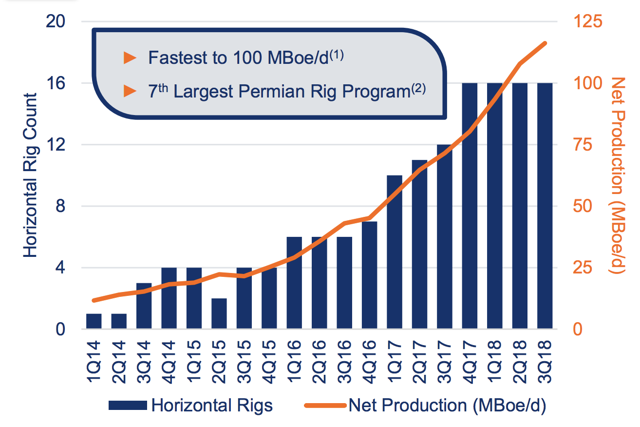 Source: Parsley Energy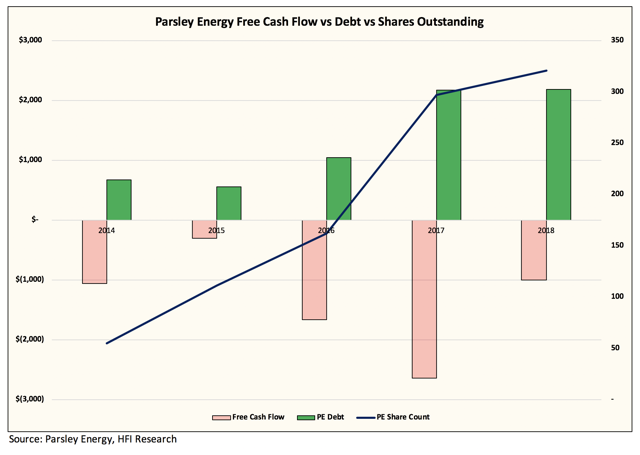 To put the obscenity of Parsley Energy into perspective, Parsley clocked in -$6.6 billion over the last 5 years. It increased debt from $677 million to $2.181 billion. Its share count increased from 55 million shares to 321 million shares.
In essence, you can see that the 25k boe/d growth to 120k boe/d was all externally funded. The company would have never gotten to this size without external capital.
Why is this significant? Because one of the biggest abusers of how shale was able to access cheap capital just came out this week announcing the lowest y-o-y growth since 2014.
On Dec. 19, Parsley announced its capex budget for 2019, it read as follows:
The Company estimates that capital expenditures of $1.35-$1.55 billion will translate to total production of 124-134 MBoe per day and oil production of 80-85 MBo per day in 2019, representing year-over-year production growth of approximately 20% on both measures.

Parsley plans to deploy 12-to-14 development rigs and three-to-four frac spreads on average in 2019, down from a recent run-rate of 16 development rigs and five frac spreads.

Parsley's baseline capital budget assumes a $50 WTI oil price in 2019 and a relatively static service cost environment. In this context, the Company would expect to outspend cash flow from operations by less than $250 million during 2019, representing a projected year-over-year decline of more than 50%. (1) Even in a lower oil price scenario, Parsley would target a maximum outspend of $250 million, accomplished through incremental activity reductions, likely in combination with lower service and equipment costs. In a higher oil price scenario, Parsley would remain disciplined and would not plan to increase equipment levels in 2019 compared to those associated with the baseline budget.
We bolded the parts we thought were significant developments for the biggest Permian external capital abuser. In the press release, Parsley reiterated that the capex budget only represents 20% production growth y-o-y. In addition, the company is still outspending cash flow to get this growth figure of $250 million. And if oil prices move up, the company will remain disciplined.
There's something really significant here people are not realizing. First, PE's growth of 20% year-over-year is a yearly average figure. For example, in the first 3 quarters, Parsley produced:
Q3 2018: 116.2k boe/d
Q2 2018: 107.8k boe/d
Q1 2018: 93.4K boe/d
And at the moment, PE is guiding 120k boe/d for Q4 2018.
Now if you take PE's guidance at the midrange for 2019, it is 129k boe/d. In order to reach that production figure on an average y-o-y, PE would need to exit around 140k boe/d. That's a growth of 16.7% exit-to-exit, a far cry from the stupid growth of 40% it was trying to register just the year before.
If PE is just one of the examples of the Permian, another pinnacle moment came this week when Centennial's (NASDAQ:CDEV) Mark Papa announced that it was scrapping its plan of reaching 65k bo/d by 2020. The significance of Mark Papa's announcement is that Centennial was private equity backed. In the private equity industry, what Mark Papa says is like the equivalent of what Warren Buffett said in the investing world. In the securities filing, CDEV said:
In light of the current oil macro environment, Centennial Resource Development, Inc. ("Centennial" or the "Company") is no longer targeting a production goal of 65,000 barrels of oil per day ("Bo/d") for calendar year 2020. Additionally, the previously anticipated 2.5 drilling rig addition in 2019 required to achieve 65,000 Bo/d in 2020, which was mentioned during Centennial's Third Quarter 2018 earnings call, is no longer current. The Company will release full year 2019 production, capital budget and unit cost guidance in the Company's next earnings release, which is expected to be held in late February. The 2019 capital budget will reflect management's objective of maintaining Centennial's strong balance sheet.
In Q3 2018, CDEV produced 36k bo/d and it produced 62.9k boe/d. The 36k barrels of oil per day was the metric CDEV was guiding for into 2020. This would have almost doubled CDEV's production within just 2 years if it continued this blistering pace of growth. The idea was to bring the company to a big enough size to start self-sustaining a lot of the capital spending. But this oil price downturn is forcing even the most nimble and low debt producers like CDEV to start spending within cash flow.
Lastly, the biggest reason this time is not like 2016 is that not only are capital markets reluctant to plunge into shale again after years of burning capital, but there is no capital on the sidelines.
In an FT article published on Dec. 16 titled, "US credit markets dry up as volatility rattles investors." We quote as follows:
US credit markets are grinding to a halt with fund managers refusing to bankroll buyouts and investors shunning high-yield bond sales as rising interest rates and market volatility weigh on sentiment. Not a single company has borrowed money through the $1.2tn US high-yield corporate bond market this month. If that drought persists, it would be the first month since November 2008 that not a single high-yield bond priced in the market, according to data providers Informa and Dealogic.
Not one company borrowed from the high-yield corporate bond market this month. Compare that to December 2017 (heading into 2018) when US shale producers borrowed the highest amount since 2014: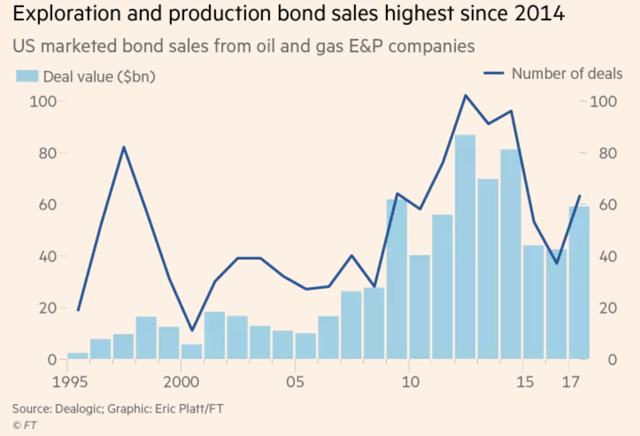 Source: FT
And on the private equity side, valuations in the Permian are being slashed with private companies like Endeavor receiving a 50% haircut to its valuation. There are also rumblings about private equity's inability to raise capital going into 2019 as they contemplate running these shale producers with a multi-year outlook versus a "grow at any cost and then sell it to a big producer" mentality. Here is the Bloomberg article titled, "Private Equity Shifting Shale Strategy to Long Haul." We quote as follows:
Your challenge really is to optimize the play, rather than just find the play," said Newman, whose firm manages $6 billion in investments, with stakes in oil and gas ventures from Texas to Oklahoma and Canada. "You should be prepared to take it all the way through to development."

With the shale business maturing beyond its early, land-rush years, energy exits have gotten harder for private equity. Public drillers who'd once served as natural acquirers now face pressure from their own investors to rein in spending.

The result: So far this year, equity firms announced or completed 43 oil and gas deals in North America, down from 59 last year and 73 in 2016, according to Bloomberg data. Acquisition values have totaled $9.5 billion, from about $15 billion the past two years.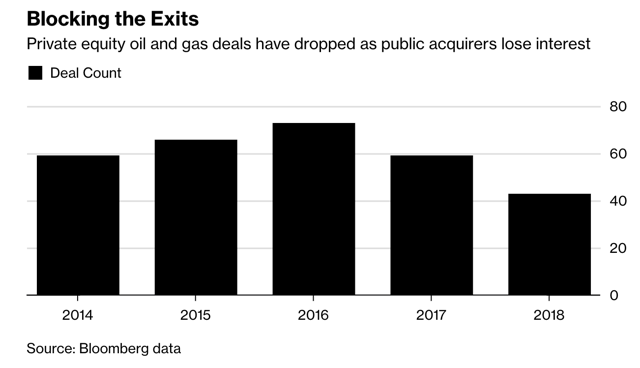 What happens if the Permian slows even a little?
With oil prices where it is today, the market is completely ignoring the fact of what happens to the supply/demand equation if US shale just slows down for 3 months. We are not even talking about a decline in production but a mere flattening of production for 3 months.

Now, even if we assume US oil production exits 2019 at 12.9 mb/d, this is what happens.
At the moment, the oil price sell-off will have a lagging effect on US oil production. Again, people forget the fact that we are talking about a year-over-year average versus quarter-over-quarter. Because we are likely exiting Q4 2018 at 12 mb/d, a mere flattening of US oil production into Q1 2019 will push growth rates of 20% y-o-y to just 15% y-o-y. This seems like a very conservative and fair assumption to make. We then factor in WTI to start rebounding to $85/bbl by year-end 2019 with US shale climbing steadily starting in April 2019 by ~100k b/d per month.
Now we combine this with the fact that OPEC has already preannounced the extension of the production cut after April, and the end result is a global oil market that's severely undersupplied.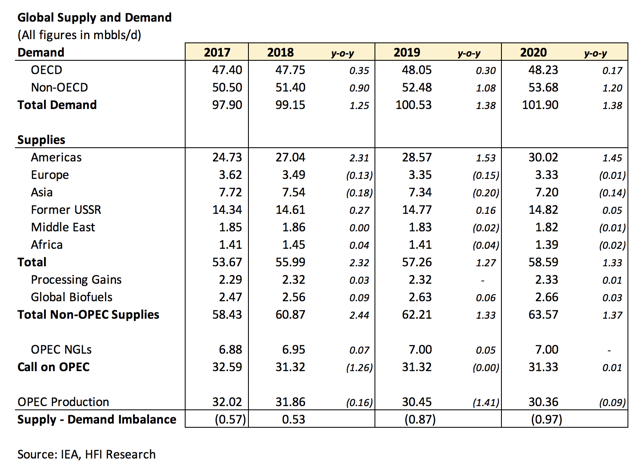 Without logic, there will be unintended consequences
We keep going back to the point that we are making which is that there are serious repercussions for the oil markets going forward and the global economy. By punishing oil prices low in the heart of capex planning season, the market is striking fear into the heart of US shale producers. We saw the biggest offender of Permian external capital fundraising come out this week to dial back exit-to-exit growth to 16.7% while the frontier of the private equity frenzy (Mark Papa's CDEV) scraps the entire idea of growing recklessly to reach a certain scale. These are significant events, but we are merely only pricing in a production growth stall in Q1 2019. And even using this conservative estimate, we have the global oil markets undersupplied by ~870k b/d for 2019!
This is unprecedented!
What we are ultimately saying is that the world will be shocked when global inventories continue to draw, because everyone has modeled in a "glut". When that reality wave hits, it will be too late to turn back the tide of undersupply, and OPEC may be less reluctant this time around to push the market back into oversupply to calm the markets.
Author's note: Thank you for reading this article. If you found this article insightful, please leave a "Like" below.
Over the weekend, we published our flagship report that included an important discussion on where global oil storage levels are today and how we see the current oil market set-up. In addition, we revisited the key variables for the long-term oil bull thesis. We are now currently offering a 2-week free trial to HFI Research. If you are interested, please see here for more info.
Disclosure: I/we have no positions in any stocks mentioned, and no plans to initiate any positions within the next 72 hours. I wrote this article myself, and it expresses my own opinions. I am not receiving compensation for it (other than from Seeking Alpha). I have no business relationship with any company whose stock is mentioned in this article.