Stock Prices: Pure Crisis?
Shipping stocks have been caught in the absolute crossfire between the small cap and oil price sell-off, with the Russell 2000 off by over 25% in a few months, while Brent and WTI prices collapsed by over 40%. Add in the growing angst with the US-China trade war concerns, and it is a recipe for disaster.
I've included a smattering of firms below, all of which have active repurchases or insider buying ongoing. These include Capital Product Partners (CPLP), Star Bulk Carriers (SBLK), Safe Bulkers (SB), Teekay LNG Partners (TGP), Golar LNG Partners (GMLP), Diana Shipping (DSX), and GasLog (GLOG).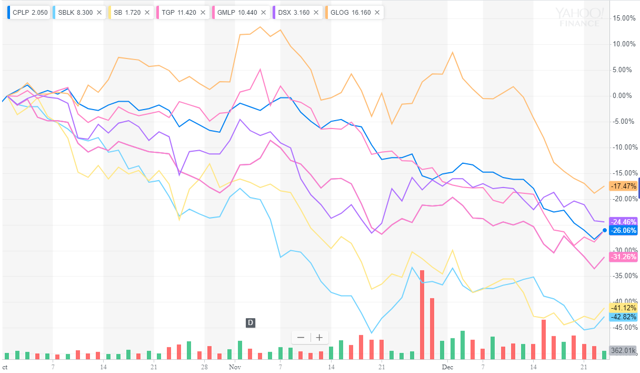 This selection is down between 17% and 43% since October 1st, underscoring the terrible nature of the current markets. Note these are all firms with strong underlying performance, and repurchases or insider buying. GLOG in particular is finishing a quarter that included all-time record high LNG shipping rates. Yes, the highest rates ever recorded.
Product tanker rates are also hitting multi-year highs, but don't tell that to stocks like CPLP or Scorpio Tankers (STNG).
Trade War Fears
It is undeniable that the US-China trade war has been a major factor hurting shipping stocks, with general market weakness and plunging oil prices simply adding fuel to the bonfire.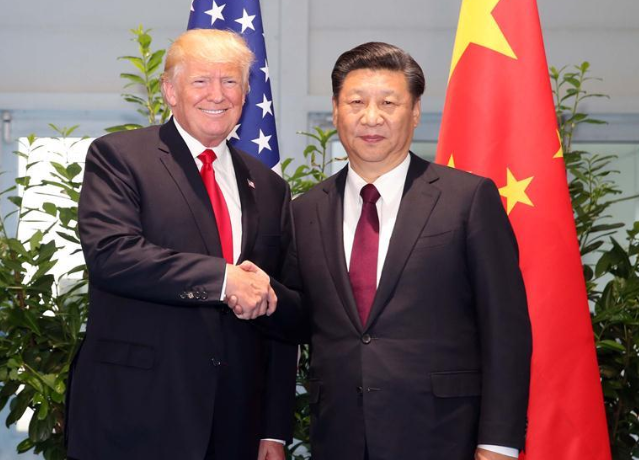 Image Credit: FinanceTwitter
Will the US and China resolve their differences? Although initial commentary between the Trump and Xi meeting was positive, follow-on reports and Tweets from President Trump quickly pushed the market back into a full tailspin.

Source: Twitter, @realDonaldTrump
Despite the hard-line image, there is proof that President Trump desperately cares about the stock market performance and is open to a deal. Meanwhile, President Xi also desperately needs to come to an agreement to prevent what could otherwise lead to a full-blown recession if unchecked. Chinese stock markets have already fallen over 30%.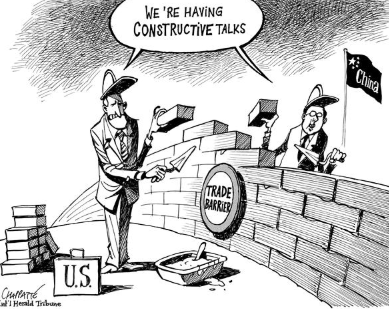 Image Credit: Jared Szaltis Blogspot
There's room for win-win compromise here as the primary US demands of closing the trade deficit (primarily via energy sales) are in China's long-term interests. Additionally, the US wants China to eliminate predatory joint-venture requirements ("IP theft") and cut back on state-owned enterprise ("SOE") subsidies. Both of these initiatives are also in China's long-term interest.
If China reforms its investment policies, they could attract trillions in additional foreign direct investment over the next decade. SOEs are an absolute cancer to developed economies and were a major factor in Japan's multi-decade stagnation. There is evidence that China is making progress here. In a normal market with normal players, this could be a fairly simple deal. However, we are dealing with egos and reputations.
Whatever deal emerges, President Trump is likely to trumpet it as a major victory for the US. This places President Xi in an awkward position. Even though the deal might be a long-term win-win, he risks losing face and credibility among the Communist elites. On the other hand, the People's Republic has enjoyed a long-standing mandate, arguably legitimized by their continual delivery of economic improvement. China sits between a rock and a hard place here. Meanwhile, US tariffs could also backfire and halt the surging US economy, as producers are hurt and consumers are slammed. Evidence is already mounting of a slowdown, as per the latest jobs figures.
Never mind mounting evidence of a slowdown, as the Federal Reserve went ahead and hiked rates anyways, further adding to market consternation. This adds further pressure to a market concerned with trade-related slowdowns.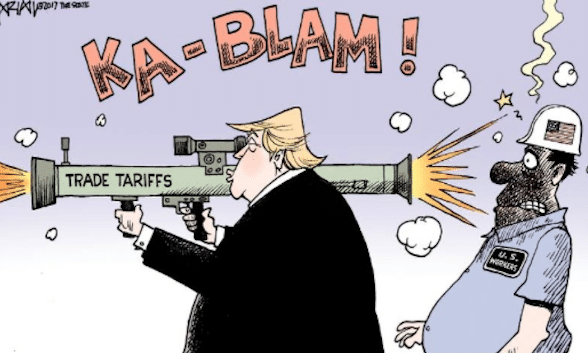 Image Credit: MR Online
Nobody 'wins' a trade war, but lots of people can win in trade deals. It is beyond obvious that President Trump wants a deal and that President Xi doesn't have many options, but some of Trump's advisors are less keen.
We are already seeing major signs of progress in China, with over 700 tariffs planned to be reduced or removed, and China has also drafted a law which will take significant strides in protecting foreign-owned intellectual property. These efforts will need to be matched with more substance, but they are still clear positive steps in the right direction.
Trade Deal Risk: 1 March Deadline
If we push further towards the brink, which now is set for 1 March, without key trade progress, shipping stocks could continue to suffer. There's also potential for sentiment to get much worse, and if the US drives into 25% tariffs for all products, we could definitely see China push much closer to a recession. If high debt balances cannot be managed, the Chinese crash could have global impact.
On the positive side, if we see a substantial trade deal, this would likely involve massive Chinese purchases of US crude oil, US LNG, US agricultural products, and perhaps US coal over a multi-decade stretch. This shipping route is one of the longest in the world and such an outcome would certainly lead to shipping rates surging across the board, including several sectors such as tankers and LNG which are already at solid levels even today.
Risk vs. Reward
Investing in shipping stocks always requires a balance between some macro forecasting for demand while also understanding company-specific prospects such as fleet type, balance sheet strength, and management quality. Now more so than ever, a single major macro event (US/China trade resolutions) has the ability to determine the level of investment results, likely across several years.
It remains to be seen what the ultimate US-China outcome will be, but with stocks already sitting at nearly unprecedented lows, the payoff odds are exceptionally skewed in the favor of buyers. Even in current timid markets, supply/demand balances are clearly tight in almost all sectors. A positive trade deal could lead to the strongest bull-surge in shipping stocks we've witnessed since the mid-2000s, perhaps the strongest on record.
Clearly, other owners are feeling the same sentiment. Stock prices in the shipping sector trade with underlying Price-to-NAV (net asset value) multiples, which are based on the real-time valuation of ships. Unlike other sectors such as REITs, which base their NAV on shifting cap rates, shipping companies have liquid markets for most of their underlying assets, with some classes having more than a dozen transactions per week. Underlying ship assets values have remained steady, albeit well below mid-cycle levels in most sectors.
Record Lows & Buyers Lining Up
The P/NAV for stocks however is at an all-time low across the board. There are several names trading for 50 cents or less per dollar of tangible net assets. These companies trade at a 'double discount' because not only is the stock trading at a 30-60% discount to NAV, the assets which form the NAV itself are also often well below average as well. For a handful of names, it doesn't take more than a soft nudge in the bullish direction to see double, triple, or even quad-bagger returns in a year or two.
Why aren't companies repurchasing and insiders buying then?! They are. Just in the past month, we've seen a dozen actions or active programs.
There are also similar initiatives for European-traded stocks such as MPC Containers ("MPCC"). Both BW LPG (OTCPK:BWLLF) and Avance Gas (OTCPK:AVACF) have also seen considerable insider purchases.
Conclusion
Shipping stocks are sitting near all-time lows in valuations, with P/NAV ratios sitting far below those seen even during 2008-2009 and subsequent panic sell-offs. Meanwhile, underlying rates are strong and repurchase programs and insider buying (both of which are more rare in shipping) are rampant.
The best time to buy is when panic is in the air and everyone is cursing the sector. I believe the risk/reward skew is very strong, and I applaud the names above for following through on their value convictions via their repurchases and insider buying activity.
Top Buys for 2019
All of the above names have considerable repurchase programs or heavy insider buying. We've also compiled a 'Top Idea List for 2019' via Value Investor's Edge, which will become public later this week. This list will include six names with stable finances, good management structures, and quality assets which provide a heavy positive skew of risk/reward. The list will also include six names with a more speculative nature, with some direct exposure to market rates, but which also have potential multi-bagger upside.
We are offering a two-week free trial, which also includes access to our high-yield portfolio and exclusive preferred equity and fixed income reviews. Join us today, risk-free, and only stay if you are 100% satisfied with our research quality and content.
Disclosure: I am/we are long CPLP, GMLP, TGP. I wrote this article myself, and it expresses my own opinions. I am not receiving compensation for it (other than from Seeking Alpha). I have no business relationship with any company whose stock is mentioned in this article.