At the time of writing, 2018 has not quite reached its end, but without a miracle the three major US indices will end the year with a high single digit decline. When looking around all over the world, the picture gets even worse. The Japan Nikkei 225 fell 11.81% YTD, the British FTSE-100 declined 11.61% in the same timeframe, the France CAC-40 declined 12.84% since January 1st, the EuroStoxx-50 declined 15.97%, the German DAX-30 fell 18.89% YTD and the Shanghai Composite declined 22.85%.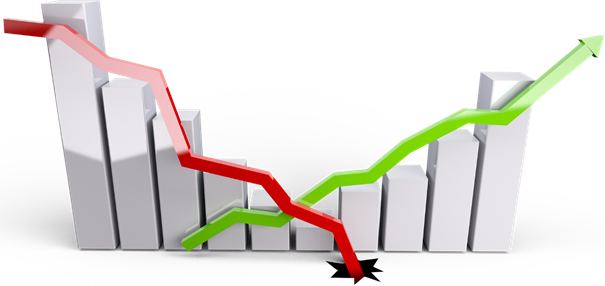 (Source: Pixabay)
It was certainly not a good year for equities all over the world and especially the last three months have been a shock for many investors as Mr. Market demonstrated once again that he is moody. Obviously it was a huge surprise for many investors that stocks once again didn't increase forever (who could have known). It once again wasn't different this time and even "special circumstances" like low interest rates couldn't justify sky high valuations forever.
In the following article we take a look back at the year 2018, examine where the stock market is standing right now, look at expectations for 2019 and try to find a strategy for long-term investors that works in 2019. We end the article with two stock picks which are already so undervalued in my opinion that opening a position seems a good idea despite the bleak outlook for the general stock market.
2018: A Look In The Rearview Mirror
Since 2008, this was the worst year for the US stock market according to YTD performance. In 2015, the S&P 500 declined 0.7% and in 2011, the stock market stayed flat (these were the worst two years during this bull market). In 2018, the S&P 500 declined 9.6% YTD, the Dow Jones Industrial Average declined 9.2% YTD and the Nasdaq-100 trades 5.5% lower than at the beginning of the year.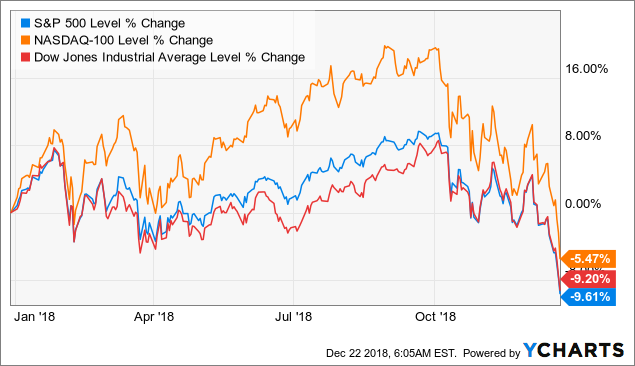 From its highs three months ago, the Dow Jones Industrial Average declined 16.3% and the S&P 500 declined 17.5% - this is a steep decline and a severe correction, but it is not yet a bear market. The Nasdaq-100 however declined 21.1% since its highs three months ago and is hence officially in a bear market.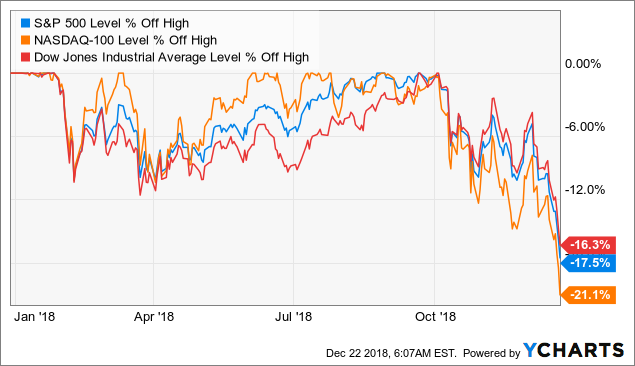 When looking at the individual stocks, we find 344 stocks out of the S&P 500 that declined more than 20% from its 52-week high and a decline of 20% or more is usually defined as bear market (the number of stocks that declined more than 20% from its highs might be even higher as for some stocks the decline didn't solely happen within the last 52 weeks). A second indicator for a bear market is the 200-day simple moving average – when stocks are trading below that line, they are often considered to be in a bear market. Right now, 433 stocks out of the S&P 500 are trading below the 200-day simple moving average (over 85% of the S&P 500 are already in a bear market).
2019: The Road Ahead
For 2019, almost all major investment banks and strategists still predict the S&P 500 to close at 3,000 or above (meaning a 25% upside from current levels) and such predictions can only be described as extremely bullish although targets were revised in some cases to a little more cautious predictions. While major investment banks predict the same as always – higher stock prices – my outlook for the next year remains bleak.
Many analysts are willing to admit we are in the "mature" stage of the bull market (after almost 10 years and the longest bull market ever), but only very few people speak out what might be the simple truth: We have reached the end of the bull market already and the market is on its way to complete the cycle (and a cycle always consists of a bull market as well as the following decline and bear market).
It is particularly concerning that too many people still see current prices as a chance to buy – or even as a great buying opportunity – and don't realize that even after the drop in equities we witnessed in the last few weeks, stocks are still extremely expensive. The decline during the last three months was probably only the beginning of a steeper correction (to avoid the term crash) and in my opinion we will see a recession much sooner than most are expecting right now (probably during 2019). The stock market will continue to decline and the time to get out has already passed (for those who like to sell stocks and not hold for a very long time). As the S&P 500 reached the 200-week simple moving average and we corrected 20%, it would be not surprising to see a 10% intermediate bullish rally, but this is only interesting for traders.
While others are predicting goals of 3,000 points for the S&P 500, in my opinion a realistic goal at the end of the cycle would be about half that number – slightly above 1,500 points could be the bottom and the end of the current cycle (sometime during 2019 or 2020). At about 1,530 points we not only have the 38er Fibonacci retracement, but also the 200-months simple moving average and the former highs of 2000 and 2007. By pulling back to that level the S&P 500 would not only find major support levels, but also confirm the 2013 outbreak above the former highs. This would reflect a decline slightly below 50% and would be similar to declines we saw after the financial crisis and the dotcom bubble.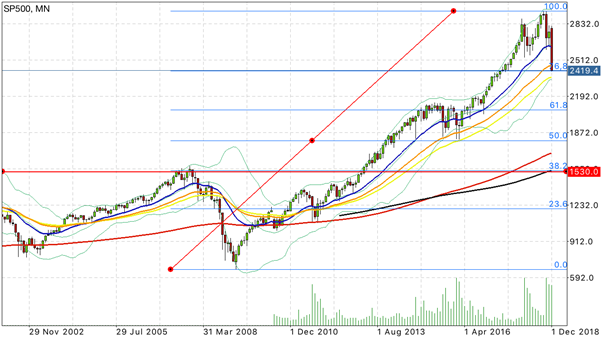 (Source: Own worked created with Metatrader 4)
With current estimated earnings, 1,530 points would reflect a P/E of 12 for the S&P 500. But in case of a recession, earnings most likely will contract and lead to a much higher P/E. The CAPE (or: Shiller P/E) would decline to about 17, which seems realistic and would still be a number we only saw once within the last three decades (in 2009 after the financial crisis).
Strategy For 2019
In the last few months, I stopped buying stocks and so far, I haven't regretted the decision. Almost every single stock that is on my watchlist is cheaper right now than it was a few weeks or three months ago. I am closely watching several stocks that are already undervalued in my opinion, but continue to decline due to the overall market sentiment that is dragging down almost all individual stocks.
Our strategy for 2019 seems to be guided by two cornerstones – on the one side we still analyze companies according to fundamental criteria and calculate an intrinsic value what individual companies should be worth in our opinion. Despite all theories about rational markets, I assume that stocks are only seldom trading at their intrinsic value, but are often over- or undervalued. On the other side we have to consider sentiment and the possibility of the market falling into a panic mode in 2019 (or maybe 2020) which will provide extremely undervalued stocks. This leads to the situation that already undervalued stocks continue to decline, making it difficult for us to decide if we should buy a stock that is trading below its intrinsic value or wait as Mr. Market might offer us much cheaper prices in the next few months.
In my recent article about Facebook (Nasdaq: FB), I pointed out that the stock seems to be incredibly cheap already and that the current valuation doesn't match the intrinsic value of Facebook at all. However, I am still hesitant to buy, as I suspect the stock will continue to decline further (so far, I have been right). On the one side, I am pretty confident a purchase of Facebook right now will be a great investment over the long term and we will not only achieve at least low double-digits returns, but also outperform the stock market. On the other side, I am quite sceptical for the short term and although I don't invest short-term, I am still trying to buy stocks as cheap as possible. Over the next few quarters, I assume that many individuals stock will behave similarly to the overall market, which means that even undervalued stocks trading below intrinsic value will continue to decline.
And the same thought process I have for Facebook, is also valid for many other companies that are already trading below its intrinsic value or could reach its intrinsic value within the next few weeks.
Two Picks For January
First of all, I would like to recommend my "Preparing for the end of the cycle" series where I covered several stocks that might become a great investment during 2019 as the market continues to decline and Mr. Market offers great buying opportunities even for companies usually valued with a premium. Right now, I am especially looking at two companies (aside from the above-mentioned Facebook): Compass Minerals International (NYSE: CMP) and McKesson Corporation (NYSE: MCK).
Compass Minerals International
One of the stocks taking a top spot on my watchlist is Compass Minerals International. Since October 2018, the stock fell from almost $70 to about $40 right now and an already attractive dividend yield increased to 7.1%. Although the payout ratio was above 100% in the last year, I think the dividend is safe as the free cash flow for the next two years is expected to be about $200 million and therefore more than enough to cover the dividend payments.
When we look at revenue, earnings per share and free cash flow, we don't see a clear trend and numbers will continue to fluctuate over the years to come. However, average EPS over the last decade was $4.24 valuing Compass Minerals at a P/E below 10. In the last five quarters, gross margin fluctuated between 23.94% and 32.86% while in the last decade, gross margin fluctuated between 23.9% and 36.8%. Overall, we see a wide range of annual gross margins during the last years, but no negative trend.
Compass Minerals has a few short-term problems like the CEO who was "fired" without any clear reason (and the combination of the departure and the massive declining stock price is leading to wild speculations about severe underlying problems). Additionally, production rates at the Goderich mine are still lower than expected. However, as long-term investment, Compass Minerals is still an extraordinary company and especially the mines which will last for decades and the strategic locations of its mines and deep-water port are valuable assets that create a competitive advantage, which is hard to overcome for new entrants or existing competitors. As long-term investment, Compass Minerals is therefore a great pick and when considering the big picture, short-term problems shouldn't matter. The core business will remain profitable over decades to come and the acquisition in South America wasn't prefect from a strategic standpoint (as it didn't widen the moat), but it is a good diversification away from the dependence on winter and snow.
Right now, I am hoping the stock will decline a little further to $36.50. At that point, the stock would trade at a 10-year low and would be a terrific entry point. And although we never know what will happen, I would be really surprised if the stock fell even lower (but on the other side I didn't expect a decline to $40).
When you are focused on dividends, Compass Minerals might be the obvious choice right now, but in my opinion, McKesson is an even better pick right now (McKesson is paying $1.56 annual dividend, which leads to a dividend yield of 1.44%). Although the company is facing some headwinds like the ongoing discussion about the opioid crisis and new regulations that might result and negatively influence business, the company seems to be in great shape and the sell-off isn't justified in my opinion.
McKesson is reporting solid growth numbers for revenue, earnings per share and free cash flow. Over the last decade, revenue grew 7.7% annually, free cash flow increased even 8.7% every single year and it is true that growth slowed down during the last few years, but the stock was punished beyond reason. McKesson is also a business that is operating with very thin margins. In the last decade, gross margin fluctuated between 5.0% and 6.4% and during the last few quarters gross margin was between 5.06% and 5.96% - in my opinion these are stable margins and we see no hint for a decline. Operating margins fluctuated between 1.1% and 2.0% during the last decade, with margins being between 1.24% and 1.58% in the last quarters. Like I said, margins are low, but are showing the required stability for a great investment. McKesson has about $6.5 billion in long-term and about $2.5 billion in short-term debt resulting in D/E ratio of 0.97 – an acceptable and manageable debt level.
When we are trying to value McKesson we can look at the average free cash flow of the last decade ($2,570 million) and when we take that free cash flow as basis (McKesson itself is expecting a free cash flow of $3 billion next year) and assume the same FCF for eternity (0% growth for eternity for a company that grew 8% annually during the last decade), an investment in McKesson is currently yielding 11.51%. I am using this absurd numbers – 0% growth for perpetuity is absurd, and taking the average free cash flow of the last decade also seems to be a bit too conservative – to show how undervalued McKesson is in even that scenario.
Conclusion
I know I could be wrong, but after the decline at the beginning of the year was only a foreshadowing, I think we saw the begin of a steeper and long-lasting decline in the US stock market (long-lasting meaning between one and maybe three years). 2018 was the worst performing year for the US stock market in the last decade, but I assume 2019 will even be worse.
Therefore, I am very cautious about buying stocks right now as the chance is extremely high that we will get almost every single stock much cheaper in a few months from now. In order to be successful as investor, you don't have to buy every stock at the bottom. As long as you are confident the stock is undervalued on a fundamental basis, it doesn't matter to pay maybe 10% or 20% more than the cheapest price Mr. Market is offering (and therefore buying CMP or MCK makes sense). However, when we expect the market to decline in a major way and we know that only very few companies can resist such a broad decline in stock prices, it doesn't appear to be very smart buying stocks right now.
Disclosure: I am/we are long CMP. I wrote this article myself, and it expresses my own opinions. I am not receiving compensation for it (other than from Seeking Alpha). I have no business relationship with any company whose stock is mentioned in this article.
Additional disclosure: I also might buy MCK and/or FB within the next 72 hours.
I own derivatives which are profiting from a declining Nasdaq-100 and Dow Jones Industrial Average.